Some of the links below are affiliate links, which means I will earn a commission at no additional cost to you, if you click through and make a purchase. Regardless, I only link to products we use on our homestead or believe in.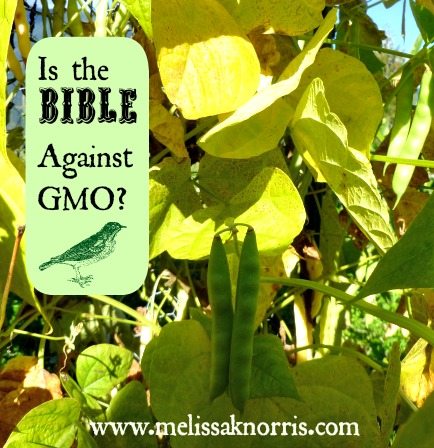 Chances are you've heard the term GMO (genetically modified organism) lately. In most cases this is in reference to scientists and major farmers growing plants that have been genetically modified. This is very different from hybrid seeds. Genetically modified seeds are injected with DNA from completely unrelated species. I'm talking animal cells, bacteria, and even viruses.
The reason for this is they can inject an entire crop so that they can simply spray the whole field with a pesticide and it won't kill the crop. Which means the plant soaks up the pesticide and then we get to eat it.
This is supposed to save the large companies money and time, which brings this verse to mind.
For the love of money is a root of all kinds of evil. (NIV) 1 Timothy 6:10
While hybrid seeds aren't necessarily GMO, they are created by scientists paring together two kinds of plants from the same species hoping the new strain will have the best traits of the two separate strains. They gained popularity when farmers were trying to meet the worlds increased demand for food.
The problem is hybrid seeds are unstable. You can't save the seed and replant them the next year and get the same plant. Other traits will manifest (usually undesirable) if the plant grows at all. So you have to buy new seed every year, though they're not harmful like GMO's are.
"Do not mate different kinds of animals. Do not plant your field with two kids of seed." (NIV) Leviticus 19:19
I think this verse is pretty explanatory on it's own.
Is the Bible against GMO? Yes, I believe it is.
God created all of the plants on earth. In His word, He gives us pretty clear instructions on how to take care of what He gave us.
When we start to alter what He created, how do we not think it's going to cause harm? [Tweet this]
I believe the Bible governs everything in our lives and is there for our benefit. When we choose to ignore it, we find ourselves in trouble. Sadly, we chose to ignore it a lot.
Our garden is all heirloom seed. Meaning it hasn't been touched by the hand of science at all. It is exactly as God made it, has better taste, the seed can be saved (for years), and replanted without any Frankenstein results.
Does this mean your going against God if you've planted, eaten, or bought hybrid or GMO crops? No, I don't believe this and I hope that isn't the take away.
I believe Jesus set us free when He became our ultimate sacrifice on the cross. But, I don't think that means we should ignore the Old Testament. It doesn't change the wisdom there or that it is still God's word.
If your interested in learning more about heirloom seeds and growing your own veggies and fruits to save money and become more self-sustainable, then I've got some fun news.
I'm working on a new FREE ebook for my newsletter subscribers that will dive into this topic. Be sure to sign up for my newsletter so you get it as soon as it comes out. Right now you'll receive my free ebook 7 Days to Simple:Purify Your Life (which includes my Thin Crust Heirloom Tomato Pizza recipe that only takes 20 minutes to make and bake) and Once Upon a Snow Storm-a short historical romance.

What are your thoughts on GMO and Hybrids? Do you only buy organic, why or why not? Do you grow any of your own food?
This post is featured on The Better Mom.