When I asked on my Facebook page which post you'd rather read about, gardening was above and beyond the clear winner. If you're sitting in one of the frigid cold, fresh winter storm, and two feet of snow areas, you might be wondering why on earth I'd be writing a gardening post now. I mean, ya can't plant a blessed thing outside right now.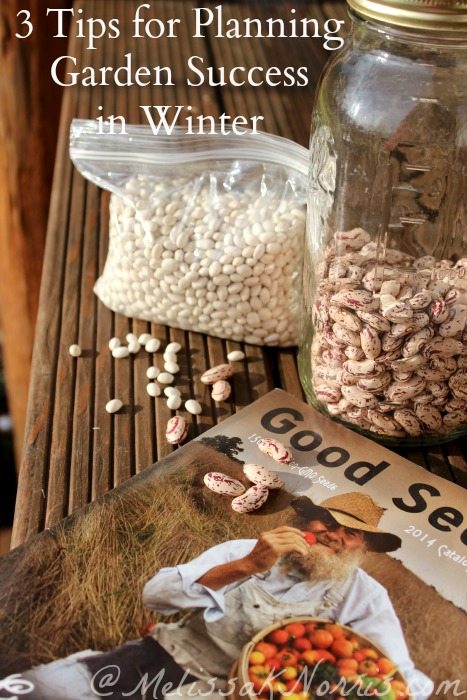 You're right. We can't plant anything right now, but experienced gardener's know, the best gardens come from some early planning. And that my friend, is something we can do right now.
How does one plan a garden, you ask? So glad you did. (I can carry on a conversation with myself quite well)
If you haven't saved all of your own heirloom garden seed, then you'll be wanting to get your seed orders in now to ensure there is enough stock and nothing is sold out in the varieties you want. Plus, thumbing through the seed catalogs is kind like the adult version of the Toys R' Us catalog for kids at Christmas. My favorite heirloom seed company is Baker Creek Heirloom Seeds. They're free catalog is beautiful, lots of pictures, recipes, history of the seeds, and some rare versions of plants. I've always been completely happy with my orders from them. Need to know what all of those seed terms mean, I go over them here.
For you gardening veterans, you'll want to look at how much you've got left of your harvest now. With our growing season, January is about six months after our main harvest. When I run out of produce in January, I know I need to double the amount I planted last year. For example, I just used our last onion two weeks ago. So when I purchase onion sets this year, I need to put in twice as many. My green beans are great, so I'll plant the same amount. I have more garlic than we'll end up eating (probably) by July (harvest time), so I'll cut back on the amount we put in this year.
All gardeners should have a gardening book or journal. Make note of what you plant, how much, and what it yields. It can be as simple as taking some photos of your garden to remember where you planted what for crop rotation, or a full out blueprint diagram. Whatever strikes your fancy, but you'll need some type of documentation, otherwise, how will you know how much double is from last year?
You'll also want to make a note of how the plant grew, in case you have problems, you will know to order/plant a different variety, or adjust the growing conditions. Trust me on the documentation part. I used to think I could remember everything, and that's how I ended up planting double on my butternut squash, and only one zucchini hill last year. I still have butternut squash though, just sitting pretty on the open shelves in our kitchen, so it was a tasty mistake.
Are you trying to decide what to plant for your garden this year? I've got a free handy dandy chart that will help you out with that in my Heirloom Gardening Guide-Plant to Save Money. Plus, you can customize it for your family. It's your's free when you sign up for my newsletter, along with two other free e-books.
More Gardening Tips: