The deeper your pioneer roots go, the more you'll want to plant. After planting our garlic bulbs in raised beds for two years, we've decided we want to plant more.
If you need to enlarge or create a new garden bed, fall is the perfect time to get started.
When you're starting with lawn, lay a heavy and dark tarp over the grass. Make sure to weigh it down. Don't use white or clear, the light will still get through and you'll create a greenhouse effect instead of killing the grass.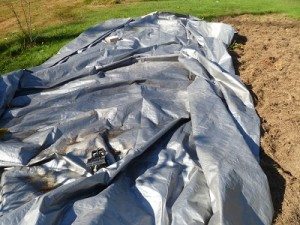 Leave the tarp down for at least two weeks. Lift up a corner to make sure the grass is dying. It's best to do this in the fall when grass is already beginning to go into dormancy.
[Read more…]