Some of the links below are affiliate links, which means I will earn a commission at no additional cost to you, if you click through and make a purchase. Regardless, I only link to products we use on our homestead or believe in.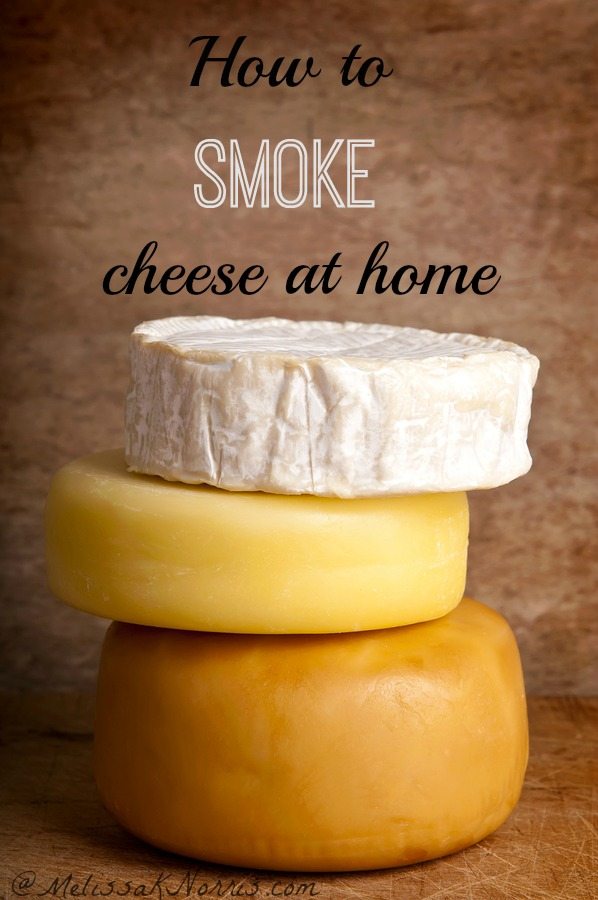 Learning how to smoke cheese at home is a bit easier than I thought it would be. When something tastes so delicious I often think it's way more complicated than it actually is. I love cheese, but when you add in the smokey goodness…. well, let's just say I've been known to eat an entire wedge of smoked Gouda all by myself. In one sitting.
So I asked my friend over at HomesteadDreamer to share how she smokes cheese. Settle in and let the drooling begin.
It is a rare thing to find someone who doesn't like smoked cheeses. When you even mention this delectable food, most reactions include "Ohhhh, that sounds SO good," or possible drooling.
One day I asked myself, "Wait, can I smoke my own cheeses? How hard is it? What kind of equipment will I need?"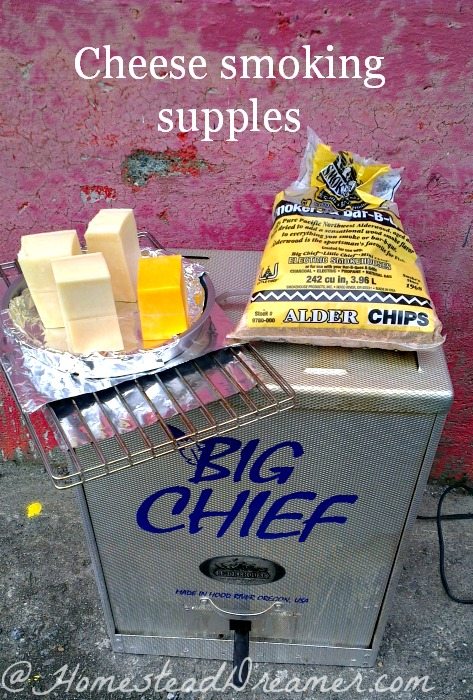 I have a co-worker that smokes her own cheeses regularly and went to ask about how she did it along with any tips and tricks she can pass along. What I learned from her opened my eyes to how incredibly easy the process is and how fast it goes! Grab a cup of coffee or tea and get ready to learn how to smoke your own cheeses, even if you have little or no experience.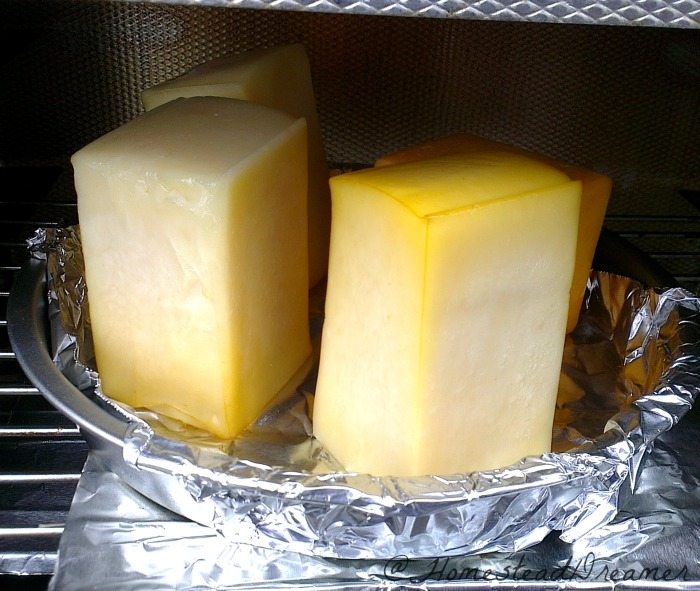 The first thing to understand is that when you are smoking cheeses, you are doing what is called a cold smoke. You do not want the cheese to get overly warm and melt. It can be a difficult balance to keep ample smoke around the cheeses but also regulate the heat. There are different types of smokers available but many people have built their own. We use this smoker from our affiliate partner Amazon Little Chief front-loading smoker tends to work easier for smoking cheeses. You can use a top loading smoker but the cheese will get jostled around when rotating the cheese and the amount of smoke that stays around the blocks of cheese will be lessened. We use this off-grid charcoal top loading smoker for smoking our meats.
The Process
1. Cut cheese into blocks. EXAMPLE: If you have a 2-pound block of cheese, cut it into thirds.
2. Line a cake tin with some tin foil. You will put your cheese blocks in the tin.
3. Put tin foil on the rack that the cake tin will sit on. Leave the sides open so the smoke can curl up around the cheese at the top. The extra tin foil will serve as a heat barrier.
4. Place tin foil over the rack that will be placed on the bottom. Be sure to leave the sides open so the smoke can flow up the sides. This tin foiled rack, like the one above, will help as a heat barrier.
5. Place the cheese blocks in the cake tin so there is ample room around each block and make sure they are standing tall, not on their sides.
6. Bring the racks and cheese outside. Plug the smoker in and place your racks.
7. Fill the pan to the brim with wood chips (for smoking). I prefer alder chips
8. Set the pan with wood chips in place and put the door on properly. It will take 5 minutes or so for you to see smoke.
9. Once you see smoke consistently pouring out of the smoker, reposition the door so that a crack will be left open at the top. You should be able to see your cheese blocks through the crack.
10. Each pan of smoke chips takes approximately 30 minutes to finish. Once the smoke is finished, take the pan out and refill it. Before placing the pan back, rotate the cake tin 180 degrees. Place the fresh chips in place and follow steps 8 & 9 again (wait for the smoke to build up before adjusting the door).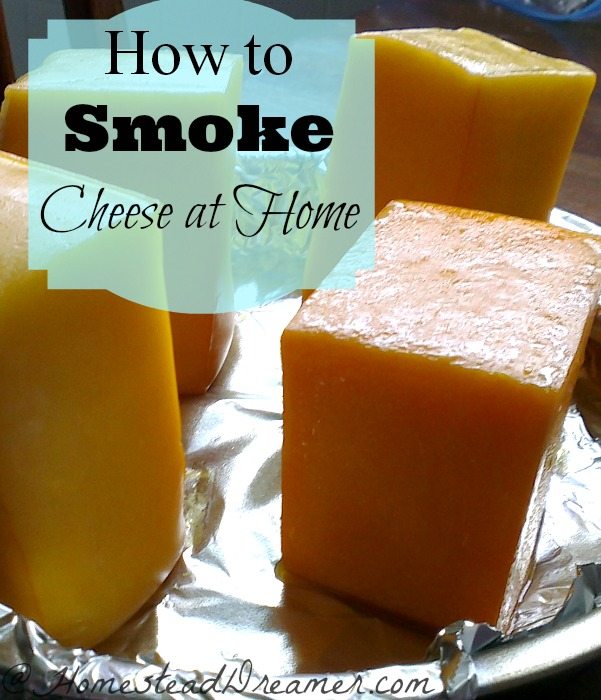 SPECIAL NOTE: Your cheese blocks should be noticeably darker on the outside as your progress in the smoking process; it kind of looks like a crust. They will 'weep' a little (it is some of the oils coming out) which is 100% normal and expected. What you need to watch for is actual melting. The blocks will get soft and might lean over a bit but as long as it is not actually melting, you should be fine.
11. When your second pan has finished smoking, the cheese blocks need to be flipped so they are standing tall on the other side. This is VERY important for even smoking and to help avoid melting. Fill the pan up and repeat steps 8 & 9.
12. This is your final smoke session. Fill the pan with fresh chips, rotate your cake tin 180 degrees and follow steps 8 & 9. Once completed, you are done!
After the Smoke
Congratulations! You have smoked your first cheeses (don't you feel like a rock star?). A few things need to be finished up before you go raiding the dairy aisle. If you can stop yourself from taking bites right out of the blocks of cheese, you will want to put it uncovered in the fridge for an hour. It will help stop the weeping and get it cooled down so it 'seals' the flavors in.
The method, time smoked, and chips used are my preferences. I prefer a good, solid smoke flavor so went with the 4 trays. If you want a hint of smoke, 2 trays should give you the flavor you want.
Tips and Tricks
Outside temperatures play a VERY important role when smoking cheeses. If it is 80+ degrees outside, you may want to wait for a rainy day. Your cheese will most likely melt. It was about 55 degrees out when I did this batch. One of the ways to work around this is to partially freeze the cheese (yes, you can freeze most cheeses) so it will not tend to melt. This is not foolproof but is a nice workaround. To be perfectly blunt, I really don't know anyone who would turn their nose up at partially melted hunk of smoked cheese. Once you get it cooled back down, there isn't much difference other than shape.
Cheese can be frozen for future smoking projects. My co-worker waits until cheese is on sale and then stocks up, keeping them in the freezer until she needs them. Since it only takes a couple hours to do, it comes in handy for office parties, potlucks, and other events. You end up saving money on a superior product and as a bonus, you will be known as the person who makes smoked cheeses. Don't be surprised if people offer to buy cheese to have you smoke it for them or you find that everytime there is a church picnic or a family reunion, people start talking about the amazing food you bring!
~Homestead Dreamer lives in beautiful Southeast Alaska with her husband, dogs and cats. The 'dream' is to own land and live as self-sustainably as possible. You can follow her on Facebook, Pinterest, and Twitter as well as on the main site, Homestead Dreamer.
This post is featured on The Prairie Homestead.
More Posts You May Enjoy