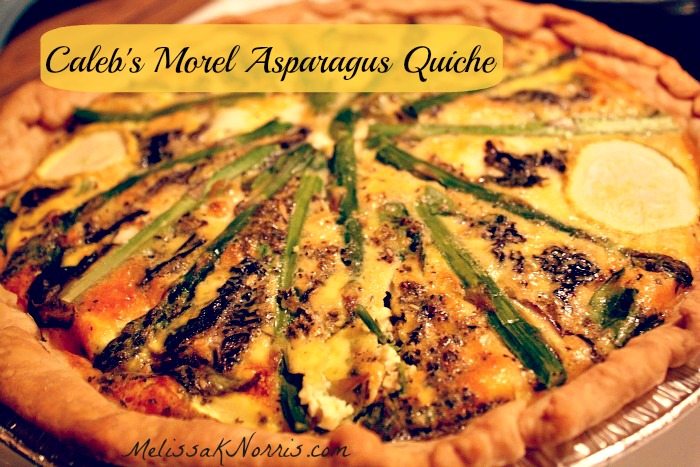 I saw this picture on Facebook last week and started drooling. Seriously, doesn't it make your mouth water? I contacted the lovely baker and she graciously accepted my offer to share her recipe with all of us!
Challace Martin is a talented writer and photographer. I'm hoping she'll impart some of her picture taking secrets with me, but I won't push it, since she's already sharing her quiche recipe. 🙂 Check out more of Challace's posts about being a new mommy, wife, and living for Jesus on her blog.
Take it away, Challace!
So what exactly is quiche?
A few years ago my friend asked me out to lunch. She suggested we go get some quiche from a local restaurant a couple blocks from my city apartment. I didn't know what it was, but I wasn't going to let her know that. She was pretty cool and a couple years older than me, so in her eyes, surely I knew what quiche was. When we got our food I looked at mine excitedly. It was a handsome dish, whatever it was…
When I bit in, I didn't want to alarm her, but quiche is just egg pie!
Well if it is just "egg pie" then aren't the possibilities of quiche recipes endless?
Now this morphs into a story of two brother in-laws. The first brother (we will call him Caleb) made quiche on Easter this year. It's such a good food and I totally forgot about it until that very moment. He inspired me. The second brother (who we will call Josiah) found us a bunch of early morel mushrooms! This also inspired me and so the morel quiche began.
Something delightful about the earth is when things grow together, it seems they harmonize better. Tweet this
Which is why we added asparagus with the morel mushrooms. Isn't God good like that? Both grow in the springtime; both are great in egg pie. I share how to find and pick morels here.

Caleb's Morel Asparagus Quiche Recipe
1 Pie tin
1 Pre-made pie crust, or click here to make Melissa's "Best Ever Flaky Pie Crust" (A much better choice if you ask me! ) Thank's Challace, you're so sweet. 🙂
3/4 Cup shredded cheese
6 Eggs
1 Cup of Milk
1/2 TBS Thyme (if you're cooking with fresh herbs, triple it to 1 & 1/2 Tablespoons)
1/2 TBS Basil
For this vegetarian recipe we used:
1 Cup of cooked morels (1 1/2 Cups uncooked)
6 Spears of asparagus broken into halves
1 Cup of leafy greens
6 Thin slices of yellow squash
For a non-vegetarian version we felt
cooked bacon or ham would have
really served it well.
• Always thoroughly wash your morels in a hot water/salt bath before eating them. (I soak mine overnight, then cut them in half, rinse, and lay on a towel to dry before cooking. ~Melissa)
• Preheat the oven to 350 degrees.
• Rip the morel caps up with your hands into quarter size pieces. Cook on the stove at a med-low heat until most of the moisture has left the caps. (About 10 minutes) ALWAYS cooked wild mushrooms!
• Fill up the bottom of your crust with shredded cheese, half of the squash and all the leafy greens.
• In a large bowl whisk together the eggs, milk, thyme and basil. Pour into pie crust.
• Add the asparagus, morels and squash slices on top in a decorative sort of way.
• Put into the oven for 30-45 minutes until the top is golden brown and the eggs are solid. (You can check with a fork)
I hope you enjoyed this!
Thank you so much for sharing, Challace. I hope you guys enjoyed this as much as I did.
What's your favorite quiche recipe? Do you remember the first time you had egg pie?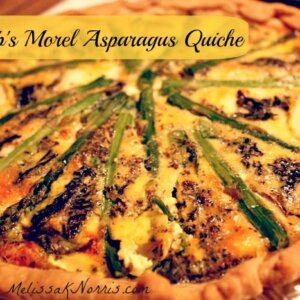 Caleb's Morel Asparagus Quiche
Ingredients
1

Pie tin

1

Pre-made pie crust

or click here to make Melissa's "Best Ever Flaky Pie Crust" (A much better choice if you ask me! )

¾

cup

shredded cheese

6

Eggs

1

cup

Milk

½

TBS

Thyme

(if you're cooking with fresh herbs, triple it to 1 & 1/2 Tablespoons)

½

TBS

Basil
For this vegetarian recipe we used:
1

cup

cooked morels

(1 1/2 Cups uncooked)

6

spears

asparagus broken into halves

1

cup

leafy greens

6

Thin slices of yellow squash
For a non-vegetarian version
Instructions
Preheat the oven to 350 degrees.

 Rip the morel caps up with your hands into quarter size pieces. Cook on the stove at a med-low heat until most of the moisture has left the caps. (About 10 minutes) ALWAYS cooked wild mushrooms!

Fill up the bottom of your crust with shredded cheese, half of the squash and all the leafy greens.

In a large bowl whisk together the eggs, milk, thyme and basil. Pour into pie crust.

Add the asparagus, morels and squash slices on top in a decorative sort of way.

Put into the oven for 30-45 minutes until the top is golden brown and the eggs are solid. (You can check with a fork)