Some of the links below are affiliate links, which means I will earn a commission at no additional cost to you, if you click through and make a purchase. Regardless, I only link to products we use on our homestead or believe in.
If you've ever wanted to raise sheep for their fiber or wanted to learn how to naturally dye wool, you're in the right spot. In this post, we'll be discussing what you need to know about raising sheep, picking specific breeds and the care that they need, as well as what to know about harvesting and naturally dyeing wool.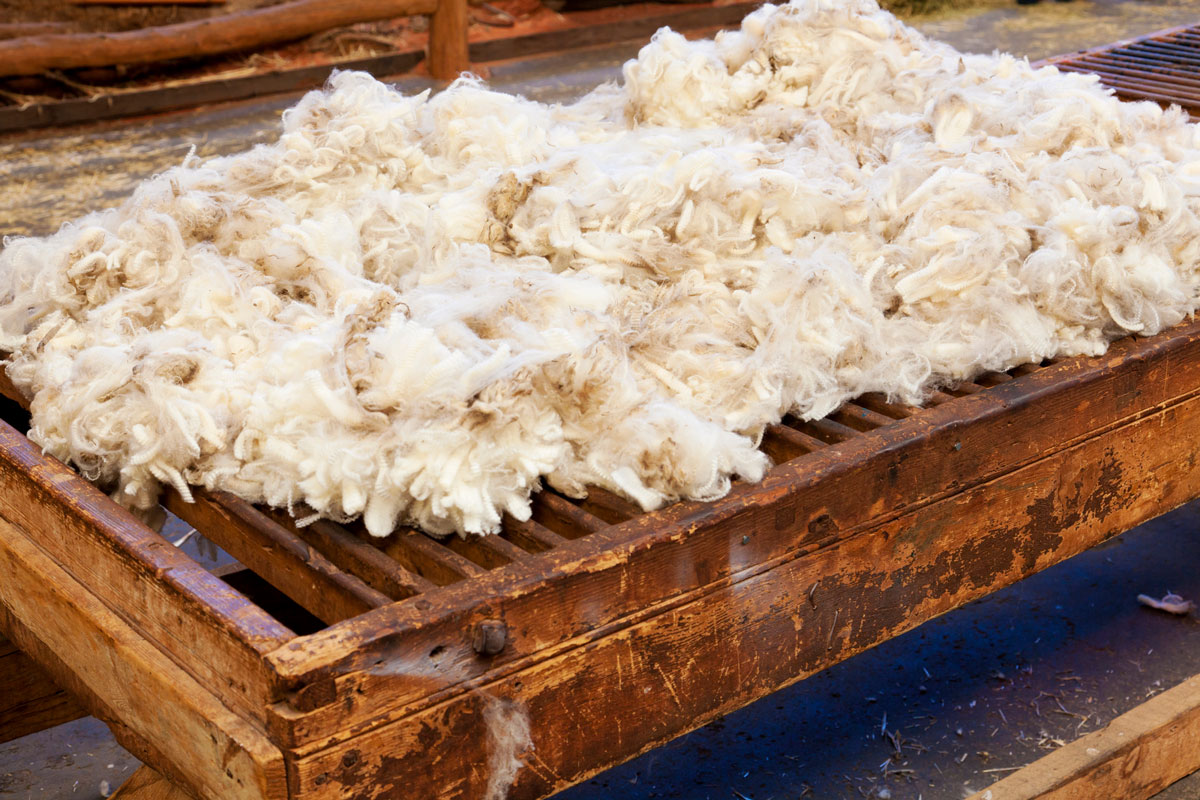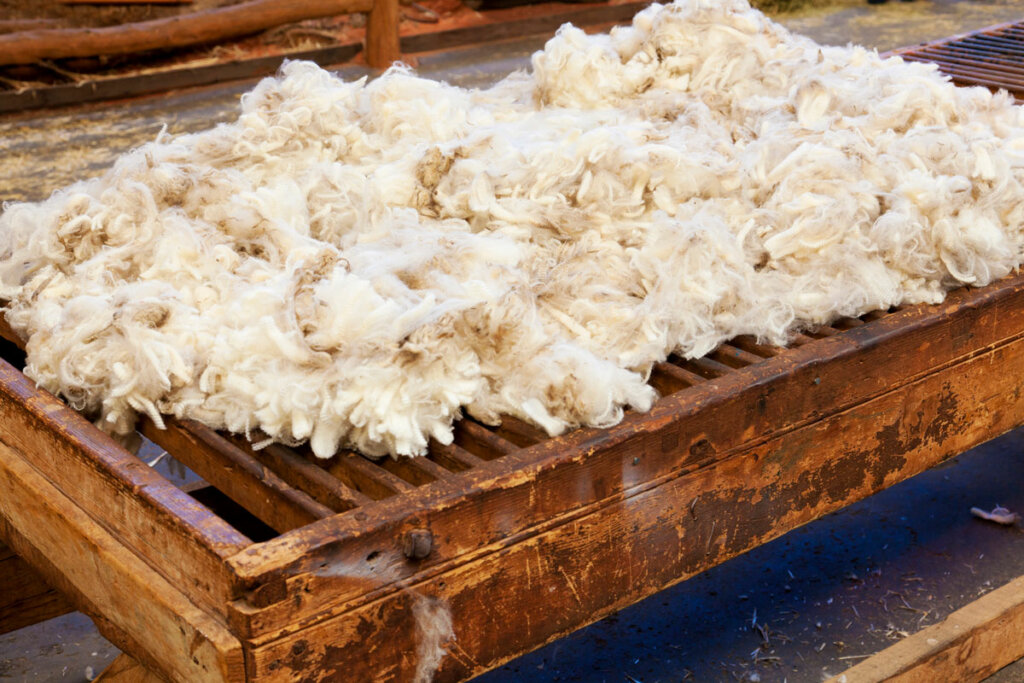 I'm so excited to be talking with Janet from Timbercreek Farms in this podcast episode. She is a dear friend of mine and I've actually stayed with her in her home. Janet has a flock of wooly sheep that are the backbone of their farm yarn business.
Over the last decade, Janet and her sheep have developed a line of natural yarns that they are very proud to offer to fellow crafters. From that beginning, a passion product line was developed that includes naturally dyed yarn, supplies, and all-inclusive kits.
She even has an online course for beginning natural dyers. She also shares a wealth of information at her blog, Timbercreek Farmer.
Below you'll find all the details from my Pioneering Today Podcast interview with Janet (episode #321).
Dual Purpose Sheep Breeds
If you're wanting to raise sheep for fiber, meat, and even milk, one would think it'd be a fantastic idea if one breed of sheep could do it all. However, there's no one breed that will be great for all those purposes.
Janet suggests that before anyone invests in a dairy sheep to first taste some sheep milk and sheep cheese because it definitely tastes different than cow's milk and even goat's milk.
The closest thing to a dual-purpose breed would be an Icelandic sheep. They're a dual-coated breed so you'll be able to make some yarn, and they're also a good meat breed. As far as the milking, they're probably on par with any other sheep their size, but this is strictly based on Janet's opinion and experience.
Those sheep that are meant for milk use their metabolism to go into producing milk, so their wool won't be very good as fiber for yarn.
What Breeds are Best for Fiber
Sheep's wool comes in many different thicknesses and "styles". Shorter wool breeds will have a more dense fiber, longer wool sheep will have less dense, longer wool. Lincoln sheep, for example, will give you staples (or "locks") up to 8 inches in length.
Medium staple lengths will come from breeds such a Finn. These locks are going to be about 5 inches in length.
Shorter length staples, from sheep like a Southbound, will be very short. Oftentimes too short to use with a fiber mill because it doesn't get caught in the rollers in order to spin into yarn.
If you're going to use a fiber mill to make your yarn, you have to use wool that has a long enough staple. This is so, as it goes through the mill process, the staple is long enough that the rollers can catch it. If not, the wool breaks off and can't get turned into yarn.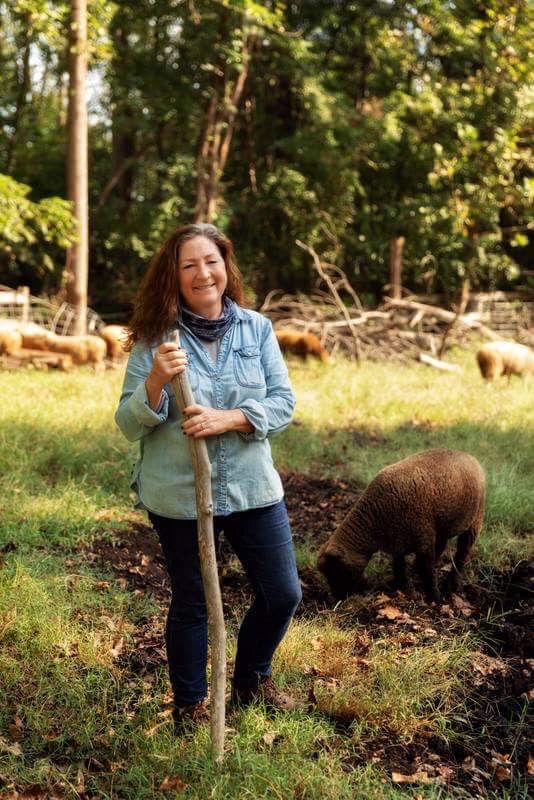 Size of Sheep
Keep in mind when raising sheep for their fiber that you want to keep sheep that are the right size for you to manage. If you're raising sheep on your homestead, then you'll likely be doing the sheering yourself, so keeping small to medium breeds is a better way to go.
A good-sized sheep for both wool and manageability is a Finn sheep.
How Much Acreage for Sheep
If you're trying to raise sheep on a small lot, such as an acre, you're going to realize how quickly they'll deplete that grass. It's a good idea to check with your local extension office to know, for your area, how much acreage you need per head of sheep.
This will vary based on your climate, rainfall, and how quickly your grass grows back.
It also depends on your rotational grazing practices. I recommend checking out this podcast interview I did with Joel Salatin on maximizing your homestead with regenerative agriculture practices.
Janet rotates her sheep every day or two and they still need to spend some time in a dry lot, feeding with hay, while the grass has time to recover.
Basically, if sheep overgraze an area of grass, it will take that grass longer to grow back and it won't be as healthy.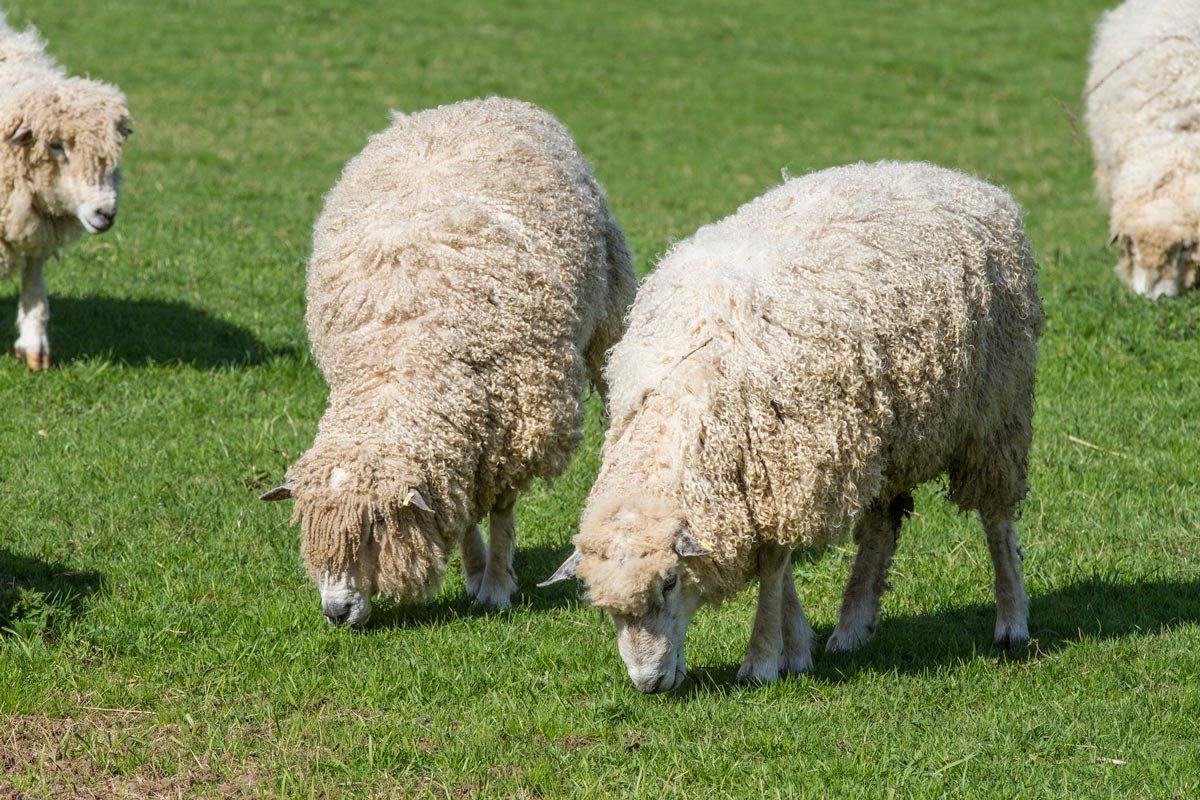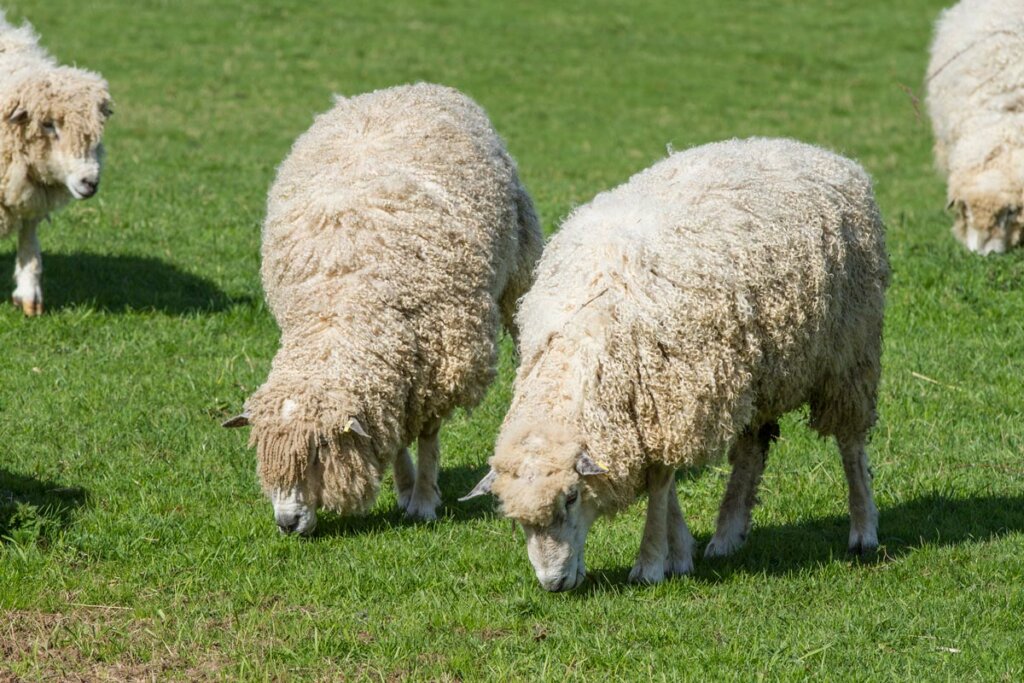 What to Feed Sheep
If you don't have enough grass for your sheep to graze, or you're headed into winter where your grass will be dormant, you'll want to supplement with a good quality grass hay.
You shouldn't need to supplement with alfalfa unless you're breeding your sheep. Good grass hay will do in addition to as much fresh grass as your flock is able to get.
For tips on keeping animal feed costs down, check out Stocking Up on Animal Feed (+ How Much to Feed Animals).
Start Small
Janet recommends starting small to get used to having sheep. It's easier to build up the fencing requirements for three sheep than it is for a flock of 20. Likewise, it's easier to figure out feeding requirements, keeping the flock healthy from parasites, etc. when you've started with just a few.
You can always add more sheep! Starting small helps you "get your feet wet" without it being too overwhelming.
Sheep are more similar to a cow that's grazing than a goat (learn more about raising goats here). But sheep want to go where there's grass to graze on. So if your fencing isn't sturdy, and there's greener grass on the other side of the fence, they'll figure out how to get through that fence.
So sturdy fencing is important, but it's not as crucial as with goats.
Common Diseases and Health Issues with Sheep
Sheep are susceptible to parasites, much like goats and other grazers. By keeping a small flock it's easier to be in contact with each animal every day to check in with their needs and to monitor their health or changes in behavior, etc.
You can check to see if an animal is becoming anemic (one sign they might be dealing with parasites) by checking their inner eyelid color. The whiter the eyelid the more anemic the sheep, the pinker the eyelid, the better blood circulation they have.
There's a FAMACHA chart that helps you monitor the color of your goat's eyelids to see the amount of blood circulating in their body.
Natural Remedies vs. Non-Natural
Janet gives a good word of warning by saying that natural remedies and practices are great for helping keep your flock healthy and preventing diseases and parasites, however, using herbal remedies to help cure a large parasite load usually doesn't end up working in the end.
You may want to ask yourself if you're ok using a chemical de-wormer in order to save your sheep before venturing down this avenue of homesteading.
We've actually experienced this ourselves with a cow who needed antibiotics, and even though we weren't happy with needing to go this route, it was necessary to save the cow's life.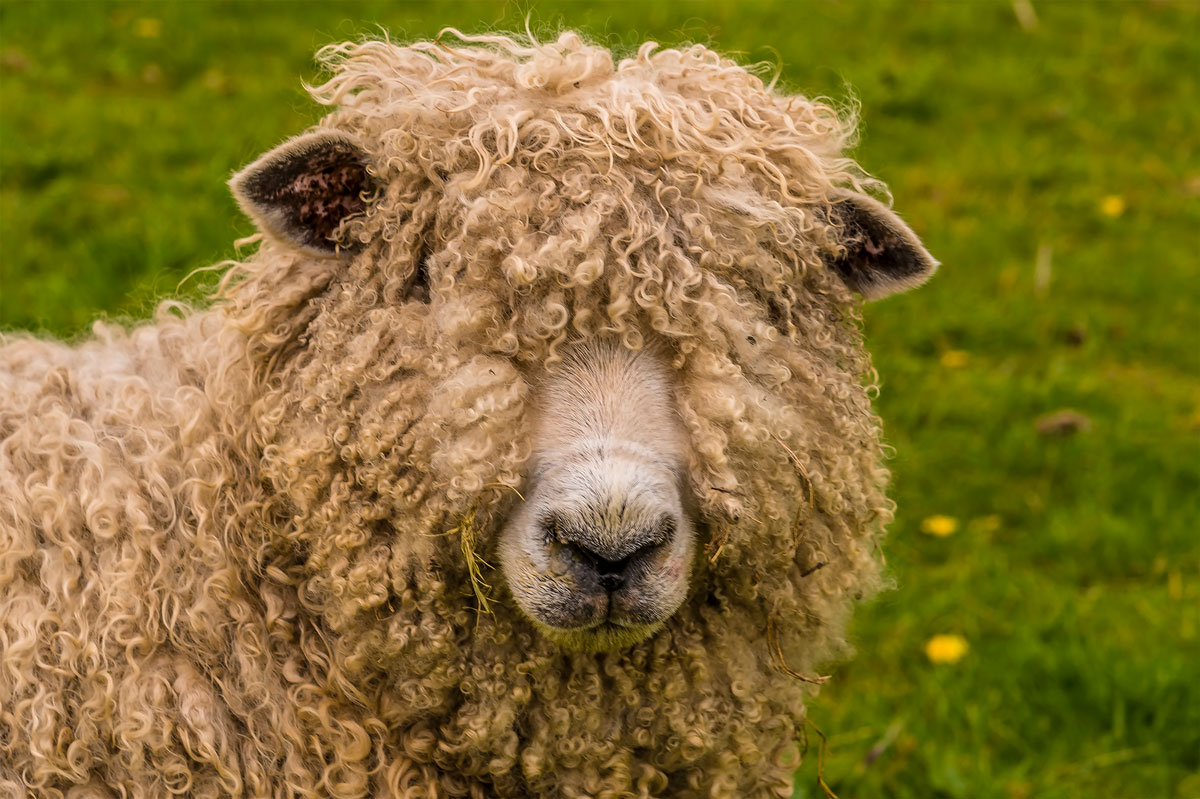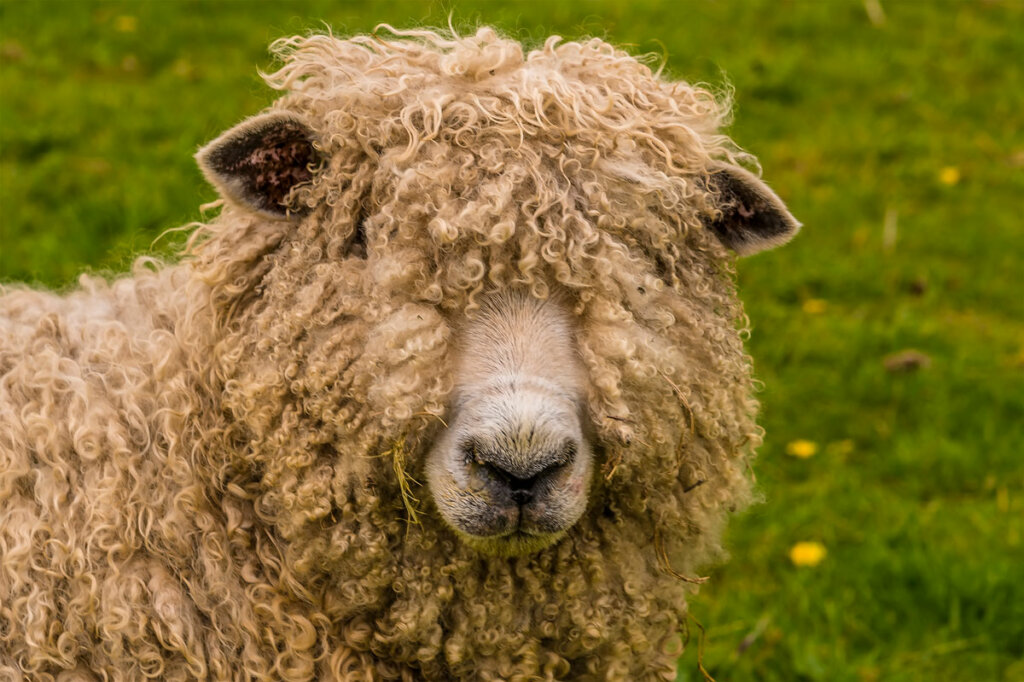 How Much Fiber Does One Sheep Produce?
Each mature Finn sheep will produce approximately 5-8 pounds of raw fleece. You're going to, of course, have to clean out the parts of the wool that are not usable for yarn and use that for another purpose.
From that eight pounds of raw fleece, you'll probably send about five or six pounds to the mill. You only want to send the best quality, otherwise, they're just going to reject it.
From here it depends on the yarn that you want (one-ply, two-ply, three-ply, etc.).
If you have three Finn sheep, you'll likely be able to get enough fiber to make a few garments or blankets.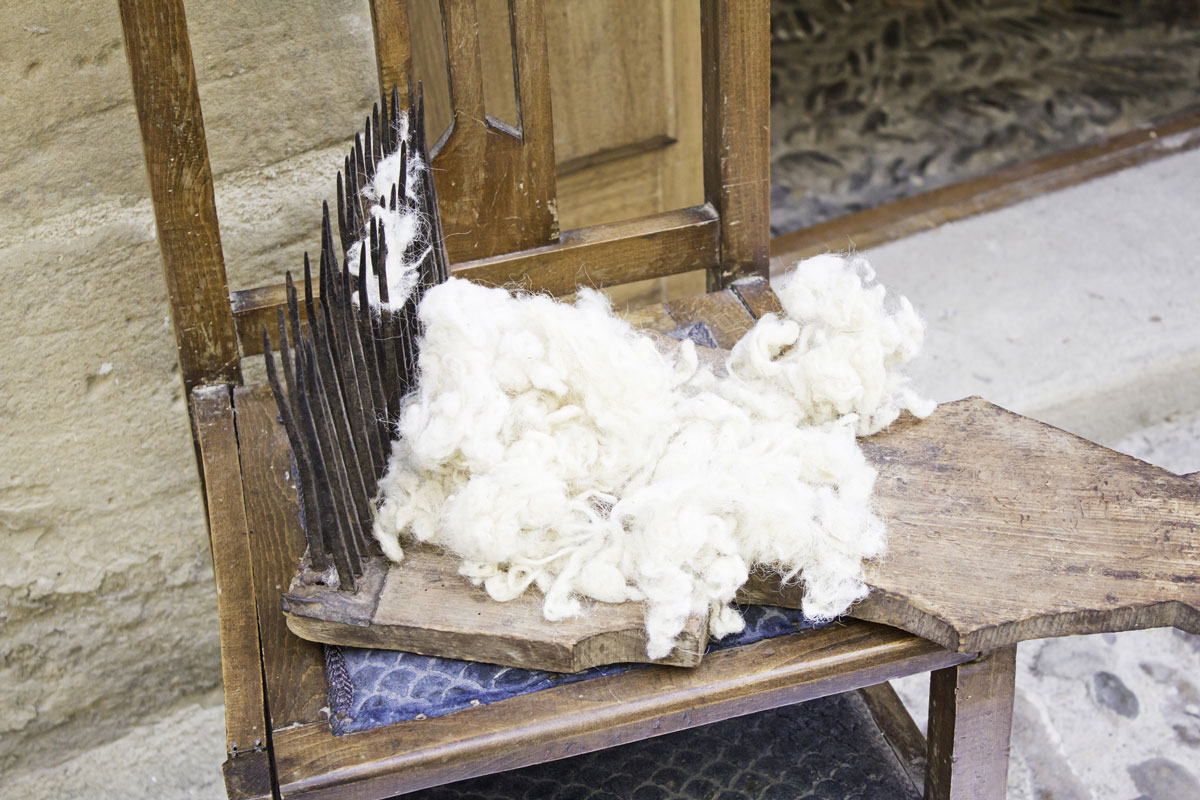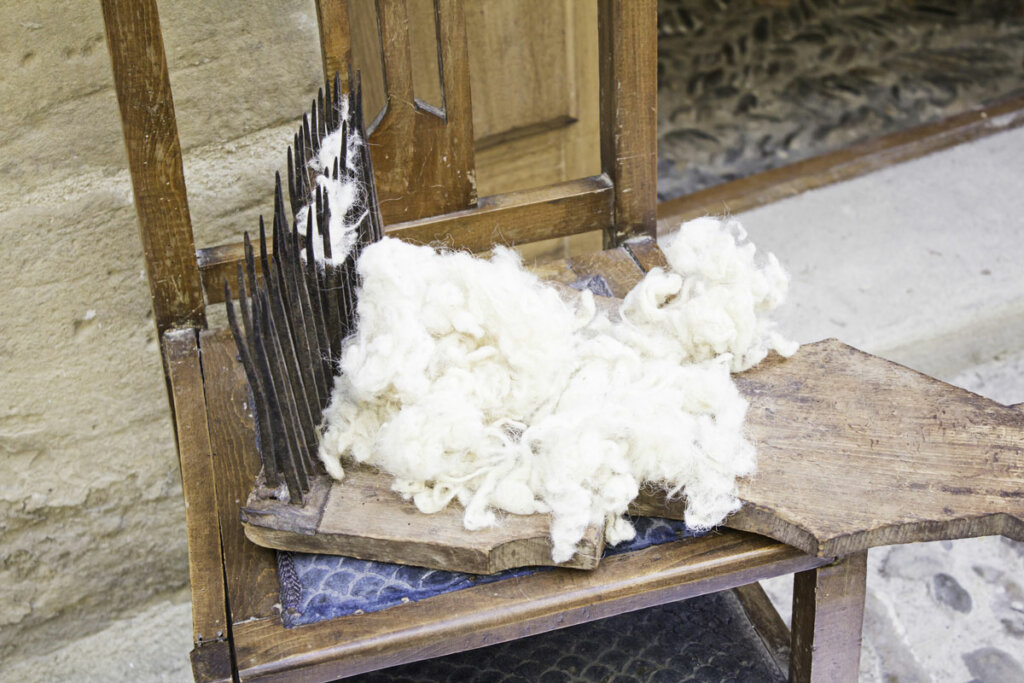 How to Clean Wool
There are multiple processes to cleaning the wool. The first step is called skirting and the second step is where you'll actually clean and sanitize the wool.
Skirting
Once a sheep is shorn (or the fleece has been cut from the animal) you'll need to clean the fleece, or more accurately, remove any unclean areas.
The process of cleaning raw fleece is known as skirting. This is removing fleece that has come into contact with things like urine and feces, or areas that have contact with dirt or the ground such as the stomach and lower leg areas. Typically speaking, you'll remove most of the edges of your fleece.
Uses for Skirted Wool
Janet gives us some fabulous ideas for how to use skirted wool. One I'm especially intrigued by is using it as ground cover in the garden.
Ground Cover
Wool is naturally insulating, but it also retains moisture while still being able to breathe. Once wool gets saturated with water it holds onto that moisture and acts like a dripline.
Wool could be a great option for using as "mulch" around your garden plants to suppress the weeds, help the soil retain moisture, and eventually, the wool will break down and add organic material and nutrients to the soil.
Insulation
If you want to use the skirted wool as insulation, say for your home or otherwise, you'll want to clean it first. Follow the instructions for how to clean wool above.
Felting
Those pieces of fleece that are too short to turn into yarn can be used for projects like felting.
Whenever you're doing something on your homestead, there are always byproducts and as modern-day pioneers, we want to be sure we're utilizing all the parts of a product! Get creative!
Cleaning Skirted Wool
First scour the wool by washing it in hot water, then rinsing, washing in hot water, then rinsing until the wool is fairly clean.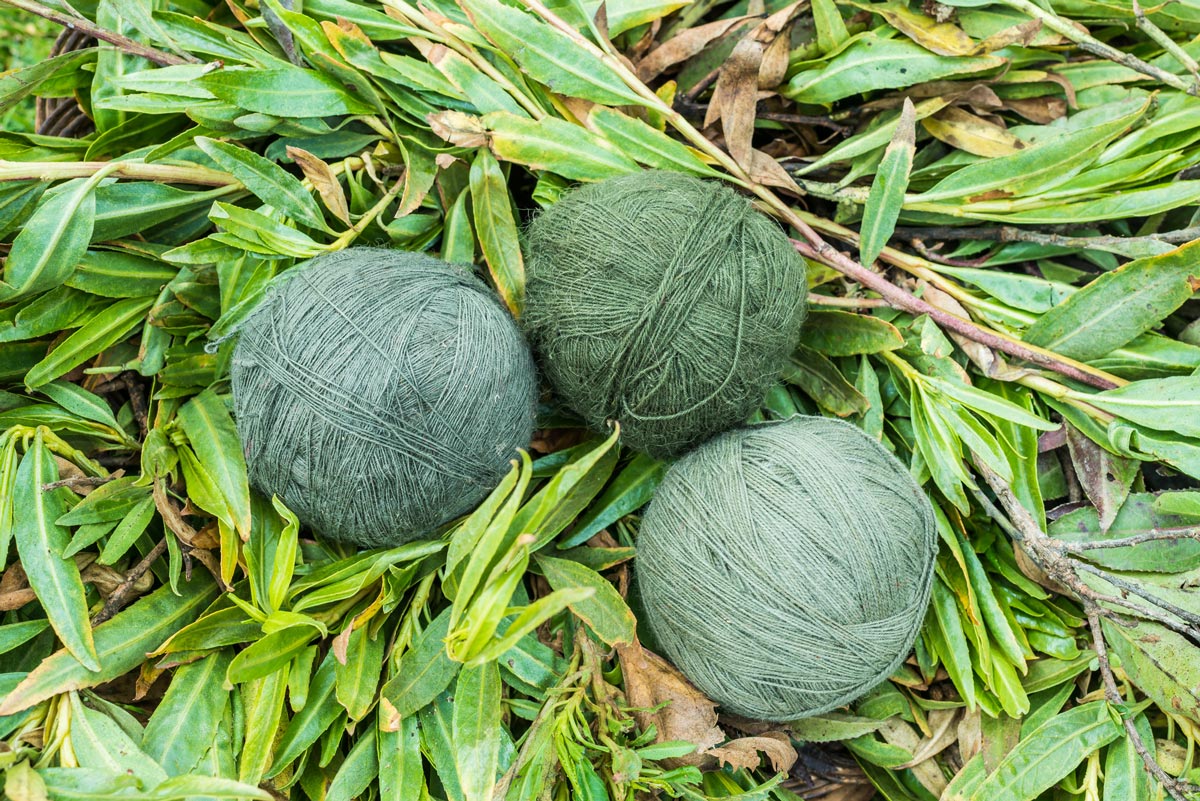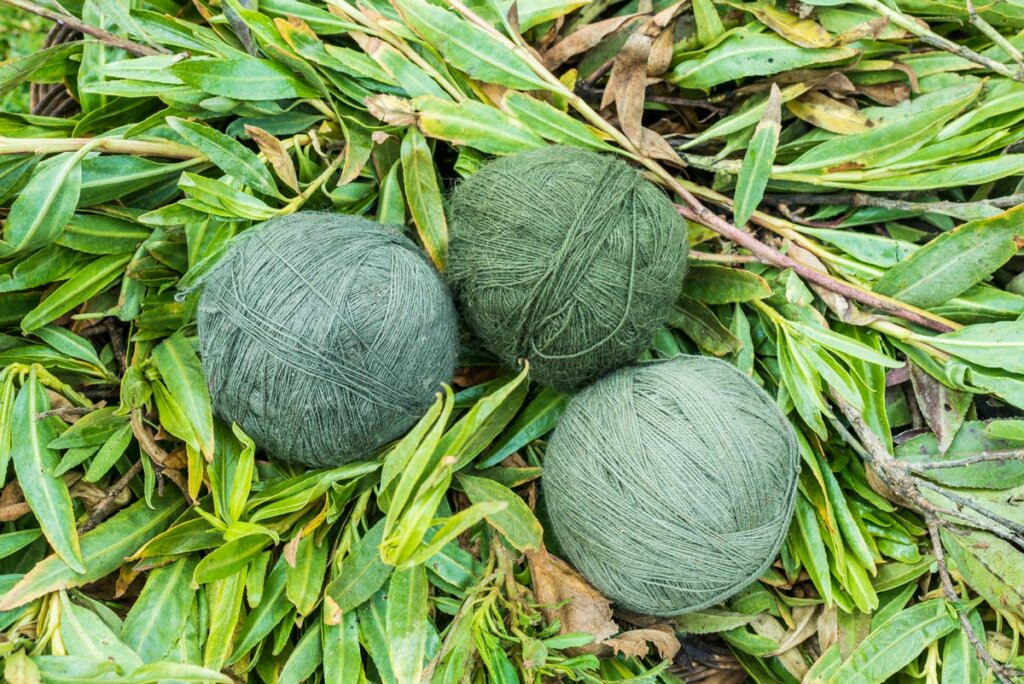 Naturally Dyeing Wool
There is a lot of yarn that you can go and buy, but there are very few options that you can get that have been naturally dyed with colors from nature.
Natural Reds
There are many plants that will naturally dye yarn. So many of us fear the stains that can happen from things like chokeberries or elderberries, but these make fantastic naturally dyed red yarns in various hues, as do flowers such as zinnias, marigolds, etc.
Natural Yellows
If you're reading this post, chances are you love dandelions for their many purposes just as much as Janet and I do, but the dandelion flowers also make a great natural dye.
Natural Greens
There are many natural green options as that's the most prolific color most of us have in our area. Plants such as purple dead nettle and wild mint make beautiful hues of green.
Herb Garden
When you're looking for natural dyes, just go out to your herb garden! So many herbs and flowers work well for dyes. Janet says when her herb garden gets overrun, she just cuts it back and uses them for dyes.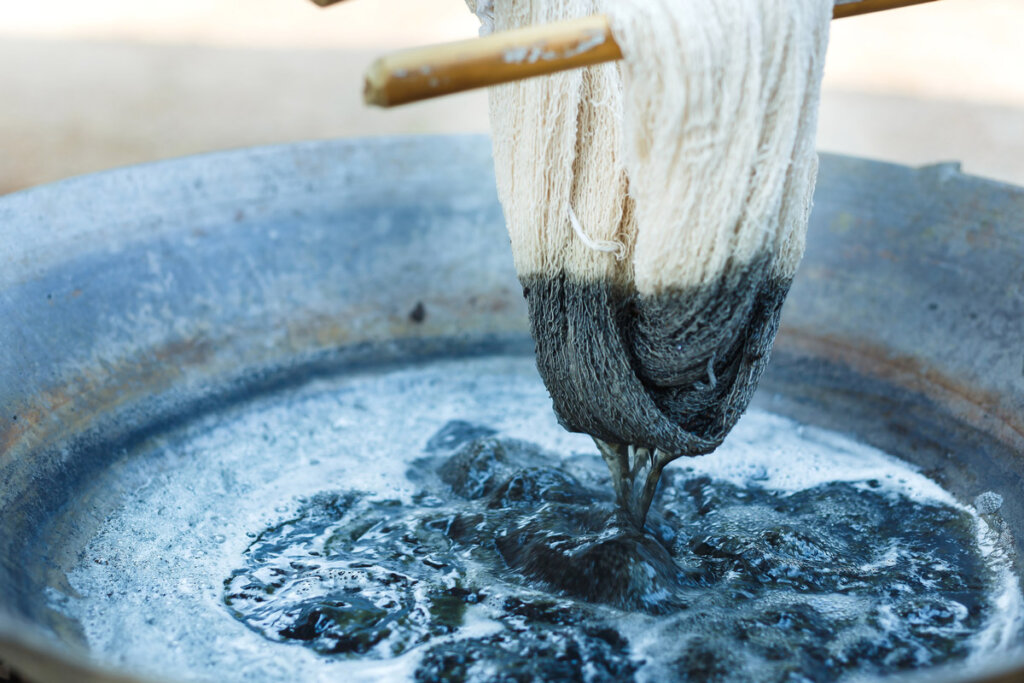 A Basic Dye Pot
Janet's recommendation when dyeing yarn is to soak the yarn overnight in a solution of alum (aluminum sulfate) and cream of tartar. Do this by bringing the solution up to a boil, add your yarn and let it boil for 30 minutes, then turn the heat off and let it sit in the solution overnight. This will allow the yarn to better receive the color of the dye.
The next day, make your dye pot by adding enough water to cover your yarn and your herbs, flowers, or berries. Turn the heat up to medium-low, don't allow the water to come to a boil or it can dull the colors*. Steep the herbs, flowers, or berries in the water for 45 minutes or until the desired hue is obtained then add your yarn (different colors will develop slower or faster).
Add your yarn into the dye pot and watch the color. Once you like the color you see, you can remove it from the pot.
Allow it to drip dry just a bit and then let it cool down and dry out just a bit before washing the yarn in cool-tepid water with a bit of wool shampoo.
*It depends on the plants you're using for the heat you use.
Find Janet
You can find Janet multiple places online, here are some of the things you should definitely check out:
Melissa K Norris: Hey, there pioneers and welcome to episode number 321. On today's episode, we are going to be talking about sheep. Specifically, sheep if you are going to be getting them for meat and/or as a fiber animal. What you need to know about raising sheep, about picking specific breeds, what type of care they require. And then we get into... Well, it's all really fun stuff. But then we'll be specifically talking about shearing them, harvesting their wool, things that you need to know and how to naturally dye yarn from things in your yard or that you forage, things that you might be growing on your homestead, but using all different types of natural items to create gorgeous dyed yarn.
Melissa K Norris: So today's episode is a really fun one, and I am very excited to introduce you to today's guest. But first welcome. I'm your host, Melissa K. Norris, fifth generation homesteader, bestselling author of multiple books, including my newest book, The Family Garden Plan and Planner.
Melissa K Norris: I help hundreds of thousands of people every single month to learn how to do living homegrown and handmade, using simple, modern homesteading for a healthy and self-sufficient life. And I am thrilled to have you join us. Now, as I share today, we're going to be talking all about sheep, including for fiber, but also for meat. And today's episode is sponsored in part by ButcherBox.
Melissa K Norris: Now, ButcherBox does not offer sheep. However, they do have high quality humanly raised meat that you can trust. They deliver 100% grass fed, grass finished beef, free range organic chicken that has highest standards of rating, meaning that the chickens actually have free range access and the largest amount of space. There's different tiers. I just learned about that and ButcherBox only partners with farms that do the highest tier, meaning they actually truly do have free range and outside access.
Melissa K Norris: They have heritage bread pork and wild caught seafood that is delivered directly to your door. One of the interesting things about ButcherBox is they ship when you order and your meat is frozen at peak freshness, and it's packed in 100% recyclable box and shipping is always free. However, I was a little concerned, honestly about ordering meat through the mail.
Melissa K Norris: Now, we raise almost 100% of our own meat. However, there's some seafood that we are not able to get. And I wanted to test out the quality of their beef and put it up against ours before I ever recommended it to you, guys. And we live so far out that the poor delivery guy did not get here until almost 7:00 at night, which meant that our meat had been on a truck for hours, if not days at that point.
Melissa K Norris: So it was a little bit leery because it had lobster in it before I opened the box. I'm like, "Oh, I hope it's still cold and frozen." I was so pleasantly surprised when I opened the box, everything was still rock solid, frozen inside, and it was very good quality. The lobster we had not had in years, so my husband was super excited about that, he's the seafood fan, but I was pleasantly surprised to see that their grass-fed beef was very similar to ours.
Melissa K Norris: I will say it wasn't quite as bright in color. It was still bright in color, especially compared to store bought, but not quite as bright as ours. I think it was a little bit leaner than what our grass-fed beef is, but my kids could not tell the difference. I didn't even tell them that it wasn't our beef and that's all we have at home. And they thought it was great. We made meat balls out of it and it was one of their absolute favorites.
Melissa K Norris: And the good news is that I have a special offer just for Pioneering Today Podcast listeners, that's you. ButcherBox is giving new members free ground beef for life. Yes, for life. Sign up at butcherbox.com/pioneeringtoday a and get two pounds of ground beef. 100% grass-fed ground beef and every order for the life of your membership.
Melissa K Norris: The ground beef for life free bonus is only available through October 15th. So go and sign up as quickly as possible if you want to get that two pounds of ground beef for free and every order for life before it goes away. You can get that by logging onto butcherbox.com/pioneeringtoday to claim this deal.
Melissa K Norris: Now, back to our episode at hand and today's guest. Today's guest is Janet Garman, who is actually a dear friend of mine. I have stayed at her house. She is a wonderful host. Janet runs and operates Timber Creek Farm. It's their family farm. In addition to being a rewarding life on the farm, it's also where their business was born. Janet has a flock of wooly sheep that are the backbone of their farm yarn business.
Melissa K Norris: Over the last decade, Janet and her sheep have developed a line of natural yarns that they are very proud to offer to fellow crafters. From that beginning, a passion product line was developed that includes natural dyed yarn supplies and all inclusive kits. Sharing the skills of using plant dyes has led Janet to produce an online digital course for beginning natural dyers. She shares a wealth of stories and information through her blog, which is at timbercreekfarmer.com.
Melissa K Norris: She's the writer and animal wrangler there. And in addition to writing blog posts, she manages the online shop, finds new products to add to their free range yard lineup and writes books and magazine articles. Her background of a degree in large animal farm management and animal science from the University of Maryland has helped Janet focus her energy towards helping others learning to raise livestock, chickens, ducks, rabbit, and small farm management.
Melissa K Norris: Now, Janet and I, which you're going to get to hear in just a moment talk about a lot of things. So to get links to any of the information that I have mentioned thus far, and you'll be hearing it just a minute, you can go melissaknorris.com/321. That's just the numbers 321, because this is episode number 321. So again, at melissaknorris.com/321. Okay. Without any further ado, let's get to this awesome interview. Well, Janet, welcome to the Pioneering Today Podcast.
Janet Garman: Well, thanks for having me in here. This is wonderful. What a treat.
Melissa K Norris: Yes, I am so happy to have you on. And for those of you listening in, I've actually had the pleasure of staying at Janet's home before. She is a wonderful host. She's also a great Uber driver. We have went on a back road adventure. We didn't know we were going on before, but had so much fun doing it. So I'm really pleased to get to introduce my listeners to someone who is a personal friend, but also someone I've been dying to pick their brain on more in depth than I've been able to do, and the other times we've been together on raising sheep for wool and doing the natural dying and all of that. So I am just so excited that I get it to share you with my people. So welcome.
Janet Garman: Thanks a lot. We're going to have a good time talking about the sheep and wool and hopefully answering a lot of questions your listeners have.
Melissa K Norris: Yeah. So with this sheep I have, which for Janet, I have sent her a Marco Polo, just different things before as I was going back and forth, deciding are we going to get sheep now? Or are we going to hold off? So she has patiently answered these questions before, but I want to have them covered in this episode for those of you who may have similar questions to me being a complete newbie will have this information too. So when you're raising sheep for wool, are there dual purpose breeds that are good fiber animals as well as for meat? Or are they generally very specific? You're looking at them just as a meat type animal. Can you milk sheep? Is there a dairy sheep breed or just a fiber animal where you're looking at them for wool or can you have one that can serve all of those purposes?
Janet Garman: Right. Okay. Well, first of all, I don't believe that there are really a dual purpose or tri-purpose sheep that's going to be excellent in all three of those areas. Now of course being mammals, you're going to get milk from any mammal that has given birth. So you can get a limited amount of milk as you're weaning lambs, but I would actually suggest that before anyone go for dairy sheep that they taste sheep milk and sheep milk cheese, because it is different than goat and different than cow.
Janet Garman: So I would definitely make sure that it's a product that you really want. I would say the closest thing that you're going to get that you can find easily would be an Icelandic sheep. They're a dual-coded breed. So you can make some beautiful yarns and wools, and weave or make fabric somehow with their wool.
Janet Garman: They're a good meat breed. As far as milking, I would say they're probably on par with any other sheep, their size. I could be wrong. There might be people who are using Icelandic that just think that their milk is the best thing ever. But a lot of that is opinion and experience. So I haven't actually tried to raise sheep or dairy. There are dairy breeds, like the east regions that you would be more inclined to go towards for milk, but then they're not going to be your wool breed either because they're going to put their body's metabolism into milk production. Excuse me.
Melissa K Norris: Oh, no, that's okay. And that makes a lot of sense. So going into the topic, because that's what I really want to talk to you today about a lot is the fiber and being able to harvest that and then dying that because you put out such beautiful dyes. I'm always impressed every time I see them.
Janet Garman: Thank you.
Melissa K Norris: But what breeds then and what things should you be considering if you're looking to raise sheep specifically for their wool?
Janet Garman: Okay. Well, that's the thing that you're going to have to decide some stub topics on that too, before you go and buy some fiber sheep. Wool comes in a lot of different thicknesses. Styles isn't the right word, but it is kind of what I'm saying. So you're going to have your shorter wool breeds that have a more dense fiber. It's a little shorter, well-lock, I guess they would call it. Then you've got your long wools, like a Lincoln, which has a very long staple.
Janet Garman: So you can get up to six to eight inches and a staple length on a Lincoln. Your medium wool breeds like a Finn are going to be kind of a five-inch staple for the most part. And then you've got your shorter staple lengths like South Downs, which is primarily, I would say people raise South Downs for both meat and wool.
Janet Garman: But for my purposes, using a fiber mill, a short staple wool is often rejected by the mill because it's not long enough to get caught in the runner, the rollers. It's kind of technical and I'm not sure that I'm explaining that well enough for you, but if you're using a fiber mill to make your yarn, the staple has to be long enough consistently so that when it goes through the mill process, the rollers can catch it.
Melissa K Norris: Okay.
Janet Garman: So if you have a short staple like a South Down that doesn't have a long staple coat, it often drops off and breaks, and then it doesn't make itself into yarn. That's like the simple way of looking at it. So if you're a spinner and you want to just have a lovely, huge basket of wool next to your spinning wheel so that you can just pick it up and spin it yourself, then the shorter staples can work fine for that kind of environment or that kind of use.
Melissa K Norris: Okay.
Janet Garman: But if you're trying to get enough to sell and you can't keep up spinning it yourself, and you're going to go use a mill, you might want to look to more of the medium to longer staple breeds. After you've decided on that question, I think the next one is size. As much as I love the Lincolns and their long luxurious locks, they are big. They are very, very big sheep. So do you want to be a shepherd of a really large animal? Are you comfortable working with large animals? Because no matter what, even if you have a support system, you're going to have to handle that animal a lot yourself.
Janet Garman: Even if you maybe aren't physically strong enough. So I think that all these things have to be taken into account, which is one of the reasons that we have Finn because they're a nice size sheep and they're hearty and they have of great parasite resistance, but they're not as big as some of the other breeds. So it's easier for me to tip a 200 or less pound animal to tend to its needs than heading up into the 300 range.
Melissa K Norris: Wow. Yeah. They're big. So as far as raising them, and you said the Finn is the size of about 200 pounds. I don't know if acreage is going to be applicable like it would be for cattle, but how much space do you need? And sheep are a herd animal, so I'm assuming you really don't want to raise one all by itself that you should at least have a pair. But can you talk a little bit about space and care requirements for sheep?
Janet Garman: Yeah. You're going to be really surprised at how fast. If you're trying to raise them, like say on an acre lot, they're going to overgraze your yard very, very quickly. It's going to be somewhat dependent on the types of grass you have, your climate like how much rain do you get? How fast does your grass grow? If you're more arid? So what I usually suggest people do in that case, Melissa is check with their local extension office to get a stocking rate for their area.
Janet Garman: For me, my flock of 15 can graze down an acre within two days. And then I need to move them because once they overgraze, that grass is not going to cover very quickly. There's all these formulas out there of where the growth area is in grass and certain grasses. And if they get down to the last two inches above the ground, they've nipped off the growing area.
Janet Garman: So you need to make sure they're not grazing down to the ground in other words, because then you're going to be really fighting to get your grass to grow. So right now we move ours every day or two, and we still don't have enough grass for our flock, with the three areas we have. So they have to spend some time in dry lot while it recovers. And we just keep adding more.
Janet Garman: It's just a growth in progress for us with the sheep, and it's fine. It's just that then you're looking at purchasing, hey, so there's nothing bad about keeping your sheep in a dry lot, you just have to keep it clean, dry, and you're going to have to feed them. And the best way to feed them is a good quality hay. You don't have to buy alfalfa. That's not good for them if you're not breeding. You don't need that. Just a good grass hay.
Melissa K Norris: Okay. And then as far as a herd size, I'm assuming a pair is fine, but what would you recommend if someone's getting in there? How much wool, I guess... Here's a better way for me to ask this question. If you're looking at them as a fiber animal and you're not looking at them for meat production, because that's our focus really for this, how much wool are you going to get off of say a Finn, which is a medium sized breed word that you're raising and how much many sheep should you have based upon what you're anticipating like certain production need that type of thing?
Janet Garman: Yeah. Okay. So if you're going to be just starting out, I would recommend three mature Finn. Shape is going to give you between five and eight pounds of raw fleece.
Melissa K Norris: Okay. Cool.
Janet Garman: Then you're going to of course need to clean out the parts that aren't going to be turned into yarn and use them for another purpose. From that say, eight pounds of raw fleece. You're going to probably send five or six to the mill because you only want to send the best. They're going to just reject anything that's not good quality. It's a rough estimate because it depends on so much what kind of yarn weight do you want? Do you want 2-ply, 3-ply, 4-ply, those kind of things. But you're going to get back a significant amount of yarn from just three sheep.
Janet Garman: You definitely would be able to make three or four garments or blankets from it. And then of course, if you're doing something like weaving, you're going to want a different kind of yarn for your weaving. I don't know much about weaving, so I'm not going to try to pretend I do, but your mill would work with you on that. If you tell them what you to do, they will work with you. I suggest starting small for a few reasons. One for your own sanity so that you can get used to it. If you are working on fencing, starting small, you're going to have less animals escaping if you didn't do it right.
Janet Garman: It might be a less stressful thing to try to round up three sheep than 20. Getting used to the care they need, the health checks and what you're looking for. Kind of managing their parasite control needs, how you want to do that, getting that under control. So if you start with a small flock of three, it's a lot more manageable and you probably won't get as overwhelmed and burn out as you would if you started with a flock of 20 that you inherited from somebody.
Janet Garman: You might be inheriting problems. You might be inheriting some issues that you aren't equipped to take care of. And then it gets frustrating and then you want to get out because you're just like, wow, this is way over my skill level. But it really isn't, if you start small and work up. You can always add more. There's no shortage or sheep in the world. You can go back to your breeder friend the next year, or you can have more of your own if you buy a breeding set plus an extra weather. There's just a lot of different ways to grow this kind of flock for fiber.
Melissa K Norris: I have a question on the sheep. I have two, actually from what you said. Are sheep like goats in the sense that they are as hard on fences and are as escape artists as well as goats, or are they a little bit easier to keep into a fenced area?
Janet Garman: I think they're easier. What they will do is similar to a cow grazing. They won't necessarily be trying to escape. They're really just trying to eat. So as they're trying to eat, if your fence isn't sturdy enough for them, they're just going to keep pushing. So they're going to keep pushing that fence. Whether you're using a wooden fence or a stock fence or the electric netting, they're going to just keep pushing against it.
Janet Garman: And if it gives, well, the next thing you know, here comes three more behind them and they're all like, "Oh, good. The grass was greener over here." Let's just keep going. So that's a factor. The other thing with the starting small is you will find out if you want more wool or less wool after your first year. You'll find out if you want to work with a shear or if you want to learn to shear yourself. There's just so many things that you can take slowly. There's just a lot to raising sheep that I think it can be overwhelming to people if they don't have a lot of livestock in their background.
Melissa K Norris: Yeah. I can see that. You have mentioned too, like their health needs as well as parasite load. So are sheep more susceptible to parasites and parasite type issues than say cattle or goats?
Janet Garman: Personally, I think they're pretty likely to get a parasite load.
Melissa K Norris: Okay.
Janet Garman: I think it's the nature of them. I mean, a lot of people, if you graze your goats, you're going to going to have similar issues. But I think that sheep might be even less resilient unless you start breeding or adopting sheep that are more resistant. But still even then, something can come along that will just kind of knock you out of the water. I have a small flock. I consider 15 a small flock. It's not a beginner flock of three, but it's a small flock in the realm of shepherding.
Janet Garman: But the one reason I like that is because I can put my hands on every one of those sheep every day, if I think I need to. And it's not going to take over my whole life. I do look at them every day. I observe them every day. I look and see if anybody's acting off and then I will put my hands on them and I will look at their eyelids to see if they're starting to become anemic because anemia can be an early or really strong sign of parasites.
Janet Garman: It's not always as my vet has reminded me when I've told him like, "Hey, I think my sheep might need some parasite testing." And he's like, "Why do you say that?" And I'm like, "They look really pale." He's like, "That's only going to tell you if they're anemic." I'm like, "I understand that." But most causes of anemia in healthy sheep is going to be parasites.
Janet Garman: I like to make that distinction. The FAMACHA test is what I'm referring to where you can learn to check their eyelid color, but you have to kind of get ahold of them. It's not something you just do as you're walking by. You have to actually hold their heads still and look at their eyelids. And that will tell you a lot of information. You can also then mark down the degree and then you can see if they're recovering because you can be like, "Oh, that's definitely a couple steps up from where they were two days ago." Hopefully, your protocol is working. Can I just get on my soapbox for just one minute?
Melissa K Norris: Oh, you jump on that.
Janet Garman: Okay. Here's my soapbox issue with natural parasite control. I think natural is the way to go. I'm all for it. However, and here's my however soapbox moment, if your sheep is overwhelmed with parasites and you are going to keep hitting them with only natural preventatives, you are very likely to lose that sheep. I will defend this by saying natural is a great way to prevent to make that sheep healthier, less likely to become overwhelmed with parasites, but there is no evidence that is overwhelmingly conclusive that using herbs and natural remedies will cure a heavy load of parasites.
Janet Garman: So I know I'm not popular on that in a lot of circles, but I have seen some huge losses of entire flock because people just kept thinking, "We'll just keep giving them oregano. We'll just keep giving them all these herbs. We'll give them all these natural remedies and the parasite load was just too high." It couldn't conquer it. So I always say, if you have a really heavy parasite load, which you can spend very few dollars to find out, just consider using a chemical warmer to get them clean, again, and then start your herbal protocol. And you probably will build a better sheep and keep it healthy. There I go. I'm going to step down now. That's it.
Melissa K Norris: That's totally fine. I think that that's something that in a home setting and natural management, because I think if you're a homesteader, most of us tend to want to lean that way, but there is still a time within modern home setting to use some modern things. And of course you have to be the one as the... Obviously, if it's with your own health, but in this regard, we're talking about livestock, and even with your livestock.
Melissa K Norris: We had a calf that got an infection. The mom rejected it, and so that calf did not get the colostrum and developed an infection. If the vet wouldn't have came out and we used antibiotics on that calf, it would've died. So sometimes you have to decide how am I willing to only go natural and take the chance of that animal dying and using chemical, be it a wormer or an antibiotic does not mean that it won't die, because that would be a false statement too.
Melissa K Norris: But in instances that we're referring to, it would save that's life versus just going the natural route. So I think that that's something that you do want to consider. So I'm glad that you brought it up and yes, it's not always the most popular answer that people want to hear. But I think from people who have been raising livestock for a long time and have long term experience, that's the route that has to happen sometimes. So I'm glad you brought that soapbox up.
Janet Garman: I just don't think you can have... I mean, I just don't think you can have hard lines on anything when you're raising livestock. You are always going to have something thrown at you. And being able to accept that and move on and say, "Well, you know what? I couldn't be 100% all natural because we had this horrible event occur." Especially when you're starting out, you don't know what's already in your ground. You don't know what they're going to pick up because you haven't run sheep on that property before.
Janet Garman: So if you're just getting started, you're going to have a lot of things come up. You have to be a little flexible in how you're going to approach things. That's how I look at it. It's working for me and I hope it helps somebody out there.
Melissa K Norris: Yeah. I did have one question. I actually have two, but the first one is when you were talking about cleaning the fleece before sending it to a mill, if you're having a mill do it versus... Well, I'm sure you would clean it yourself even if you were spinning it yourself, but you said when you're cleaning and taking the less than ideal stuff, then what are some uses that you could do with that? Or what are some way that you use that? I'm just curious what you can use with that that's not quite good enough to be spun into your yarn?
Janet Garman: Yeah, sure. Some of it's going to be covered in poop and urine and it's going to be nasty. It's called skirting and it's usually the edges of your fleece. So as your professional shear, shears your animal, it should come off in a pretty big piece, right? They know how to do it so that it does that. But even if you do it yourself and you get it off in sections, you're going to pull off the stuff that's down by the lower legs, the buttocks area, the belly and the bridge, which is in between the back legs if they're heavy wool breeds back there.
Janet Garman: A lot of times the head isn't very good. So you're going to be left with what's considered the blanket kind of area and that's your good stuff. And then the stuff that you pulled off is great for what do you call it, mulching your garden? This is a great use for gardening. You'll love this, Melissa. Because wool retains moisture, but it also breathes. So once the wool gets wet, it acts like a drip line.
Janet Garman: So it keeps the soil from drying out while also irrigating your crops. So it's really interesting how that works. I have a ton of bags of not suitable for yarn fleece. I'm going to experiment with it, but that's just what I've gained from the research. I've tried it on some tomatoes in pots because they seem to dry out so fast, raise bed gardens, but I would love to try it like on row crops and see if I can keep down the watering need a little bit.
Melissa K Norris: I would've not thought of that. Obviously, I don't have sheep.
Janet Garman: In that case, it'll break down over time and add nutrients back into the soil too. But the other thing is you don't have to clean it for that purpose. Now, if you want to use it for insulating, like a natural insulating in between your wall or floor joist or something like that, you're probably going to want to scour it first which is the hot water soaking and then the rinsing and then the hot water soaking and using a good scouring wool soap to clean it.
Janet Garman: It still isn't going to be like great quality. It might be felted. It might be just short pieces that you wouldn't want to spin them, but you can use it for insulation, which is kind of good. On the scale that I have, a lot of people say, "Well, just put it out in the woods somewhere for the birds and animals to use it for their nests." That's great, but mine would be a mountain just from 15 feet. So I don't do that. I save it in storage bags and I'm going to do something fun with it eventually if I live long enough.
Melissa K Norris: Well, those are two great suggestions. I was just really curious as to what some options would be that you could put it to use?
Janet Garman: And then like your shorter pieces that you have that maybe aren't necessarily the trash parts of the fleece, but they're shorter. You can use them for felting and you can make sheets of felt fabric. Everything is going to take effort, but that's the way pioneering is, right? I mean, we put effort into things because they're worthwhile and because we need them. It's a project, but it's something that can be useful.
Melissa K Norris: Yeah. And I kind of like getting into that aspect of it because if you're not a home setter or a pioneer, and you're only after it for the best absolute parts, which is a way a lot of farms or a lot of businesses look at things. They're only after the top end or the part where you're going to be able to make the most profit, which is going to be the nice stuff, which I understand that as well to a certain degree. But the pioneer and the home setter, we're looking and seeing how can I use all of these things? So I think that it's great that you've got some of those uses that we can still use that aspect of the wool that's not necessarily the best.
Melissa K Norris: But when it comes to the best part, which has been turned in to our beautiful yarn, you have created, and I love because you do it using natural... A lot of it was harvested. I've seen where you've harvested stuff from your area, but you use all natural dyes and you get a beautiful rainbow of different colors. I think from a creative or artistic standpoint, I really think it's amazing the colors and the way that you play and add and do just these different little tweaks, because you talk to me about them and I'm like, "I have no idea what she's talking about, but it sounds awesome."
Janet Garman: Get a little nerdy on where I'm like, "Oh, then you can do this. And it's so exciting."
Melissa K Norris: Which I love. On my bucket list, someday when I get into having fiber animals or getting someone dying my own, you're my person. But talk to us about it because I think there's a lot of yarn that you can go and get and buy, but there's very few yarn that is actually dyed by natural means and is done like you're doing it. So share some of that with us.
Janet Garman: Oh, I'd love to. It's my passion. There's so many plants that we look up at as weeds and I grow them. I cultivate them because they're like great dye sources. One for instance is chokeberry. It has those berries, they stain horribly. So if your kids bring them in, start playing with them. You got red stain on everything. But those red berries make a beautiful dye.
Janet Garman: Elderberry also makes a beautiful dye if you're like just overwhelmed with elderberries, you can use that. There's just so many things that people look at in the natural world that they want to get rid of. Dandelions in their yard, and of course we all know how healthy dandelions are.
Janet Garman: If you're listening to this podcast, I'm sure you love dandelions as much as I do. But they also are a dye. The green weeds like purple dead nettle and wild mints can just make the most wonderful natural greens. And your blues from indigo sources. Woad. Just so many of the herbs can also be dye plants. So if your herb garden gets a little crazy, didn't keep it tended well, you can use those for natural dye. And I often go out just chop. Chop sounds like such a harsh word, but I'll go out and trim back my lemon ball because it's running rampant through the yard, and I'll use that for a dye.
Janet Garman: There's lots of different techniques for different kinds of weeds. If you're a flower gardener, there's so many beautiful flowers you can grow for a dye pot, Black-eyed Susans, Rudbeckia, your Echinaceas, zinnias, make an amazing dye pot. Marigolds. Oh, gosh. Just so, so many. Rose of Sharon is another beautiful one.
Janet Garman: So you can combine some of your loves with it. Maybe you naturally just love to forage and you can go out and see what does your property have an abundance of? That's where I've discovered a lot of mine. A lot of my favorite dyes have come from what is this plant and why do we have so much of it? Then I will look it up and I'm like, "Well, it's basically not really adding to the look of our farm by growing everywhere."
Janet Garman: So I'll be like, "Well, it needs to be harvested." It doesn't need to be eliminated. I just need to use it. So that's where I've gotten a lot of my inspiration for colors from. And of course we're heading into fall, which is my favorite natural dye season, because not only can you be outside and the beautiful weather creating pots of color, it's also got acorns and black walnuts and golden rod and pokeberry. So many others that you can harvest in the fall. Just create an amazing rainbow.
Melissa K Norris: Okay. Well, you were naming off. I have a lot of stuff that you just named off that's actually growing out in the herb garden that I didn't even realize you could use as a dye. The echinacea, the zinnia. You're naming it, I'm like, "oh, oh. Yeah." I'm like, "Oh, well, maybe I just need to go get some wool and start playing with that."
Janet Garman: Well, and I like to think that I'm unique and that I will play with things to see what I can do with them. A lot of people are what I refer to and I don't mean this in a negative way, but they're production dyers. They want to recreate a certain color line, which I think is great because we need all kinds of people out there making natural products. So that's wonderful. But I love to play with my dyes.
Janet Garman: So I'll take them and make different combinations and they may be become one dye pot only like that will never happen again because it was just kind of me playing with different colors. But that's how I get inspired. Everybody has their own trigger points that make them really feel alive and they're really enjoying what they're doing.
Janet Garman: For me, it's like, "Wow, what is this plant? Let me look it up." And then I'll be like, "Just put it in there as a dye plan. See what kind of Google responses you get and see if anyone else has been thinking like you and then try it." You just don't know what you're going to find if you don't try.
Melissa K Norris: So when you're doing a dye pot, walk me through just a very basic steps or principles when you are looking at dying your yarn? Are you using water? Are you using vinegar? What are you using besides the plant matter? I'm assuming the longer you let it go, the more vibrant the color. I could be wrong with that, but approximately like how long is this from making up your pot, putting it in there and then putting the yarn in there and then pulling it out and letting it dry? Is this like a 24-hour, a 48-hour? What does the process look like?
Janet Garman: Well, there's differences for everything of course, but I will tell you the basic one, and I like to tell people to do it over two days. Don't rush. Don't rush your dyes. Rushing them often doesn't give you the best results. So I usually start the afternoon before I'm going to die. And I will mordant my yarn, which means that I'm going to soak my yarn in a solution that will allow it to accept the dye color. It's going to open up the fibers in the wool. And I only work with wool. There are a lot of people who work with cotton and linen and silk and all that kind of stuff for natural dying. I'm happy to go into that at another time for people, but I'm referring to wool.
Janet Garman: So that would be sheep wool, alpaca, llama, rabbit, dog. Some people stave their dog hair. So in other words, protein fibers. Anyway so you're going to soak these in a solution of, I use alum, which is aluminum sulfate and cream of tartar, and these things are all available on my website. All these formulas are on my website or in my book, Natural Dyes on Wool. So you're going to soak it. You bring the temperature up to a boil and then let it simmer for half an hour, turn it off, leave your yarn in the pot overnight.
Janet Garman: It's just going to help it soak in more of that mordant solution. The next day, start your dye pot. Get your color kind of going, depending on the substance you're using. You either want to keep it at a low, warm all the way up to a low simmer. So somewhere in that range, depending on what substance you're working with. Some are very heat sensitive, that's why.
Janet Garman: Then you're going to transfer your yarn over into your dye and let the heat come up to whatever's recommended for that plant and watch the color develop. When it's developed enough that you're happy with it right there, turn off the heat. Maybe wait just a few more minutes and then take your yarn out of the dye pot in most cases. I mean, there's exceptions to every rule, right? There are a few that I say, "Oh, leave that in the dye overnight. It'll do so much better for you."
Janet Garman: But for the most part, once you reach your color, you can take it out. Let it cool down. I usually let mine dry a little bit. It doesn't have to be completely dry, but I usually let them drip dry before I wash them out in a cool to warm water and a little bit of wool shampoo to make them smell good. And that's it.
Melissa K Norris: Okay. Well, I know that was very simplified, but I'm glad you did it because I know there's lots of nuances within there, but we don't have time to go into that full aspect and all of that in today's episode., But you have some amazing resources for people who are wanting to learn obviously more about sheep, but especially the dying aspect using the natural dyes and that. So first off are you going to be presenting at any conferences where people could go and see you and learn about this in person and then also where they can find more about you and follow your process online too?
Janet Garman: I'm happy to share that. So in the near future, I have two events scheduled. One will be a small group at Polyface Farm in Virginia where I'll be doing a natural dye workshop. September, I don't remember exactly which weekend it was. 25th, September 25th. And that should be being promoted by them soon.
Melissa K Norris: Okay.
Janet Garman: And then of course our, our favorite venue is the Homesteaders of America Conference in October 8th and 9th this year. I'll be presenting with both myself, the lady who shares for me and local spinning and fiber arts teacher. So we're going to produce a kind of sheep to skin resource for the people who attend our talk. Hopefully, there'll be a live demo shearing and we'll be just answering all questions people have for the whole gamut, from raising your sheep, questions about that, all the way through to the spinning process and natural dying of your yarn.
Melissa K Norris: Oh, that's going to be exciting. I hope that we're not presenting at the same time so that I can come and watch.
Janet Garman: Of course, like you, I'll be there the whole entire weekend. I have a booth. So you can always find me and I'll be happy to talk sheep and wool, and dyeing anytime all day long.
Melissa K Norris: Yay. And then online where is the best place for people to connect with you, Janet?
Janet Garman: Okay. So of course my website, which is timbercreekfarmer.com and then on Instagram @timbercreekfarmer. My books are available on my Etsy shop under Timber Creek Farm. They're also available on my website. One book Keeping Sheep and Other Fiber Animals came out in 2019. And that's the same thing of all the way from choosing your sheep, how big of a property do you need? What kind of fencing, housing, feed? All that kind of stuff. All the way through. I did give some natural dye info in there. There's also other ways to use your fiber from any of your protein fiber animals.
Janet Garman: Then last year I wrote quite a few of my recipes, put them in a book with a guide to how to do natural dyes on wool. It's a journaling notebook. So you can take notes in it. There's plenty of space for you to write down your own results. And I'm really proud of it because it was a huge project to take on. Recipes all need to be tested and that kind of stuff, before you go ahead and put them out there. So my team worked really hard with me on that, and I'm really proud of it.
Melissa K Norris: Yes, you should be. You, also at times have different kits as actual things that you can purchase physical. That's the word I was looking for, physical kits and stuff. If you're interested in that, I highly recommend checking out those resources. And we'll have links to all of that. I know sometimes when you're listening, you're like, "Oh, man. So we'll have links to all of that in the blog post and companies this episode. So you'll be able to find them there too. So Janet, thank you so much for coming on.
Janet Garman: You're welcome.
Melissa K Norris: And sharing. I learned a lot.
Janet Garman: Thank you.
Melissa K Norris: And I am excited to be able to see your presentation at HOA. I'm really excited to be able to watch some of that in person. So I'm so excited that you're doing that full on gamut workshop there. That's going to be awesome.
Janet Garman: Well, thank you, Melissa. I really appreciate it. I can't wait to see you again.
Melissa K Norris: Yes, I'm here.
Janet Garman: We'll all be there. So I just want to give a quick plug to that organization that Melissa and I are involved in and it's just so well done and so much information to be gathered. So I really recommend people come out and see us.
Melissa K Norris: Yes. Same here. Very excited to be a part of that and to get to see people in person this fall. So Janet, thank you so much. I know you and I will be talking soon. I know that others who listened in will find you as great a resource as I do.
Janet Garman: No, I'm happy to help. That's what I'm here for. I really do believe that. I really believe in helping people figure out how to do some of these skills themselves.
Melissa K Norris: Thank you.
Janet Garman: Okay. Talk to you soon.
Melissa K Norris: I hope that you enjoyed this episode as much as I did. Janet is such a sweet spirited lady and has such a heart for sharing and giving to others. And if you have not gotten your ticket yet and are going to be in, or can get to Virginia, Janet and I both would love to see you at this year's 2021 October Homesteader of America's Conference. We actually have our booths side by side because my daughter helps to run my booth while I'm presenting at teaching workshops. And then she jumps over to Janet's booth when she is teaching and helps to run hers.
Melissa K Norris: So we would love to be able to see you there. You can grab tickets. You can't get tickets at the gate, but you can purchase them online. At the time of this recording, there were still tickets available. Find out more information at melissaknorris.com/hoa.
Melissa K Norris: Thank you so much for joining us. I will be back here with you next week with another... Well, I like to think they're incredible episodes. But with another incredible episode where we are going to be talking about herbal medicine and a spotlight on a longstanding, what used to be a very traditional garden flower that was used herbally in almost every housewives' arsenal, shall we say?
Melissa K Norris: But it is one that most people, or I should say a lot of folks don't actually know how to use anymore or know the amazing benefits that it has. We're going to be talking all about that in next week. So for now, blessings in Mason jars, my friend.
Sign up to receive email updates
Enter your name and email address below and I'll send you periodic updates about the podcast.