Some of the links below are affiliate links, which means I will earn a commission at no additional cost to you, if you click through and make a purchase. Regardless, I only link to products we use on our homestead or believe in.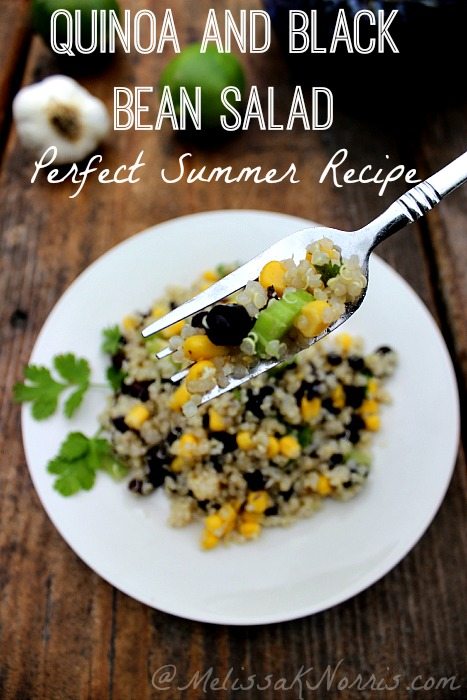 This quinoa and black bean salad recipe is the perfect summer fare. It can be a complete meal on it's own, or the perfect side to whatever you've got grilling, like our own grass fed beef steaks we had it with tonight.
Ever since I discovered quinoa, it's been one of our favorites. And yes, I mispronounced it for about four months, so don't feel alone. The correct way to say it is "Keen Wah". It's slightly nutty, high in protein, and quinoa is gluten free. My kids like it, which makes it high on this Mamma's list for healthy foods without a fight!
Because I try to make meals as frugal as possible, I usually only purchase dried beans. I can my own shelled beans, but dried beans are great for building up your own food storage, and they're not in contact with metal cans that sometimes have BPA in them. I soaked two cups of black beans overnight, rinsed, and then simmered for an hour and half.
I don't know about you, but I'm one of those cooks who plays with her recipes. Depending upon my whimsy (isn't that a fun word to say!) and what I have on hand, my recipes are often tweaked and altered.
This recipe is ripe for tweaking. We added avocado one night and I happen to think some feta or olives would be divine. My husband voted for diced green peppers, but he's gonna have to add that on his own. I'm not a huge pepper fan and because I'm the cook…. well, I get final say. 🙂
I use our steamer/rice cooker to prepare our quinoa. I use 1 part quinoa to 2 parts water. It takes about 20 minutes to cook.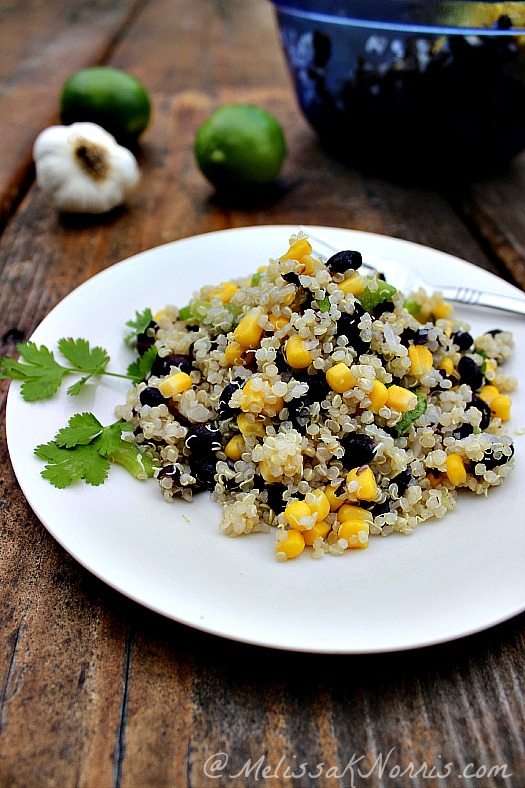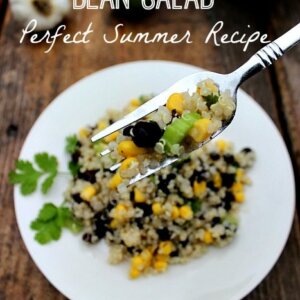 Quinoa and Black Bean Salad Recipe
Ingredients
2

cups

dried black beans

then cook, rinse, and drain

1

cup

quinoa

cook with 2 cups water for 20 minutes or until fluffy

1

can organic sweet corn

2

stalks celery

chopped

1/2

cup

onion

minced

Salt to taste

1/2

cup

cilantro

roughly chopped

1

lime

Dressing

1

clove

minced garlic

2

tablespoons

apple cider vinegar

4

tablespoons

olive or avocado oil

A dash of sea salt and pepper
Instructions
Cook black beans and quinoa. In a large bowl mix together beans, quinoa, celery, corn, onions, and cilantro. Mix dressing and drizzle over salad. Stir together. Squeeze the juice from one lime over top of salad. Chill and enjoy!
Do you have a favorite summer recipe?
This recipe is featured The Prairie Homestead.