This buckwheat pancake recipe is not your ordinary pancake, and there is nothing quite like a weekend morning breakfast of hot-off-the-griddle pancakes.
Especially when the batter can be made the night before, making these an overnight fermented pancake recipe. Score! Seriously, making pancake batter the night before makes cooking early in the morning a breeze.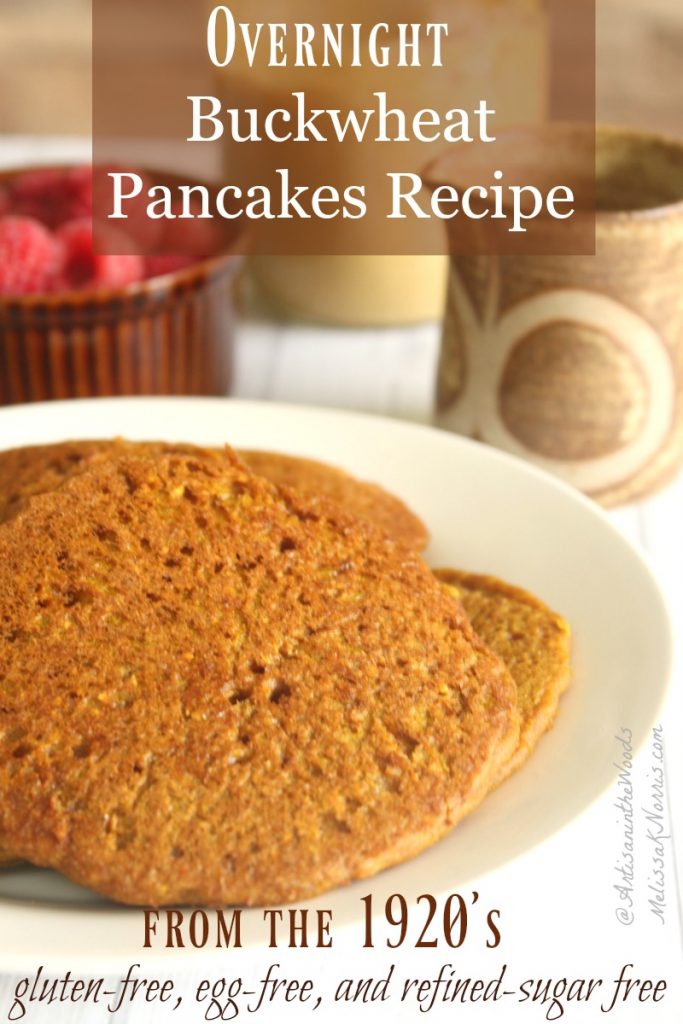 This heritage recipe was found among my great-grandmother's recipes, in a cookbook released in 1921, and is an overnight yeast pancakes recipe.
Unlike most modern buckwheat pancake recipes, this one incorporates yeast into the batter, which rises overnight and is cooked in the morning.
Cooking notes:
These simple buckwheat pancakes are best fried in a cast-iron skillet (all pancakes are for the record). Heat your skillet over medium heat until it's nice and hot, and then pour your batter in, the preheating helps keep the pancakes from sticking. If your cast iron is well seasoned, you might not even need to add a fat source, but I like a little melted butter in the skillet just so the pancakes have a buttery taste (because hello, it's butter!). You can find more on seasoning and caring for cast iron here
Wait until bubbles appear on the top before flipping. I prefer to use a metal spatula (and no, it won't hurt a properly seasoned cast iron skillet) to flip my pancakes over.
Healthy Buckwheat Pancakes
Organic Buckwheat Flour– this flour is batch tested and certified gluten-free and organic
Molasses- a long-time stand-by in old recipes and added health benefits with vitamins and minerals, compared to most sweeteners.
Batter can also be saved from the first batch and used for subsequent batches without adding more yeast, similar to a sourdough starter.
For those who may have allergies, this is a buckwheat pancake recipe without buttermilk that is also gluten-free, egg-free, and refined-sugar free, although this was probably not even a consideration when the recipe was written!
Sweetened only with molasses, they are enjoyable served with fruit, drizzled with maple syrup, or topped with yogurt. Try this 1930s Chocolate Gravy Recipe for a delicious vintage breakfast treat.
Cooked pancakes also keep well in the fridge for a few days, and freeze well, too.  I also like them toasted and spread with peanut butter.
Due to the yeast and the overnight ferment, these are fluffy buckwheat pancakes!
Sourdough pancakes are another favorite and I share here how to make your own sourdough starter (including gluten-free) and my favorite sourdough recipes!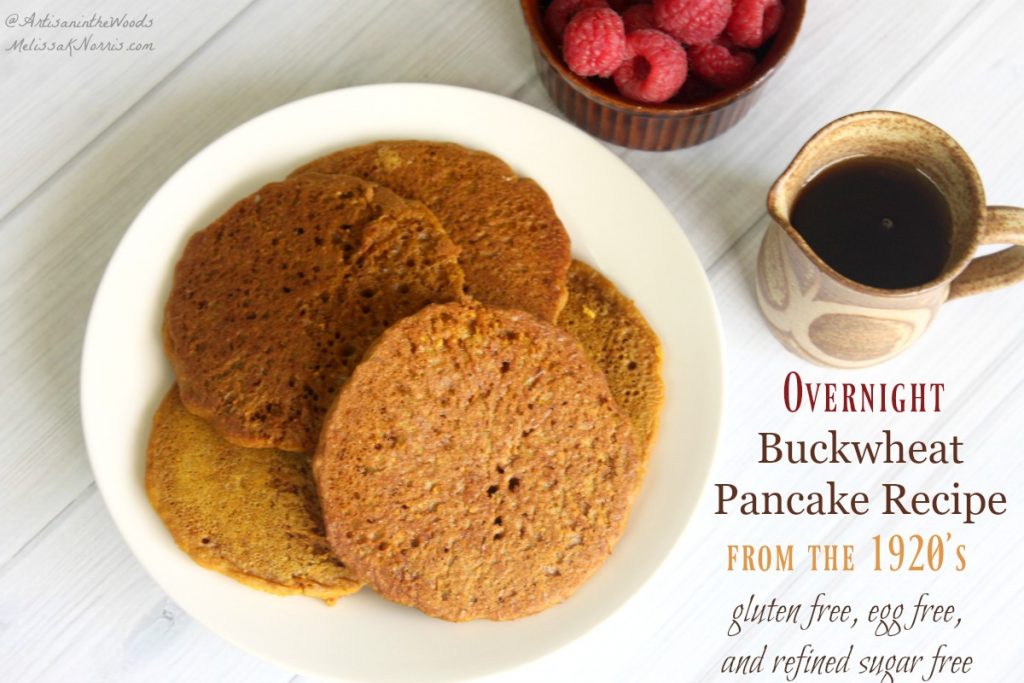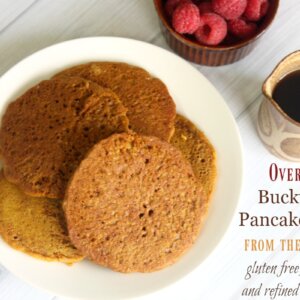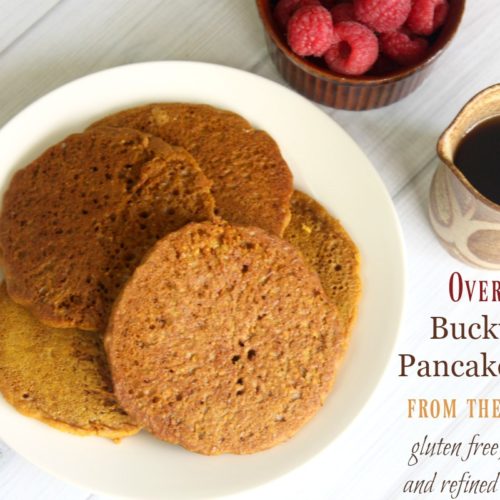 Buckwheat Pancake Recipe from the 1920s
These overnight fluffy buckwheat pancakes are a delicious treat to whip up on a weekend morning, but they're so easy you'll make them every day of the week.
Ingredients
Instructions
Beat first 6 ingredients (only use 1 Tablespoon of molasses) in large bowl until smooth. Cover the bowl and leave overnight.

The next morning, stir in 1 tsp baking soda and another tbsp of molasses.

Cook on a greased pan – my cast iron frying pan does the best job with these pancakes. Cook until bubbles form on the top, then flip and cook on the other side.

If desired, save 1 cup of batter, stored in the fridge, to start the next batch of pancakes. The batter should keep up to 3 days in the fridge. I give mine a quick shake or stir daily to keep it from separating.

USING EXISTING STARTER INSTRUCTIONS

Beat first 5 ingredients into saved starter until smooth. Cover the bowl and leave overnight.

The next morning, stir in 1 tsp. baking soda.

Follow the steps above for cooking.
That's it! Now you can enjoy this buckwheat pancake recipe all week long!