There are many signs to watch for with an expecting cow. Though this is my first dairy cow, this isn't my first time around cows calving. In this video and blog post, I'll share the signs to watch for with an expecting cow (and some specifics to watch for in dairy cows).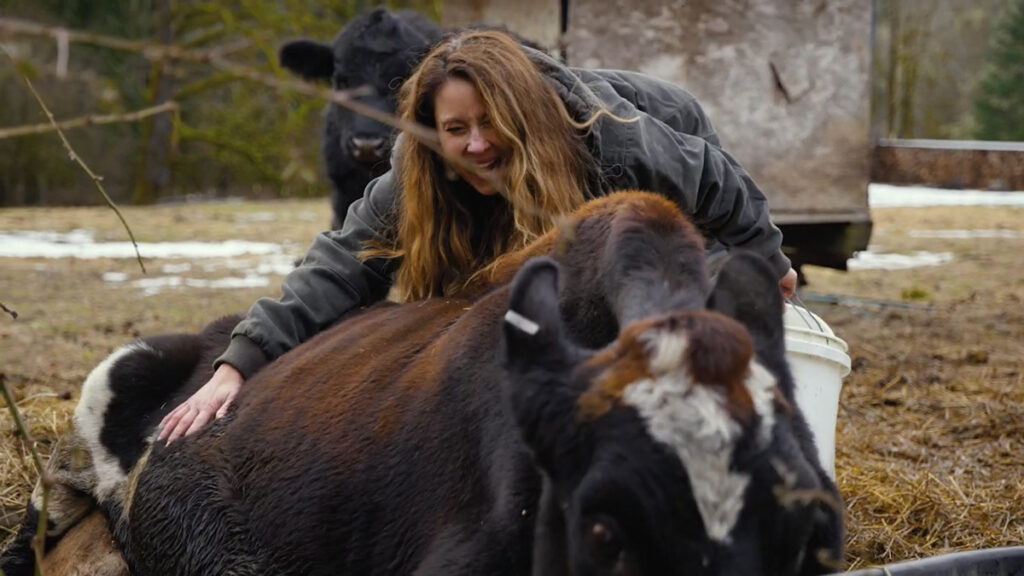 As many of you know, we took on Clover in 2022 because some friends of ours had taken her on as a favor for another family who had to move out of town.
At the time, we thought Clover was between 8-10 years old. Dairy cows, especially if they've given birth before and have done well, can continue birthing until they're upwards of 20 years old.
As it turns out, we had a vet look at Clover's teeth when she was laboring. He informed us that she was much older than we originally were told. Now, in hindsight, we would have never had Clover bred back if we knew how old she really was. However, this homesteading life doesn't always come with 20/20 vision.
Table of Contents

[Hide]

[Show]
Why You Should Monitor Your Cow
The picture above is of my beautiful dairy cow Clover. She is due soon, and in this photo the baby had just kicked my hand.
Toward the end of a cow's pregnancy, it's important to watch them closely every day and almost every hour once labor is imminent. This is to ensure they have all they need and to catch any dangers that might be looming.
Clover had a difficult pregnancy toward the end, and I'll share more about this in an upcoming podcast. If you're planning to breed your cows, or you already have an expectant cow, here are some signs and dangers to watch for when they are pregnant.
If you haven't yet purchased a milk cow, be sure to check out this post on the eight things to know when keeping a family milk cow.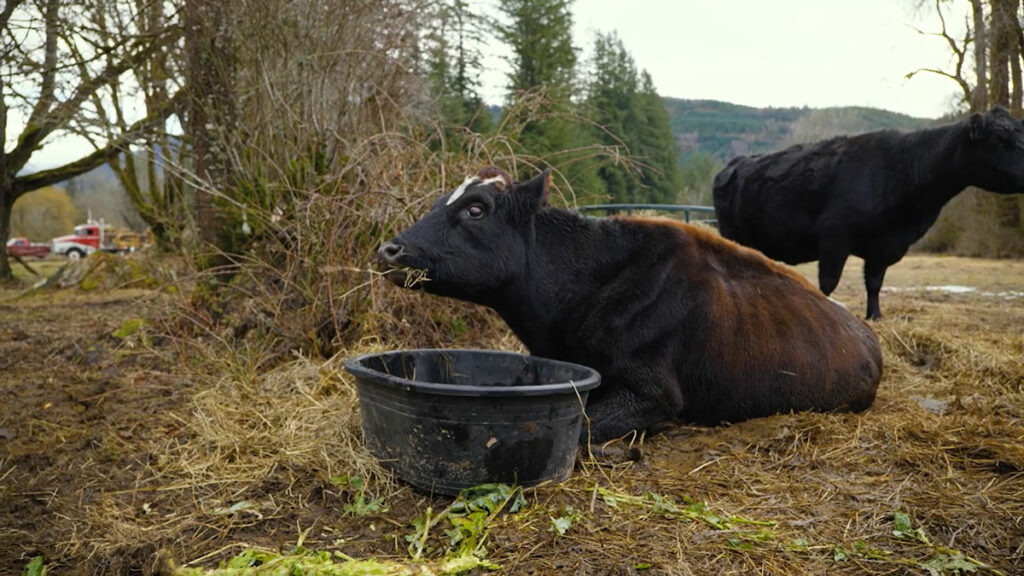 Signs Your Cow is Ready to Give Birth
As the cow's due date nears, you'll want to keep a closer watch on them. If their due date is imminent, it's ideal to start checking your cow hourly to see how they are doing.
Here are some signs your cow is ready to give birth:
The cow is passing mucus and showing signs of dilation.
Your cow is laying down for more extended periods.
The cow has a harder time getting up from laying down.
Udder development, or sometimes even milk dripping from the teats.
Once labor begins you may also hear more vocalization from the cow.
Restlessness, sniffing the ground and licking the hind area.
Raised tail and softened and swollen vulva.
Be sure your cow has access to plenty of feed and water at all times. And, if you're a softy like me, you can spoil them with some goodies from the garden.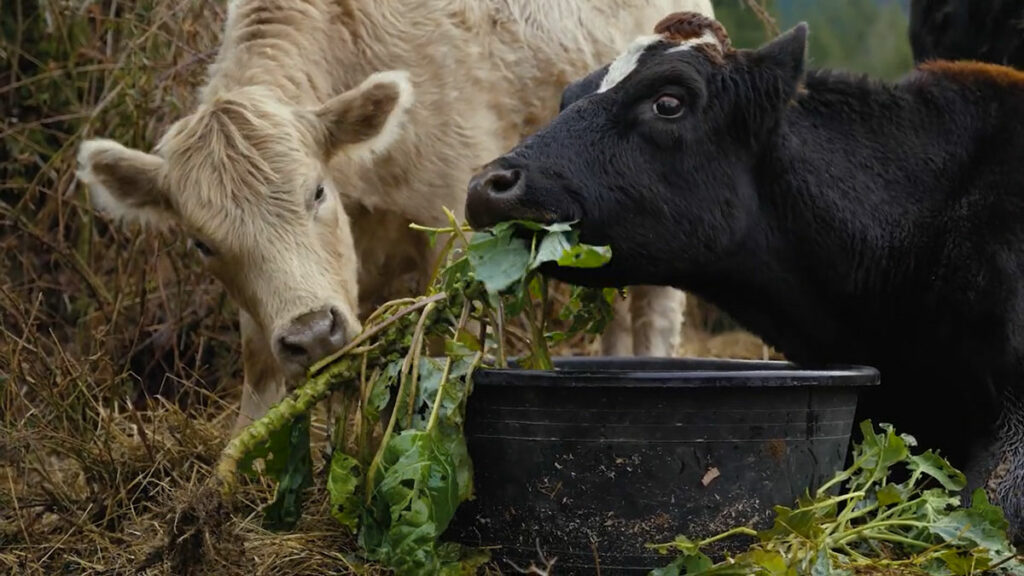 Dangers Expecting Cows Face
Cows can face multiple dangers during pregnancy. It's important we're well aware of what to watch for to help keep both the cow and calf safe. If you watch them closely, keep their needs met, and have a great veterinarian on call, you can minimize these dangers quite a bit.
Pinched Nerves
If your cow is laying down for long periods of time or seems to be unable to get up, this could be a sign that the cow has a pinched nerve.
A cow laying down with their front legs propped under them may not be a cause for concern. However, a cow laying down prone needs attention.
As with most mammals in their final days of pregnancy, it could just be that your cow is tired and needs more of a rest. Because of this they may lay down more often than usual. If you suspect a problem, such as nerve issues, you can attempt to help the cow move to a better position and relieve this issue by using a hip clamp.
A hip clamp attaches to the hindquarters of the cow. You can use a tractor to help hoist them up to their feet.
What is Milk Fever
Milk fever is something only dairy cows are prone to, but it can be life-threatening if not caught immediately.
Milk fever happens when the cow's body creates milk so fast that it depletes calcium in its system. It's usually a danger seen right after birth. However, sometimes it occurs earlier. Cold ears and nose could be a sign of milk fever, which is a metabolic issue.
Each time you check on your cow, give a cursory check of its ears and nose. If they are warm, this is a good sign; if they are cold, this signifies a potential problem.
Also, watch the cow's front legs as they're standing. If they look wobbly at all, this can also be a sign of milk fever. Or, if your cow is putting its head against the wall of a stall, or a post or tree, this can also indicate weakness in the front legs.
You can supplement with calcium if you suspect milk fever, but do keep in mind that you'll also need to supplement with magnesium so their body can absorb the calcium. It usually takes an hour or so for the supplements to take effect. If you're unsure of how much to give, this is a good time to get a vet involved.
Typically speaking, the older the cow and the more milk they produce, the more at risk they are for milk fever.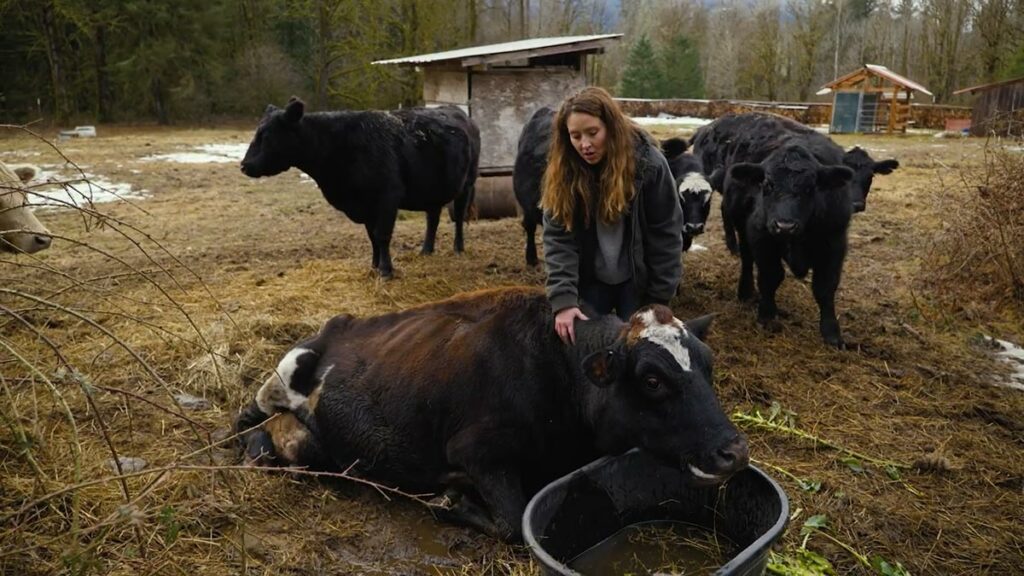 Preventing Milk Fever
Once a dairy cow has given birth (or at the first signs of labor), you will administer calcium and magnesium to them through either an oral drenching (which is a solution that you squirt down their throat, or a bolus (which is in paste form that the cow swallows, very similar to worming a horse).
You'll then administer this again 12 hours later.
In our experience with Clover, we weren't sure if she was experiencing milk fever, so we treated her preventatively with calcium and magnesium because this treatment won't hurt them, even if they were not experiencing milk fever.
Compartment Syndrome
If your cow is laying down for large portions of time (more than 12 to 18 hours), this may be cause for concern. When cows are down for too long, parts of their body start falling asleep.
This is called Compartment Syndrome. It occurs when the pressure reduces the blood flow to an unhealthy level needed to sustain tissue or cuts it off altogether.
If you suspect your cow is in danger of compartment syndrome, it's important to get them up and moving as soon as possible. Using a hip clamp or calling the vet may be your best option.
Ketosis
Though it's not very common, one thing that can happen to cows is after delivery, they can actually go into Ketosis. This isn't something that's common with grass-fed cows, but it may be a good idea to have a blood ketosis test on hand.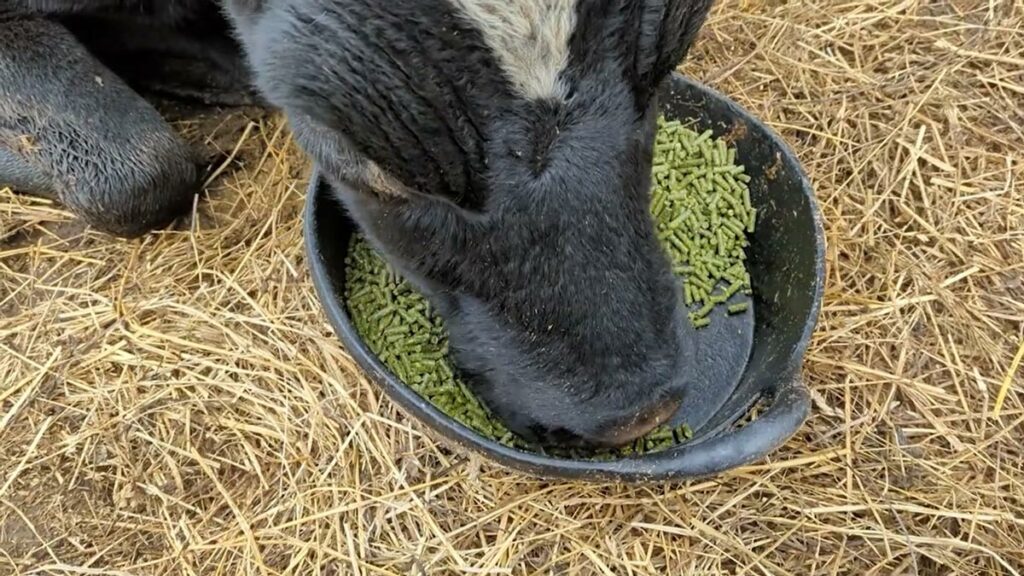 Azure Standard
Since we're talking about meeting your cow's needs during pregnancy, labor and post-delivery, Azure Standard, the sponsor of this video, offers many animal products in addition to their food and pantry products.
I use their organic alfalfa pellets because Clover loves them. But it also helps meet her nutritional needs while pregnant.
Since these pellets are certified organic, this means they are also non-GMO. I like to use this product instead of buying bales of alfalfa from the feed store because, when buying those bales, I am not sure they are non-GMO.
Right now, Azure Standard is offering you a great discount (for first-time customers only) of 10% off your first order of $50 or more with coupon code "Pioneering10".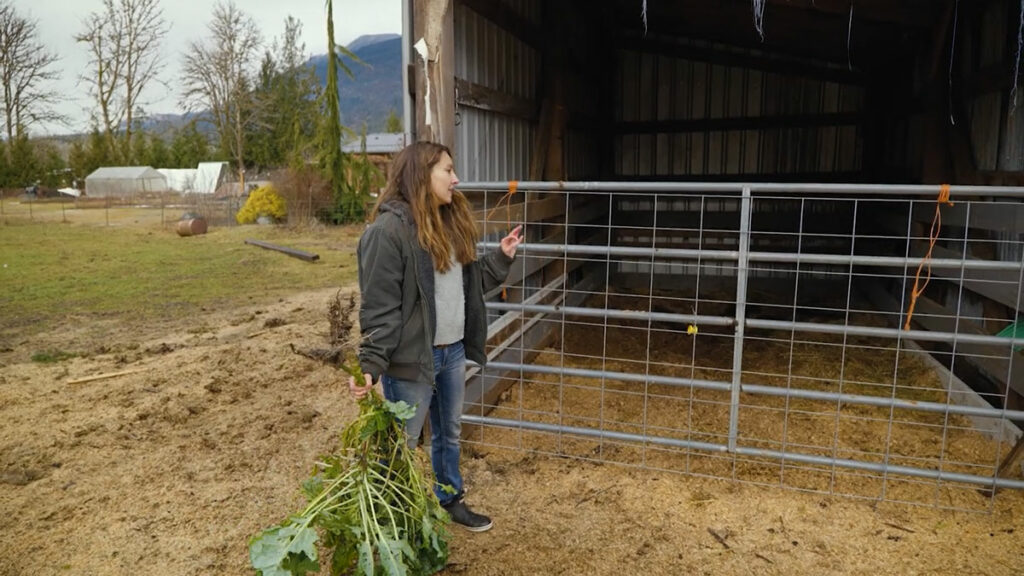 Prolonged Pregnancy & Inducing Labor
With Clover, we started getting very concerned with how much she was laying down, and we knew this wasn't healthy for her long-term. So we called the veterinarian and asked him to come out and induce Clover.
The vet gave her a combination of Dexamethasone and Prolactin, which work together to help induce a cow. He said, usually, within 24 hours of administering these drugs, there will be a calf on the ground.
Because Clover was still laying down, he recommended we get some hip clamps and try to help her get up on her feet to avoid compartmental syndrome.
Breech Delivery
Once Clover was finally in labor, we noticed that the hoof that was coming out wasn't a front hoof, but a back hoof. Upon inspection, we also noticed her calf was not only breech, but also upside down.
Knowing this made Clover's difficult end of pregnancy make much more sense. But now, we knew we were going to need to assist Clover to get her calf out.
She had a little bull calf who popped up on his feet immediately and was in great health. Clover also got up on her feet right away and began eating and drinking, and the calf began nursing.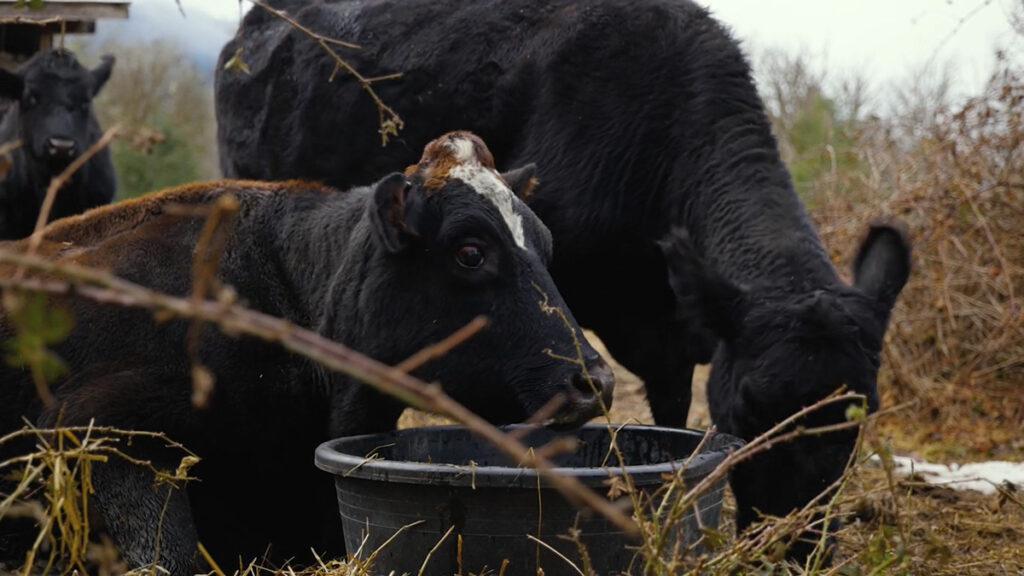 Clover's Story
This is where the story gets tough. To hear about what transpired the last few hours of Clover's life, listen to the podcast attached to this post.
Be forewarned that it's very emotional as this is still extremely raw, but sometimes I think that's what we need to know and understand. This homesteading life is tough and is filled with hard decisions.
But I wanted to share Clover's story in hopes that someone hears it one day and it helps them through a difficult situation.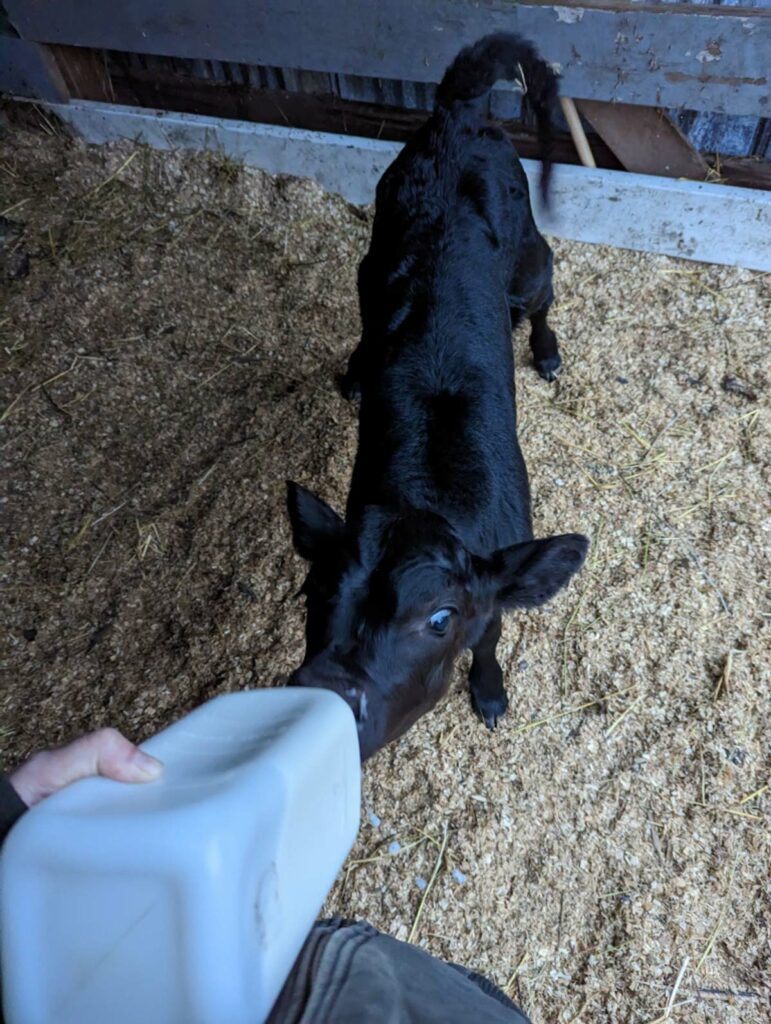 More Tips
All cows in an enclosure need about a foot of head space around their head. This is so they have room to move around and get up from the laying position. Expecting cows especially need this because they rock back and forth a little further than normal to help get themselves up from laying down. Be sure your cow has adequate space to turn around as well (unless there is an entrance and exit on each side of the enclosure).
As I mentioned, you can use a hip clamp if cows are lying on their stomachs but cannot get up themselves. This is a large clamp with hooks placed onto the cow's hip and then hooked to a tractor. The tractor can then pull to help get the cow up.
Be sure your cow has plenty of water and food at all times. Pregnancy is very taxing on animals, so we want to make sure to keep their nutrition at optimum levels.
If you're still unsure if all is well, you can get bloodwork done and have a full metabolic panel run. We did this for Clover the day the vet came out to induce her and it gave us great peace of mind to know we weren't facing any underlying issues (such as milk fever or something else).
Always have colostrum on hand because you'll never know if you need it. You can buy it at the feed store, and it's just a good failsafe to have "just in case." In our case, it turned out to be a great thing we had it to keep the bull calf healthy and strong.
Find connections with those who understand what you're going through. If you're looking for somewhere to do this, check out the info about the Modern Homesteading Conference below.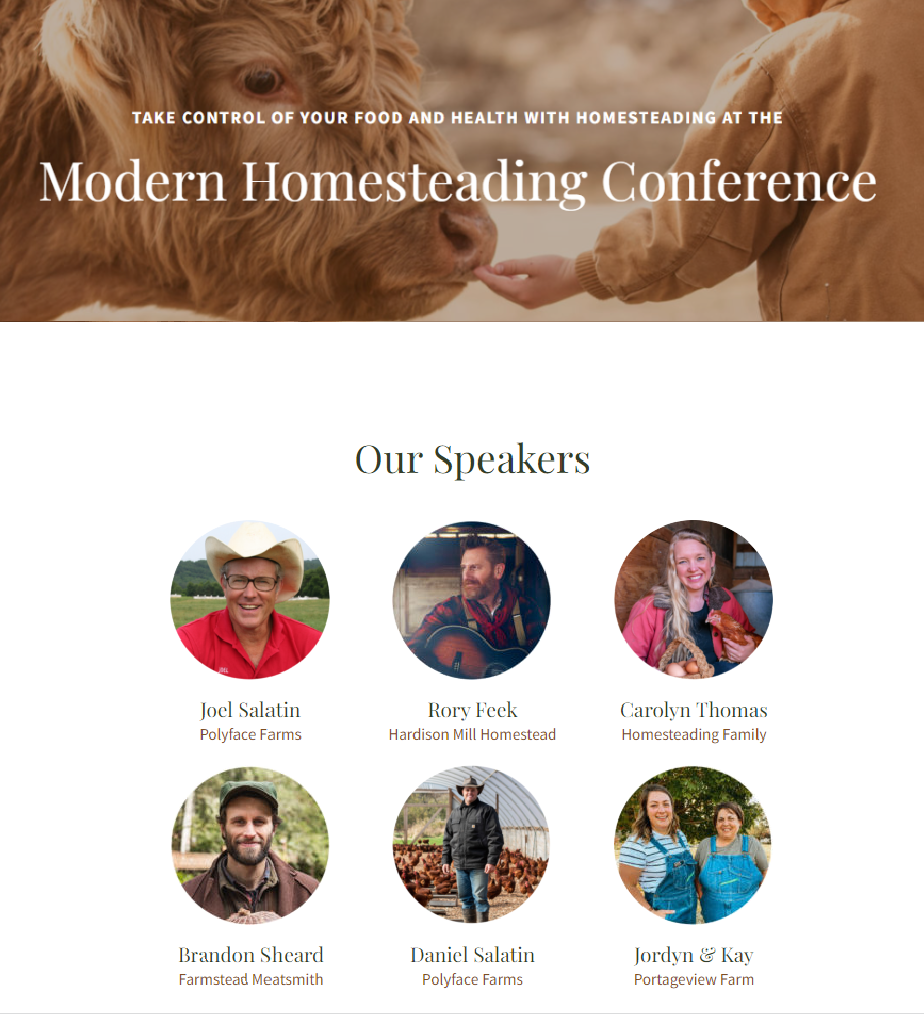 Modern Homesteading Conference
The Modern Homesteading Conference is a two-day event held in the Pacific Northwest. There will be both presentations and lectures from experienced homesteaders. We'll also have tracts for those new to homesteading as well as topics for those who have been on the path longer.
You'll bypass years of mistakes by learning from our expert speakers. Learn to create a productive homestead and find your kind of people all in the same place. If you've ever felt alone on this journey, you need to attend! Learn more about the Modern Homesteading Conference here.
Other Posts You May Enjoy
Hey, Pioneers. Welcome to episode number 374. Today's podcast I am going to be sharing with you the rest of Clover's birth story. And in hope that you will one, be able to glean information from this post to assist you with your own milk cow, or in your future endeavors if a milk cow is something that you ever plan on bringing into the homestead. Honestly, it's the things that I wish I had known about having a milk cow. And the difference between the milk cow and our beef cattle, specifically talking about their health needs and especially surrounding their births. Because they are vastly different in a lot of ways that having been raised on a cattle farm.
And having a herd of beef cattle of our own for 20 years, my husband and I, I was not prepared for the very vast differences between the dairy cow versus the beef cow. So, I want to share all of that with you, and I also want to share with you the realities of this homestead life. Even somebody who is raised as a homesteader, I'm a fifth generation homesteader, third generation cattle keeper, farmer, there's still hard times and there's still times when things go honestly drastically the opposite of what you would want.
And I just think that people need to know that side of homesteading too, so that we're painting a realistic picture and one that you don't feel like a failure. Because if you homestead long enough with livestock, I can guarantee that at some point you are going to face a situation like this, not necessarily maybe with a cow in birth, but if you have livestock, you are going to face times when they are going to require medical help. And even though you have done everything right, they may still die. And I just think it's something that we need to have a really honest conversation about. And I tried to record this podcast episode quite honestly for you earlier. And I am just going to be really honest. This is going to be a hard podcast for me to record because I still have a hard time talking about this without crying.
So, if you have caught any of my earlier episodes in regards to our milk cow journey, I talked in episode number 372, which was our part four of the Q&A and episode 370, which was livestock questions answered. I talked about our milk cow, Clover, and I've got even some previous episodes back when we first got Clover as well. In the blog post that accompanies today's episode, I'll have links to all of that if you want to go back and listen to that part of the story. And to access that, you'll go to melissaknorris.com/374, that's just the number 374, melissaknorris.com/374, because this is episode number 374. And we'll also have a link to the YouTube video that I did with Clover, and that was a video that we shot when she was beginning to go into labor and that video was taken three days before Clover actually died.
I'm not going to talk a whole lot about that because I want to get into the other parts, the rest of her story. And I'm going to try to do it without having to stop and pause and cry so that I can actually get it out. So, thank you for just bearing with me through this episode. First off, just a little bit of a encapsulation in case you haven't seen that video that I'm referencing, an article that has been up on the website that you can go and check out that went live this Wednesday if you're listening to this episode when it releases on Friday. But Clover had, the last two weeks of her pregnancy she had been struggling. She would lay down, and of course, when you are largely pregnant, it's normal that they will lay down. But she would lay down, and we had a couple of episodes where she was down for 24 hours and then she would get back up and she would be up for a couple of days and then she would go back down and we kind of just felt like, "Hey, she's just preparing. She's getting ready to go into labor. She was an older cow, so this is just her normal."
I had been in contact with our vet when she went down. We had had some different conversations and they had been coaching me through with Clover particularly, things to do. So, we were very much in contact with our vet and making sure we were doing the very best for Clover based upon what her symptoms were and what was going on, what was presenting itself. She went down again on a Monday, but she was showing a lot of signs of actually going into labor. Her vulva was very swollen and showing signs of dilation. She had a lot of mucus coming out, which all of these are signs that she would have been going into labor. And when a cow births, at least most of ours, they do so, like they're laying down.
So, she had been laying down and I kept going out thinking I'm going to see her in active labor any time now, because of the signs that she was presenting. Well, we went into day two and she had been down and had not gotten up. She was alert, she was up on her sternum, meaning she was upright, not laying down prone, and she was eating food, she was drinking, she was doing really well. I was checking her ears and her nose because with dairy cows, this is where the difference between a dairy cow and a beef cow when they begin to go into labor and have their babies where everything just gets really different. Dairy cows, when they have their babies, they start producing a ton of, well, first is colostrum, but then they bag up and they produce a lot of milk. But because they've not been producing milk the last at least two months of pregnancy, and Clover actually we dried her up when she was five months along, which meant the last four months she wasn't producing any milk.
When they begin to bag up and their body goes back into producing a large amount of milk, they get something that we call milk fever. And that is where the calcium in their body all goes to creating that milk and it depletes their body of their calcium levels, and it can deplete it to such a degree that they can actually die from it. It's a very serious thing. Some of the ways that you can notice that this is happening is if their nose and their ears are cold, that is a sign. If their front legs start to get really wobbly or they kind of are staggering. Sometimes that when they're standing in a stall, they'll push their head against the wall or a post or something like that. All of those can be varying signs that they are beginning to experience calcium depletion and you need to give them calcium.
Now, in addition to just giving them extra calcium, they need to have enough magnesium on board so that they can actually absorb the calcium. Because if their magnesium levels are low at the same time the calcium levels are low, you can give them all the calcium you want, but they're not going to be able to absorb it and then it's not going to do any good. So that's kind of just like the skinny on milk fever. And it's very common with dairy cows, especially high production dairy cows, meaning they produce a lot of milk. And Clover was half Jersey, half Holstein. And she was a very large producer when at once-a-day milking, which you can go and listen to that story. When we got her, she was already at once-a-day milking and she produced almost four gallons of milk at a once-a-day milking at five months into her lactation, meaning it had been five months since she had birthed the calf. And at once-a-day milking she was giving us almost four gallons of milk a day, which is really high production.
We knew that she would be at risk for milk fever, and usually the older the cow is the higher their risk level for milk fever. So again, nothing we have ever worried about. With our beef cattle, that's not something that's very, I've never even heard of it with beef cattle. I didn't even know what milk fever was until I started looking into dairy cows and started hearing people talk about milk fever. I'm like, "What is milk fever?" That's what it is.
Typically what you will do with a cow, a dairy cow is as soon as they give birth you are going to give them an oral drenching, which is liquid form that you just basically put down the back of their throat and they swallow. And that will be a mixture of calcium. It can either be straight calcium or it can be calcium that has some magnesium and potassium in it to help with better absorption, if those other levels are low. You can also do it in bolus form. So this is something that you'll get, they call it a baller gun, you're not shooting them. If you've ever wormed a horse, it's very similar to that. You basically have this big, hard paste that goes in a gun that allows you to position it on the back of their tongue so that they don't spit it out and you put it down their throat and then you hold their nose up in the air so that they're forced to swallow it.
When you're doing oral calcium, you really can't overdose a cow. If you're doing it in the vein, which usually only vets do, you can. And if they get too much calcium, then you actually can stop their heart and you can kill them that way, but not in oral. So just preface it there. But there's two different ways to give it orally, and that is in a liquid form with drenching, or in a paste form or a bolus, excuse me, form that you're putting down the back of their throat. Still ends up in the stomach. And you do that at birth of the calf. You can even do it 24 hours beforehand to get some of that higher levels of calcium on hand. But most people will do it at least at birth and then 12 hours later. Because they can need more than just that one dose. And it's usually depleted within 12 hours or been absorbed. And so you do it again at 12 hours. That's kind of standard dairy cow practice for when they give birth and making sure that you're just on top of trying to eliminate anything like milk fever.
Now, in very rare instances they could develop milk fever before birth, but it's very, very rare. That was actually, when Clover kept going down and then getting back up, that was what we were monitoring and talking it to our vet about like, "Could this be milk fever?" And she didn't really exhibit any of those signs that I mentioned, cold ears, cold nose, et cetera. But we did give her a dose of the calcium, just to be on the safe side, and it didn't really seem to affect anything one way or the other when she was kind of having those issues. So we were pretty sure that that wasn't it, but it's not going to hurt anything to give him that one dose of the calcium, just in case that it wasn't, before she had the baby.
So by that, the third morning when she still had not delivered the baby but had been down with all the sides of being in labor but not actually birthing the calf, I could feel the calf. And you can actually see that on the video. It was really fun. We were filming and I was examining her and the calf kicked my hand and it was a really fun moment. But I called the vet because I'm like, "Hey, this is how long she's been down. These are the symptoms, but she's not actually producing an in hard labor. She's not contracting hard. I can't feel the uterus contracting. I need you to come out and induce her." So vet came out, got here at 3:30 in the afternoon on Wednesday, and we did dexamethasone and prolaxan. So dexamethasone is a steroid and it's an anti-inflammatory. And then the pro relaxant, those two work together to get her into labor. So that's how you induce a cow.
And he said, "Usually within giving them the dose of this, you'll have a calf on the ground in 24 hours." So he said, "Because she's been down for a couple of days, I really want to see her on her feet because she probably won't calf until tomorrow. Do you know anybody that has a hip clamp?" We had tried to get Clover up when she had went down with using some straps and our tractor. But we weren't able to get her up because we could only get the straps under her front legs and chest area. It's dangerous when you're trying to lift a cow with straps when they're really largely pregnant and with their utter already starting to fill up with milk to get between their utter and their hind legs. And she was just in a position that we weren't able to do that with a tractor in order to lift her up.
Hip clamps go on the outside of the cow and they basically hook underneath those hip bones on the outside, it's a clamp, and then you tighten it down and you hook it to a tractor and you just help them lift up their back end. Because normally they can lift their front end, but they just need extra help on that back end. So, you are just helping them to their feet. And then as soon as they're standing, you remove the hip clamps and that's what you do. Because if a cow is down for too long, they can develop compartmental syndrome and that's where blood flow has been caught off from certain areas for too long. It falls asleep. If it's been asleep for too long, you can have tissue damage, so on and so forth. So it's really not good for the cow to be down.
However, in the position that Clover was down, because she was up on her sternum and everything like ... And if a cow's going to be down, she was in the best position to be down in, I guess is where I'm going with that. When the vet was here inducer, we also did some blood work and had him do a full metabolic panel just to make sure that we weren't missing anything. He went back and said, "I'll call you with her metabolic results and the lab results within a couple of hours." Takes our vet an hour to get back to their office because we're so far out. "I'm going to run all of this as soon as I get back and I'm going to call and let you know where the results are." I said, "Okay, great, that sounds phenomenal."
I was able to contact a local dairy that actually just came into our area and got licensed as a raw milk dairy and they lived about 20 minutes from us in September. I was thrilled to find out that there was another raw milk dairy and that she had a hip clamp. I actually reached out to all of our other ranching and farmer cattle friends in the area, and none of them have that. And mainly because beef cattle just don't go down like that very often. Not to say they don't ever go down, but you don't usually need hip clamps that much for a beef operation. But it's more common with dairy cows. Dairy cows are just way more fragile, just truth, they're much more fragile than the beef cattle.
One of the other things that we had when the vet came is I told him, "I don't actually know how old she is. When we first said that we were going to take Clover, the people that we got her from had only had her for a few months themselves." So she had kind of went from a situation where her owners had to leave the state very unexpectedly and they ended up taking her on as a kind of in an emergency situation. They'd only had her for a few months and they weren't in a position where they needed or wanted to keep a milk cow.
When we were getting her, like I said, they had gotten her rather quickly, and so they had very limited data on her as well. I said, "How old is she?" And they said, "Well, I think she's eight." I'm like, "Okay." And then when we went to pick her up and actually get her with the horse trailer, they said, "Well, we think she's 10." I'm like, "I don't know how old she was." You could tell that she was older. But we got her and got her on a minerals and supplements and really good feed, and she looked really great, look phenomenal. I figured that this would probably be her last calf, that we would just have breed her. She would have this calf, we would milk her through this lactation and then we would end up retiring her. And I was really hopeful that the calf that she had would be a heifer, a girl, so that our next milk calf would be Clover's and we'd be able to raise it from a baby and all of that.
Well, when the vet came, you can't look at a cow's teeth and know their exact age like you can with a horse, but you can look at their teeth and get a pretty good idea. And so I told him, "We don't really know how old she is. We were told that maybe around 10." So he looked at her teeth and he's like, "This cow was far from 10." So we don't actually know how old Clover was, but she was much older than 10. And I'm saying this because had I known how much harder birthing is on dairy cattle, we would have never bred her at that age. Now a lot of family milk cows people say up to 20 years if they've been taken care of and not pushed to mass production like you would see in a regular, large conventional dairy, that they can breed and have calves on and still be milking up to 20 years of age.
And I've seen that with our beef cattle. My dad has had some older cows that still produced really good calves. It wasn't hard on them and they were having babies up to 20 years of age. However, I would not breed a milk cow that old and we would not have had Clover bred back if we had known her true age. That's kind of less than number one is I would not get a milk cow that was really old, unless I knew we were only going to milk her through that milking. And when she dried up that that was going to be it. I wouldn't take the risk and the chance having went through what we've just went through.
The other thing is, our beef cattle have had calves in winter, went through pregnancy and winter. Now, ideally your cows are calving in spring and or summer so that the calves are established. It's not super hard weather on them, super cold, because baby calves can get pneumonia if it's really bad weather. And in the dead of winter it is harder on all animals. They're using more of their energy in order to stay warm than they would obviously in the spring and in the summer.
But that being said, we have definitely had our beef cattle and we run a Hereford Angus mix, a little bit of [inaudible 00:19:22]. My dad had full heifers, a little bit of Red Angus. So we've had some different beef cattle breeds and they have all been fine being pregnant through winter and even birthing in winter months. So we try to have the majority of them bread so that they are not calving in the middle of winter. That being said, if I would have realized the difference on a dairy cow and the way that they calved and their health, not only would we not have bred her back, but if we had chosen to have her bred back, we would have waited and have her bred in the summer so that she would have calved at the end of spring.
Nine months gestation is a cow's pregnancy, so we probably would've had her bread in July or August so that she would have been having the calf as you move into summer when there was a lot of fresh green grass coming on, no bad weather, et cetera. That was not the way that this went down. The vet called me back and I called my friend who had hip clamps and she said, "We'll come up at about 5:30 after I get done with milking here. And I'll bring the hip clamps, we'll show you how to put them on," because we never used them before. "And we'll get her up and we'll leave the hip clamps with you because you might have to use them a few times until she has the calf." And I'm like, "Okay, great. That will be phenomenal."
I went in the house to cook dinner and the vet called me and said, "Hey, we got the metabolic panel back on her. All of her levels are great, except she's a little bit low in potassium, but none of that is the cause of why she's down. So we're not dealing with milk fever or some other metabolic issue." And I'm like, "Okay, great. That is relief. Good to know. Fantastic." My friend comes, it's like probably about six o'clock in the evening, and it's dark at that time here where we live now, and with the hip clamps. And so we all put on our headlamps and go out into the field and my husband fired up the tractor so we had the headlights from the tractor. And we go out because we're just going to lift her up thinking she's not going to be into full labor until the next day. And when we get out there, there is a hoof coming out, girlfriend is in full on labor.
I'm like, "Oh wow, that was fast." Even the vet missed that she was actually that far into labor. She's been laboring all day today. We look and upon further inspection that hoof and back leg that's out, it's a hind leg, which means baby is breach and that's not a good thing. And then as we reach in to feel the leg, we also discovered not only is the calf breach, it's also upside down, which explains why poor Clover was in labor for so long and also why she was having so many issues because of the position that the baby was in, breach and upside down. Thankfully my friend was here because we had to help Clover and we had to pull the calf.
Now, our 20 plus years of beef cattle and my husband and I, we have never had to pull a calf. Our beef cattle have always delivered the calves fine, we've never had to pull. My dad had a much larger herd when I was growing up. My dad had a herd of about 130 head of cattle. My husband Clay and I, we run with our acreage, well before we got the farm down the road, which will now be able to increase our herd size. But prior to that, we keep three cows that are calving every year, but that makes our herd size about nine because we're butchering two to three a year and then you're keeping the babies until they're two, and then you're breeding back the moms. So the math, over 20 years, that amount of cows, we've never had a pulling. My dad when I was little because he had such a larger herd. Every now and then we would have to pull one, which I watched, but I had never actually done before.
I've seen the process, I've been there, understand what it entails, but I was a kid, and so my dad was pulling the calf and I would sometimes have to help but not fully doing it myself. Just so that you know, how often do you actually have to assist and pull a calf and breeds? That's been our experience. But having to assist dairy cows, they have more narrow hips. It's just their confirmation. You normally have to assist a dairy cow much more often than you do beef cattle. We got the baby out and a little bull calf. It wasn't my heifer that I was hoping for, but he was in phenomenal shape, which is not always the case with a breach, been in labor that long and upside down.
So he was fine, got him up on his feet almost immediately. And then we used the hip clamps and we got Clover up. And once she was up baby nursed. I was able to milk out some of the colostrum and then put it in a bottle for the baby. And she went over and ate. She walked over, drank water. I mean, she was up on her feet and I'm like, "Hallelujah. She just needed to get this calf out. All is fine." We ended up drenching her with the calcium, magnesium and potassium liquid, because one, she didn't show low on her metabolic panel when they had done the lab a couple hours earlier, but as more milk came in, she could begin to deplete her calcium. But we also knew she was low on potassium, so we wanted to give the drench just to be on the safe site. So we drenched her with that. And like I said, everybody was up. Baby had nursed, she was walking around eating. Everything looked great, and I was so happy.
And so we went in, I checked on her again that night before we went to bed. It was like nine o'clock at night, 9:30. Everybody was still up. Baby was with her right at her side. All was good. And so the next morning I still was kind of nervous. I'm like, "Okay, I'm going to have to give her another calcium bolus in the morning. I want to make sure it's 12 hours apart." And so I went out, it was six o'clock in the morning, still dark, full dark here at that time, had my head lamp on, went out, baby was by mom, but Clover was down again. She was laying down and I'm like, "She can't get up again." I didn't know at what time in the middle of the night she had went back down. And so I made a bottle of colostrum we had on hand for the baby, which I always recommend, regardless, because you just never know.
Have some colostrum on hand. You can buy it at the feed store. If you have cows and they're going to calve, regardless if they're beef for dairy, have a bottle and a bag of colostrum on hand. So, fed that to the baby to make sure that he got what he needed. And then my husband had already left for work and I wasn't sure that I could put the hip clamps on and operate the tractor to lift her all by myself with the way that she was positioned where our feeder was. And she'd gotten herself next to a large stump. I called my friend who had the dairy and said, "Hey, here's what happened. Can you come up and help me get Clover back on her feet?" And she's like, "Absolutely, I'm milking. We'll be there in a couple hours." I'm like, "Okay, that should be fine."
And also, Clover had passed her placenta, which is another thing you want to make sure, she had passed the placenta. So I know that she had gotten that out, so we weren't dealing with any issues there. I went and got her some, made sure she had water, brought her water because she couldn't get up, brought her feed, checked all the things, and she was doing good. She was upright on her sternum, calling the baby if he got too far away. I'm like, "Okay, we're going to get her up in a couple hours. It's all going to be okay." I came back in the house and was kind of getting things ready. And I looked out the window and Clover had went from laying up on her sternum to being laying prone flat on her side. And I called my husband in a panic and I was sobbing.
And I said, "She's laying down flat, something's really going wrong. She's taking a turn for the worst." And he's like, "It's okay. It's okay." And my friend's name is Aspen from Peachy Keen Farms. "She's on her way, it's going to be okay." And I'm like, "Okay." And I just got this, I don't even know how to explain it. If you've ever had animals, maybe this would make sense. But I was just like, "You are not going down, Clover. You still have fight in you. No, no, I'm not accepting this." And so I went in the house because Clover girl after my own heart man, she is ruled by her stomach. And I got some of the alfalfa pellets because she loves those. And I took our black strap molasses that I also get from Asher Standard along with the alfalfa pellets. And I put them in a tub and I just drizzled the molasses all over those alfalfa pellets and went out there, put it in front of her so that she could smell it.
And I could see she was smelling it and she kind of reached her nose a little bit further to it. I'm like, "Okay, she's got a desire here." And so it was like that supernatural strength that you read about when moms lift things up off their kids or their babies. And I got underneath her neck and her head and her front shoulder in a squat, and I just pushed her up onto her sternum. I'm like, "You are not laying down like this, no." And she, with my help doing that, she was able to get up on her sternum so that she was still laying down but upright, right and could get on her knees. And that beautiful cow just started going to town on that alfalfa molasses. And I'm like, "Okay, you're eating."
She started drinking water and I'm like, "Okay, it's going to be okay. She just exhausted herself trying to get up on her own." My friend got there shortly after that with the hip clamps and we put the hip clamps on and tried to get her up, but she wasn't able to stand. And you can't leave them in the hip clamps. It's not like a sling. They're used to aid to get them up on their feet, but as soon as they're on their feet you need to take those hip clamps off. So, she couldn't stand fully on her own with the hip clamps so we could get her up. But she couldn't stay standing, so we put her right back down, because we didn't want to stress her system that way.
And my friend had brought a blood ketosis kit because that's something else dairy cows can get is they can go into ketosis. Which would be very odd for Clover because we are not a grain ... She doesn't get fed. None of our cows do. We don't feed a lot of grain. They're not like on corn silage, they are grass fed, but you just never know, like we should check. We checked her for ketosis. She did not have ketosis. We gave her another calcium, magnesium, potassium bolus just to be on the safe side. And she ate all of the alfalfa pellets with the molasses, drank a bunch of water, and we just kind of kept massaging her legs and anything that we could reach just to try to keep blood flow and stimulate her, brought the calf over to her. She was calling for him and we're like, "Okay, let's try and lift her again."
We tried to lift her again and it worked. She got on her feet, baby was able to nurse again. I was able to milk a little bit out of her other quarters, and then we put that in a bottle and fed it to the baby because at this point I'm starting to get worried about mastitis. Because when she was laying down, there was no way the calf could reach any of her nipples and she wasn't getting milked out all the way. He wasn't able to nurse. And so I was also worried about mastitis because she has had mastitis in the past. So I was really relieved. I'm like, "Okay, she's back up on her feet." And so my friend said, "I'm just going to leave the hip clamps here. You may over the next few days, just anytime she lays down, you're just going to have to use the hip clamps to get her up till she can build back her strength, fully get ... There could have been some pinched nerves, some damage done with the way the baby was in breach. So just kind of expect this, expect her to go down and that you're going to have to get her back up and it's just going to be a process for the next few days."
I'm like, "Okay, no problem." I decided I needed to go and get some more, just in case she was down and couldn't get her up, I needed to get some more colostrum for the baby. Because for the first 24 hours, ideally they get two gallons of colostrum. And he had only gotten, from what I could tell, that I'd milked out and put in the bottle and he couldn't have gotten a whole lot more When he was nursing, he'd only gotten from Clover a quart, and then he'd had half a gallon of the colostrum. And so I'm like, I got to go get more colostrum and some supplies. So she was up on her feet again, walking all the way across the field to the feeder, to the water. I'm like, "It's all good, we're good." I ran to town, which took me about an hour and a half, and by the time I got back home, she was down again.
And so I'm like, "This is okay. I know how to do this." I put the hip clamps on by myself with the tractor, got her back up on her feet, and I'm like, "This is just what we're going to do. I'm just going to have to keep getting her up and it's going to be okay." And so that time I got her up on her feet and that was the last time I could get her up. I got her on her feet and she started walking, but I could tell that she wasn't walking normal. And her front feet literally just went out from underneath her. It wasn't that she tripped, it wasn't that she was trying to lay down. They literally weren't working. And so she went down and that's when I realized then, there's something more serious wrong here. This is not just her being weak, literally her legs aren't working and it's not milk fever, which can be a sign, she's had all of the doses and everything.
We've done metabolic panels. That's not what's going on here. There's something else wrong. And so I couldn't get her up and I called the vet and he said, "Just give her some time, give her some more food, let her rest. And every four hours, I want you to try to get her up with the hip clamps. Give her time in between but try to keep getting her up." I'm like, "Okay, no problem." This was late afternoon again. And so all the way up and through the night we would go out even once my husband got home and we just kept trying to lift her, giving her all the food, giving her molasses in the water, just everything that we could. And we were not ever able to get her back up. In fact, every time we would go to lift her, she was doing less and less, less. Just by the end she was just hanging. There was no strength left. And so after 24 hours of that, I called the vet and I'm like, "You need to come out. It's getting worse."
And so they were in surgery that day and they couldn't get out until later. And so they said, "We'll be out as soon as we're out, done with surgery, we'll be out your way." I'm like, "Okay." And so I just kept going out there and she stopped calling to the baby. And I knew once she stopped calling to him, because all prior to that she would just call him. Anytime he got away from her, she would call him back. She was a good mama. And then the vet came and he came out and assessed her. And we went over all of her history, all of the lab work that we had done. And he said that they'd actually been in consultation with some of the other vets because what her body condition looked like, she was thin, but she had went thin, gotten really thin in a week's time, drastically. If I hadn't have known what she was a week prior to her giving birth, her body conditioning score, I wouldn't have thought it was the same cow.
And I had been feeding her, she had been eating, and the vet said by her metabolic panel, he's like, "With all of her levels, they were spot on. They were exactly where they should be and she wasn't showing" ... They can look at ... Your body and a animal's body, if they don't have enough nutrition, you start to consume muscle. If there's not enough nutrition, your body will break down muscle to feed itself. And so you can measure that in the bloodstream. And he said, "With as skinny as she is, we should have seen massive metabolization of her muscles. And that's not happening on her blood panel. And all of her levels are really good." He said, "I honestly think that she might have cancer because her body condition and everything that's happening to her is not matching. I can see her feed, I see your other cattle, I can see what's happening in her blood panels and it doesn't match." And he said, "You have done everything that you could. There's nothing I can suggest to you that you haven't done and that we haven't done. You have done everything."
And we were talking, and Clover just laid her head over on her side, curled into a ball. And I just knew she was done. And I knew that I was trying everything to keep her there for my heart, but she was ready to go. And so the vet put her to sleep. And we buried her in our back pasture. And I've had some responses, because I've been sharing this in my email newsletter and on social media a little bit. So have you have been following me along there, thank you to everybody for your kind words and just your thoughts. The outpouring from the community, and part of me feels silly. I know I'm literally sobbing in your ear right now over a milk cow.
But there's a bond that you have with a milk cow that I've never been able to have with beef cattle. Because I've always known from the time I was a little girl that we were raising them for meat. And you don't become attached. It doesn't mean that you don't care about them. I am still sad on butcher day. When it's butcher day and we're butchering our beef, even though that's what they're raised for and I know it, and it's been my entire life. I'm 42 years old and I've always been a part of the process. I am grateful for it. But it doesn't mean you're like, butcher day is not joyous.
And the longer I do this, I sometimes feel like the emotional part gets harder. And I think a lot of times people think that as farmers and ranchers and even homesteaders that, you're just callous and hardhearted. But this is hard. But I allowed myself to bond with Clover because she was my milk cow. I mean, you're intimately involved with a milk cow. I mean, you're squeezing their udders every single day. I mean, you're touching them, you're talking them, you're with them. It's a completely different experience than beef cattle or anything I've had with our pigs and chickens and all the other types of livestock. And I thought that we had a lot more years with Clover and no, you don't ever know with livestock. But I didn't realize that she was that old. And so I envisioned like eight years with her or so because I thought she was eight when we said we were going to take her and thought average lifespan at least another eight years.
But I had said so if you listen to that episode back that my husband and I had said that Clover, when she was done being a milk cow, that she would retire on the farm, meaning we would keep her until she passed away. We were not going to butcher her for hamburger or something like that, which is what some people do with their milk cow. So there was no judgment there, but we just knew Clover, specifically that was our plan for her. I just didn't think that we would be burying her that soon.
But I did get a comment and I wanted to address it on here though. I don't know that the person who left the comment listens to the podcast or not, but they wanted to know why we didn't butcher Clover and why we let her go to waste. And I would like to think that they were well-intentioned, that they didn't mean to be what felt like cruel. And one of the reasons is when our butchers here, and I know a lot of you are experiencing this, there's a shortage of butchers across the whole U.S. anyhow. And our butchers are two to three years out. We have our butcher appointment on the calendar with our local butchers for two years from now, and they're starting to book up three years out. I couldn't just call the butcher and say, "Hey, I need you to come butcher this cow today." There is no way that they could fit us in.
Secondly, we don't need any more beef. Our freezers, because we have harvested our beef for the year, are full. I literally don't have any spot for beef. Second, I don't know that I could have eaten her, even if all of those other things played out that there was a butcher and that I had the space for the meat. Because I had allowed myself to attach to her in that way.
Does that make me a poor homesteader, a poor farmer? I don't know. I'm all for being practical. And I know that some people do butcher their milk cows and eat them. And I don't have a problem with that. And they are using that animal full circle. And I think that is fine just for me in my emotional state, I don't know because I didn't need to eat her. We had plenty of our other meat. And in order to butcher one, it was dark and I don't have a space to do that. And I wasn't going to do it in the dark. We're not set up for it. I don't have any of the things. We don't have, temperatures fluctuate here. So there would be no aging of the meat. I don't have a grinder, a big grinder like that. I don't have anywhere to butcher a cow.
My kitchen's not big enough. I mean, cows are big. And I just was not in an emotional spot after we had been nursing her ... At that point it had been in a week. And for the past almost two days, I had been trying to get her up every four hours. I was exhausted emotionally and physically. And it was just not something that we wanted to do to be honest. And then the other reason is after talking to the vet, not knowing if she had cancer, he's like, "I really think that there's something else at play here because none of this is adding up. I think that there's something we don't know about, either cancer or some type of internal damage that we're just not able to assess." And so I'm not going to consume an animal that I don't know what's wrong with them. Like that to me just seems kind of foolish when we didn't need the meat. It wasn't a dire situation where we were hungry. Those are the reasons that we chose to bury Clover on our property and not harvest her for the meat.
And I wanted to share all this because I know a lot of you have been invested in this story. And I wanted to share the full circle what had happened. And also for anybody else who may be like I was and didn't quite realize all of those things. If you're looking at a cow to get as a milk cow or you have a milk cow, I wish I had known all of the things about when to breed her, when not to breed her, to expect just all of the things that I laid out here. I wish I had known those sooner. I hope that that helps someone not go through what we did. But also to know, even if you do everything right, which I mean the vet said we did everything, but it didn't feel like it shouldn't make it.
That you're going to have hard times when you're homesteading and in life in general. But to walk it anyways. To walk it anyways, because it is worth it. This way of life and the hard times, there's been so much good that's come out of it. We became really good friends with Aspen who has the Peachy Keen farms that I was telling you about, the raw dairy. And if I did not had to reach out for hip clamps, I mean maybe I would have met her later, I hope so, but I don't know. I may have helped some of you. And Clover, we only had her a short time. I didn't even have her a full year. But what was amazing is once we got her, there were people on our road who've lived here for 20 years. I've lived here my entire life. And I knew who they were in passing. I knew their name and what house they lived in because we're really rural and small, but I didn't know them.
And once they found out we had a milk cow, they came down, introduced their selves, and we started talking and we became friends. And with multiple people, not just one. And so I know that she had a lot of reasons for us having her, even though it was a short time. That there was a lot of good, and I don't regret it. I do wish we got her sooner. I wish I had had more time. But I also want to share with you that dealing with this, and obviously I'm still dealing with it, believe it or not, I'm actually doing a lot better than I was. But I have reached out to some of my now very real close friends in real life. Most of them don't live here near me. But I've been able to reach out to them because we have become friends in the homesteading online community. And that's transferred to real life friends.
And it's really drawn hope to, and I already knew it, but more so the importance of community. We need people. You need people, and you need people who understand homesteading and understand this life and understand this walk. Because most people would not understand why on earth I am so upset about losing a cow. And being able to rely on the people who knew. I mean, honest to goodness, I called Anne of all trades who's been on the podcast and you've heard me talk about before. And just literally sat on the phone with her and cried. And that's the people we need. We need to be able to work through it. Like her and I even talked out the whole week leading up to it because I kept thinking I missed something. Like surely I missed something. Like there was something I could have did that I didn't do. And we walked through the whole thing and she's like, you didn't miss anything.
But you need people that have that knowledge and that understand, and that can stand by you when it's hard. I encourage you to reach out to people in the homesteading community. And if you're able to go to an in-person homesteading event, I highly encourage you to do so. Because I've been able to forge those deeper relationships with other homesteaders. We first met online, but I was able to meet them in person and to take it to the next level. And those were the people that I reached out to, obviously, aside from my husband and the kids, but those were the people that I reached out to during this time. And it just really cemented for me how important community and relationships are. So if you are in the West area, and I mean like west of the Rockies, and even if you're not, no matter where you're at, I just would invite you to get a ticket and come to the Modern Homesteading conference in Idaho this summer.
It's June 30th and July 1st. Many of those people, [inaudible 00:49:59] trades, Katie Milhorn, she is the co-founder with me in Orange Milhorn Farms. I mean, I was on the phone with Katie sending her pictures and minute by minute updates and asking her for advice. But these people are going to be there. And it's not just the speakers and presenters because there's obviously a lot to learn about this way of life, and I learned from them too. But it's finding other people who are walking this path and could come alongside you and help you when you need it, but also so that you can be there to help them when they need it. Because we really do need that. And that can be an amazing place to find those people and to be able to forge those relationships along with the knowledge. So you can find out more about the event at modernhomesetting.com.
And I just want to thank you. Thank you for being here. So many of you sent such wonderful prayers and words of encouragement, and I couldn't respond back to every person individually, but I read every comment. And I read every email that came through. So thank you for that. I want you to know that it meant a lot, and I promise the next episodes will be more uplifting. But thank you if you've listened this far. Blessings and mason jars for now.
Sign up to receive email updates
Enter your name and email address below and I'll send you periodic updates about the podcast.