When planning to put in a fruit or berry orchard, there are some tips you'll want to know about ahead of time. Join me on this live coaching call with a member of the Pioneering Today Academy as we discuss how to move forward planning a fruit tree and berry bush orchard.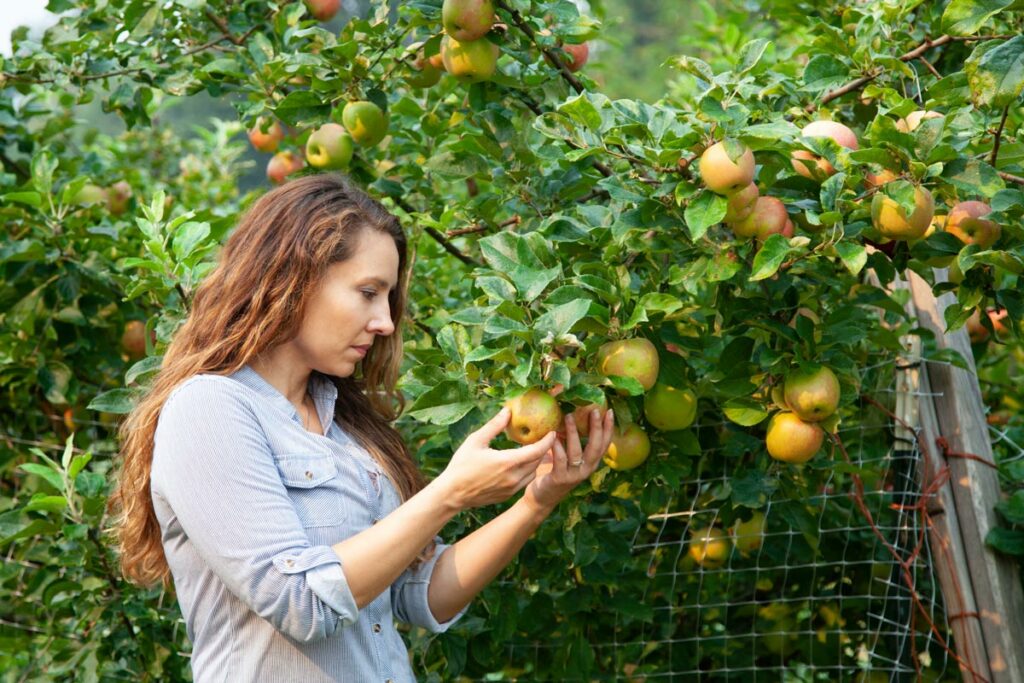 I'm excited to welcome Michelle back to the Pioneering Today Podcast (episode #383). Michelle was on the podcast this time last year and she was busy packing up and preparing her homestead to sell.
She has since moved to a new property and is now looking for tips on planning and growing a large fruit orchard. Where she lives they deal with deer, birds, squirrels, rabbits, rats, and many other pests that threaten fruit production.
We dive deep into various methods and strategies she can implement on her new homestead to start growing fruit trees and berry bushes for her family.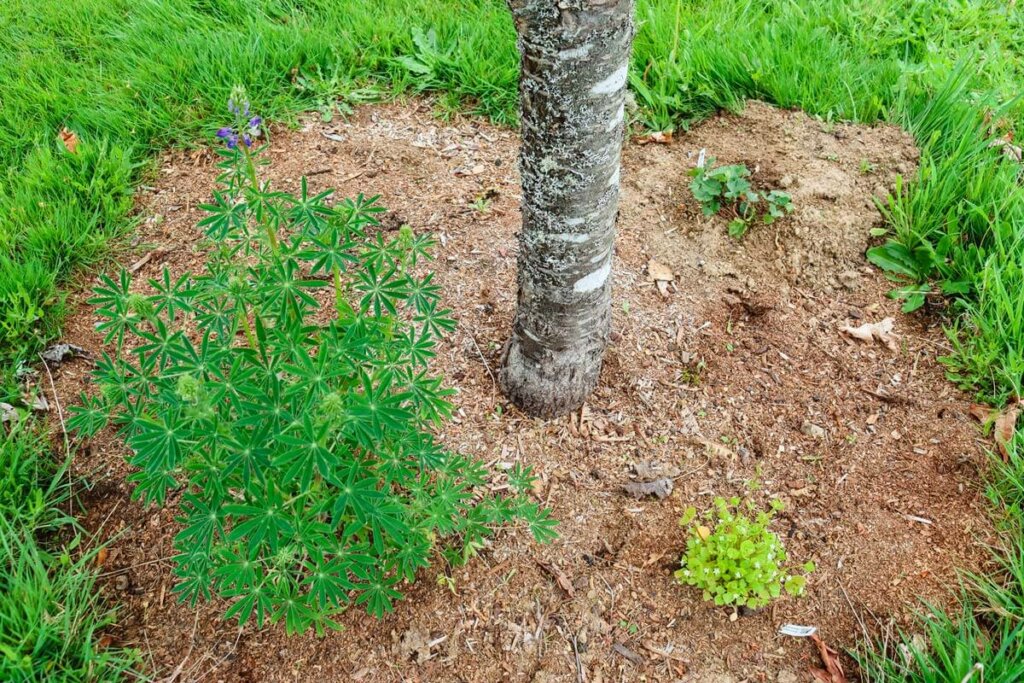 In This Episode:
Planting trees in a structure vs. in open areas.
Utilizing dwarf varieties to save on space.
Crops that don't need protection from predators.
Micronutrient needs for fruit trees and bushes.
How to space trees for proper growth. Read this post on how to plant fruit trees.
Maintenance needs for fruit tree guilds. Learn more about planting fruit tree guilds here.
Starting fruit trees and berry plants in containers to transplant later.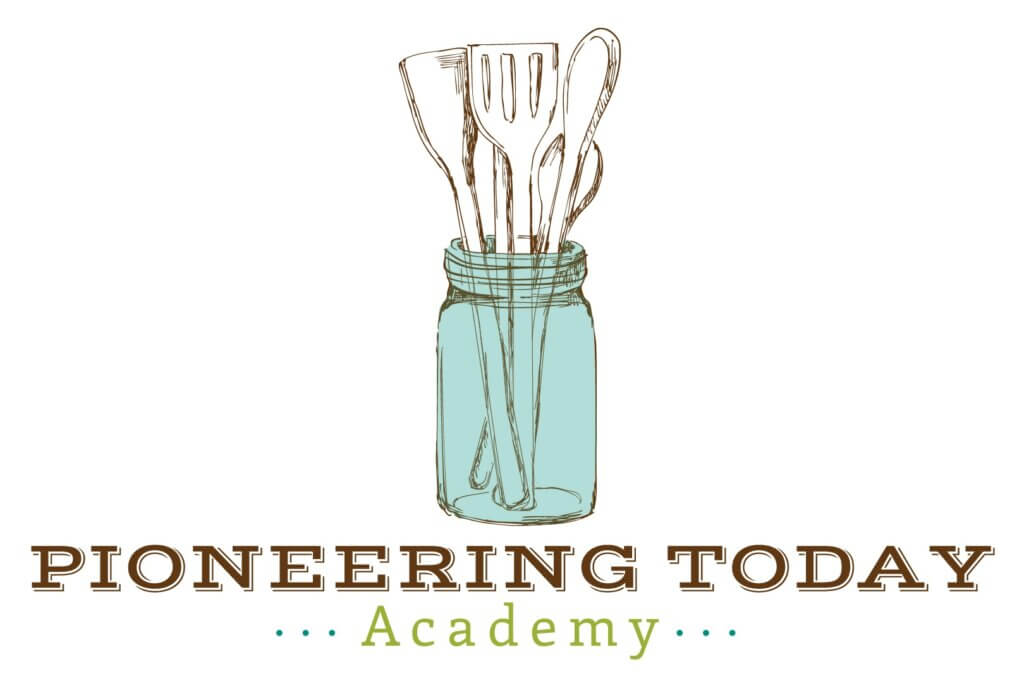 Pioneering Today Academy
If you found this podcast helpful and would like a chance to have a one-on-one call with me or learn more gardening and homestead advice from us inside the Academy, you can click here and sign up for the Pioneering Today Academy waitlist.
The doors open twice a year and will be opening up again on March 22, 2023. If you're reading this during a time the doors are not open, sign up for the waitlist and you'll be notified the next time the doors open.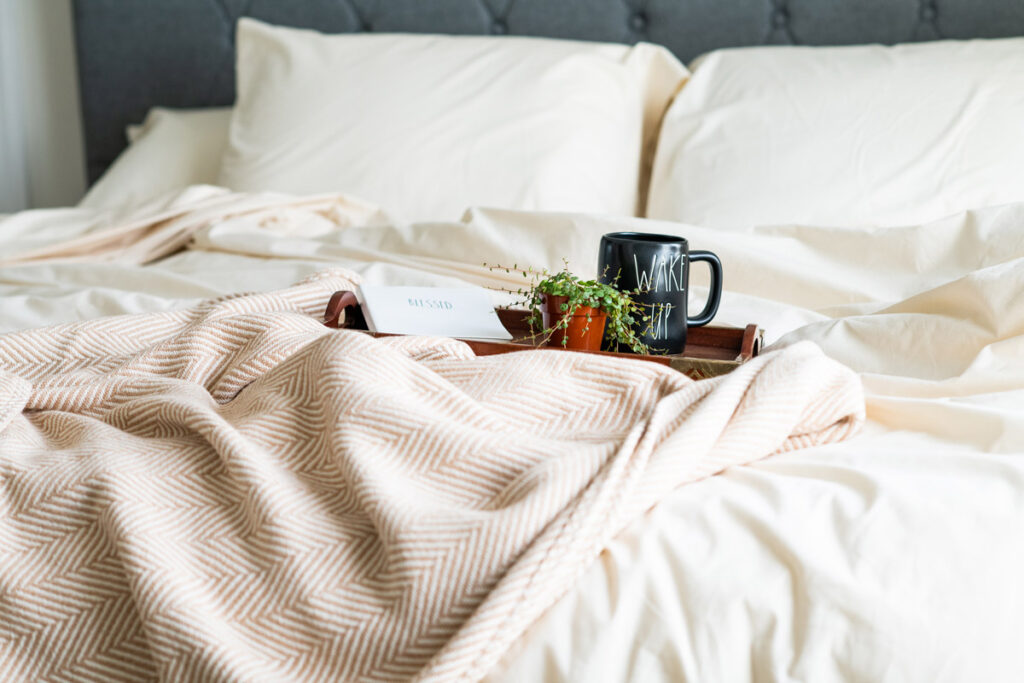 American Blossom Linens
American Blossom Linens is an American-made company that sells organically grown cotton towels, sheets, blankets, pillows and more. Their products are heirloom quality and made from cotton grown in the USA.
I don't know about you, but it seems it's getting harder to find products that are made in the United States, as well as cotton that's 100% pure that holds up well to extended use.
One thing I love about my American Blossom sheets is that they seem to get softer with each and every wash. They keep me warm in the winter and cool in the summer (I don't know how they do it!), but I just fall more in love with them with every night's sleep.
American Blossom Linens is a sponsor of today's podcast and blog post. They're offering a 20% discount on your entire order when you use coupon code "PioneeringToday20".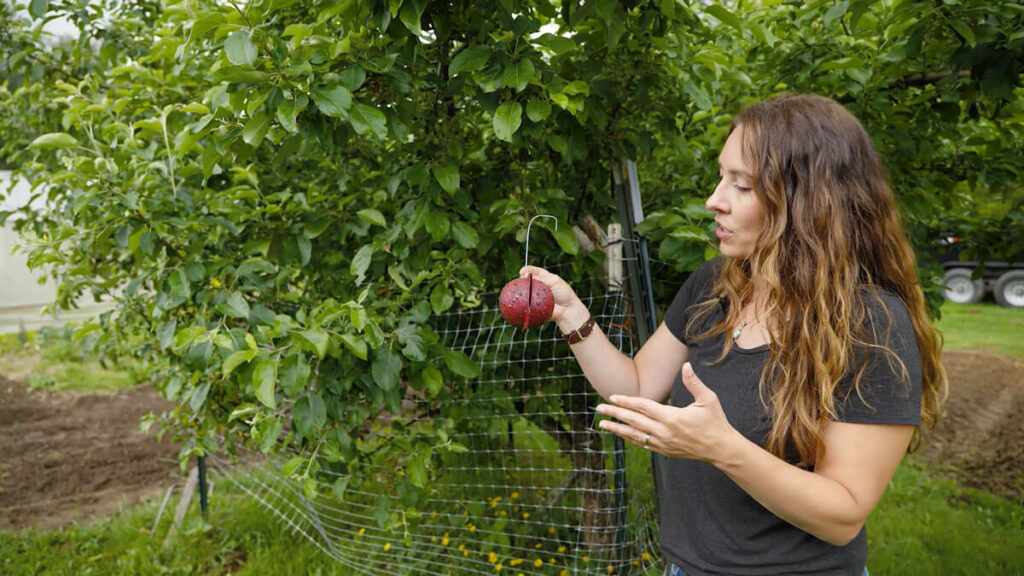 More Resources for Growing Fruit Trees:
Melissa: Hey pioneers. Welcome to episode number 383. Today's episode, we are going to be talking about orchard planning, specifically with a spotlight on planning to keep the pests out.
So we're going to be going over which types of fruits that birds seem to really be attracted to and which ones they tend to leave alone more. And then other tips for keeping other pests out of your orchard and berry plants so that you get the harvest and the reward of all that hard work.
And today's post is brought to you by our sponsors, American Blossom Linens. And funnily enough, this morning as I was getting up, I'm like, "Oh, I really need to change the sheets." It's been a little bit since I have gotten them washed. My son was actually sick over the weekend, and so we went through and washed, I think three loads of bedding from his room.
And so, I didn't actually get time to do the laundry on my own bed. And I was looking at the sheets and I'm like, "Okay, I need to get these changed." And I had this internal debate, which happens every time I need to change the sheets because I'm like, "Well, if I pull the sheets off this morning and just put another set on, then I can make the bed up. And then the bed is made for the day."
And I don't have this unmade bed where our house, the way the flow goes, it goes right from the living or right from the kitchen, and then we have it fairly open concept. So it goes into the living room, and then right off the living room is our master bedroom.
And so, if I'm standing in the kitchen and our bedroom door is open, actually look all the way through our living room, straight into our master bedroom, and the first thing you see is our bed, the way we have it positioned.
So I really don't like to have the bed unmade all day or the time it takes for the sheets to wash and then obviously to dry before I make it back up. However, I'm like, "Oh, but I don't want to crawl into bed on the other sheets because they're not as soft and they're not as cozy as the American Blossom Linen sheet set."
So, I'm at that tight place where I'm like, "Do I just bite the bullet and go and buy a second set of these sheets instead of always washing and then waiting for them to dry and re-putting the exact same set back on?" Because that is what I have been doing.
I got my first set of their 100% cotton heirloom quality sheets this past summer. So at the time of this recording, I've had them like eight months. And I'm not kidding you, every time I go to change the sheets, I just wash them and dry them and put them back on.
So I haven't even touched all of the other cheap different bed sets that we have. I still have them in the linen closet, but I'm like, "This is just getting silly. I need to just buy another set of these sheets and then get rid of all of the other ones or repurpose them into something else," because I simply can't bring myself to actually use them.
And our sponsors have a coupon code. So if you're like me and maybe you already have a set and you're like, "Yeah, I need to get a second set as well," or you're going to get your first set, make sure that you use the coupon code. PioneeringToday20, PioneeringToday20, for a 20% off of your entire order.
Now, I'm excited for you to listen to today's interview because it is with Michelle. And Michelle has been on here with me before. An interesting story about Michelle, if you were a member of the Pioneering Today Academy, you're very familiar with Michelle.
Michelle has been with me since 2015. Michelle was one of the very first people that I ever brought on to help as the website and the blog was growing beyond what I could handle and do all by myself.
And what's funny is she actually reached out to me. Michelle has a great eye at seeing where people need help and where her strengths are. And she is a type... a very, very organized person, which believe it or not, I don't feel that I am very organized.
I have kind of my own methods and I managed to get a lot done in a day, but I would probably manage to get a lot more done if I was better organized at attacking things. And that is where Michelle absolutely shines.
So she was out here at my house and we were doing our yearly planning for the Pioneering Today Academy for the podcast, and they had just bought a new home. So it was in fall, beginning of winter when she was here.
And so, she's like, "Man, if we have time after we get done planning in our downtime when we have dinner, I'd love to have your help because I... Here's all the different places on the property. They had just moved there and I really want to strategize putting in the orchard in the garden, picking the spots and you can see what we have to work with." And so we're like, "Yeah, of course."
So we started to do that, and then she ended up going home and they kind of went over some of the suggestions that I'd had and some of the thoughts on deciding what should go where.
And then she's like, "I kind of want to dive into this a little bit deeper. I think we should do a podcast episode on this because I know I'm not the only one who struggles with this and could use help with it." And I'm like, "You know what? You are a hundred percent right."
So, that's the backstory. We talked about it a little bit in today's episode on how we got going into it. And speaking of the Pioneering Today Academy, you can jump on the wait list and access all of the different links that we mentioned in today's episode by going to melissaknorris.com/383. That's just the number numerical 383, melissaknorris.com/383 because it's episode number 383.
And there you'll see all of the links to the different episodes and articles that we talk about to help you go deeper into planning your orchard and berry Bush needs as well as the link to get on the wait list for joining the Pioneering Today Academy.
So without further ado, let's dive into it. Well, hey Michelle, welcome back to the Pioneering Today Podcast.
Michelle: Well, thank you Melissa for having me. I think it was last year, about six months before I moved that I was on, and I'm happy to report that the move went very well. All the steps I took worked beautifully.
Melissa: Yay. I'm super excited you're in your new place, but now we have a new, I hate to use the word set of problems, but kind of a new issue to solve. I don't know why that sounds a little bit better than using the word problems, but this is really...
I love this part where we're looking at all the possibilities and deciding, "Okay, what steps are we going to actually to take?" This is the part that gets me excited probably more so than the implementation, if I'm being honest.
Michelle: Yes. I would have to say that's true for me too.
Melissa: It's that dreamer phase where you're not actually in the work of it where things can start to move wrong. In the dreaming phase, it's just everything is a possibility and it's so fun and it is key to make sure in that dream phase though, when I actually go into implement that I usually have to reign myself in a little bit so that it's practical, but this is one of my favorite phases. So you guys are wanting to put in an orchard, correct?
Michelle: Yes. So, we have a couple different ideas. One of the reasons why we bought this place, and there's several, but one of the reasons is because there's a structure on the property.
It was used as a greenhouse at one point and then it was used to raise meat birds. So it's enclosed with the welded wire fencing type material, and it's rather large. It's 24 wide by 84 long; six feet high on the sides, and then the center is about nine feet high, so it's pretty large.
So my thought was that I could put berries in there like blueberries and raspberries and all that to kind of keep them protected from animals.
Melissa: Yeah. You guys have a lot of deer, don't you?
Michelle: Yeah. We have a lot of deer, a lot of squirrels, a lot of rabbits, groundhogs, you name it, we have it, and rats.
Melissa: You've got it.
Michelle: We recently learned that we have rats too.
Melissa: We just had to a rat out in the barn actually and just killed it a couple of weeks ago in the rat trap. So, I feel you with the rats.
Michelle: Yeah.
Melissa: Yeah.
Michelle: Yeah. So when you and I were together back in October and we were doing the planning session for 2023 for the Pioneer Today Academy, I was talking to you guys about the structure and my idea, and you had recommended possibly putting dwarf fruit trees in there. So, I've been thinking about that ever since.
Melissa: Yeah. Well, I love that it's a big enough structure because you showed me some pictures of it and with it being the 20 by 84, it's definitely large enough. And I think the berries is excellent, especially things like blueberries, raspberries, the things that are a little bit more thorny in nature, like blackberries and raspberries, those, our deer don't bother as...
Actually the deer don't bother our raspberries at all and there's a ton of blackberries. So I feel like those, if you were looking in like, "Okay, I've just got enough space and I want to put all of these in, but maybe I'm a little bit," I would consider possibly putting the raspberries and the blackberries. They wouldn't have to be in that section, but definitely things like the strawberries and the blueberries I would definitely put in there and the fruit trees.
But with the fruit trees, you could go dwarf or semi dwarf, and semi dwarf if at full maturity, if you don't prune them to keep them down, they can reach 25 feet tall, et cetera.
And the dwarf, again, you can still maintain some of that by pruning and keeping them smaller. So, you could go with dwarf or semi dwarf. I know sometimes finding the varieties and exact that you want, sometimes you'll see them in semi dwarf, not always dwarf, et cetera.
But I think that you definitely could grow them in there and you'll see how much pressure you have from the deer and the predators after you've been there for a while because you could even after they get to be a certain height and reach full maturity, if you're like, "I don't want to prune them down," you might even be able to open the top.
And if you have six feet up on the sides, the deer aren't likely going to jump over that because I know you said it's like nine foot in the center, or was it taller than nine feet in the center?
Michelle: Yeah, it's about nine foot in the center.
Melissa: Okay. Because that would be... Nine feet is... you could keep them pruned short enough, but you would maybe be able to remove that top part at some point once they reach full maturity, because I don't think the deer would jump over the six depending upon how the wire is structure if you could remove the top and keep the sides up without having to redo everything.
Michelle: Right, right. So one of the other things I was thinking was... And this is why I wanted to have the berries in there, was because of birds. That way I get more of the berries myself instead of sharing them with the birds.
Melissa: Yes. And a hundred percent on the blueberries. Here's what's really interesting is, here anyways, and I don't know if it's just our birds, but even with some of our local farms that I see with the blueberry fields, I have to net or have those... You know, you'll drive by car lots and they'll show those big blow up things and they kind of wave back and forth in the wind. They've got motion on them?
Michelle: Yeah.
Melissa: They'll put those in the blueberry fields here if the fields are too big for them to actually net and because the birds will strip the blueberries. However, I have never had the birds bother our raspberries both here on our place and then when I was growing up as a kid, we had raspberries, so I don't know if it we're just lucky or if they just don't really like... they don't like raspberries. Apparently, they just like the blueberries. I'm not sure what it is.
And then sometimes we'll find the birds in the blackberries, but we have so many blackberries here just because they're actually a noxious weed by the county because they're so invasive. The blackberries that there's just so much for them, we don't ever have an issue with them stripping the plants that we pick from.
But definitely for the blueberries, I would definitely keep those in there. And even with the strawberries we have... Especially to... Do you free-range your chickens at all?
Michelle: Well, yes and no. I mean, they're fenced in, but it's a really large fenced in area, so it's like they're free ranged.
Melissa: Okay. The reason I say that is because my chickens actually eat my strawberries more than the wild birds. And so, that's why I said the strawberries I would put in there as well, just if your chickens get loose, because they just tend to eat all of mine. They like strawberries as more than I do apparently because they'll get to them before I can.
Michelle: Yeah. At the old house, I had trouble with strawberries, the critters, whatever. I think mice and birds were competing for the strawberries.
Melissa: Yeah. They have good taste, I have to give it to them.
Michelle: Yes, yes.
Melissa: Yeah. So, this is already all completely enclosed for you. I think that that makes the most sense is to put all of those items in there that we know have heavy outside predator pressure or being eaten by other animals in that space.
And then for the fruit trees, looking and seeing what you can get and dwarf and semi dwarf, but also knowing that you won't be able to put as many in there because you will have to make sure that you've got the adequate spacing between them, I would definitely take a look at some of those, the fruit... We call them fruit cocktail trees, but where they've got grafted in some of the different varieties, so they've got their pollinators, especially on the apple, that you've got some different pollinator varieties on the one tree because then you won't have to have as many different varieties for pollination on the ones that require, that aren't self fertile. But that would help.
So then instead of having to have three or four apple trees, you could just do one or two if they're the grafted varieties and they've got the different pollinator cultivators on the same tree.
Michelle: Oh, that's a good idea. I hadn't considered that.
Melissa: Yeah. That really helped when we were trying to minimize how many fruit trees we had when we first got started because there was a cost. Ours was mainly not so much space.
We do have a lot of land, but it was the cost of putting everything in new, like all the berry plants, all the fruit trees. And so, I'm like, "Okay, well at least if I can afford these two apple trees and I should be able to get production off of them because they've got those cultivators versus trying to buy one of every cruft pollinating variety and both within the timing of it, like an early blooming and then a late blooming to have all the way," those fruit cocktails work really well.
Michelle: Yeah, cool. Do you know... Are there specific types of fruit that aren't bothered by birds as much as others like maybe cherry trees?
Melissa: That's a great question. So from our experience here and then talking to some of the different growers and orchards, cherries are one of the most ones attacked by birds. Birds love cherries.
I don't know if it's the darker or if it's the red. And obviously there's more than just red varieties of cherries. There's black cherries, there's like the Rainier that are really more of a yellow with a blush pink. Then of course there's the Bing, which is the really bright red cherries.
But I have to say, the birds tend to strip the cherry trees really fast here. The birds don't really bother our apple trees or the apples, not nearly as much, they don't have nearly as much issue with that.
The deer seem to prefer the apple trees, however, and the apples. So there's that kind of thing. But as far as the birds really go for the cherries and the blueberries.
Michelle: Okay.
Melissa: It's a little bit tricky for us to grow peaches here just because we're typically a little wet and cool. So I do have a couple of peach trees, but they're not old enough to actually produce a harvest for me to see how the birds may or may not affect them.
And the birds don't really bother my plums though. I have a couple different plum trees, and I mean, every now and then I might find one that's pecked, but it's not like they come in and just strip the tree bear like they do with the cherries and the blueberries.
So, I've had good success with the plumbs and the apples not being bothered by the birds hardly at all.
Michelle: Okay. So funnily enough, last year that we were in our property, our old property, our peach tree actually produced, and I didn't see any bird pressure on it. So, I'm hoping that holds true here.
Melissa: Yeah. Same. I hope it does for you too. You know what? I'm assuming the pears will be more similar to the apples. We have a young pear tree. It's not been able to produce yet because it was so young.
But my grandmother has a pear tree and it's so old and it's not been maintained. It's on property up the way from us where none of her orchard has been pruned or taken care of since she passed away when I was a kid.
But there's a pear tree up there that still produces just a few pears, and so we'll go up and even though it's just a few, I don't notice bird pressure on that either.
Michelle: Okay, that's good to know because I'm considering planting some of them, some fruit trees in a different area. So trying to decide which ones I should put in the structure and which ones I could put outside of the structure. So, that would-
Melissa: Got you.
Michelle: Yeah.
Melissa: Yeah. Depending on where the deer... Remind me, do you guys have an outside dog, like a large-
Michelle: We don't.
Melissa: ... dog that would chase deer? Okay, I couldn't remember. I didn't think you did.
Michelle: We don't.
Melissa: I would say because you wouldn't have the bird pressure as much with that that if you could plant them closer to the house... That's what I've noticed with ours. The apple trees that are closest to the house and that therefore they're closer to the dog, the deer definitely bothered those least. And then the fruit trees that are the furthest out and away from the house, those are the ones that the deer hit the hardest.
Michelle: That makes sense.
Melissa: Yeah.
Michelle: Awesome. Okay, so my other question is: what fruits should be grouped together? So for example, I think I've heard you say put rhubarb with blueberries.
Melissa: Yes, I have said that. So I look at it, one is pollination factor. So if you're doing blueberries, you do want to have some different varieties for your pollination there.
There's some blueberries that will say that they're slightly self pollinating, but if you've got a couple different varieties, you're always going to increase that harvest.
So of course those varieties are going to need to be within so many feet of one another to actually cross pollinate. So aside from that factor, most of your berries, raspberries are self pollinating. You don't have to worry about that with them. You don't have to worry about it with blackberries, you do when it's more in the tree factor.
I know blueberries are a bush. They're not necessarily a tree, but they're not a cane like you have with the raspberries and the blackberries. So elderberry trees require pollinators, blueberries, et cetera.
But aside from that, what I look at is what like factors they have as far as soil needs and specifically pH. So a lot of your fruits, especially your berries, require more acidic soil than your fruit trees or a regular vegetable garden or flowers or that type of thing.
And so, blueberries are one of the most acid loving berry plants that we've got down into the fours. But really you want to be around that in the five-ish pH range, at least for your blueberries. And the reason for that is because if your soil is not acidic enough, you can have all the correct balance of nitrogen, all of our macro micronutrients that soil for our plants need things like calcium and phosphorus and magnisa... I always say that word wrong, and magnesium, both of those two, et cetera. And so, that can all be present, but if the soil isn't acidic enough, then the roots aren't actually able to draw those nutrients up and in the plant.
So if you have a blueberry plant, a lot of times people don't know that about blueberries, they don't realize it when they first get into gardening, and they'll plant a blueberry bush in really fertile soil. It's great soil, but it's not acidic soil. And so, after a year or two, that plant just declines, declines and declines.
And they're like, "Man, I'm putting in the amendments. I'm pruning it. I'm doing everything right, but my blueberries just die." And usually it's because they're not in acidic enough soil and so they just can't absorb those nutrients. And so, they just get weaker and weaker and then within a few years they die or they never thrive, they never produce well.
So blueberries are a very acidic loving plant. Rhubarb also likes acidic soil, as well does raspberries and elderberries. Blueberries' the most acidic, and then it kind of just starts to go up a little bit from there.
So I like to put plants that require acidic soil, and if it's more acidic needs than what might just soil natural baseline is, which our soil naturally baseline is usually right around a six, about six pH.
So for blueberries, I do have to amend our soil every few years and add a little bit of elemental sulfur to it to get it into that more acidic spot. So I like to plant my groupings together like rhubarb, because rhubarb also likes acidic soil, and I like to put the raspberry row right next to the blueberries. So that way when I'm going through, I can just easily amend that section without having to go from one part of the property clear over to the other part of the property and amend all these different spots of acidic loving plants.
If they're put right there together, they're all going to thrive together. And it makes it easier for me to maintain a small section or to just amend that whole area in one go. So for me, it's for the health of the plant, but it's also for ease on my part when I'm keeping the soil aesthetic, if that makes sense.
Michelle: Yes, perfect sense. Okay. So, I mentioned that I'm considering putting some outside of the structure. So to do that, how do I measure the distance between the trees? Is it from trunk to trunk or the edge of the expected width of the growth of that tree? What is it?
Melissa: Yeah. No, that's a great question. So if you have very limited space and you're trying to grow as much as possible, then I would go from trunk to trunk. If you have enough space, then I would add a few extra feet in there because then it's easier if you ever do need to mow between them or mow underneath them or move anything through them, then you're going to have that space between the branches in order to do so.
Otherwise, you're going to have limited accessibility to move things through that area, or you're just going to have to keep them pruned shorter on that part.
And so, when we first put ours in, I was trying to keep our fruit trees in this single line to this... I was trying to keep an actual area of yard that was just going to be green grass. And now I've kind of shifted that train of thought and I'm like, "Well, that's..." For me, I'm like, "That's silly. Why am I trying to maintain all of this green grass if I'm not running any livestock on it to eat the pasture, just to mow?"
Why would I spend all of that time just mowing grass that then produces nothing but grass? I'd rather turn it into orchard space. So now we're putting more trees in there, but the first section of the orchard, when we put it in, I did plant my trees a little bit closer together.
And so, there's now in that line of trees, if we need to move anything through that section of property, there's only two spots in that line that I can move larger things through like we can actually drive the four-wheeler with a cart through or try to move something with the tractor through, and because those were the only two spots where I had a little bit more spacing.
So really thinking through, is there at any point in time where these trees are planted once they get bigger, that I would conceivably need to come through this section with maybe something like a tractor or a truck or something like that, and so then leaving the space there. If that's not an issue, then just do the exact minimum and go from trunk to trunk.
Michelle: Okay, gotcha.
Melissa: Yeah.
Michelle: All right. So another question I have, and that is with a food forest or permaculture orchard where you're planting things with the fruit tree, like they say comfrey in the orchard and stuff like that.
My question is this, aren't they in the way for you to actually harvest the fruit from the tree?
Melissa: That's a great question actually. And it's not one that I don't think anybody's ever asked me that.
Michelle: I can't find it online.
Melissa: So, I love it. No, that's really funny. I was thinking, I'm like, "I don't know that I've ever seen that come up," but it's a really... Actually, it's a really good insightful, thoughtful question.
So if you're listening to this and you're like, "I don't know what you're talking about with a fruit tree guild," or what we're referencing, we have a whole podcast and blog post article on that with actual video showing, putting one in, what it is and different plant ideas. So we'll make sure-
Michelle: There's a lesson in PTA too.
Melissa: There is a lesson. Yes. So full on lesson inside the academy. So, we'll make sure and link to that in the blog post that accompanies this episode for those of you who are wanting to dive in a little bit deeper into that and know what that is.
But that's a great question. So I put mine in... Oh gosh, two or three years ago now that I started to put mine in. And so, I put mine in close around the trunk of the tree because you're starting right as close to the trunk as possible, not girdling it, of course, but you're planting it closer to that area.
So the tree, of course, has grown in that two to three year span. And when I am harvesting off of ours, I'm typically... Even though they're semi dwarf, because they are... A lot of them are so mature now, they're going on, oh gosh, 15 years old, and using the ladder.
And so, of course, the ladder I'm only putting on the outside of the tree and then I'm reaching in because the ladder is higher than my bottom canopy of branches. I really can't get in there.
So no, because I'm not really standing that close to the tree and underneath the canopy of the branches. So, I'm not actually standing or stepping on them. But I also made sure when I planted it that I wasn't extending it outside of the drip line.
In fact, it doesn't even go all the way out to the drip line. It's probably only the one and a half to two feet out. And my drip line is further than that because the branch line goes.
So if you were doing it under taller standard trees that didn't have a lower branch canopy, so if it was your big fruit trees that are standards can get up to 50 feet tall and you would be pruning out over time the lower branches so that the lowest branch would be above head level, so you literally could walk all the way underneath the tree, then you would just have to obviously be watchful and not actually step on the plants or leave some spacing between there or just know you might be stepping on some of them during the harvest time.
But because my trees are semi dwarf and I'm keeping them prune to be slightly shorter, even though I do have to use a ladder, I can't actually step standing up underneath those bottom branches anyways. So, I'm never actually stepping where the fruit tree guild plants are.
Michelle: Gotcha. Do you find it time-consuming or difficult to maintain the guild under the tree?
Melissa: That is a good question. Yet, no, but I'm saying that with a bit of a caveat, and the reason I'm saying no is because I kind of put it in and it's like, "You're going to thrive or you're going to die." I am not going to baby the plants.
So the ones that died off, I'm not putting them back in. I'm not going to keep replanting them. And if they can't make it on their own, then they're not going to live there regardless.
So that sounds a little harsh, but that's just the reality of it. So it hasn't been. I did lose because we had...
I don't know if luck would have, it would be the right word, but I put the fruit tree guild in and the first year we had a very normal, I'm using air quotes, weather pattern for that summer because I planted predominantly perennials there.
And so, they did all great the first year and then the next two summers, of course, we had record-breaking heat. We got to 120 degrees Fahrenheit here, which is highly abnormal.
And in two years in, and then the next summer, which was just this past one, we had the most consecutive days over 95 degrees Fahrenheit and without rain on record.
So we had two really hot, dry, harsh summers. And so, I did lose some of the perennials, but I also was not watering them. I'm like, "Well, what makes it and what doesn't, doesn't. I'm conserving my water and care for the vegetable garden," and the actual newer fruit trees that I had put in that did require watering.
And I did the fruit tree guild under my established trees that don't... I don't water them ever. They don't ever get any water even during the summer months.
So the comfrey, because it did great, it came back, it didn't have a problem. There was a couple sections of the chickweed that I did lose. It just got too hot and the roots didn't go down deep enough. It didn't survive.
So it didn't cost, take me much to maintain it, but I really wasn't maintaining it with... You have to be okay if you're not going to do that to expect some plant loss in extreme weather situations.
Michelle: Okay.
Melissa: Yeah.
Michelle: And the reason I ask that is because at the old house we didn't have... really didn't have anything under the trees, so my husband just mowed between them and we'd whipped around them so that the weeds didn't get too crazy. So, I didn't know if it was going to add more work to my workload.
Melissa: Yeah. No, it's a good question. And I will say when I put them in, I did mulch really heavy, so I put three to four inches of bark mulch wood chips. And so, this year going on... actually be the fourth year because yeah, I've had it in for three years.
So this year I'll need to add more mulch because it started to break down, which is just the nature of the game with wood chips, of course, because it's an organic material, will break down over time.
So this year I will be putting down another layer of mulch and a little bit of weeds has come through, of course, but not anything heavy. It wasn't the weed pressure that choked out the plants or killed them, it was lack of water because we were so dry. But I will need to reapply that mulch this year. But anywhere you use wood chips, that type of mulch, you are going to have to reapply it.
Michelle: Right.
Melissa: Yeah.
Michelle: Okay. And I just want to add a caveat. I think I did all the wrong things of my last orchard, so I'm so glad I'm able to talk to you about this.
Melissa: Oh, God! I have to say, a lot of the things that I'm sharing with you are because I did it the wrong way too, or just learned a better way.
So there's part, like we want to escape the mistakes. And I know that's the beauty of being able to listen to something like this because I was able to go and talk to people too like, "Oh my gosh, this just happened. What do I do now?"
But also, unfortunately, the learning comes from the mistakes and we try to avoid them as much as possible. But I'm saying that because there still will probably be a few mistakes or things that-
Michelle: Oh, I have no doubts.
Melissa: ... yeah, you encounter. Yeah.
Michelle: Okay. So, the structure will not be ready this year. It is full of weeds. So we have to get in there and really do a lot of cleaning out, and because it had chickens in there previously, there's a bunch of uneven ground from them digging.
Melissa: Oh, yes. Dust baths.
Michelle: Yes. So, we have to level it out. So, there's no way possible for us to plant in it this year. But I was considering planting a bunch of stuff in containers this year. And then when it's ready, then I can plant them next year right away.
I don't have to wait for them to arrive in the mail or go buy them. I'll already have them. Do you think that's a good idea?
Melissa: Yeah, I do think that's a good idea. And I would definitely do that. Some of the things that you'll be able to get younger, which means usually it doesn't cost as much. So the younger the plant, the more immature it is, the smaller it is, especially when you're talking like blueberry bushes and even fruit trees. You even get the whips for cheaper than you're going to be able to buy a three-year-old tree for example.
And so, I would look at the smaller ones because obviously they have a smaller root crown section to them, and so you don't have to have as large of containers, but then you've got them, you've paid less. And then once they're ready to be moved out of that pot next year, you'll have the area ready to just go ahead and put them in. So, I think that's a great idea.
Michelle: Okay. I just have to make sure that they stay watered.
Melissa: Yes. You'll have to make sure they stay watered, and you might, depending on the size of pot that they're in and the size of the tree and the bushes that you end up getting, you'll probably need to do throughout the summer a couple of... add some Alaska Fish Fertilizer or some type of nutrient to them just to make sure that they have everything that they need to grow. And the watering factor. Yes.
Michelle: Yeah. Yeah. Okay. Perfect. All right. I think I have a game plan.
Melissa: Well, that's exciting. Game plans are good. Yes.
Michelle: Yeah, I'm very excited about this growing season.
Melissa: Is it is amazing. I remember when we moved, because we rented. Family property, but we still were renting. And so, I did a vegetable garden. We got permission to put a vegetable garden in where we were renting, but I didn't put in... I wasn't going to invest in a bunch of perennials like fruit trees and berry bushes and herbs and all of those things when you know it's on rented property.
Because you can dig and take some of it with you, but if you put a lot in, that's so much work and potential loss. So when we... Which is part of the reason I had to move my orchard just because I was so excited that I could finally plant things that I just went and whatever the budget, I just bought as much as I possibly could just to get it in because I was so excited.
And that meant, of course, moving everything over the next couple of years because I didn't get it in the ideal spot to begin with. But I know that feeling. You're like, "Yes, I'm in my spot. I can finally do it."
Michelle: Yes. Yeah, I do know that because when we moved, there were a lot of plants that I took divisions of because I need them here.
Melissa: When a home sitter and gardener moves, I feel like it's a completely different ballgame than just-
Michelle: It is.
Melissa: Yeah. Completely different. There's so much that we hold dear and is important, and that has to move with this in comparison to just your clothes and normal household stuff.
Michelle: Yes, yes. Especially those plants that have some sort of memory associated with them like it came from my grandmother's garden.
Melissa: Yeah.
Michelle: Yeah. All right. Well, thank you so much for answering my questions.
Melissa: Yeah, you're welcome. I'm excited to see this go in and it's going to be a lot of fun to watch it grow over the years.
Michelle: It will be. I hope it does really, really well.
Melissa: I'm sure it will. Thanks for coming on, Michelle.
Michelle: All right, thank you.
Melissa: Welcome to the verse of the week. This week we are in 2 Timothy:2, and we are reading verse 15 from the Amplified translation. "Study, and be eager and do your utmost to present yourself to God approved (tested by trial), a workman who has no cause to be ashamed, correctly analyzing and accurately dividing, [rightly handling and skillfully teaching] the Word of God."
This past week, our pastor was preaching from 2 Timothy:2, and what I found interesting about this verse is that it actually gives us quite a few commands, if you will.
One is to study, and you and I know that studying doesn't mean just reading something once. It means spending time going over it and diligently, to do so eagerly, right? Not dragging our feet or like, "Oh, man, I got to go study this," but to approach it with a level of excitement and anticipation.
And then as we get into this, the middle of the verse, it's talking about being a workman. And I think that that means, well, not I think. It clearly, the text shows us that we have to work at our relationship with God and with knowing His word. It's not like it's going to get into us by just osmosis, by just having a Bible in the house or even just listening to preaching, though that can bring definitely certain points home.
But we have to spend time in the word of God purposefully and eagerly, because anytime we approach something with dread or obligation, we usually don't end up doing it for very long because it's not something that we enjoy or that we look forward to.
And then the workman who has no cause to be ashamed, correctly analyzing and accurately dividing the Word of Truth. And I think that's an interesting way to describe that because obviously the Word of Truth is the Bible, is God's words to us.
But oftentimes... I don't know about you. I'm sure you've probably experienced this, especially if you had know the Bible and have been a follow of Christ and walking with Him for a period of time. And that is how often I will come across, and it's usually by people who don't really know the word God yet and they might not actually be Christians, but they know just enough of the Bible to take things completely out of context.
And I'm sure you've run into this where they'll either justify a behavior or they will attack something that you say or do and try to come at it by quoting Scripture, but they've taken it completely out of context.
And so, even though they're trying to use something biblical to justify something or to back them up, they've really missed the point of that teaching or what it really means.
And so, the correct analyzing and dividing of the Word of Truth is really key. And the only way that we can get there is by studying and actually being a workman of God's word and the Word of Truth. And asking Him, the Bible says we have not because we asked not. And if we want more wisdom from the Lord, if we ask, He will give it to us.
And so, this verse kind of stuck with me this week and a little bit piggybacking on when I shared the verse of the week last week, and that is making sure that I am putting God first and truly devoting myself to His word in order to know Him better, because prayer and His word, those are really our two ways of really knowing who God is and for ourself and diving into His word.
So, I hope that this gave you some inspiration for this week. Well, hey there, I hope that you enjoyed this week's episode. And remember our sponsor, American Blossom Linens, and use that coupon code, PioneeringToday20 for 20% off your order.
I have got some amazing fun episodes coming up for you, including an episode on carnivorous plants as companion plants in the garden. So, stay tuned. Blessings and mason jars for now, my friend.
Sign up to receive email updates
Enter your name and email address below and I'll send you periodic updates about the podcast.