If you've ever wanted to grow heirloom apple varieties in an apple orchard or even learn how to graft your own apple trees on your homestead, this podcast episode is for you!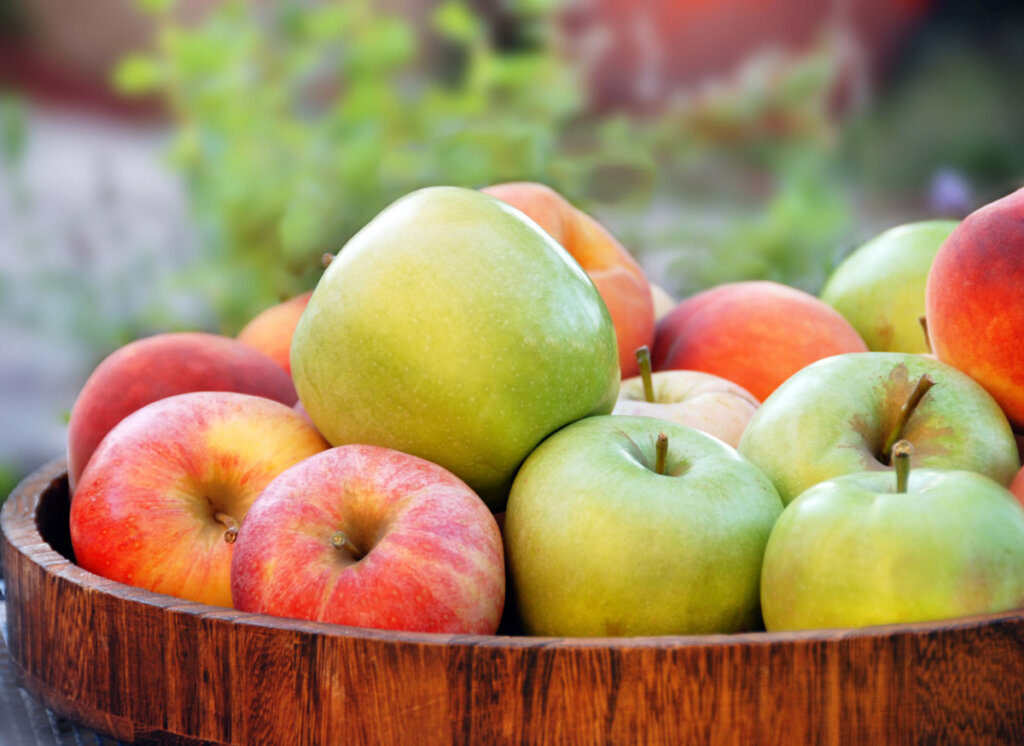 We've discussed before when and how to plant fruit trees, how to care for fruit trees in fall and winter, how to prune apple trees, treating fruit trees organically (and when to spray for disease), the five tips for starting an orchard, orchard planning to keep unwanted pests out, and even multiple ways to preserve apples.
This post takes this information one step deeper by looking into the historical data surrounding apple trees, both feral, domesticated and heirloom varieties.
On today's episode of the Pioneering Today Podcast (#385), we have Nikki Conley from Athol Orchards Antique Apple Farm. She's sharing her passion for saving America's lost apples for future generations to enjoy, along with apple tree grafting.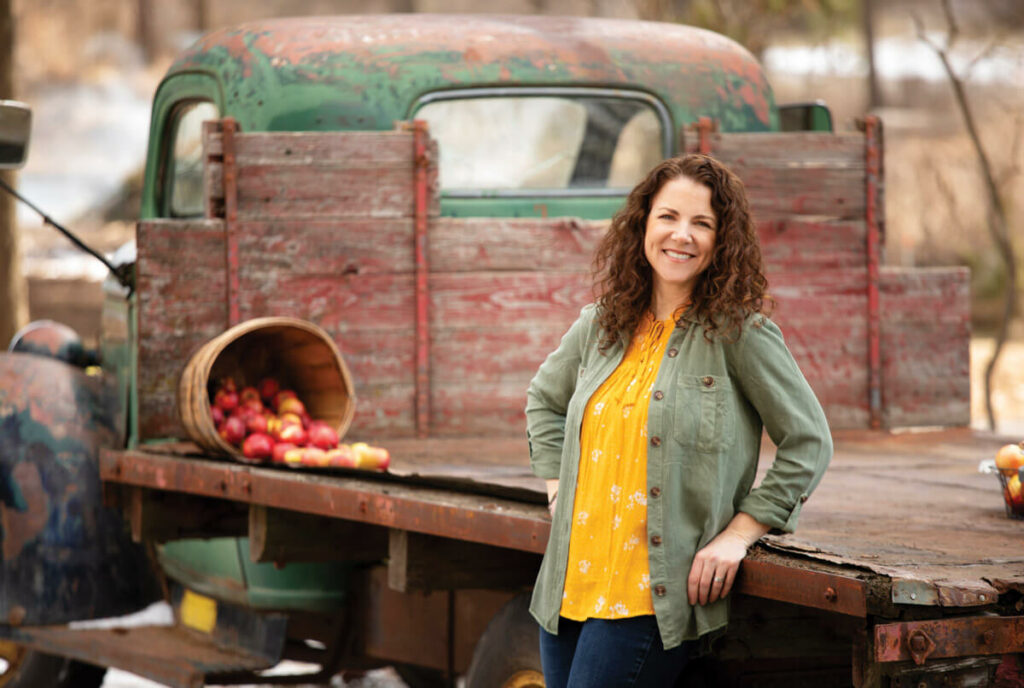 About Nikki
Nikki and her husband Erreck (along with their two daughters) established Athol Orchards Antique Apple Farm in the autumn of 2016. Settling in the mountains east of Athol, North Idaho, the Conleys were seeking land where they could establish the life-long dreams of self-sufficiency, genuine childhoods for their girls, and the storied life of the traditional American farmer.
Ever since she was a young girl, Nikki had a love of apple trees because she thought they looked like Christmas ornaments hanging on the trees.
Nikki and her family have now committed their lives to growing and preserving extremely rare and historical varieties of apples and educating thousands of guests from surrounding communities and beyond.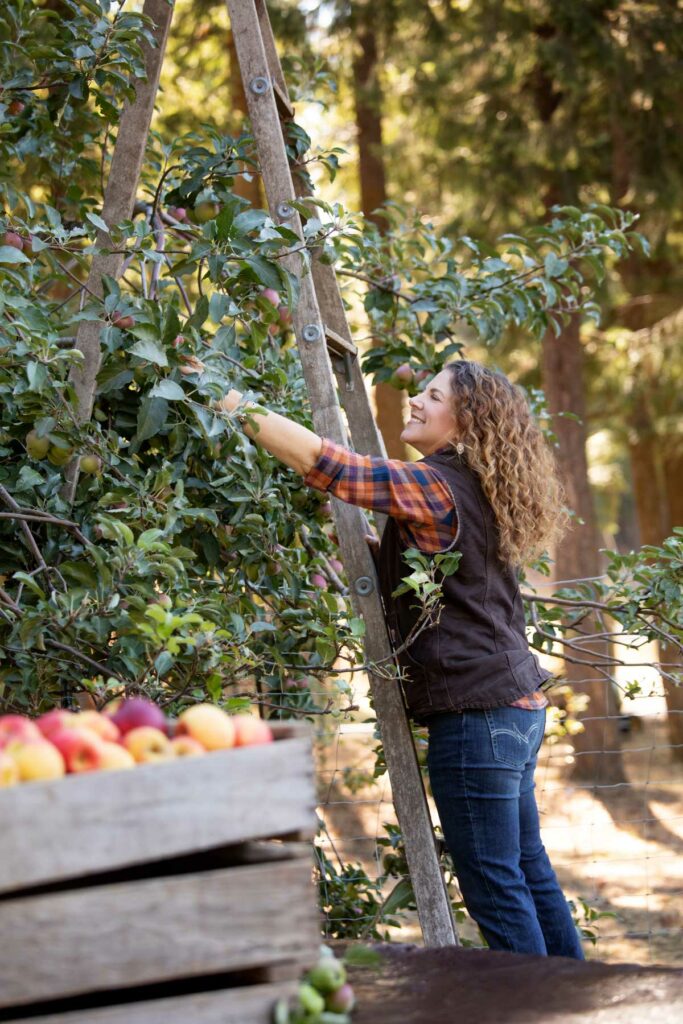 In This Episode
The difference between modern apples and heirloom varieties.
Daniel J. Bussey – The Illustrated History of Apples in the United States and Canada. This is a seven-volume encyclopedia set! You can purchase this set here, or look at the paintings of the various apple varieties here.
The purpose of hard apple cider in terms of history.
The history of Johnny Appleseed.
How apple seeds work and how it's different than many other seeds.
Scionwood – what you call young twigs (usually about the size in diameter of a pencil) used to propagate woody plants.
How to tell the difference between feral trees (planted via animal skat) and cultivated trees that were planted purposefully.
What makes good storage varieties of apples (Nikki's pick for storage apples is Arkansas Black – she shares that the flavor develops during storage!).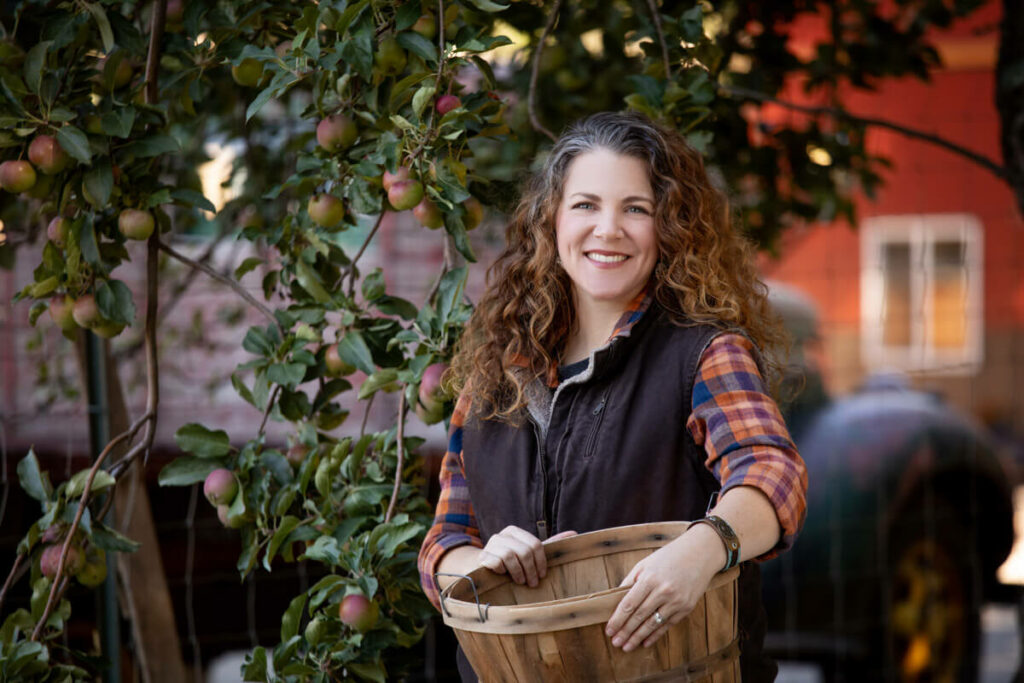 Where to Find Nikki
Nikki will be with us at this year's Modern Homesteading Conference (2023), where she'll teach about the preservation of historic and rare apples and apple tree grafting, as well as ways to utilize your orchard for additional income from your homestead.
Athol Orchards will also have a booth at the conference where you can order apple trees for your homestead or yard, and they'll be shipped to you the following spring when they're ready for planting!
If you find yourself in the Athol (North Idaho) area, Athol Orchards hosts several workshops offered through their "Orchard School" program throughout the seasons.
Apple Grafting 101
Domesticated And Native Pollinators (Beekeeping 101)
The Autumn Orchard Tour
These are just some of the few workshops that allow local aspiring homesteaders to gain the knowledge and experience needed to establish their own orchards in a self-sustaining, holistic way. They even host a Maple Sugaring Workshop at the farm supporting the North Idaho Mapleshed Project.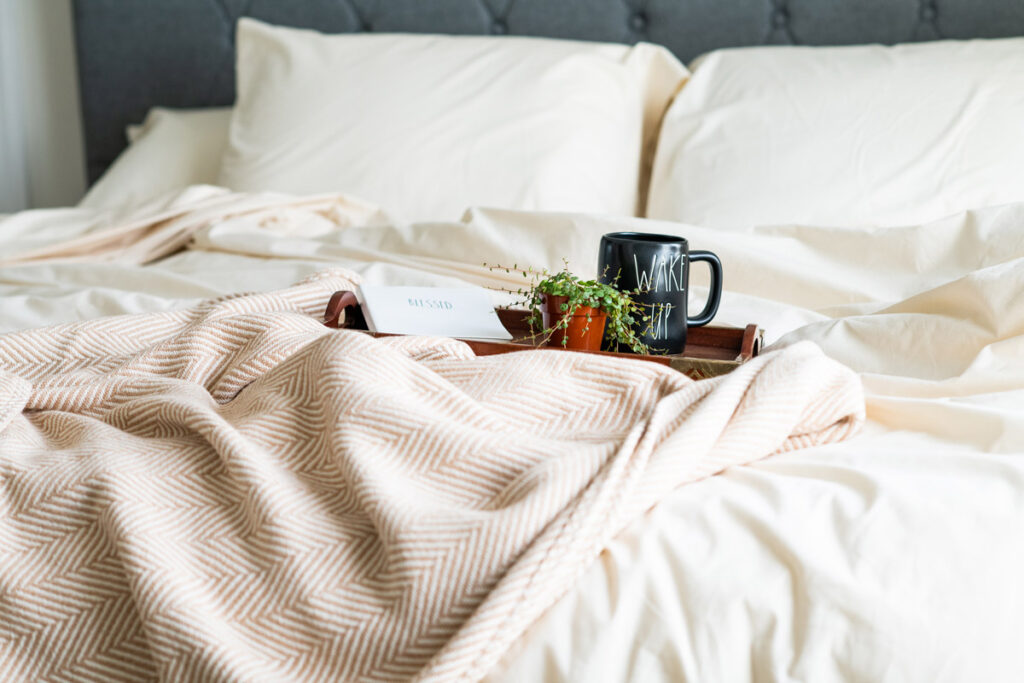 American Blossom Linens
American Blossom Linens is an American-made company that sells organically grown cotton towels, sheets, blankets, pillows and more. Their products are heirloom quality and made from cotton grown in the USA.
I don't know about you, but it seems it's getting harder to find products that are made in the United States, as well as cotton that's 100% pure that holds up well to extended use.
One thing I love about my American Blossom sheets is that they seem to get softer with each and every wash. They keep me warm in the winter and cool in the summer (I don't know how they do it!), but I just fall more in love with them with every night's sleep.
American Blossom Linens is a sponsor of today's podcast and blog post. They're offering a 20% discount on your entire order when you use coupon code "PioneeringToday20".
Verses of the Week: Psalm 17:8 and Proverbs 7:2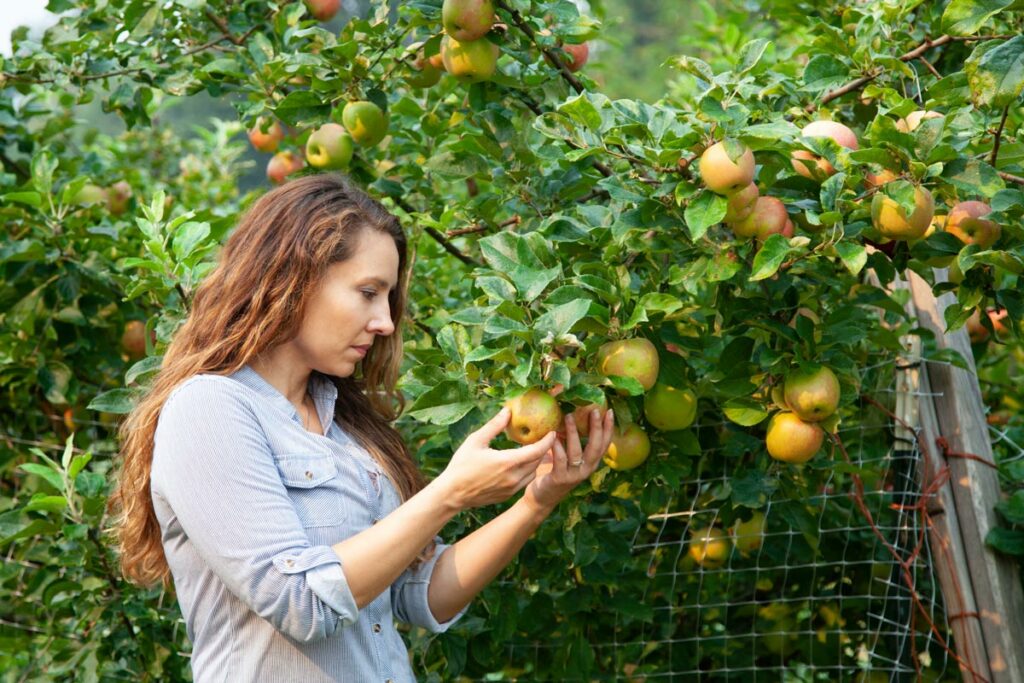 More Resources for Growing Fruit Trees:
Melissa: Hey, pioneers. Welcome to episode number 385. Today we are going to be talking about heirloom apples, as well as historic varieties, how apples shaped America. Well, many of us are familiar with Johnny Appleseed. Especially if you are around my age and watched the Disney cartoon johnny Appleseed, you have a little bit of the story, but actually the true Johnny Appleseed character, or man, who was not a character, was an actual person, is very, very fascinating on what he did with apples and how apples helped to shape the settling of America and how apples were used as one of our food sources in ways that are quite different from how we see apples today. So if you are at all a history geek in any way, shape, or form, you are going to love this episode. You're going to nerd out with us just a little bit.
But also if you are looking at bringing in apple varieties to your homestead and/or farm, you're going to find this episode extremely informational and helpful as you select those varieties. And also, perhaps you will be helping keep some of those historic varieties alive. So we'll go into detail on how you'll be able to do that. And I am thrilled to have on today's podcast episode a very special guest who is going to be walking us through that. And speaking of heritage items, today's podcast is sponsored by American Blossom Linens. American Blossom Linens has amazing products made in the USA that are made with a hundred percent organic cotton. And I have to tell you, if you've been listening to the podcast for a while, then you've probably heard me poetically wax about these sheets. But they truly are heritage quality. They are made to last, they wash well, and they are the softest, most comfortable sheets we have ever had on our bed.
And not only do they make sheets, but they also have the American-made cotton duvet cover sets, they have towels, and American-made cotton, herringbone weave blankets. And I tell you, even though we're in spring and we're starting to move towards summer when we don't typically use blankets as much, I have had my eye on the herringbone weave blanket for months now my biggest problem is I just can't decide which color that I actually want to get for the blanket. But even in summertime, we'll still have mornings that are pretty cool here on the homestead, and I find I still like to have a throw in the morning when I'm sipping my coffee. So I have a feeling that my next purchase from this line will be one of the herringbone weave blankets. And the good news is if you decide to go and check out their products and grab yourself some, use coupon code pioneeringtoday20, that's pioneeringtoday20 for 20% off your order.
I am thrilled to introduce you today to Nikki. Nikki Conley, along with her husband, Erreck, and their two daughters established Athol Orchards, which is an antique apple farm. In autumn of 2016, they settled in the mountains east of Athol, North Idaho. They were seeking land where they could establish the lifelong dreams of having self-sufficiency, a genuine childhood for their girls, and the storied life of a traditional American farmer. What is really amazing is Athol orchards not only grows apples for all kinds of different purposes, both genetic diversity and characteristics that simply don't exist within the modern apple industry because they are doing the ancient and the heritage varieties of apples. They are a teaching farm, as well as a farm that perpetuates and breeds... Well, breeding is... You'll see, as we get into this episode, that's kind of not exactly the right term that I should be using for how they are producing and keeping these antique historical apple varieties thriving, but they have a orchard school program throughout the different seasons.
So they teach apple grafting 101, domesticated and native pollinators beekeeping 101, as well as an autumn orchard tour. And these are just some of the workshops that they teach and allow aspiring homesteaders to gain knowledge and experience needed to establish their own orchards in a very self-sustaining and holistic way. And I first learned of Nikki because she is going to be teaching apple grafting and heritage hands-on demonstration and class at this year's Modern Homesteading Conference. And as I started to learn more about their orchard and get to know Nikki, you'll hear in this episode how they're going to be involved with our VIP dinner, and just different things that they were doing on their farm and in their orchard, I was very, very intrigued and I really wanted to talk to her a lot more, which is why I brought her on the podcast, so that you guys could get a chance to learn more things from her as well.
And hopefully you will join us at the Modern Home Setting Conference as well so that you can go even deeper. But this is a conversation that I have been waiting to have. As you will hear, and part of the questions that I'm asking Nikki in this interview, there is very much a apple tree that is very, very old on our original homestead, and I wanted to learn how I could get that tree a cutting from it in order to have it on our homestead so that we don't lose that variety that came from the homestead where my dad grew up on. So if you want to go check out any of the things that we are talking about or read more and look at this in a written blog post format, you can do so by heading over to melissaknorris.com/385. That's just the numerical 385 because this is episode number 385. So without further ado, let's get to this interview. Well Nikki, welcome to the Pioneering Today Podcast.
Nikki: Thank you.
Melissa: I am really, really, really excited. My voice goes high when I get excited or talk to infants of any species. Very, very excited for today's episode. It's one that's near and dear to my heart, and I am really excited to learn more about this, and bring awareness as well. So what... Technically, I know with heirloom seeds, when we're talking like annual vegetable production or flowers, the definition for it to be called heirloom is open pollinated and has to have been in existence where it's traceable back to at least about 50 years. That's kind of the general thing.
Nikki: Right.
Melissa: But when we're talking fruit trees, is there a different... What constitutes it being a heritage variety, I guess is what I should say?
Nikki: Well, in my humble opinion, from what I've learned... I've learned everything I know from, I call them the old timers, which I'm sure exactly what I'm talking about. I didn't actually go to school or college about apples. I've learned just by reading and talking to a lot of people, mostly back east because that's where a lot of the apple history obviously in our country stems from and originated from. So when we talk about heritage varieties or heirloom varieties of apples, since that's what I specialize in, the heirlooms are more of our ancestors apples. These are the apples that were not really cultivated just to put in a nursery so people could plant a couple of apple trees at home and be able to throw an apple in their lunch or from time to time maybe make an apple pie. The heirloom varieties were so very prized in their time, because unlike modern times where, like I said, you can go into a grocery store and maybe choose from the granny smiths or the cosmic crisps, that is what the older heirloom group of people would call the designer apples.
And so the designer apples are naturally the apples that come from the apple industry that are out in the state of Washington, up in the northern Midwest area, Michigan, Wisconsin, places that have these apple growing regions. But those are modern apples that have been cultivated and scientifically cultivated through cross pollination to come to a very specific characteristic of apple that they believe the consumer is going to enjoy. But when you think of the heirloom varieties, the list is really, really vast. In fact, there is a encyclopedia that I'm pretty sure is still in publication, still in print, and it was written by gentleman named Daniel J. Bussey, and it's literally a seven volume encyclopedia. And the title is The Illustrated History of Apples in the United States and Canada. So it basically outlines every heirloom variety that's ever been grown in North America and up in Canada, and it's seven volumes.
Melissa: Oh my.
Nikki: Okay, perfect example. The first volume, let me just grab it. The first volume of Dan's encyclopedia set here. So A through B would be basically any apple that has a title that begins with an A or a B. So in this one volume, you've got nearly 600 pages. And not only does it tell you the origins of these apples, but it tells you the title, what they were grown for, where they were discovered, who discovered it. And the wonderful thing that Dan Bussey also did was he went to the USDA agricultural library. And this agricultural library in our country, back quite a few a hundred years, they've actually been documenting and preserving through history anything that's grown in the United States, whether it be vegetables or apples. And in this case, we'd be talking about apples. So back in the early turn of the centuries, early 1900s, late 1800s, the government actually hired these pretty well known artists to paint watercolor renderings of these apple varieties.
And so when you go into these volumes that Dan Bussey put together, he has actually got several of those watercolor paintings included in these books. So not only can you read about the origins and the history of, but you can actually see what these apples looked like. And the watercolor renderings are pretty impressive. They're just short of looking photographs. They're beautiful. And in fact, anybody can access that agricultural library online to look at those images. They're open to the public, and it's basically public domain.
Melissa: Oh, sweet. We'll make sure and put a link in the show notes because now I'm very curious to see what they looked like. And part of me... I am just geeking up. I'm like, ooh, I wonder if you can order prints of them to frame it, just be artwork on the wall.
Nikki: They have them to where you can download the files, but it's only for educational purposes. So I've downloaded various files from that agricultural library so that I have those illustrations to show our homesteader. We've got aspiring homesteaders that come out here for workshops to learn about the history of apples. And that way if I have it in front of them, it makes it a little bit more real, to see what it looks like. And that's what really piques their interest. Why don't we see these apples at the grocery store?
Melissa: Yeah.
Nikki: Why doesn't anybody sell these? Where did they go? So really I think when you talk about heirloom apples or heritage apples, it's really the apples of our ancestors. That's the best way that I could describe it. And like I was saying, it wasn't just to have an apple for lunch, it was more for survival. Discussing homesteading and modern homesteading, these were the apples that they would preserve or dry, and they could feed them to their kids or feed them to their animals. They had specific varieties that they grew strictly for storing or keeping so that they could throw these apples down into their root sellers and have them remain fresh and really quite good up until May or June of the following year, even later. So our ancestors that grew on the land and survived by the land, these are the apples that they survived with.
Melissa: Well, and correct me obviously if I'm wrong, but also a lot of the heritage varieties that we had too, and the storage ones, that's really piquing my interest because that's something that we're always looking for varieties and different ways to store food, beyond just canning. Now, I love canning and I love... I love all of the forms of food preservation, but I especially love the ones that I don't have to do a whole lot with in order to preserve it.
Nikki: Right.
Melissa: But you had your cider apples too, and that's not something that we think about as much or even see obviously at grocery stores-
Nikki: Correct.
Melissa: ... because it's usually for that fresh eating, but they did a lot of cider making. There was a lot of drink making, and of course apple cider. So you had a lot of cider orchards with heritage varies as well. There was all of these different kind of nuances for how they were going to be using them, and we've just lost so much of that in today's typical grocery store growing production mindset.
Nikki: Well, and when you talk about cider apples, there's a really fascinating history about cider apples in our country because a lot of people, they just think, oh, how nice. We've got apple cider at the store and we drink hot cider during the holidays, and people love to go out and buy hard ciders from local breweries. And what people don't realize is the history of Johnny Appleseed, John Chapman is actually real, really important to the history of apples in our country because we kind of don't really understand why apples came to be so important in this country. Well, you can date it back to simply when the Europeans were coming over to the New World. One of the traditions in the old world, in Europe, of course was hard cider. It goes back to the early days in Spain. Hard cider was a commodity. And when they came to the new world, hard cider was such a staple standard item that anybody that wanted to have a farm and produce something that was valuable wanted to have those cider varieties.
And that's where Johnny Appleseed comes in. Because despite how Disney painted him, which I still love the cartoon. It's so sad that a lot of kids these days have no idea what I talk about the Disney cartoon about Johnny Appleseed. I always tell them, "Please go try to find it. Please try to buy it and just watch it. It's just very quaint and very sweet." But Johnny Appleseed in his time during the Civil War, while the war was raging, he was interested in spreading apples and growing apples. And it wasn't just so that people could have apples to eat fresh or make a pie once in a while. He was interested in spreading orchards of cider varieties. And when you talk about the hard cider varieties... And your listeners could be varied, but you cannot just plant any apple seed and know what you're going to get.
So Johnny Appleseed, or John Chapman, would go around to the cider mills in that time and would collect seeds. And the seeds that he planted in these orchards, he knew that they were going to be what's called a feral apple or a wild apple variety, which means it has no name. But what a lot of people don't realize is wild and feral apples are oftentimes the best apples to make hard cider. Because they have a lot of tannins, they have a lot of acidity, they could have some bitter characteristics. And when you're a good cire maker, those are the characteristics you look for. So that's what he was doing, is he was planting homestead orchards so that when the settlers came west, they would happen across his orchards and they would purchase that land from him. So not only was he this apple spreader of getting these cider apples out there, he knew that those homesteaders were going to want that commodity, and he also made some money on the side in real estate. So he was actually a really intelligent... Despite being very quirky, he was a really intelligent person.
Melissa: I love this history lesson. I adore history.
Nikki: I do too.
Melissa: I want to bring this point up because this is something a lot of people are familiar with. You take a seed from a vegetable and plant it, or a flower seed, et cetera. And I've had a lot of people who have said, "Well, I'm going to just take a avocado seed..." And I know we're talking about apples, but avocados are a fruit.
Nikki: Sure.
Melissa: "... or a peach pit, and I'm going to plant that and I'm going to grow my peach tree from that, and then I don't have to buy a tree."
Nikki: Right.
Melissa: But same thing with apple seed is not understanding that you're not going to get from the seed, the exact same tree. It's not going to produce the exact same peach that you're growing from the pit, or in this instance with apples. So do you want to just dive into that a little bit-
Nikki: Sure.
Melissa: ... as to why it can be a good thing, why it can be a bad thing, kind of pros and cons. And you're talking like-
Nikki: Sure.
Melissa: ... he knew it would be a cider variety, but kind of how that works. So if you take an apple seed that you've taken from an apple that's a specific variety, a little bit of the, not the DNA, but how that works in plant world, what is happening there that would make it not be the same as the apple, and then also talking a little bit about grafting, which is how we do get the same variety-
Nikki: Right.
Melissa: ... and are able to perpetuate varieties that way that stay true.
Nikki: Sure. Well, when I started out on this journey seven years ago, I had grown up in a region in central California up in Eastern foothills, below the Sequoia National Forest. And back in those times, there was a pretty vibrant family owned commercial orchard industry, but it was like high mountain orchards. And it was just family run, multi-generational. It was wonderful. And every autumn season, we had this apple festival where apples were celebrated and baked with and made into apple burritos and apple beer, which of course was just sparkling cider. But of course as kids, we were like, "Yeah, we get to have apple beer once a year." But being around that as a child, and of course watching Disney's Johnny Appleseed, made me really curious about the history of apples. And I kind of diverged from that a bit when I went to college and became a graphic designer and a teacher.
But obviously later in my life, really learning from some really important people, like Dave Benscoter of the Last Apple Project who is over here in Eastern Washington, and John Bunker, who is the founder of Fedco Trees back in Maine. And I've actually gotten to meet and befriend Mr. Dan Bussey of the encyclopedia that I mentioned. These are the gentlemen that really just opened my eyes, and I was just so shocked and could not believe not only how apple cultivation has been over time, but how little we really know, how little the common person knows about how apples grow. So when you buy yourself an apple, let's say at the store... Let's say you have a green smith apple and this was the tastiest granny Smith apple you ever had, and you're convinced that you're going to grow some of these seeds because you want to have these granny smiths to make pies in the future. So when you think of a seed from any apple, any apple variety, it doesn't matter, that seed...
And I like to compare it to humans, which I know is kind of strange, but this is what I talk about when I host my workshop here every fall. We get thousands of people out here and I educate them about the same thing. But you think of an apple seed like a child. So you've got the mother and the father, and let's say they cross pollinate and they create a little baby apple, little baby human. So the seed and the apple is what contains all of the past heritage, past genetics of that particular apple. So while the apple that you ate was a granny smith, all of the genetics of its past that basically came to making this granny smith are in that seed.
So when you go to plant that seed in the ground, and that seed is going to grow you an apple tree, it is going to be an apple tree. But once it starts to produce fruits, it might look similar to a granny smith, it might have a similar shape, but I would say, and actually this is a statistic that I have researched, 80% of the time, a feral apple tree or a wild apple tree, which is an apple tree that grows from seed are not going to be good apples. They're going to be mushy, they might be bitter, they might be tarts, they might be small. They're just not going to be an ideal apple. So only 20% of the time when a seed grows into an apple tree, will those apples actually be something that somebody wants to basically cultivate and keep around. And then that's when you enter into grafting. So it doesn't matter. I've had a lot of people... I've gotten into arguments with people on Facebook that you can save, let's say honey crisps apple seeds, and you can grow honey crisp apple trees from these seeds.
But it's so hard to get people to understand that your tree that's going to be produced from that seed is not going to be a honey crisp apple tree. It's going to be a wild feral apple. It might have some characteristics of the honey crisp, but it's also going to be displaying characteristics from all of the previous cross-pollination that has taken place in the history of the genetics of that apple. So they're very much like humans. And I know that sounds strange, but Cameron Peace, he's over at Washington State University. He is literally an apple geneticist, and he has mapped out essentially an apple genome of the apple. And it's really fascinating to see that they all basically delineate back to two original apples, kind of like a pyramid. And what we have now, all these apples that exist in the world are because of the cross pollination, the continuation of apples basically being eaten and being grown from seed or being grafted.
So that's a good reason why when you drive around back in the country, if you're going up in the mountains or if you come across a gravel pit or just somewhere really random that you see this apple tree growing, I have a really good example of one that I discovered out on Lake Pend Oreille up here in North Idaho, is if you see an apple tree growing on the side of the road, people think that somebody planted it there. But in reality, somebody was driving down the road, or maybe there was a train conductor on a train 80 years ago that ate a nice delicious apple for lunch, and he just pitched that apple core out the window for the deer, and those apple seeds took root and they grew an apple tree. And so you will see this in a lot of places. Green Bluff is a region over here in eastern Washington that's a perfect example.
They have historical cultivated named variety orchards there. But if you drive around and the foothills beyond there, you will actually find feral apple trees growing along the roadside everywhere, whether a bird ate the apple, and then pooped the seeds out somewhere along the way. So apple growing is quite different from just having heirloom seeds from an envelope that you get from let's say a tomato plant. And if you do come across one of those amazing feral apples that has the most amazing qualities you've ever found, you're going to want to be sure to get some scion from that tree in the winter so that you can actually graft and replicate that variety and save those genetics for future growing.
Melissa: So for those who are brand new to the world of orchard and grafting, what is a scion?
Nikki: So scion wood, and I am sure a lot of your listeners will probably kick themselves after I say this, and I kind of kicked myself when I realized what I'd been doing just all the years of having an orchard, and you go out in the wintertime and you're doing your selective pruning just to shore up your orchard and make sure everything's healthy and you don't have any strange growth. So what scion essentially is a Scion wood is the young wood of the fruit tree, apple trees, peach trees, you name it, any kind of fruit tree, the young wood that grows from the previous season. So perfect example is last year, we took the drip system out of my orchard because our soil, while it's really nice [inaudible 00:25:03] soil, it also is almost too well draining, so we've been trying to amend it to retain some more of that water at the surface for the apple trees to really flourish.
And so we actually went and changed everything to top watering, like rain birds, and we got the most growth last season that we've gotten in seven years of just having drips. So I was really pleased to see how much growth we got. And so when I walk out in my orchard, in fact, we have a workshop this Saturday, so I have to go out and prune some scion, but we're also expecting a snowstorm and it's been really wet, so I can't really go out there just yet. But anybody that has fruit trees, if they pruned their fruit tree last winter or early spring, then through that following growing season, their tree has naturally grown out a lot of new wood, a lot of new growth, young limbs, young branches. That is what is scion wood. That's considered scion wood. And when you're talking about grafting, you do not want the seeds of the apple that you are seeking to grow.
You want the scion wood because the cion wood is the only way to 100% replicate the genetics of the apple that you are going after. And that would be that one year wood. So using two or three-year-old wood, you can see the growth rings on the limbs. You don't want older wood, you really want to go after that one year old wood. And ideally, it should be about the diameter of a pencil because a lot of the root stock that is sold commercially is about that same diameter, so you really want those two pieces of wood between the scion and the root stock to really kind of go together seamlessly and have that same size.
Melissa: Okay. So I have a question for you because this was something we were chatting about briefly before we started recording.
Nikki: Sure.
Melissa: And I'm like, okay, we got to record this part because I know I'm going to have questions, so let me save it.
Nikki: Sure.
Melissa: So my dad's what we call the homestead, which is where when they traveled out here from North Carolina in the early forties when he was a child, this is where they settled and they grew up. And when they got there, there was already existing apple trees. So of course, we're moving forward. I'm assuming these apple trees are about a hundred years old, give or take.
Nikki: Sure.
Melissa: They have not been maintained. They probably haven't been pruned in over 50 years, but they're still growing, they're still alive, and they're still producing slightly, which is pretty impressive for these old trees that have not had any maintenance done whatsoever. But because they have not had any pruning whatsoever, would it be advisable to wait until this coming winter, because we're in April right now at the time of this recording, and do some pruning to encourage new growth to get a graft off it next year?
Nikki: So what I would suggest... First of all, now you said that the trees were on this property prior to them arriving, correct?
Melissa: Yeah. So I'm guessing that they were probably planted... We're in western Washington, and so we were a later developed state, of course, as you look at the history of the union. So I'm going to guess that they were publicly planted somewhere in the early 1900s would be my guesstimation.
Nikki: Sure. So a little bit of history about Washington is, and I gleaned all this information from Mr. Dave Benscoter, of course, of the Lost Apple Project, because it is kind of an important fact or point to make, is when Fort Walla Walla was opened up, that is when all the nursery men started to pour into the west here into Washington. And so what's really interesting is, and this was in the late 1800s, when the fort was established, it made it safer, of course, for the pioneers and the homesteaders to come west. And naturally, the first thing they wanted to do was plant their orchards because apples are just one of those things you wish you planted it 10 years ago.
And I've always been told the first time that you purchase land, it doesn't matter if your house hasn't been built or you haven't even put in a, well, hopefully you've got some sort of a water source, but get those apple trees in the ground because they do take such a long time to start producing. So I would be interested to know, you would want to identify, first of all if those trees are in fact a cultivated known variety, or if they could by chance be feral or wild apples. So the first thing that you'd want to look at is the base of the tree. Does it have one large solid trunk or does it have a lot of outshoots that come out of the ground and that's forming that apple tree?
Melissa: Okay. And what does that tell us?
Nikki: That would tell you whether it is a cultivated named variety from a nursery, or if it's feral. And if it's feral, that would mean that those trees grew from an orchard, from a remnant orchard that existed prior to them growing. So if a homesteader came onto that land, and let's say they planted a homestead orchard of some keeping apples, maybe some cider varieties, and let's say that that original orchard has not remained, but you had the deer and you have the birds that are eating that fruit and dropping the seeds, a lot of times people will see these old trees growing on homesteads, but they weren't actually planted. They were put there via an animal with their poo. And so it's really important to know whether it's wild or not. Because if it is wild, it doesn't have a name, and you really don't know what you have. You could literally name it yourself, actually. You could give it a name. But if it's a cultivated variety, you'll know a lot more about the genetics.
Melissa: Okay. So I'm assuming if it's a single big fat trunk-
Nikki: Yes.
Melissa: ... then that is a cultivated variety. If it's more wild, multiple, then that would be an indication it would be a feral.
Nikki: Yeah. And a lot of times what'll happen is a feral tree might grow... It might grow a single trunk, but it would be very tall, very spindly, and it wouldn't look like a typical tree that you think somebody would've planted from a nursery with a large trunk. The other important thing, of course, you'd want to look for is the grafting union. They're not as easy to spot on really old trees, but the grafted union would typically be down towards the base of the tree, above the soil line, and that right there obviously is going to be your first indicator that it is a known variety. And the funny thing is wild varieties can grow with a single trunk, but they will look much more wild. And either way, I've actually collected scion from feral apple trees that I've discovered out in the woods, at old homesteads, and I've also collected scion from known varieties, but we don't know what the name is because it got lost.
And that's why the Lost Apple Project was established, because they're trying to find lost varieties that were thought to be extinct from our old homesteading ancestors in this area.
Melissa: That is... I'm just blown away by how much we have lost as a civilization.
Nikki: Oh yes.
Melissa: ... in the last hundred years. The more you learn, the more you realize how much deeper it goes [inaudible 00:32:06]
Nikki: Well, and how little we really know.
Melissa: Yeah. I don't know why I thought like that it would almost go the opposite, but the more I know, the more I realize that... The more that we have lost, but have the potential thankfully to at least recover some of it, or at least stop the loss to kind of be this is our light in the sand, we're going to save these and preserve this knowledge and these things, which is-
Nikki: Oh yeah.
Melissa: ... a lot of home setting, and lots of different varieties really encompasses that thing.
Nikki: And going back to the trees that your father had that are still there, so regardless of if it's feral or not, I think the important thing would be, are the apples good? What are they good for? A lot of people tell me, "Hey, my grandma lives on this property and she's been there for 80 years, but there was this big tree there before she even moved there." And I get these kind of calls all the time, and they say, "What is this variety?" And I said, "There are thousands." There used to be 14,000 or more varieties of apples, and I think now we're down to only 4,000. And that number keeps dropping because apples just fall out of favor with people. I've got apples growing here that people would not ever touch if they were at the grocery store. They're ugly, they're on slightly looking, but the sad thing is the flavor inside that apple, the flesh itself is so exquisite. It's genetics and characteristics that we have never had the pleasure of experiencing.
So if your apple trees produce really good apples for and you don't know the name of them, and that's okay, I would say the first thing that you'd want to do to save that genetic makeup of those apples is yes, you would want to go and do some very select pruning. Because those trees are older, you don't really know what the internal health is. But if they seem to be a pretty vigorous tree and they're healthy, you could do a little bit of pruning. I'd say no more than a third, or maybe even less, just because you know that it's going to send off new fresh growth this season. And then next winter you can actually prune off that young scion wood, and that's going to be your wood that you're going to graft with. And then you have saved those genetics and you could even pass those on to your kids.
So I have people all the time that say they've got kids and grandkids, and they want me to graft apple trees with this mystery wood from these old apples that they want their children to have because they know that it's attached to their great-great grandparents in some way. It's pretty wonderful.
Melissa: Yeah, it is. It's really exciting. I'm excited to see this part with the fruit because I have that with our tar hill pole, green bean seed, and then we have a shelly bean that we call October bean. And those two strains have been passed down for many, many generations within my family, well over a hundred years. And so I do, I have that connection. They're very special to me. My kids have that connection now. The taste is exquisite to anything I've ever had store bought as well. So there's that part.
Nikki: Right.
Melissa: But there's that emotional tie, this tie back to my grandparents and my great-grandparents that you get-
Nikki: Oh yes.
Melissa: ... that I don't just get, if I buy a packet of seed from the store, the farmer's store, that type of thing.
Nikki: Right.
Melissa: And so I'm excited to experience this, or at least try with these apple trees that are still growing over there and cultivating them. And from what I remember, as a kid eating them, I don't spend as much time over there now as an adult-
Nikki: Right.
Melissa: ... they were a thinner skinned, kind of yellowish, that pale green-yellow apple. So they weren't a blush, they weren't a red, that type of thing. But I'm trying to recall... I remember eating them, but I'm trying to recall texture.
Nikki: Well, do you remember if it was like a summer apple? Because there is a couple of apple varieties that are summer apples, and they are really, really prevalent here in the west, up in the northwest here. And that's the yellow transparent or the lodi apple. Those are a sauce apple. The homesteaders here in the west planted those because they made a lot of sauce, a lot of apple butter. And the bad thing, the only bad thing about them was they just didn't have a shelf life. So it was definitely not a keeper. It was just a sauce apple. And as soon as they were ripe, you had to get those off the tree and immediately processed them because they just don't last very long. And the flesh is not really a crisp spritely flesh.
Melissa: It's little more=
Nikki: It's pretty.
Melissa: [inaudible 00:36:22] kind of.
Nikki: Yes. Then that could very well be a yellow transparent.
Melissa: It might be a yellow transparent. Anyhow, I'll have to... Yeah, I know. I need to go over there and just [inaudible 00:36:33], and then see what comes summer. Yeah. But that actually brought me back to... I had a couple questions-
Nikki: Sure.
Melissa: ... that I wanted to ask, and two, storage varieties because-
Nikki: Yes.
Melissa: ... that is something that is very near and dear to my heart. That's something I want to further cultivate and bring in. So what are some of the more, I guess I'm going to say well known because those are going to be points of accessibility for people who are listening to this-
Nikki: Sure.
Melissa: ... of storage varieties specifically?
Nikki: Well, here on our preservation orchard, we've got probably about a hundred different varieties of apples now. It's not a very large... I wouldn't say it's a large orchard because I've been very careful about curating what varieties I do want to have here, because a lot of it is about educating, first of all, preservation of course, because these apples... It really is more of an apple museum, what we have here. It's a living history museum is what I call it. Because so many of these apples, they all have a history, they all have such unique stories about them. And so when people come out here, I really want them to understand this orchard serves a purpose.
These apples are here because I want you to understand that if you're going to be a homesteader, which we are, we have our animals, we have our orchard, we have a big garden, we do all these things to try to just be a little bit more self-sustaining here, and we do a lot of bartering with our neighbors of course, which I believe is the way of the future here, storing apples are amazing because like you said, it's going to save you so much time in the kitchen where you don't really have to process them. The storing apples, or the keepers, as they would call them in the old times, these keepers, you would literally just need to be aware of what their season is, whether it was like a summer apple. There aren't a lot of summer varieties. I would say most varieties ripen September to October. And the varieties that I have that are keepers here at our preservation orchard right now, they don't really finish...
Well, realistically, they'll tell you when they should be picked, which would usually be mid to late October, which is cutting it pretty close to north Idaho because of our climate here. But one for instance is called the Arkansas black. And the Arkansas black, it's a beautiful apple. It has a very dark flesh, and that's why it gets that name. The Arkansas Black has been prized for many, many generations as just a keeper. And the interesting thing about the Arkansas black is that when you pick this apple, the flavor is actually not even developed to the point where you would enjoy it, not the most flavorful at the time that it's picked. It actually develops its flavor over time. So you're going to pick these Arkansas black apples. And a lot of times the old timers would take some old newspaper or just some sort of craft paper and they would wrap their apples, the Arkansas black apples in just newspaper. And that would kind of help protect them from just the elements or oxygen or whatever. And you put them in your root cellars, and those apples would literally keep until the next summer.
And you go to eat one of those apples, and they're crisp and the flavors developed, and they are a wonderful keeper because they maintain and they actually develop into a better flavor over time, sort of like wine.
Melissa: Now, is that something that you'll see typically in most apples or just specific strains as far as flavor development after it's been picked?
Nikki: I think it's particular genetics. So now in the older heirloom varieties, I would like to say that the big difference between heirloom varieties and the commercial varieties that you see at the grocery store are heirloom varieties came about because someone somewhere at some point discovered a feral apple tree, picked an apple, tried that apple, and discovered all of its wonderful characteristics. And when they discovered that apple, they decided they needed to keep it around so they could share it or maybe cultivate it and start selling it at nurseries. So the heirloom apples were not developed in a lab in a petri dish, and I don't say petri dish because it's some genetically modified process. Perfect example would be the nero apple that was discovered on the Palouse here by the lost apple project. Dave Benscoter came across this wily looking old apple tree out on the Palouse at the buttes out there. And they actually sent these apples to an apple identifier, and they believed it was this apple called the nero that was thought to be extinct.
So they were trying to replicate this variety as fast as they could because the mother tree, the original tree was just not in the greatest shape, and now they have this responsibility of saving these genetics. So Cameron Peace and the scientists and laboratories over at Washington State University, they do a lot of work with apples and the commercial apple industry. And so they were actually able to take a single bud off of that neuro tree and develop that bud in a petri dish and were able to grow a tree from it-
Melissa: Wow.
Nikki: ... which is really, really fascinating. And because it's the wood of the tree, it's going to preserve the genetics. It wasn't a seed. It was the actual wood of the tree. And I actually have one of those trees in my orchard. It's really cool to show people this tree and say this was essentially born in a petri dish, but it wasn't some big mad scientist kind of process. It was literally a bud that was taken off the tree and it was grown under a laboratory's observation just for keeping it pure and keeping it safe, and they were actually able to replicate those trees. So it is such a fascinating deep subject. It's hard to stay contained and to talk about all the things, but-
Melissa: Well, there's so many things. We've almost been on here close to, well I think about an hour. I lost track because we just got talking and I'm so excited and enamored by this subject. But I'm also really excited that you are going to be at the Modern Home Setting conference for our very first conference, which you're going to be teaching on this, because as you said, there's so many different faucets and nuances and history and really cool things to learn and to preserve. And how cool that this tree that we thought was almost lost and extinct, and they were able to find one and now it's not, that it can saved, and just so many things that make my home sitting heartbeat extra hard and fast in a good way.
Nikki: Oh yeah, me too. I have [inaudible 00:42:52] soul. And when I got onto this mission, and this is my life's goal now, is just to preserve these and share them with people and teach them how apples actually do grow and why it's important. I do believe... It is my firm belief that the apple is the American fruit. Apples and America go together. It's one of the first things they brought over on the boats, was just barrels full of young apple trees because they knew that it was such a commodity, not just for cider, but just for survival. There's so many things. Like Johnny Appleseed in the cartoon says, there's so many things that a homesteader can do with apples. You can pickle the apples, you can dry them to hydrate them. There was even a story about homesteaders drying their apples outside and actually encouraging bees or yellow jackets to land on their apples to help to suck out all the moisture, all the water content so that they would dry faster.
Melissa: Oh, that's funny. But yeah, true. That could... Yeah.
Nikki: They didn't have dehydrators back then, so they had to find unique ways to [inaudible 00:43:58] process.
Melissa: Yeah. And depending on volume, here in Western Washington, we, especially in the fall, can not have enough set. August were pretty good, but as you said, a lot of varieties aren't ready to be picked in August. So my grandfather, my dad's dad, he actually would created racks around the stove pipe of their wood stove.
Nikki: Nice.
Melissa: And they would do a lot of their dehydrating there-
Nikki: Simple.
Melissa: ... because obviously, it's a heat source, yeah, just because we don't have the solar heat usually in the fall in order to dehydrate. So that was his solution and worked well. Unfortunately, there's no pictures of it, and it was long gone by the time I came around, but I'm like. My dad tells stories, and I'm like, oh man, I wish I had seen that, but there's-
Nikki: Got to write them down.
Melissa: Yeah. Well, like you said, there's all different ways, with the environment that you have, to make things work. And so maybe it is the bees and the yellow jackets that are helping to do that in that dehydrated form.
Nikki: Well, back in those times, they didn't really have a lot of other methods.
Melissa: Yeah.
Nikki: The wood stoves. But if it was summertime or fall, going into fall, it was just a quick easy way that they knew one way that worked.
Melissa: Yeah, no, it's very exciting. And so Nikki, I am super excited because I know you're going to be going more into actually grafting and teaching on this at the conference. And will you also have some varieties available for people to purchase at the conference?
Nikki: What we're going to do is I'm actually working to put together maybe five or six different collections of these heritage varieties that would be ideal for any aspiring homesteader. Grafting trees is a pretty painstaking process. It takes a lot of patience, a lot of skill. So to graft a large enough amount of trees to sell at the conference, I don't think it'd be feasible, especially if you guys get the numbers that you're expecting on participation, which I'm so excited about. But I do believe we are going to have these collections available for sale. And then the following spring, they will be essentially ready for people to come, locally at least, to pick up here at our orchard, their collections. So if they wanted a keeper's collection, and maybe that's all they want for their first season of planting, they would order the keepers collection, and that's what they're going to put in the spring. Once it warms up here in... North Idaho, planting season for us isn't until June 1st, but you can plant apples before that.
So I think we're going to have those collections available for people to reserve and get ready for.
Melissa: Okay. Well, there we have it, guys. If you're going to be at conference, which I hope you are, you can go and take one of Nikki's sessions. And we were focusing a lot on the heritage apple varieties today and just starting to get into the nuances of grafting to keep those alive. And so she is going to do a session on that, but you're also going to be doing a session for homesteaders with apples specifically and your farm and ways to create an income beyond just the typical selling your extra eggs, which is great. Don't get me wrong.
Nikki: Right.
Melissa: But you're going to dive into that, which I think is really exciting. Because as you're saying here, you do teaching workshops where you're preserving this, and then you guys have this heritage stock. There's a lot of different ways that I think as homesteaders, a lot of times just comes to mind like, "Well, I'm going to sell my extra eggs, or I'm going to sell my beef," or that type of thing, but there's a lot more to it there. So I'm excited for that session as well, but also the option to get my hands on some of your guys' stock. So people will definitely want to go and check out your sessions at the conference, but also your booth. I know you guys are going to have a booth there. And for those who grabbed a VIP ticket, you are going to actually have some of your apples in dessert at the VIP dinner.
Nikki: We're trying for it. It depends on the season. Like I said, Idaho can be really crazy, and you just never know what your pollination season's going to look like. Right now, we're expecting snow, so the apples might be waiting to come out of their dormancy. So we're crossing our fingers, but we will definitely be using heritage varieties in the cooking for the VIP dinner, for sure.
Melissa: Yeah, I'm really excited about that. And I'm laughing because you're north Idaho. I'm northwestern Washington. And it's funny because you guys are a lot colder. You get colder temperatures than we do by far, but typically my warm weather planting date is memorial weekend. So we're not actually that far off on our planting days.
Nikki: Not that off.
Melissa: Which is really funny. I'm just not as cold as you in the winter. We just kind of stay on that 40 low, low forties for a lot longer, and we're just not technically warm enough soil. Yeah, it is much better than twenties or teens, I have to say. Yeah. but It does make our planting gates very, very similar, which is very interesting. So I'm super excited to see you and to learn.
Nikki: Me too.
Melissa: And now, I need to go and see if I can do some light pruning to encourage that growth for next year's harvest. So I'm so glad that we had a chance to hop on here.
Nikki: Oh yes.
Melissa: And thanks so much for coming on, Nikki.
Nikki: Oh, my pleasure. I'm so excited for the conference. This is something that I think my life has kind of pointed me in this path, and I think just the fact that the conference is coming this year is just such perfect timing.
Melissa: Yeah, it is very interesting to see the beauty of hindsight are looking at things and converging.
Nikki: Yes.
Melissa: And same thing, being able to look back at so many things and seeing all the different things that help to point to make this all come together, not only just within my own life, but the people who are going to be presenting and teaching, and the things that had to happen for them to get to this point, and then we all get to come together going to be really special. So thank you for being a part of it.
Nikki: Yeah, it's exciting. Can't wait.
Melissa: Well, I hope that you enjoyed it that episode as much as I did, and are excited to try some of these heritage historical apple varieties both. Hopefully you get the chance to taste some of them, but growing them on your own homestead as well, or if you are out and about, and maybe you discover a lost feral apple tree. And we are just getting ready at the time of this recording. The apple tree should begin to start blossoming in, oh probably about four weeks from now. So I am going to be keeping my eye out for any apple blossoms that I see up in the hills or in areas where I know there haven't been homes for a really long period of time. It'll be a little bit like a treasure hunt now that I know a little bit more on what to look for and what those trees can mean.
This also brings me to our verse of the week. And I have to say, I went and looked up, there are several different Bible verses that talk on the apple of the eye. And I thought it was very fitting because we are talking about apples, but also the definition or really the meaning of the apple of the eye. Because probably most of you, like myself, I've heard that statement made before. I've heard that analogy or I've heard the Bible verses that say the apple of the eye. But the apple of the eye, what does that really mean when you sit and think about that? And the apple of the eye is something that is referred to as you feel very strongly about with an infection, very highly regarded, something that is like a treasure to you that you care a lot about. It's very precious.
That is the apple of the eye. And of course, that apple of our eye is the very center of our eye. And of course, our eye is a very important thing to us, and the center of your eye is also something that that's very close to you, right? It's hard to get any closer than your actual eyeball. Obviously, when you get something in your eye, you're like, oh my gosh, right? And so what I love is when we look at some of these verses that talk about the apple of the eye is talking about God keeping us as something that he treasures, something that he sees as very valuable, and keeping us as such. One of those is Psalms 17:8. "Keep me as the apple of the eye. Hide me in the shadow of your wings." We've got Proverbs 7:2. "Keep my commandments and live, and my teaching as the apple of your eye."
So we see it in two different contexts, both as God keeping us close as the apple of his eye, him holding us, thinking and viewing of us something very precious and to be treasured. And in return, we are to look at the word of God and his teachings, and we are to hold those in a position as we would something that is the apple of our eye. So it's a relationship, it's an exchange, and both of us are keeping parts of the other right as the apple of our eyes. So hopefully whenever you see an apple or an apple tree, you will be reminded to keep the word of God as a treasured thing in your life, but also remember that God looks at you as the apple of his eye and you are very treasured and something much sought after, of great value to God as the apple of his eye.
So I found that very comforting and uplifting as well, as very fitting, being we were talking about apples in today's episode. Thank you so much for joining me this week. Remember to check out American Blossom Linens and use coupon code pioneeringtoday20, that's pioneeringtoday20 for 20% off your order. And I hope that we get to see you at the conference. You'll definitely want to stop in and tell Nikki hi. And I did clarify with her, after we were done recording the episode, that you'll be able to order at conference. You'll be able to stop by the booth and you can order some of the starter packages that she was talking about with the heirloom grafts.
And even if you can't pick them up in Idaho, because I know myself, I am driving over from Washington State, I want to get one of them as well, but I won't be able to go back in the spring and pick them up from her. And she said, yes, you can order at conference, but then they could be shipped to you. She's not doing online ordering. She's only going to be doing it for people who are at the conference, but you can order them at conference if you are driving from out of state, such as myself or maybe flying in, and then they can be shipped to you the following spring when they're ready. So just wanted to preface that. And I look forward to being back here with you next week. Blessings and Mason jars for now my friends.
Sign up to receive email updates
Enter your name and email address below and I'll send you periodic updates about the podcast.