Some of the links below are affiliate links, which means I will earn a commission at no additional cost to you, if you click through and make a purchase. Regardless, I only link to products we use on our homestead or believe in.
When is the best time to prune a fruit tree? The answer may surprise you, but it depends! For some climates, winter pruning is best, but for wet and rainy climates, it's actually best to prune in the summertime.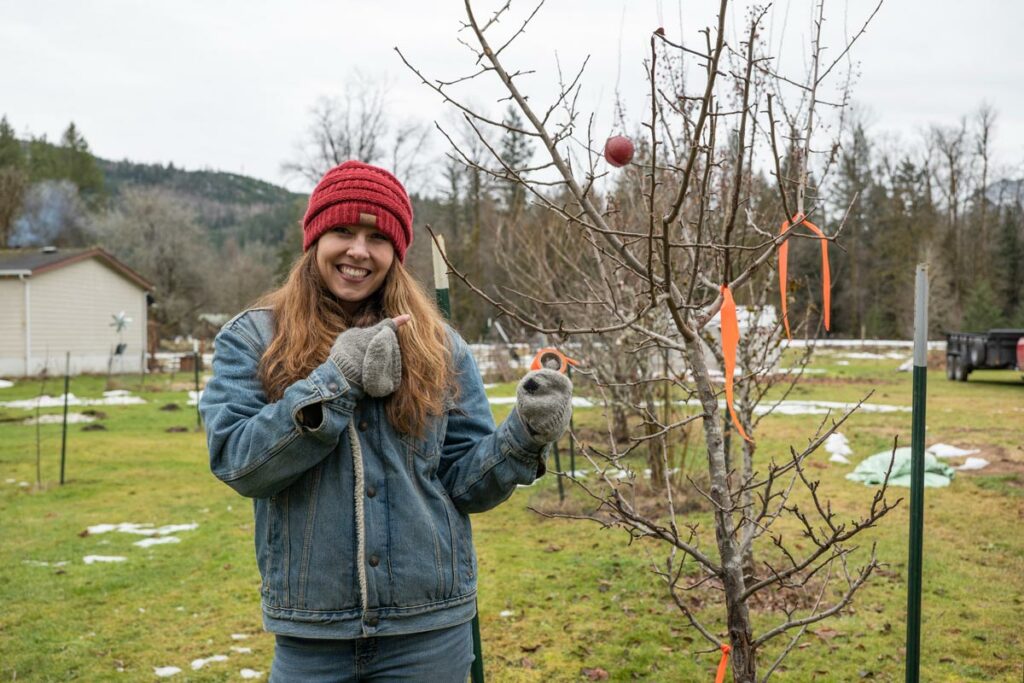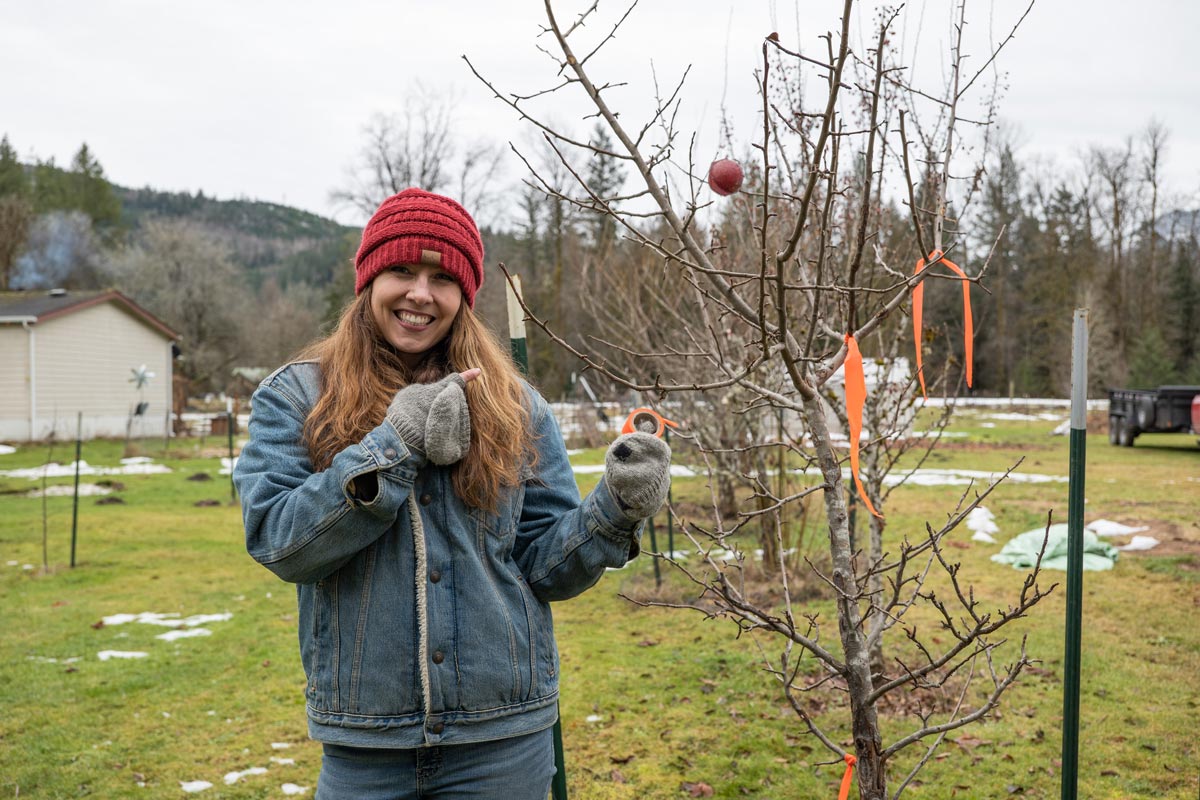 A couple of years ago, I was thrilled to have Joe, from Raintree Nursery on the podcast and he shared his knowledge of caring for fruit trees to promote the healthiest trees with the best growth and harvest of fruit, and what he shared surprised me!
This post has since been updated in February of 2022 to include my own tips I've learned since implementing this pruning strategy for the past three years.
How to care for fruit trees in fall and winter is very important for the longevity of your orchard and harvests. Fall and winter care of fruit trees look different but each season is important.
Raintree Nursery
Raintree Nursery was started in 1972 by Sam Benowitz with the mission of bringing the best edible plants from around the world to the Pacific Northwest. Sam dreamed of creating a place where American gardeners could access these plants and also become educated on how to grow their own food. Joe, one of Raintree's experts and horticulturists, shares his knowledge today on fruit tree care.
Also, Raintree Nursery ships all over the United States and they are offering readers/listeners a 10% off coupon, use coupon code: modernhomestead at checkout!
Listen to the podcast episode, Episode #242 Fruit Tree and Bushes Fall and Winter Care of the Pioneering Today Podcast, or watch the video where I give a summary of what I've learned since speaking with and implementing the practices Joe shared with me for my own orchard.
[adthrive-in-post-video-player video-id="jZLNyBRM" upload-date="2022-02-19T19:21:40.000Z" name="STOP pruning your trees in winter NOW!.mp4″ description="null" player-type="default" override-embed="default"]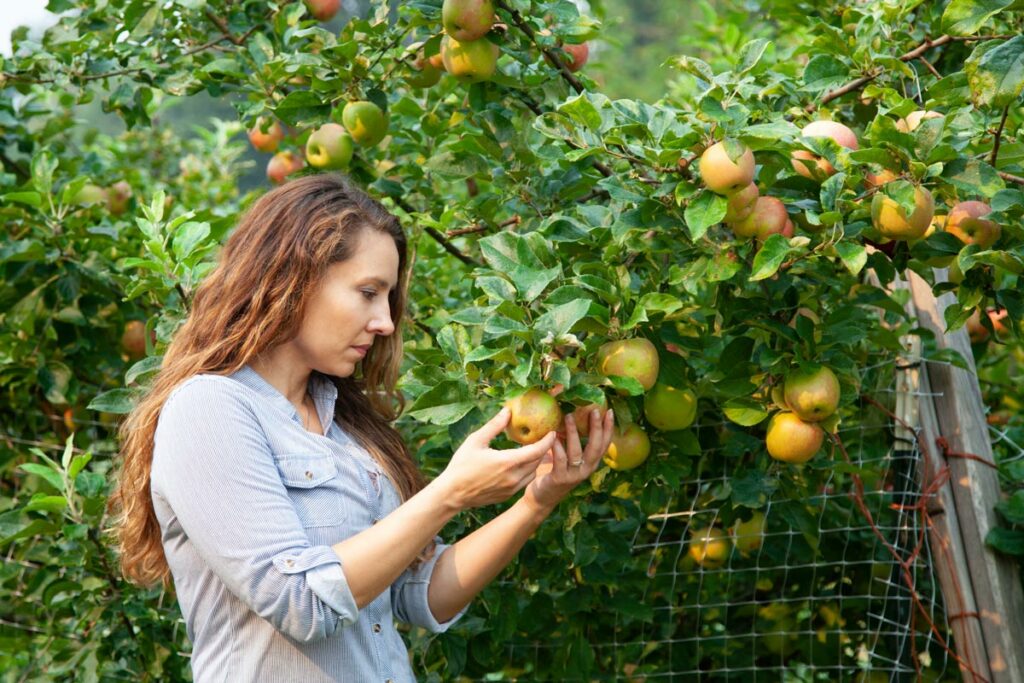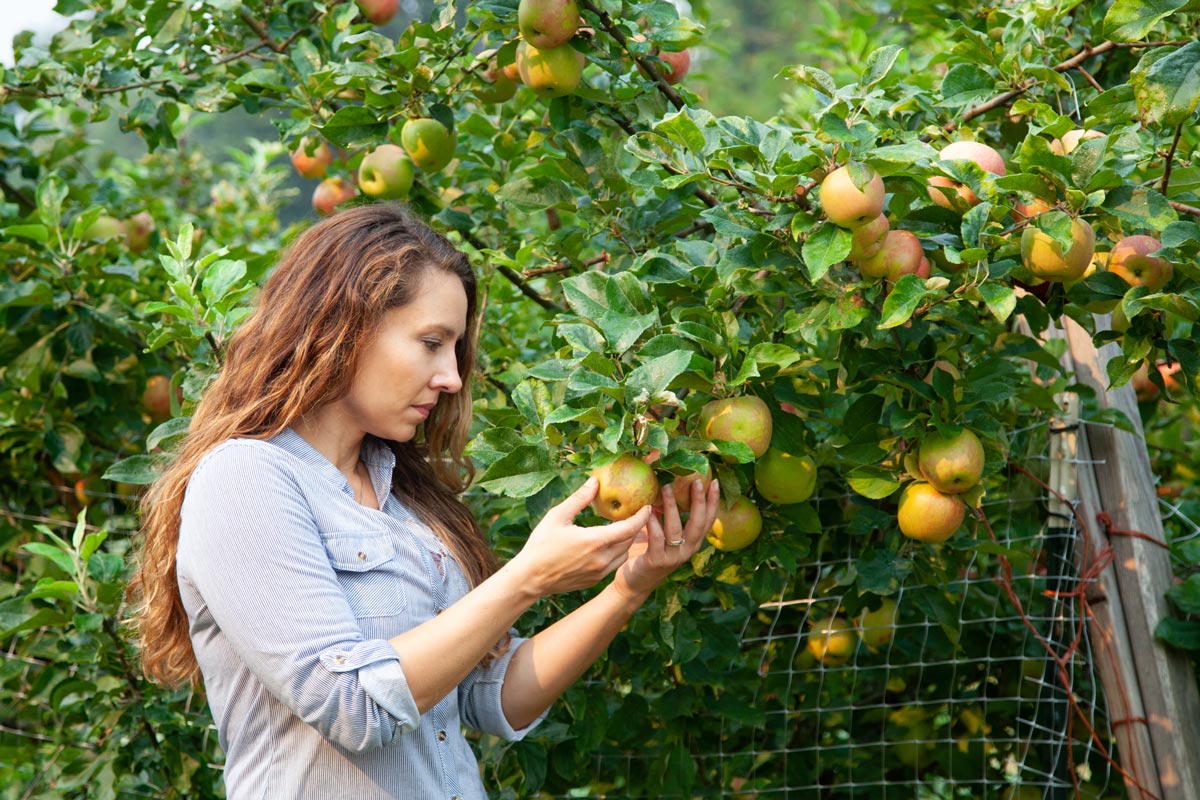 Seasonal Cycles of Fruit Trees
Most of us are used to hearing about winter pruning of fruit trees, and up until a couple of years ago, I would prune my own fruit trees between February and March here in the Pacific Northwest.
In my podcast with Joe, he taught us that caring for your fruit trees during the different seasonal cycles looks very different, and pruning in the winter may not be the best solution (especially in my rainy climate).
Fruit trees are in a completely different part of their seasonal cycle in the fall as opposed to winter.
Fall
In fall your trees begin to close up shop, so to speak, for the winter months. They want to shut down a lot of their metabolic processes so they can save their energy, which is finite.
Trees do have a finite amount of energy every year. They can't go out and get a second job, run a night shift, or pull overtime. Their energy income is fixed by the root system and by the amount of sunlight they get.
So they have to save energy for growing during the very best period.
In the fall the trees pull their energy back into the roots. The sap comes out of the branches, the leaves come off, and any fruit that for whatever reason hasn't fallen lets go. The trees will bring all that energy down to the root system as opposed to the wintertime.
Winter
During the wintertime, fruit trees go into dormancy. Dormancy is like going to sleep for the tree.
It's an absolutely critical process of caring for fruit trees and when they miss it, things get weird. Dormancy allows the tree to manage its sugars and its hormonal systems. The most common thing that will happen if a tree doesn't get enough dormancy is it won't flower. Therefore it won't make any fruit.
For a fruit tree to go into dormancy, it's really weather-dependent. One thing you can do to help encourage your fruit tree to have a period of dormancy is, if you have a tree that's potted, do not leave it in a warm place all the time.
This tends to happen to people who have potted plants that live outside during warmer weather, and they bring them inside during the winter months to protect the plant. They don't realize it's important to let the trees go dormant.
Potted citrus is a common example of that or a tree that you might grow in a greenhouse. You have to manage that. You have to get the tree to a point where it's dormant but not expose it to temperatures so low that it's going to kill it outright.
Spring
In the springtime, we let our fruit trees do their thing. They're actively budding and flowering and setting fruit on the branches. The only thing you want to be doing in the springtime is enjoying the beauty of these trees and allowing for ample pollination.
Perhaps getting into keeping bees is something that interests you? Be sure to check out my podcast with Kaylee from The Honeystead all about the link between honeybees and plant medicine! It's fascinating!
Summer
Almost all of the rules of pruning and the rules of caring for and growing fruit trees are based on a New England or California environment. 99% of the literature focuses on California growing or New England gardening.
Now, imagine an area where your winters are really cold. Well, the thing about really cold winters is that they're also dry. Snow is not wet, nor is ice, not for the purposes of bacteria and fungal growth. If you live in these types of environments you can prune during the winter (and because their summers are typically wet it's not a good idea to prune in the summer).
Here in the Pacific Northwest, it's the other way around. We have very wet winters and we typically have very dry summers.
Most people don't realize that fruit trees are actually dormant twice a year: in the summertime as well as in the winter.
If it gets hot enough that the tree is transpiring more water, pulling more water out of the ground than they can replace, it will start to go into a sort of pseudo dormancy.
At this point, it's safe to prune your fruit trees. It remains dry, you're not going to mess up the hormones at all. The trees are not strictly in full dormancy, but it's in dormancy enough that you're not going to upset its hormones.
Provided you don't go crazy and remove more than 30% of the tree mass, then you shouldn't incur any problems.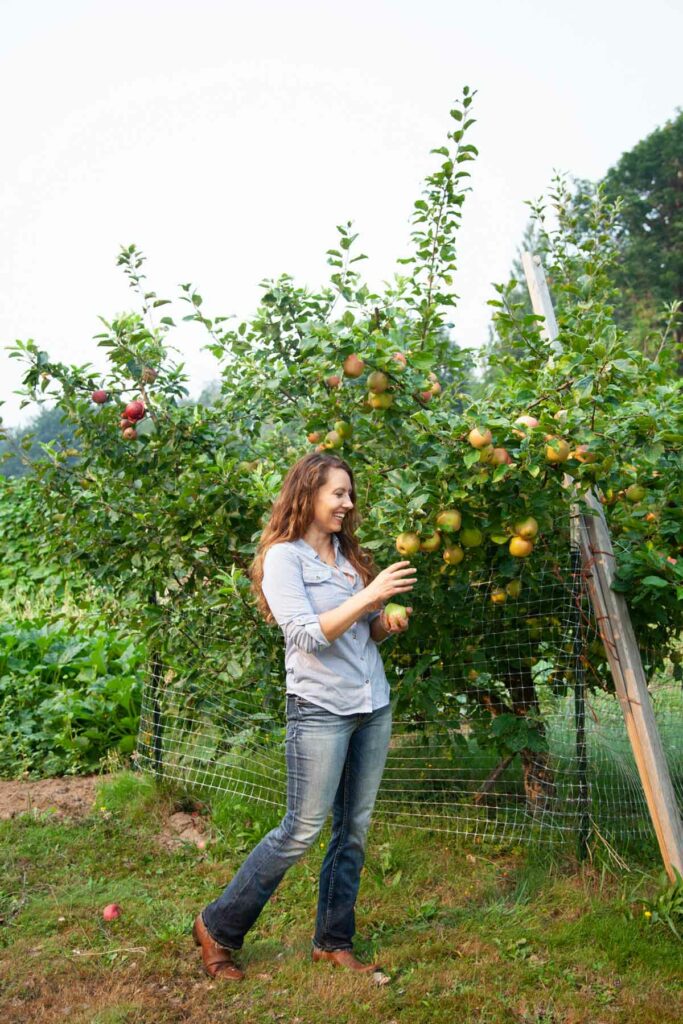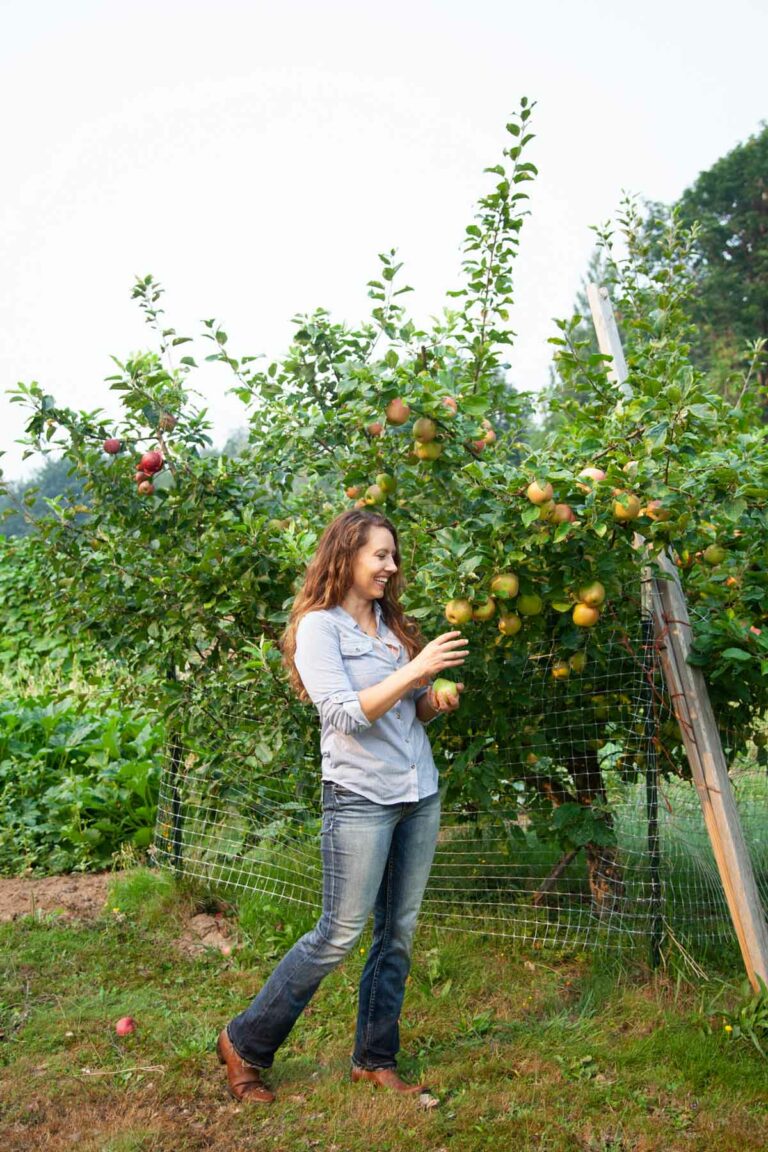 Chill Hours for Fruit Trees
When thinking about the best care for our fruit trees, it's important to know a few other important things. The first being chill hours.
When you want to grow fruit for your family and provide decades of delicious home-grown fruit, it's important to select the right tree for your specific climate.
What are "Chill Hours" for Fruit Trees
Chill hours are hours during the year where the temperature is generally below 45 degrees on average in a region. Select fruit trees that are within the chill hour range for your area.
There are trees that require less than 100 chill hours per year and those grow really well in warm climates (like the Bahamas). The Dorset Golden Apple is an example of this kind of fruit tree.
Then there are other trees, especially cherry trees, that have a requirement of 800 to 1200 chill hours. So if you're in Georgia, you're not going to be able to grow that variety well, but they make a great choice for certain areas of the Pacific Northwest.
If your fruit trees or berry bushes don't get the required amount of chill hours, there will be little to no fruit production.
Again selection is important when you're choosing a fruit tree. You can't just go to Home Depot or Lowe's and grab some trees and throw them in the ground and expect them to work. Trees are not car parts.
Utilize your extension office and their services, reach out to a horticulturalists, ask a local nursery, that's what the experts are for… to consult with so that you can make sure you get plants that are going to work for you and your area.
Otherwise, all your going to do is waste your time and money and you'll harvest frustration instead of delicious fruit.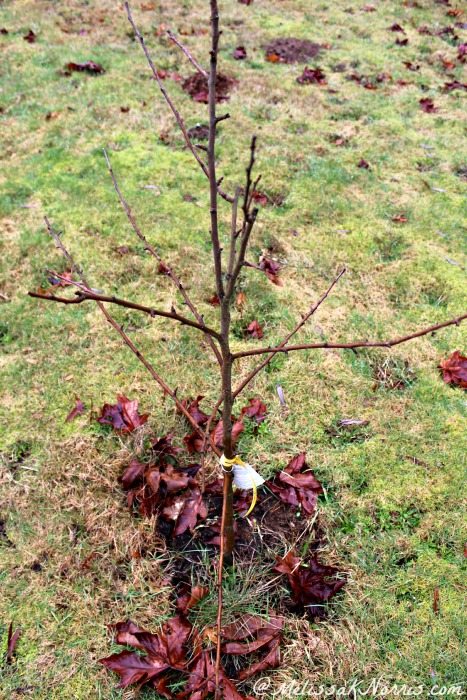 When to Transplant Trees
I have discussed in greater detail when and how to transplant (or plant) a fruit tree. But a quick summary is that when transplanting a tree, dormancy is the very best option. However, don't transplant fruit trees when the soil is saturated.
Soil saturation is defined by if you grabbed some soil and you squeeze it and make a ball out of it when you open your hand and you still have a ball, the soil is too wet. So even if the tree is dormant, that would not be a good time to transplant that tree. You need to make sure that the soil isn't going to literally suffocate the tree after transplanting. The roots must be able to exchange oxygen.
Otherwise, you can actually move a tree while it's growing, but there are consequences. Sometimes those consequences can be mediated and sometimes not.
If you have to move a tree while it's not in dormancy, then you really should do a cost-benefit analysis. There's no guarantee it's going to survive if you pull it out of the ground while it's still trying to grow.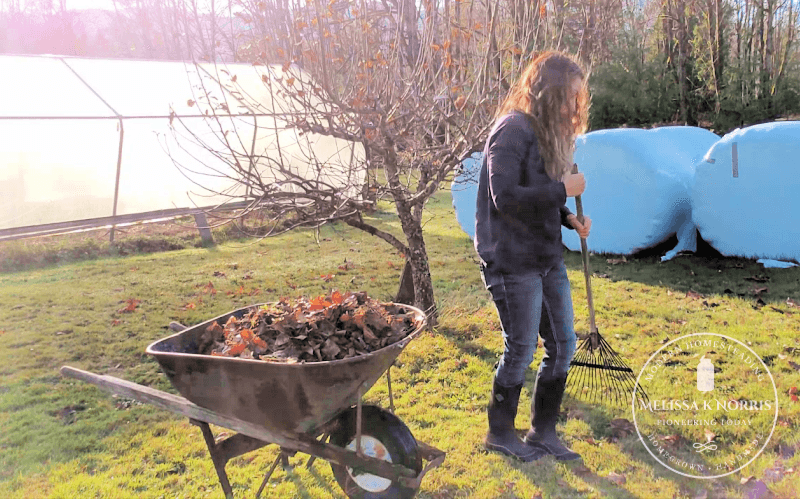 Care of Fruit Trees in Fall
Care of fruit trees in the fall is mainly leaving the tree alone. Fruit trees are super engaged in a bunch of processes that it's really important not to disturb them, especially if you want to have flowers the following spring.
Fruit trees benefit from a general late fall cleanup of your orchard, however. Any remaining fruit that is still on the tree, you should knock off and rake up anything on the ground.
Fruit tree disease prevention
A lot of fruit tree diseases and a fair number of pests harbor in the fruit and even sometimes in the leaf debris over winter. Cleaning that out can make your orchard a lot easier to manage and care for your fruit trees in the coming months. It helps the tree not have to deal with disease factors, especially fungus.
When the leaves decompose it gets back in the root system and cycles through the tree year after year after year. That's one of the things we really don't want to happen. That's why you do that good cleanup in the fall.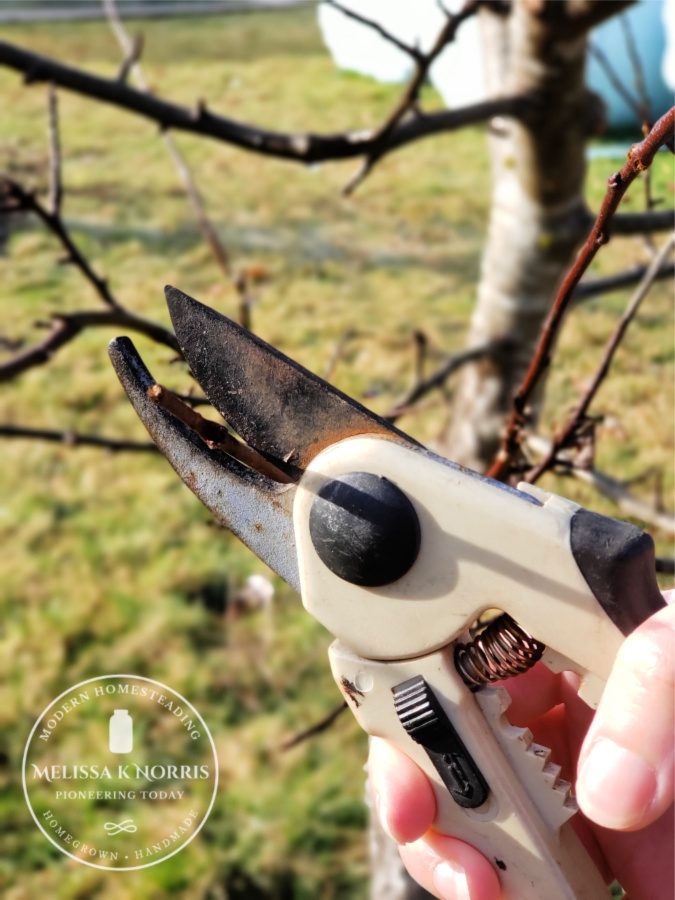 When to Prune Fruit Trees
If you live on the east coast, pruning trees in the winter while trees are dormant is the best. But not if you live in the Pacific Northwest. We're generally too wet to successfully prune fruit trees without the risk of disease or damage to the trees.
In the Pacific Northwest, we need to be careful not to prune while it is actively wet because moisture allows bacteria and fungus to get into those brand new openings in the cambium layer that you've created with pruning.
If you have a solid three weeks that you know it's going to be dry, you can prune in the winter. But this is often hard to predict and not always a gamble I'd recommend.
The tree needs time to compartmentalize the wound created from pruning. Then it can ward off any disease or fungal growth, or even insects.
The one caveat to pruning in the winter is that, no matter where you live, you can take off 100% of the deadwood.
If there's deadwood in the tree, it's obviously dead; there's going to be no danger of infecting the tree when you remove that. In the winter you're free to do as much dead wooding as you want.
But sucker growth and especially heading cuts you want to avoid.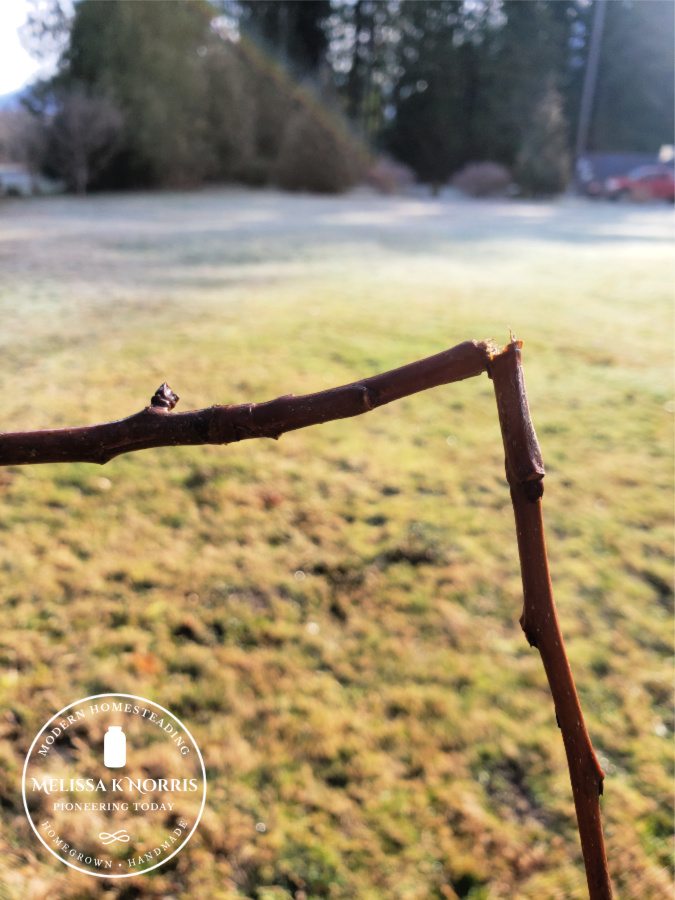 Types of Pruning
Heading Cuts
Heading cuts are when you take the tip of the tree branch off. Joe doesn't recommend making heading cuts, unless absolutely necessary, because it affects the hormones of the tree.
It causes excessive flowering and sucker growth because the growth hormones in the tips of the branches are removed. There's a growth hormone inhibitor that prevents excessive flowering and spurs sucker growth in the tree.
If you cut that all back, there's no control anymore and the tree will just grow as hard as it can.
Some apple growers do that on purpose. They want to tip back to make more flowers happen but the root system, again, has a finite amount of energy. So the more you asked that tree to do, eventually, you're going to get ahead of how much energy you can produce and the tree will go into decline.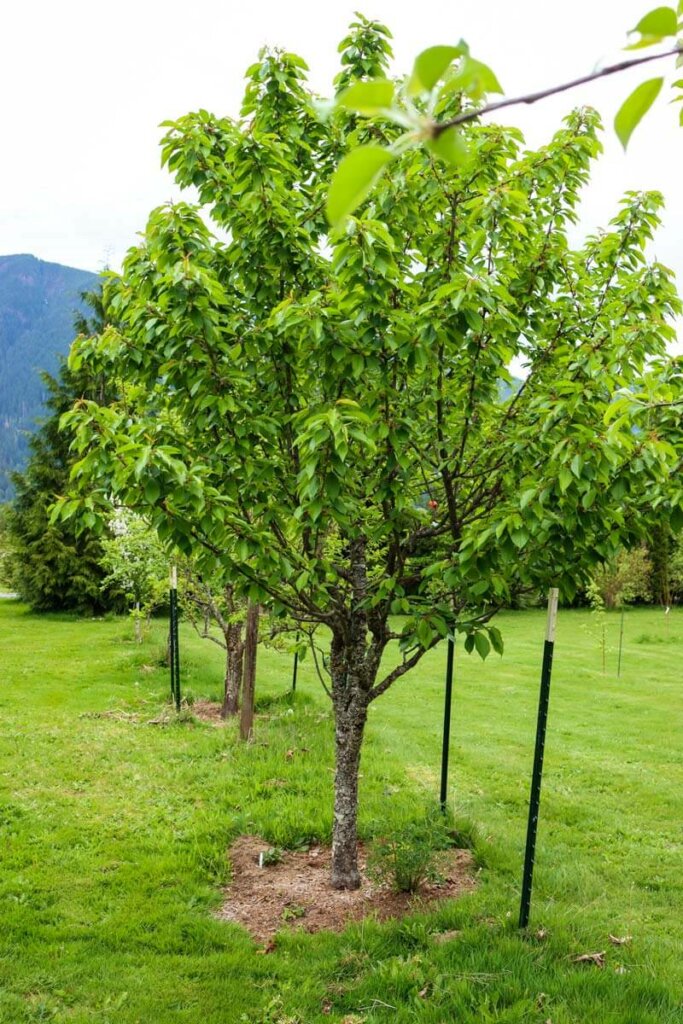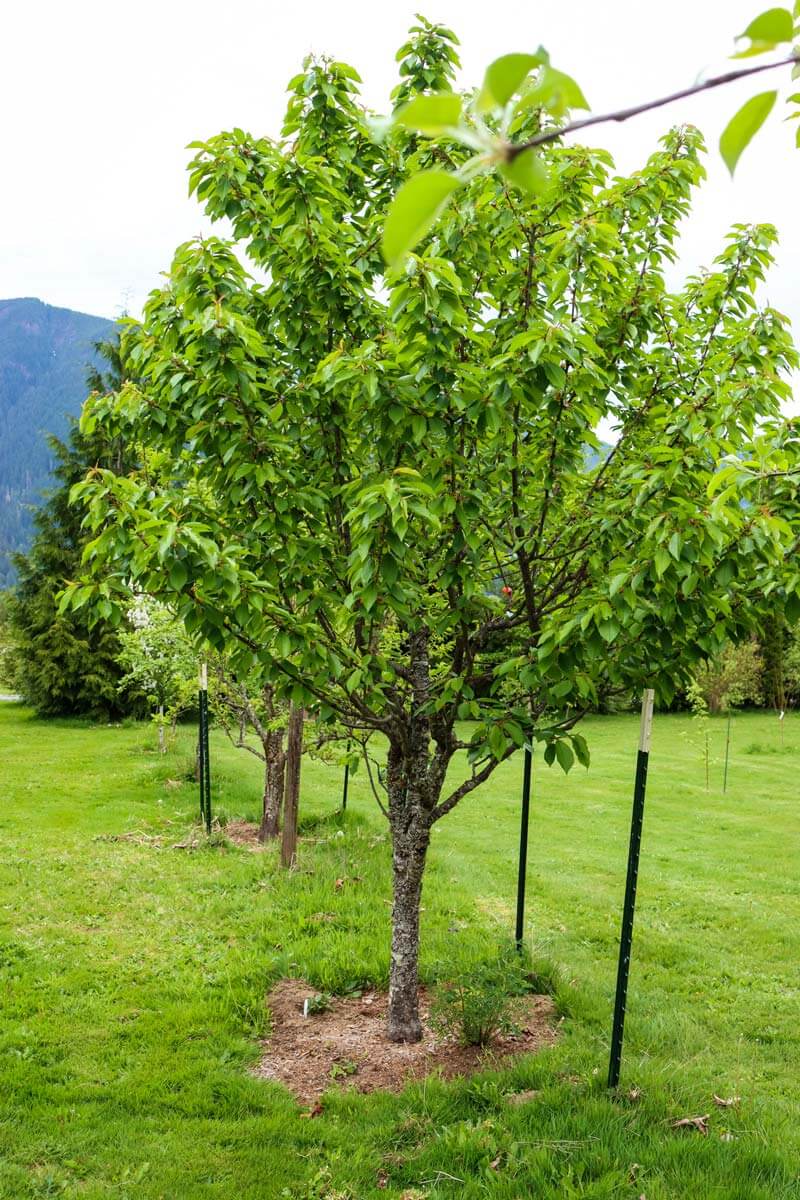 How to Water Fruit Trees
Every fruit tree has water needs, at least until it's three years old.
In the Pacific Northwest, trees will need water in the summertime, so you'll need to figure out a watering system that will help them get established until they are three years old.
However, in the Midwest, Oklahoma, for instance, you never need to water your fruit trees in the summer, but they may need supplemental water during other parts of the year.
When it comes to caring for younger fruit trees, water is key. Deep watering, in particular, is really crucial.
You're looking to dump 10 to 20 gallons at a time, not over the course of a week, but once per week on those root zones. That's going to drive that water deep in the ground and it's going to encourage the roots to go after it.
If you do that for roughly three years, and everything has gone well, of course, that tree should have a deep enough, large enough root system that it's able to access underground water resources beneath the top six inches of soil.
Your needs for supplemental water are going to significantly reduce at that point. If you do that labor for the first three years, it will save you so much trouble later on.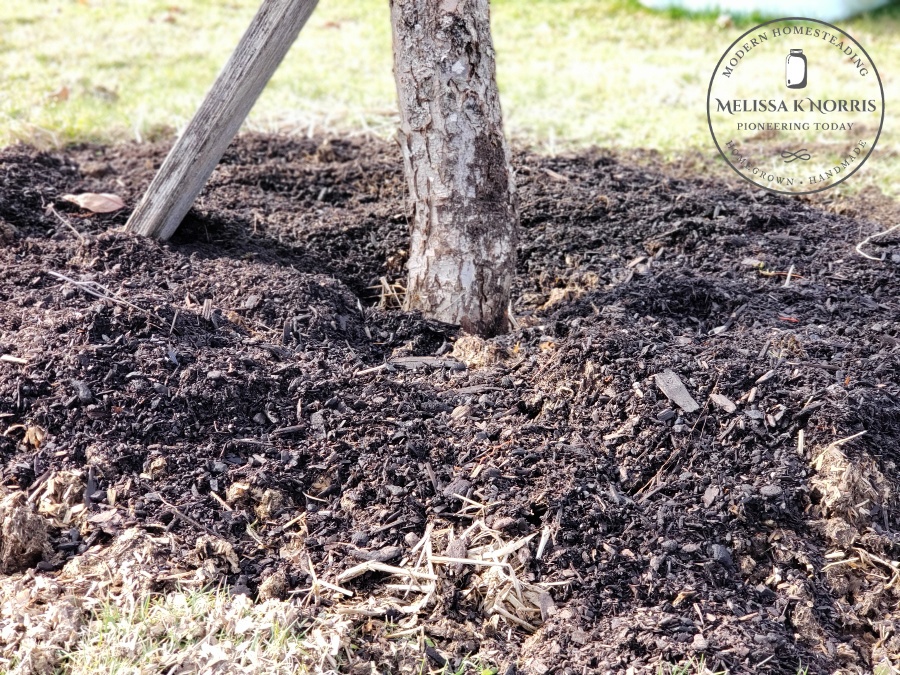 Caring for Mature Trees
For Mature Trees, water isn't a problem for them because, if everything has gone well, they have plenty of water resources.
Be sure you're mulching and managing the soil, and inspecting the trees each year for bark damage or insects.
The way nature designed it, is that the leaves and fruit fall and decompose in the fall, animals come in and eat the fruit, then poop and fertilize the ground. Any fruit not eaten decomposes with the leaves and animal poop and there is plenty of organic matter to feed the tree.
Since we're not letting this natural system happen in our orchards, it's best to create a fruit tree guild where you're keeping grasses back from the tree and planting things that will feed your tree instead.
Grass is super competitive plant in your orchard. People don't really realize how incredibly aggressive grass is, how tight it's root mats are, how much of the nutrients in the soil that it pulls. Keeping grass out of the drip line of your tree is a big deal.
Apply compost to the base of your fruit trees in late winter or early spring. You don't have to dig it in, just throw it on and the rain takes care of the rest.
Straw, manure, even wood chips, especially those that have had three or four years of decomposition already are excellent amendments for your trees.
If possible you want to build up a four-inch layer of mulch because it'll keep that grass out. You can also use cardboard, which is kind of a cheat but it's really neat because it gives the mycelial fungus, which is really beneficial for the tree, a place to grow and establish if it's not already in the soil. Cardboard is also hard for grass to grow through.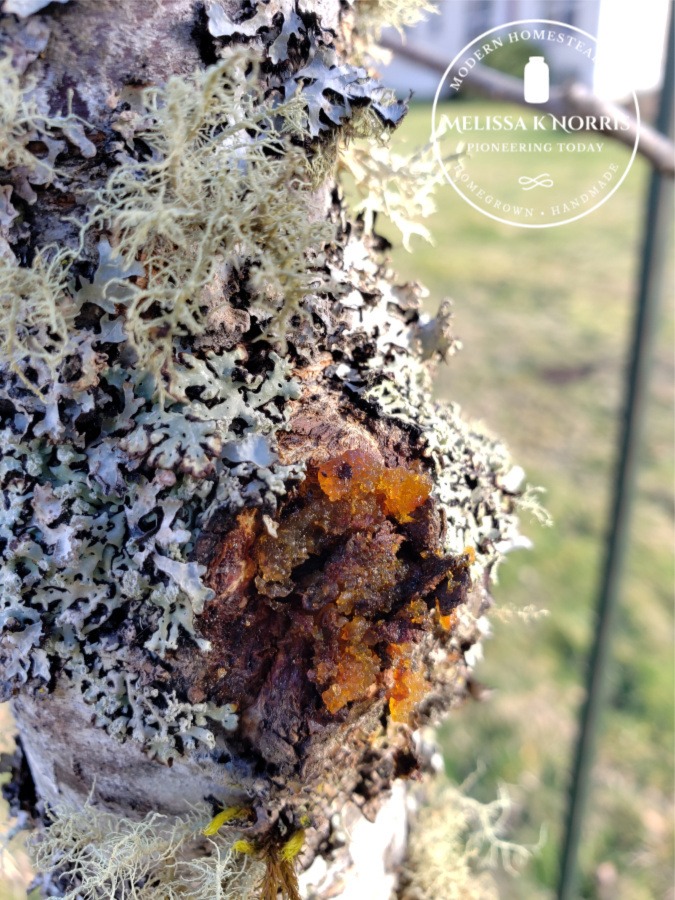 Fruit Tree Disease Warning Signs
As I mentioned before, it's important to keep an eye out for disease, but what are we looking for when it comes to disease? What are the warning signs of disease?
Warning Signs of Disease
Your fruit quality is poor. Brown rot on plums is an obvious example for Asian plums in particular. They get wet in the spring, the blossoms start to get a little bit of brown rot and the rot transfers to the fruit.
Tip dieback
Splitting canker. An oozing mass that's on the tree. It's very common on cherries.
Fruit splitting
Wound in the tree that is oozing
If you see something that doesn't look right, my best advice is to take a picture and give someone a call or visit your local extension office. They're the experts where you live. They spend all their time looking at people's pictures or inspecting cuttings that have been brought in, diagnosing disease and giving advice. It's what they do and you should take advantage of that as much as possible. A diagnosis over the phone or out of a book can be very difficult.
The faster you get your disease diagnosed, the easier it is to treat.
Joe: That is reactive tissue. It's very much like scar tissue. Cut that off and then make sure that the heartwood is not black. If there are black spots or blackness to the heartwood you have to keep cutting because what you have is anthracnose and that will eventually work its way into the trunk of the tree and kill it.
When to Treat Fruit Trees
There's not a lot of treatment that can be done during the winter for fruit tree diseases as the spray washes off. The extent would be cutting off diseased wood – what we call cultural control.
Most spraying is reserved for the end of winter, or during a specific life cycle of a pest.
Peach leaf curl is an example. Peaches grow, you wait a couple of weeks before those leaves come out, and then you spray the tree with copper sulfate fungicide. It's on there long enough to prevent the peach leaf curl and then washes off, which is great because you don't really want that on your peaches.
Every disease is going to be different and has different treatment requirements and different treatment tools. Again, you need to diagnose and get the right information so you can do the right thing.
The biggest benefit to your fruit trees is going to be proper watering and proper pruning.
Water your tree well in those first three years and it will pay off in dividends in the years to come.
Pruning a tree badly is worse than not pruning a tree at all. You'll cause more problems, more disease, more malformation. Learn the proper way to prune and then get out there and practice.
Pruning is learned best through actually getting out there and pruning your trees. You can read and take classes but get out there so you can see why things are the way they are and develop those skills; develop the eye for it. Want a step-by-step video of pruning an apple tree in winter go here.
Resources & Where to Find Raintree Nursery: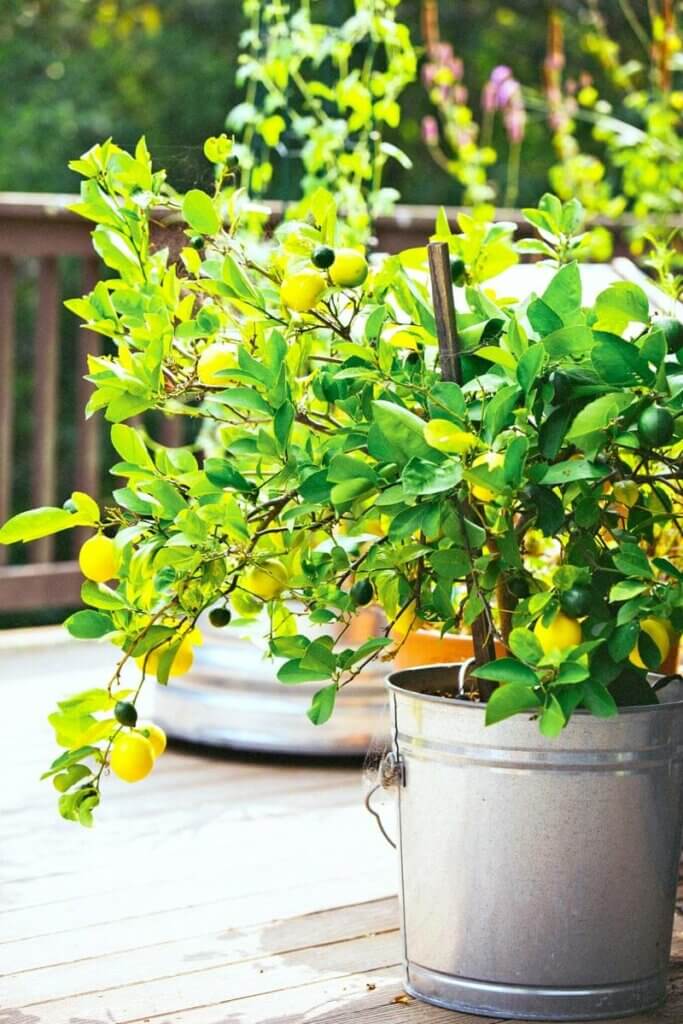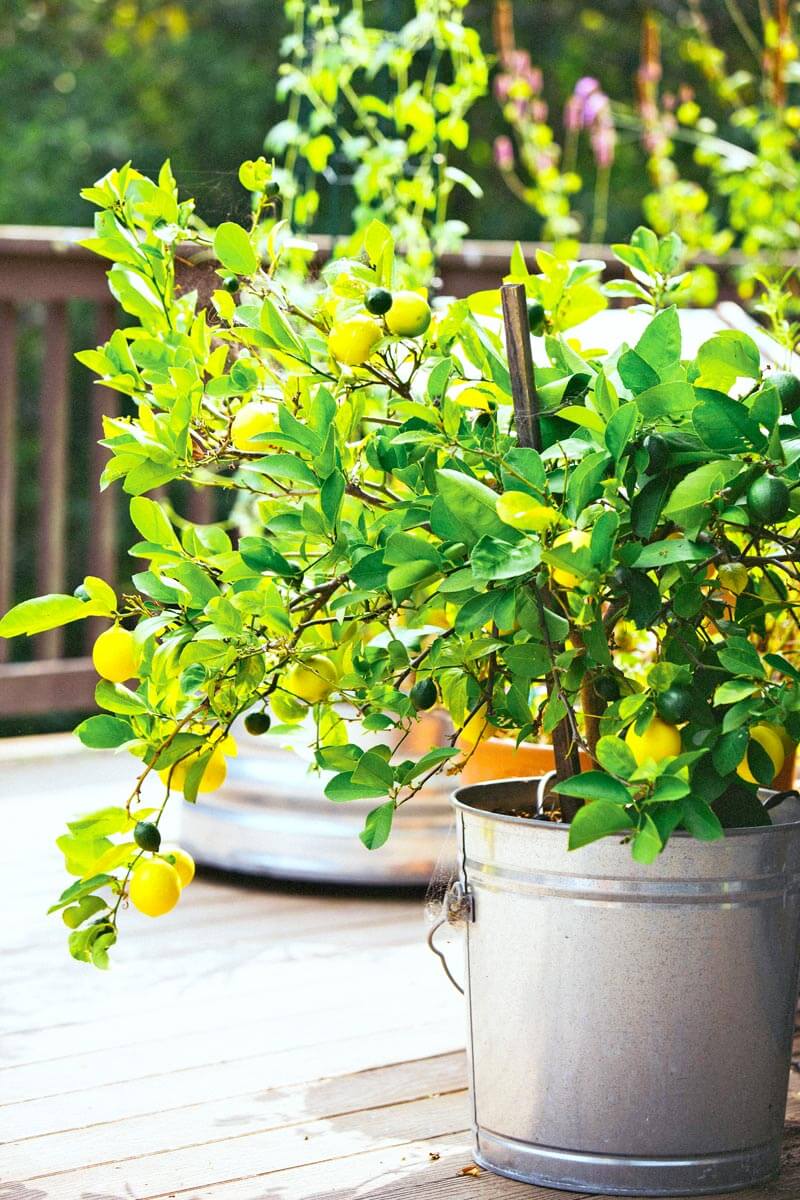 More Resources for Growing Fruit: