The holidays can bring out the best and worst in people. I tend to have more of a "PollyAnna" viewpoint, but with current situations surrounding COVID and 2020, I have noticed deeper emotions and more division this year than any other time in my life. Certainly, I'm not the only one dealing with this, so today we're discussing how to handle these emotions surrounding the realities of 2020.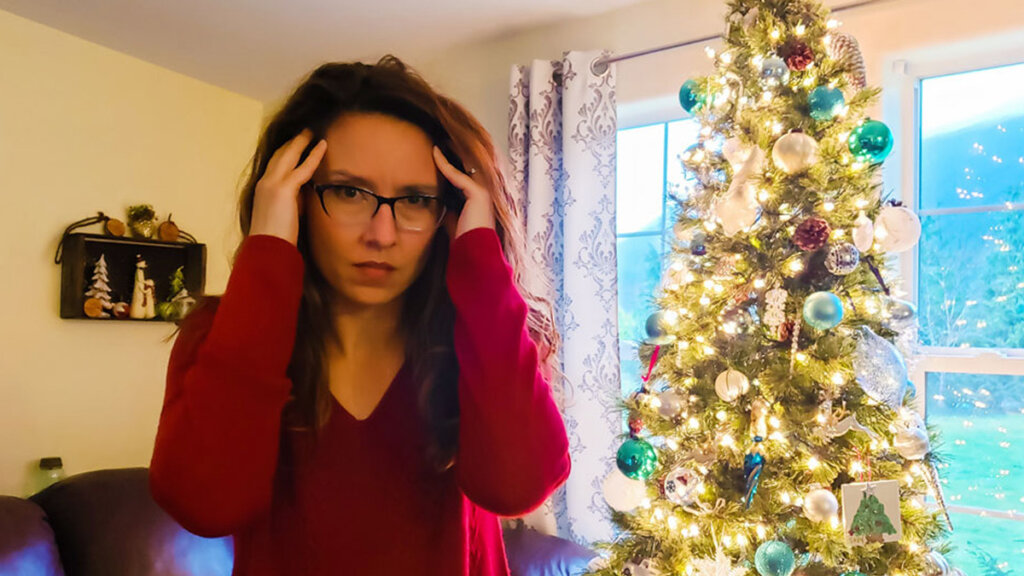 Over the past couple of weeks I've been dealing with some added stress and anxiety that were actually waking me up at night and interfering with my sleep. Upon reflection, I really think it was all due to the heightened stress that we're seeing on the news and social media.
So how do we deal with all the added stress that surrounds us this year because of COVID realities and politics surrounding this election year?
Listen to this week's Pioneering Today Podcast (episode #285) to my tips on dealing with emotions during the holidays.
In this episode:
Giving an extra measure of grace to those around us this holiday season.
Focusing on people as a whole and not just focusing on a specific frustrating incident.
How to graciously steer conversations to common ground topics.
Learning to agree to disagree, kindly.
How to focus on the good.
Finding activities or traditions you CAN do instead of focusing on what you CAN'T do this year.
Find the things that bring you joy and focus on them!
Verse of the week: 1 Peter 3:10
More Articles You May Enjoy
Welcome to episode number 285.
You know, the holidays tends to be one of those times that can bring out the best and the worst in people and in situations I at heart, definitely tend to lean towards the Pollyanna viewpoint, but I have to say with the current state of affairs that we have had going on this year since March with the pandemic, as well as political things that have happened this year, no, don't worry. I'm not actually going to go into either side of these things. But what I am saying is I have noticed that it seems there is more division this year than I have ever seen exhibited at any other time in my lifetime or my experiences and not only within society at large or on social media, but actually within my own personal family and friends. And so I have a feeling that surely I'm not the only one that is dealing with all of these things and is having some mixed emotions and honestly, a little bit of mixed stressed and mixed feelings about the way everything seems to be happening.
So I wanted to go through today and actually just talk to you about some things that I've witnessed and some things that have really helped me to deal with everything that is going on.
I'm your host, Melissa K. Norris, a fifth generation homesteader, who got back to my roots of using simple, modern homesteading for a healthier and more self-sufficient life after a cancer scare in my late twenties. This is the place for you, my friend, if you've sometimes wondered if you weren't born a hundred years too late, if you've always thought that you and Laura Ingles would be best friends, and if you think that every home and kitchen would be better if they were filled with Mason jars and cast iron, and those things were used daily with homegrown and homemade food. If that is you, then welcome home and welcome to this amazing community of modern pioneers.
Now I know with the pandemic and COVID and all those things that some of it depends upon where you live, honestly, as far as restrictions and things like that that you're having to abide and follow by have definitely impacted certain areas of the country and even the world more so than they have some areas. But I think that everybody is dealing with this on some level or another. And some people definitely have been dealing with the hardships more if you've had job loss, obviously, if you have lost someone like there's many of those circumstances that are going to make things monetarily or more physically challenging for some than others. But I think regardless of that side of things, I really do feel that all of this has taken an emotional toll on pretty much everyone.
In fact, I actually, on my Facebook page asked the question before I began recording this today if people were finding things emotionally harder, this Christmas and/or Thanksgiving, basically during the holidays than any other year. And resounding really a lot, almost everybody, definitely answered back and said yes. And a lot of people shared that it wasn't even necessarily the holidays, but just the day-to-day part of life, especially when you have to go outside your home right now.
So I wanted to share with you guys, I... it has probably been about six weeks ago. It was actually, well before Thanksgiving, it was kind of early this Fall. And I had a week where I didn't really think... I kind of would go on and off. Like sometimes there was things that would seem to really bother me, but overall, I felt like I was coping really well with everything that's been going on. I mean, I'm lucky my husband was on doing workshare, some of his hours at work had been cut out, but they are back to, to regular hours now and full time. So our income has not been harmed in any way. So we're doing really well in those aspects. My family is all healthy. We're pretty self-sufficient already. And so we've just been continuing to build those skills and do them a little bit harder this year than we have really any other year.
But, we live out in the country. So even though my kids have not been in public school since March 16th, yes, I have the day memorized. They are able to go outside and to ride our four wheelers and take the dog for a walk and go play out on the property and do lots of things together as a family. And we've got time in the space to do it. I should say time is one thing that we don't always have a lot of it seems, but we've got a lot of space to do it. So it's not like they are just stuck in an apartment somewhere without things to do and that type of thing. So I know we're very fortunate in that aspect. At least I feel very fortunate.
So I'm kind of listing out like all the things that I know that we have very well. But despite all of that, there was a week, and I shared about that in my, in my newsletter that I send out. It's usually every Saturday, but we're kind of playing with putting it out on Fridays now, that I had a week where stress and anxiety hit me like almost any other time. And there was no incident that happened during this time period. There's nothing that I could really pinpoint it on, but it felt just like a large accumulation and I was having trouble sleeping. I was waking up with severe insomnia and just a lot of even physical signs of anxiety, like with pulse and a lot of different things.
And what was happening, what I found was interesting as I can look back on this time period, is that the thoughts that would wake me up at night or not allow me to sleep, which would then make things even worse, they really weren't even related to the pandemic, but they were things that were being triggered by stress that wasn't a direct correlation. But I think just the heightened sense of fear and anxiety that we see out in society and on the television and even in social media. And yes, I know don't turn on the TV, don't watch the news, which all of that can be really good advice. But for the most part, I do have to function in certain parts of society. I am on social media. I connect with a lot of you guys on social media, quite honestly. And I have friends and family that live in different parts of the country and we stay connected that way.
I really don't watch the news hardly ever at all. I'll be honest, I don't watch very much TV and I have not been able to find no matter where you are on any spectrum, there are very few, especially at least mainstream, regular TV news stations that report un-biasly. So I tend to not watch the news or even much of regular TV at that. We have a few shows that we do, but usually if I have time that would normally be spent like watching TV, I would much rather read a book or listen to a podcast. So I don't watch a whole lot of TV, but there are times when the TV is on and you just can't help but watch it. And then when I will go out and there's some supplies that we aren't totally self-sufficient and I still do buy groceries and some different things like that from the store.
So there are times when I'm out and everybody has masks on, I live in Washington State, so almost everybody has masks on and they enforce the use of them more heavily than I think at a lot of other areas. I did some traveling back in early October across the country. And it was very interesting to see coming from Washington, especially like the SeaTac airport, which is in Seattle, which is where I have to fly out of. It's the closest large airport to where I live and then landing in Nashville and then also flying to Baltimore. Very, very interesting to see the differences in different parts of the country. At least at that time, it's been a couple months back now. There wasn't nearly as many masks being used in other parts of the country. Now almost every airport... Every airport, excuse me. I said, not almost. Let me reword that at the airports I was at for layovers or landing in, every airport, you had people wearing mass, but it really felt like when I was in SeaTac that people would have wore three masks if possible.
And then when I was at other areas of the country, you had some people wearing masks and some people weren't, it was just a very different feeling, almost tangible wise, like that was in the air. And I'm not, not saying one way, which way was better or worse than the other, as far as things. Every part of the country and every person has their own feelings on, on wearing masks and what should be done about the pandemic and how things should be handled. And I'm not really here to weigh in on either part of that because we all have our opinion, right? But regardless of how you feel one way or the other, there is a lot of anxiety and a lot of division around it. And so when it comes to, especially the holidays, many of us are not able to experience the holidays like we're used to.
And even the life has been that way, way for a while now with the pandemic, the holidays seems to heighten that at least it really has for me. And so I started looking at a lot of the things that we normally do for Thanksgiving and Christmas, that we are not going to be able to do. For example, my kids, we normally have a large Christmas program at our church. Well, not as many people that are coming to church, we had to shut down for a while and then we've been able to be back open for several months. But unfortunately not everybody, for whatever reason, has come back. And so our Sunday school program, our Sunday school, the amount of children in our church is very, very much reduced. And so honestly, there's not enough kids to do a Christmas program this year, I mean, that's really what it boils down to.
There's just not enough kids to have a kid's Christmas program. And my kids were in public school prior to this. And so for the elementary school, which my daughter is still an elementary school. In fact, this would be one of her last years with the way the grades fall, they have a middle school that she would be an elementary school would be this year. And so they always have an elementary school Christmas program. Well, there's no public school being held in person right now. And so there is no Christmas program that's going to be held at the school either. And it was my daughter's last one. So there's just a lot of things are different. And I know that probably sounds silly to some of you like you are feeling emotional that you don't to go to your daughter's last Christmas program? But you know, it's kind of one of those things, like you didn't know what was going to be the last one, like last year, I'm like, "Well, she still has one more year."
And I have to be honest. Sometimes they would hold them like in the evening during the middle of the week. And it could be a hassle to make it to it. You know, it was right at dinner time and it ended up not always working out. It was really hard to... There's a lot of things, but now that I know she doesn't get another one. That was the last one where I'd ever see... I could go to the other one, but I wouldn't have a child in it is what I'm getting at, in future years. And so there's no Christmas programs where we used to have two. And I always looked enjoyed watching the kids and they were so excited to perform. And sorry, I really did not plan on getting emotional as I was recording this episode.
But I think there's some things we don't even realize that we are feeling as a loss and we're emotional about right now until we start to talk about them. And that's kind of how I'm discovering this as I'm sharing it with you. And there's just a lot of things that are not going to be the same. We're not allowed to have in-person concerts. So like music concerts. And last year I got to take my daughter to go see a production of the Nutcracker at our local college, which they did an amazing, amazing job with the Nutcracker play. But none of that is happening.
So there's just so many things that we would normally do around the holidays that we're not able to this year. And then when it comes to, if you aren't able to get together with family. And I know some people aren't even able to get together with family, but this year with both COVID and politics, which I know politics probably should not enter into family conversations a lot, especially if there's disagreement, it's still part of the landscape, honestly, that you kind of have to negotiate.
And this year it seems to be a lot of, I have witnessed I should say, a lot of stuff online that was politically related, where you obviously have people on two different sides of the fence in their beliefs and their political opinion, even though they are family or they are good friends, like they know each other in real life is what I'm getting to with this. And unfortunately, there has been some very hurtful things that have been said, and feelings hurt and stuff all over, simply because of the way somebody decides to vote or they support a certain candidate. And I find that very, very sad, quite honestly, that it would stop families from getting together and be something that would escalate over just as simple, different of opinion. And I am friends with people who have completely opposite viewpoint of me, but I find it interestingly and sad as a society that we seem to have...
And I know if you're listening to this, this is probably not you, but society as a whole has really lost the ability to be able to disagree and still be civil with one another. And I just find that so incredibly sad, quite honestly. And so, one of the things, because sometimes you can... I've been in the past, it wasn't any of this recent things that I've seen where there's been disagreements and it's been with family and there has been things where you get heightened and you get angry about things or emotions and to take over. And what has really helped me has been to not look at that immediate thing that was just said, or typed in the instance, if it's on social media or online or texts or whatever the format may be, but remember the good stuff about the person. And all of the memories that you have that are around good times, but that person as a whole, and not just this isolated incident or this isolated opinion or this isolated whatnot.
And I found that if I can focus on that and the things that we do have in common because we actually do have a lot in common with one another just as human beings, regardless of political opinions. And so if I can focus on that, especially with people that I know personally, which is in reference to this, then I find that, that those other items, they don't really have that much importance anymore, or I'm able to get over it quite easily and we can move along.
And I found that this is very helpful both when you're just dealing with how you're feeling about a situation. Like I said, when it's not like face to face, but even when you are in a situation where you are, face-to-face like at a family gathering or something like that, and subjects begin to come up, because this has happened to where someone will turn the subject towards something that's a touchy subject or where you know that there's going to be a bunch of division or things that you don't necessarily agree with.
And if you can steer the conversation around to something else, like remembering good times or telling a certain story that the whole family enjoys, and that it's not about that whatever trigger subject, if you can just kind of steer that where there is some common ground. I've found, if we can get on common ground, instead of trying to prove our own point of view and one way right or another, because quite honestly, most of the time our minds are completely made up and nobody is going to change our minds, especially when it comes to political stuff, by supporting your own argument and finding different quotes and different articles that support exactly what you're saying and what you believe. Because once our mind is made up, we just look for things to support our point of view. And everybody does this. It's very natural. But most of the time, your mind is made up and no matter what the other person says, you're not going to change it.
Now, this is not always the case, unless you're already leaning towards or truly seeking and you haven't made your mind up, but most of the time our minds are completely made up. And so I find it... I don't want to waste my breath and I don't want it to turn into a fight over something that I'm not going to change their mind and they're not going to change my mind anyways. Let's move on and talk about something else that we can come to agreement on or enjoy the conversation on and not damage our relationships.
So that's kind of how I also look at it when I start to feel overwhelmed is it's finding the good in things. So it's finding the good in the person finding common ground and things that we can agree on and not focusing on the stuff that we're not. Unless, you know, there are some people that I can sit and talk to them and we have completely opposing views and we can really sit and calmly share why we feel this way about the situation and they can share the same way. And we both know that we're not going to come to an agreement, but we can both hear each other's sides and be fine with that. But I find that that's quite rare actually.
But some of the other things is been really helpful to me, especially not even necessarily with the holidays, but especially with the holidays bringing this up, but it works in any situation. And it really is focusing on the grid because whatever we focus on, that's what we'll find. If I look for the bad things in people and our situations, I will find them. And so will you, you know, that's true. Anytime you look for it, you will find things that will support whatever you're thinking. So if I consciously make the decision that I'm going to focus on what is good and what I can do, you will see it. If you look for something to be thankful for in any situation, you can find something to be thankful for. And the more you look forward to be thankful for it to be grateful for it changes your viewpoint, it changes what you see and what you find.
And it sounds so simple and sometimes it's hard to do, but it's oh so true. So one of the things for me is, no, I'm not going to see any Christmas places here in person that my children are in, but that's okay. We get to be together. We are all healthy and we are going to do some different things, but there's still some fun things that we can do. So our town this year, they're not having their regular get togethers, but instead they are doing a holiday lane. So anyone within a 10 mile radius of the...
Well, I should say it's the neighboring town because I don't even live in a town. I live way out in the boonies. And we have a little tiny town across the river from us that has a post office and a bar. And that is it. But then what I call our next town, it's about 10, 11 miles from where I live. And that's where my children go to school. That's the town I'm referencing. And so anyone within a 10 mile radius of that town can enter in for holiday lane. So they put their address in and they're decorating outside. So they're doing lights and these big, beautiful displays. And so then everybody will get a map and then you can drive through and see all of the pretty Christmas lights outdoors. So that's something that we can look forward to. It's not something that we normally do, but it is something that we get to do. So I think it's sometimes is finding what you can do focusing on what can we do in this situation so we can have a new holiday tradition this year, and that's what that's going to look at.
So instead of going to the Christmas play, we're going to go and look at the Christmas displays, put up around our town. And then I know it can be really difficult for a lot of people if you're not able to get together with your loved one. So obviously I have my husband and my two kids and they live at home. So we get to be together regardless. So I've actually got people in my home that we get to celebrate with. I know for some people they have had losses or their family lives States away. And so they're not able to travel. They can't travel that far and they don't get to be together.
But one of the things that I found, especially touching is some of the traditions that a family had is they normally got together and had a tradition of getting on Christmas Eve and they would have soup together. And that was just like one of their food things. Well, this family is not able to get together this year in person. And so instead, the mom is making up homemade soup mixes and sending to family members who normally would be there for this gathering so they can all make the soups at their home.
But they can all make their soups. And then they're going to get together over Zoom and virtually have their Christmas Eve with one another and they're still getting to eat their soup. And so they'll all have the same recipe. She's sending them the same supplies. And so it's not as good as being in person. No, it's not, but I love that she found a workaround and a way to do it instead. And so I think that's kind of the key is finding different ways that you can still do some of the same things, but it's going to look a little bit different.
And some of the things for me has just been focusing on my kids don't get to do a lot of the things that they normally do. My daughter was in sports and there are no sports right now because there's no school right now and there's no group gathering and all that kind of stuff. And so, I'm not getting to go and watch her at her volleyball games for her basketball games or the different sports that she was in. So we could look at that as a loss and be disappointed about that, I know she's definitely disappointed about that, but I can also look at it and be like, we aren't traveling nearly as much as we used to, we're home more in the evenings, which mean dinners aren't as stressful and we can spend more evenings together as a whole family than when we were trying to go back and forth between turnouts and picking kids up and dropping them off and those types of things. And so that is a blessing. Evenings are less stressful and less busy now.
And again, it's just kind of shifting that perspective. Some of the other things that have been helpful is... This might sound kind of weird, but acknowledging because part of me was like, "Oh, we're going to get through this," which we're absolutely going to get through this, but part of me tends to not want to acknowledge that this is stressful. And part of this really honestly just sucks. It really does. Like hopefully you don't think of that as a really bad word, but it does. It just sucks. And I think it's important to like actually acknowledge that rather than to pretend, "Oh, everything's fine." I think it's important to acknowledge it to ourselves, but not to get stuck there. So you know what, yeah, there are some aspects of this that totally sucks, but there's some really good things that have come from this.
So for example, we just had Thanksgiving a couple of weeks ago and not everybody who would normally be there for Thanksgiving was able to be there for whatever reason. And it really doesn't matter what the reason is. And so in one hand, it was kind of like you're looking around and you're like, "Oh, you know, the faces that I'm used to seeing art here." And that was, that was kind of sad. But on the other hand, I was really able to visit in depth with the people that were there in a way that when you have a larger gathering, you're not able to. So again, it's just finding the little things that we can be grateful for in this situation and focusing on those.
Some other things that I have found that is really helpful, especially with the kids, because I think as a parent, for the most part, I think we're able to cope pretty well, but when it comes to our kids and we see our kids being affected negatively by stuff that gets to me a lot more than if I'm just dealing with something by myself. And so I really noticed, not only am I not getting to see my daughter in a Christmas play this year, she's not getting to be in the Christmas play this year. I'm not running back and forth taking her to turn out and getting to see her games, but she's not getting to be on a team and she's not getting to play like that aspect to it.
And so some of the things that's really helped and I feel like she has probably... A lot of it is personality and ages and all that type of things with their kids, but within our household, I feel like she has probably been affected by this more so than my son. And so it's been really important for me to find things and make them special. And I think it's important that we do this for ourself, but I think it's also important that we do this for our family members.
And so it doesn't have to be anything huge or really big. It can just be little things, but making a deal... And sometimes it's just the anticipation of something, like the anticipation of an event. I don't know if you've ever planned for a vacation or something special, it's that lead up to it, right? Like you're so excited for it and you're planning it and you know it's coming. And then the event comes in sometimes depending on what the event is, the anticipation is actually better than the actual event. But then once the event's over, like that's part of the great part is in that anticipation. And so you can do that with even little things and just putting like a special little spin on it.
So my daughter for one night, we did spa night and I'm like, "We'll have spa night tonight." And so I'm like, "We'll plan it." And so we planned it out and she had this whole thing planned out where she got exactly like what nail polish colors she was going to do and the design that she was going to do and how we were going to do it. And so she sat and planned on that actually for a couple of days. And then we actually did it and it was just painting our toenails, you guys, but it made it special. Like we're going to have spa night. Like, what do you want to do? And she got like a little hot water and a little tub and soaked feet and made it kind of like a pedicure if you were to go to a salon type thing, but we did it at home. And that was just something easy that she could look forward to.
And even around the holidays, you know, planning a special, and even though we might regularly bake cookies, which we do all the time, I mean, it's a from-scratch kitchen around here, it's like almost a homemade bakery, but giving her the anticipation like, "Okay, we're going to have a baking day and we're going to bake gifts for the neighbors and it's going to be part of our Christmas presents. So let's like pick out and let them have a part in planning it, like which recipes should we do?" And letting them like have a part of that planning process. And then, "Okay, so, while we're baking the cookies, do we want to have a Christmas movie on, or do we want to have certain music, like let's plan that." And so it kind of gives them some actions to do, which keeps them busy, but also allows them to have something to look forward to and to kind of build that anticipation and make it special.
So as you know, you're baking the cookies, making a special cup of hot cocoa or Chai tea, or just something fun like that and doing it special like that. And then also planning out, "Okay, you know, who do they want to give these to? Who's going to be on our list that we want to bless with these and make these different little things for?" Just something small like that can really make a big difference. And especially I found when I'm doing things for others, like making gifts for others, even if it's something is as simple as baking something small, or just planning a fun, little surprise, or knowing that doing that is going to really give my daughter something to look forward to and that we get to do together.
And even planning out like going to drive around and look at the Christmas lights has been something like, "Okay, well, what could we make and put in our to go cups? Like, what do you want to have? Do we want to do a hot chocolate with maybe like doing a s'mores version of hot chocolate? Or do we want to do peppermint hot chocolate?" Or, you know, whatever it might be just kind of planning, "Do I get get extra whipped cream? Do we want to do eggnog hot chocolate?"
You don't just kind of like planning out the menu, so to speak of what we're going to take with us and that type of thing, and just kind of making it an evening and something special. So if you can plan out things like that, even if they're just something regular you would do, but try to make it special and build up the anticipation, I have found that that's really helpful for them as well as for myself.
Some other things that have been helpful is I put up our Christmas decorations very early this year, and I just wanted the sparkle and the twinkle of the lights. Here in the Pacific Northwest, we are usually quite dreary and gray. And this time of year, of course, it's getting dark super early. It's the shortest days of the year. And so having just those extra lights and sparkle throughout the house just helps to lift my mood. So I got to tell ya, I'm planning on leaving some of the indoor white Christmas lights up, even after the Christmas decorations come down well into January and into February.
So whatever brings me joy. I don't care if it's the right time of year for whatever it's supposed to be or not. If it brings me joy, I'm going to do it. And I'm going to leave up my decorations. Some of them, not all of them, because they bring me joy. So find the things that bring you joy and focus on those. Some other things is learning something new or doing something new, or maybe even picking up something that you used to do in the past that you didn't have time for.
Now I know a few are now a homeschooling parent, when you weren't one before, or dealing with kids at home cooking more from scratch. I know I am because my kids are now home, right. And they weren't before. And so there's more stuff to do at the house. So sometimes it can feel like, "Well, I don't really feel like I have any more time." This is going to depend on where you're at in life because I know some people are like, "Yeah, I have way more time on my hands than I want." And other people are like, "I feel like I just can't keep up with anything. There's no time or space for me because everybody's at home." But one is to find some space and I don't necessarily mean physical space, but that can be helpful too, to just focus on something for you to recharge and to reset.
So I have a once a week or sometimes it's every other week, walk time with a neighbor. And so she's a mom that has small kids at home and we're only able to do this like once a week or sometimes even once every other week. But we have set aside a time where we go for a walk together. So we're just outside and we go for a walk. And even if it's raining, cause here in the Pacific Northwest, that's quite common. We put our rain boots on and we grab our umbrellas and our gloves and away we go. So regardless of weather, we are going for our walk and just that simple, actually, it's usually like an hour and a half. We put some miles in, but when you're talking and visiting with someone, we both really look forward to it.
It's some of the only time, it sounds funny to say we're alone because we're walking together, but that we're, we're not with our immediate family. And I know for some of you, you don't have your immediate family with you. You're like, "I would give anything to have all my time spent with my immediate family." But it's our only time kind of a way. And so it's mom time. It's something that's just simple as just a couple of hours really a month, honestly, because sometimes we only could do it every other week. And so it's just a couple hours a month, but that makes a big difference. And it also gives us something to look forward to because we know at least every other Monday afternoon that we're going to go for a walk together and we're going to get to talk and to get to visit. And so again, it's like having those things to look forward to.
I know for other people it's been picking up perhaps a new hobby, so it might be learning how to crochet or learning how to knit or diving into sourdough bread. I've had a ton of, you would go through my free sourdough starter, free video series teaches you how to make a sourdough starter and then some of you getting discard recipes. And then I've had a lot of you who've taken my full homemade bread and baking course and bought the full sourdough course. And you've dove into learning all things sourdough. So there's lots of different things that people have taken up, but it gives you something to look forward to and to focus on. And I think that's the underlying theme of almost everything I said is, is what you're focusing on and looking forward to something.
And I also have found that this has made me especially appreciative of what I do have, and so I think that's what it really all boils down to. And so it can be easy when our emotions can take holder, maybe you see another headline or you get like another thing, like for here where I live in Washington state, we reverted back to for the most part to phase one, it's like when you first hear it, you just you're like, "No." But then it's like, "Okay, I have this to be thankful for. And I have this to be thankful for." And then it just changes and shifts things for the better. So I wanted to share with you my verse of the week because I think that this is, this verse is not only for our words, but it's also for our thoughts as well.
It's first Peter 3:10: "For whoever desires to love life and see good days, let him keep his tongue from evil and his lips from speaking deceit."
And so of course from our thoughts, our emotions and our words are formed, right? And so not only should we keep our tongue from evil and speaking deceit, but also our thoughts. And so if we're focused on good things and things to be appreciative of, and the things that we do have that are good, that is going to help us live a life of love and that we will be seeing good days. And of course, that's also true with our thoughts and our words both. But I think that that's really important. And that really is what the whole thing of this episode really boils down to. So I hope that you have found some tips in here and if, even if it was just hearing that you're not alone and it's okay if you're emotionally struggling with this, I think a lot of us have had that you're totally not alone, but there's definitely things that you can do to help get out of those times when you are feeling the funk and the emotional pressure of everything.
So thank you so much for listening. We won't have an episode release on Christmas day. So I will be back here with you though on January 1st. And I've got a really special, fabulous episode planned for you. You're not going to want to miss it if you're not subscribed to the show already, make sure that you hit subscribe so that it automatically downloads for you as soon as a new episode is released. So I will be back here with you with episode number 286, and it's going to be about getting your house organized and decluttered in a way that won't overwhelm you, but has long lasting effects. So I hope you have a beautiful and wonderful Merry Christmas. And I will see you back here on the new year.
Sign up to receive email updates
Enter your name and email address below and I'll send you periodic updates about the podcast.