This is one of my favorite recipes. I've tried the unstuffed version and the oven version, but this is best cooked on low in the slow cooker.
My picky seven-year-old will eat this with gusto and it's even better the second day.
Ingredients-Want more recipes like this? Over 40 in my new book, Pioneering Today.
10 cabbage leaves
1/2 cup uncooked wild rice
1 egg, beaten
1/4 cup milk
1/4 cup minced onion
1 clove minced garlic
1 tsp. salt
1/2 tsp. pepper (I'm not a huge pepper fan so if you are increase to a tsp.)
1 lb. lean ground beef
Sauce
1 15 ounce can tomato sauce
2 Tbs. brown sugar
2 Tbs. lemon juice
2 tsp. Worcestershire sauce
Boil a pot of water and add head of cabbage, cook for 2 minutes and drain. (You can freeze cabbage then thaw and skip the boiling part. We just need the leaves soft enough to roll)
Combine rice, egg, milk, onion, garlic, beef, salt, and seasonings in large bowl. Place 1/4 cup meat mixture in center of leaf and roll, tucking ends. Place seam side down in slow cooker.
Mix all sauce ingredients together and pour over rolls. Cook on low 8 hours in slow cooker. Now ooh and ahh with your family. It's the perfect mix of sweet and sour. The texture of the cabbage reminds me of pot stickers, another favorite.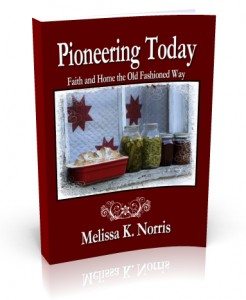 In Pioneering Today-Faith and Home the Old Fashioned Way, I explain practical and easy methods to cook from scratch, garden, preserve your own food, and see God's fingerprint in your everyday busy life. Read the first chapter for FREE and bring simple back to your home.
The sauce is especially good when sopped up with some homemade bread made in less than 5 minutes a day.
What's your favorite slow cooker dish?
This recipe is featured on Kelly The Kitchen Hop's Bog, This Chick Cooks Whole Foods Recipe Swap,  and Miz Helen's Country Cottage Recipe Swap, and The Prairie Homestead and Traditional Tuesdays.
Hearing the terms heirloom and GMO (genetically modified) lately? My FREE e-book, Heirloom Gardening Guide-Plant to Save Money, explains what these terms mean, how to protect your family, the benefits of heirloom plants, and how to get started. Click here to get your free copy.
Related posts: