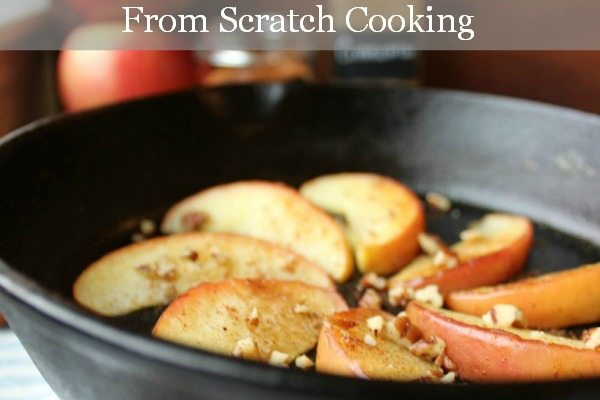 For all of our tutorials and how-to's, including canning instructions, visit our Kitchen Tutorial page. The GF is for gluten free recipes. All of my recipes are with real food, no processed boxed ingredients, and from scratch. Let's get cooking!
Breads
Banana Blueberry Muffins Two of my favorite fruits together in this super moist breakfast treat.
Blueberry Zucchini Muffins Sneaking some veggies into baked goods? Score for mom's wanting their family to eat healthier and not even knowing it. The answer to all those zucchini gone wild during the summer months.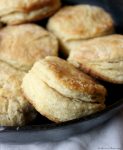 Flaky Buttermilk Biscuits this is the recipe that will make your forsake all others, it's the best flakiest biscuit you've ever had, from scratch and ready to eat in 20 minutes!
Honey Wheat Buttermilk Sandwich Bread No refined sugar or flour, but melt in your mouth goodness. Honestly, my husband thanked me for this making this bread. It's so good I almost hid the second loaf just for me.
Quick No-Rise Dinner Roll This tasty dinner roll only takes 20 minutes, including bake time, to have on the table. Nothing like a real food fast food that tastes good.
Double Chocolate Zucchini Bread Because everything tastes better with chocolate. This is a healthier version of our favorite zucchini bread, chucked full of chocolate, but filled with a veggie, so it counts as breakfast, too, right?
Flaky Pastry Pie Crust My great-grandmother was a renowned pie baker and her crust recipe is the reason why. I share her recipe with you so you can have the best ever pies, too.
Indian Fry Bread Two variations, one using cornmeal for a savory taco bread, the other flour for a melt-in-your-mouth honey dripping goodness.
No Knead Bread in Less than 5 Minutes a Day This bread revolutionized my kitchen and started us on our journey to a traditional, whole foods, unprocessed lifestyle. Did I mention it only costs $.30 a loaf and takes 5 minutes a day?
Raspberry Lemon Cream Cheese Muffins These beauties are the taste of summer on your tongue. Good enough for dessert or breakfast. We loved them so much we ate them as both.
Peach Buttermilk Muffins Yes, peach and buttermilk all rolled into one end of summer delight. Because buttermilk is the key to yummy breads.
Pumpkin Applesauce Muffins – these are a delicious pumpkin muffin using two fall favorites, topped with an optional Maple Glaze
Sour Cream Biscuits– straight from Great-Grandma's recipe box, these are an old-fashioned easy biscuit recipe.
Main Dishes
Bean and Ham Soup My four-year-old asked for seconds and my husband said, "This is the best soup I've ever had." Oh, and it only costs $.54 a serving. GF
Broscht Traditional Ukrainian vegetable soup, frugal and hearty soup made from root vegetables and herbs GF
Buttermilk Chicken Strips These old-fashioned chicken strips are easy to make, no preservatives, and taste amazing, because everything is just better with buttermilk.
Fresh Herb and Pasta Sauce Use fresh herbs and make this homemade from scratch pasta sauce.
Slow Cooker Cabbage Rolls Our favorite slow cooker meal (and most popular post of all time) cabbage, beef, and rice in a delicious red sauce, that cooks all day and is waiting when you walk in the door. GF
Chicken Alfredo Pizza White sauce on bread with chicken and melted cheese, does it get any better? Our favorite pizza.
Chicken Artichoke Heart Casserole Comfort food at its finest, with traditional wholesome ingredients.
Slow Cooker Cream of Ham and Broccoli Soup. One of our favorite soups, hearty, creamy and just right on cold days.
Kale and Salmon Cakes These are gluten and dairy free, but so good, I ate half of the pan before I could get them on the table. They were even delicious served reheated at lunch the next day. GF
Sweet and Sour Meatballs These from scratch meatballs and sauce are perfect as an appetizer or main dish.
Thin Crust Chicken Veggie Pizza This is a no-rise crust, so it's quick, easy, and without a sauce, it's loaded with flavor and lets the veggies take center stage.
Turkey and Dumplings Healthy comfort food. Veggies and turkey simmer while doughy dumplings bake on top.
Snacks
Homemade Crackers These crackers go great by themselves or with dips, plus, they cost a fraction of the store bought versions, without any of the GMO oils or icky chemicals.
Granola Bars A healthy, chunky, and crunchy granola bar. Perfect for breakfast on the go or a snack.
Kale Chips My son ate these three times before asking me, "Mom, are these a vegetable?" Yep, they're so good your kids won't know they're eating a veggie. GF
Homemade Peanut Butter in less than 5 Minutes- learn how to whip up this simple creamy peanut butter in less than 5 minutes, plus flavor options for more fun!
Vintage Recipes
Banana Honey Cake– passed down from great-grandmother, to grandmother, and granddaughter, this no processed sugar cake will quickly become a tradition in your home, too. Perfect way to put those almost overripe bananas to work.
Historical Bannock with potatoes- dating back through the centuries, this is a perfect recipe for cooking over the campfire or in the oven, with a sweet-potato variation.
Blueberry Dumplings this 1940's recipe is both old-fashioned, high on flavor, and can be made refined sugar and gluten free
Honey Date Squares– these honey date squares are from 1940 and bake up into a frugal and healthy treat in one pan.
Grandma's Old-fashioned Date Bread– this date bread recipe is from WWII when sugar rationing caused people to use other means to create food for their families, and in this instance, there's no sugar, but it's still a sweet treat.
Carrot Cookies– another 1940's frugal recipe for carrot cookies, no processed ingredients and a sweet treat good enough for dessert but healthy enough for breakfast on the go.
Dried Fruit and Nut Candy– This recipe makes healthy candy from from fruits and nuts with no cooking involved! Perfect for lunch boxes and on the go when your sweet tooth hits but you don't want to load up on sugar.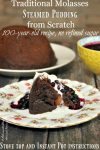 Molasses Steamed Pudding Aka Hard Times Pudding straight from the 1920's this is a steamed pudding (with updated optional instructions for the Instant Pot) made from frugal ingredients for a delicious dessert.
Italian Date Nut Bars This recipe has been handed down for generations in Ruthie's family and is a holiday favorite. It uses dates, nuts, and whips up for a delicious bar with powdered sugar sprinkled on top like snow.
Jam Roly Poly– This is a Christmas recipe that uses lovely jam all rolled up in a perfect steamed cake.
Peach Blueberry Crumble Breadcrumb Crumble -fabulous way to use up those last pieces of bread before they go bad with this delicious and easy peach blueberry crumble. Customize it with whatever fruit you have on hand! Another 1940 recipe for using what you have on hand.
Plum Buns – passed down for generations, these Plum Buns have a surprised sugared plum nestled inside a delicious from scratch bun.
Sour Cream Biscuits straight from Great-Grandma's recipe box, these are an old-fashioned easy biscuit recipe made without milk, instead featuring cultured sour cream.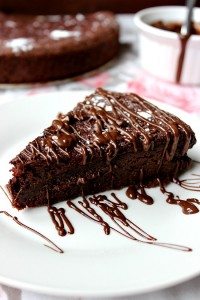 Sweet Treats
Best Ever Fudge Brownies- These are seriously the best fudgey brownies I've eaten. Make up this mix ahead of time in a jar or simply whip it all up whenever the serious chocolate cravings hit.
Chocolate Cake with a Surprise Star This chocolate cake is gluten and dairy free, but tastes like the richest chocolate cheese cake you've ever had. Know the surprise ingredient? It's beets. I know, sounds crazy, but it makes a super moist yummy cake! My hubby and I fought over the last piece…. we ended up sharing.
Chocolate Caramel Cinnamon Rolls These rolls ooze ooey-gooey yumminess and the caramel sauce creates itself while they bake. My son frequently asks for these and they're a tradition for Christmas morning, but we bake them all year long.
Chocolate Caramel Marshmallows with Sea Salt These amazing little babies are super easy, no bake, and are completely GMO free, dairy free, and gluten free. Doesn't your mouth just water by the name alone? I don't think there's anything better than chocolate and caramel together, except with marshmallows and sea salt!! GF
Chocolate Chip Oatmeal Dessert Bars These gluten and dairy free bars are drizzled with heavenly chocolate. But there's no processed or refined sugar, so you can have them guilt free! We eat them for breakfast, a snack, and dessert. Plus, they only cost $.40 a bar, compared to the store bought version at double that price. GF
French Apple Dump Cake No boxed cake mix allowed, but this quick and easy dessert tastes like you slaved all day in the kitchen. A cross between a pie and cobbler.
Fried Apples Tastes like apple pie but with no sugar and is ready in just 8 minutes. The perfect healthy snack or dessert. GF
Grandma's Chocolate Mayo Cupcakes with No Cook Caramel Frosting This is my great-grandmother's from scratch chocolate cake recipe. No dairy, incredibly moist, and its been passed down for over four generations…. enough said, it's that good. And there's a "surprise" ingredient I credit to its richness.
Ginger Cream Cookies These are an old-fashioned yummy cookie, perfect for the holidays or whenever you're craving something sweet.
Old-Fashioned Pumpkin Sugar Cookies Yes, a real goodness pumpkin cookie recipe made from real pumpkin and melt in your mouth good. Pumpkin pie, move over, there's a new dessert in town.
Soft Molasses Sugar Cookie Christmas in a bite. These are my favorite Christmas cookie of all time, bar none.
No Bake Pumpkin Cream Pie Yep, a no bake pie, a cross between cheese cake, mousse, and heaven. Perfect for fall, the holidays, and summer time when no one wants to fire up the oven.
Pumpkin Applesauce Cake with Buttermilk Glaze This cake uses two of fall's bounties and is so moist it practically melts on your tongue. A confessed chocolate addict, my husband puts this non-chocolate cake at the top of his list.
Strawberry Shortcake Never spend money on those little preservative laden sponge cakes at the store again.
Strawberry Rhubarb Dump Cake This is our favorite spring dessert, plus, I've included directions to eliminate the use of store bought cake mixes. Whenever I take this to a potluck, I'm always asked for the recipe and there's never any left to bring home.
Side Dishes
Roasted Garlic and Butternut Squash This savory dish vegetable dish highlights butternut squash without overpowering it, one veggie dish my kids gobble up without any prodding. GF
Morel and Asparagus Quiche Spring time is my favorite, as it means morel season and this beautiful dish featuring forest foraged goodies.
Re-fried Beans in 10 Minutes These beans are delicious, wholesome, healthy and to the table in 10 minutes. GF
Quina and Black Bean Salad Easy peasy but oh so delicious. Perfect on hot summer days but filling during the cold winter months when you're hankering for spring. GF
Miscellaneous
Basil Lambsquarters Pesto Use this as a dip, in any Italian dish, replace the red sauce on your pizza, and you get the health benefits of the powerhouse lambsquarter. GF
Blueberry Basil Thyme Vinegar Great as a salad dressing or add to your chicken marinades. GF
Canned Cream of Soup Replacement No need to ever buy canned cream soups filled with GMO's and unhealthy ingredients again. This substitute can be made in just 10 minutes.
Ginger Infused Honey Tastes good and is good for you. A powerhouse of natural medicine without tasting like it, and tasty enough to add to teas or top ice cream. GF
Non-Alcoholic Mint Extract Preserve your mint all year long in this easy non-alcoholic extract, perfect for hot cocoa. GF
Homemade Yogurt This tutorial doesn't require any special equipment and best part, it's a no straining method because I'm all about creamy goodness without the extra work.
Vanilla Extract Learn how to make extract at home, including vanilla and mint!
Preserving the Harvest
Saltwater Brine Fermented Pickles Learn how to preserve your vegetables for months in the fridge with this old-fashioned method of using a saltwater brine and fermentation.
Raw Apple Cider Vinegar Put your apple scraps to use in this raw apple cider vinegar tutorial.
Canning Recipes
Apple Butter This is the perfect recipe for a first time canner. GF
Apple Pie Filling Make homemade apple pie to preserve apples all year long. Then, when you're pressed for time you can whip out a homemade apple pie in minutes, complete with pressure canning and water bath canning instructions! GF
Apple Pie Jam This low sugar jam recipes packs all the taste of apple pie without the work, in a lovely spreadable jam, have your pie and eat it with a spoon in this jam.
Apricots Easy water bath tutorial on how to can fresh apricots.
Marinated Pickled Asparagus My favorite salty snack replacement. I'd rather have a jar of these than a bag of potato chips any day! GF
Low Sugar No Pectin Blueberry Jam My absolute new favorite jam. The subtle lime takes this jam to a whole new level. Perfect on biscuits, toast, waffles, and by the spoonful if you're so inclined. GF
Beans This recipe shows you how to can up shelled beans for refried beans, chili, soups, and more!
Blackberry Jam This is a no sugar added easy blackberry jam recipe, with free canning labels! GF
Bread and Butter Refrigerator Pickles These are my favorite pickles, and you don't even have to can them to enjoy your cucumbers for a few extra months.
Low Sugar No Pectin Cherry Jam This jam is not meant to be extremely thick and is a thinner jam, excellent on pancakes, waffles, toast, or ice cream. GF
Grape Vanilla Jelly Delicious on sandwiches and works great with meatballs, plus it's low sugar. GF
How to Can Pears + a Spiced Pear Recipe This recipe contains the old-fashioned method of peeling all your pears in 15 seconds without a knife! Plus some fun spiced pear options if you want a little bit more fun.
Peach Salsa Delicious with chips or on top of baked salmon. GF
Red Pepper Garlic Jelly This jelly is great on my homemade crackers with a smear of cream cheese. Or pair it with your favorite cheese or use it as a sauce with chicken or pork. GF
Rhubarb Put rhubarb up for delicious savory sauces or sweet desserts all year long. This tutorial shows you how to either water bath or pressure can it.
Low Sugar No Pectin Strawberry Jam This strawberry jam recipe allows the fruit to shine, instead of tons of sugar like many recipes. It's a favorite at our house. GF
Strawberry Rhubarb Jam I don't think there's anything better than strawberry and rhubarb together. I love the sweet of the strawberries with the tang of the rhubarb, a sweet tart of a jam. 🙂 GF
Sweet and Spicy Plum Sauce This sauce is just the right hint of sweet and heat. Put those plums to work! GF
Tomato Sauce This easy basic sauce can be used fresh, or has instructions for water bath and pressure canning, because a girl can never have too many canning recipes! GF
Fish Chowder Recipe- Great-Grandma's from 1931 & Keto friendly This fish chowder recipe comes from a 1931 cookbook that belonged to my husband's Great-grandmother and was gifted to me[…]Read More How to Heal Stomach Acid Naturally – My Story Part 1How to heal stomach acid naturally should be the first thing we look at, but if you're anything like me,[…]Read More Melt in Your Mouth Blueberry Cake Recipe using Maple SyrupThis easy blueberry cake recipe comes straight from Grandma's kitchen. Michelle made a small adaptation from the original version, because[…]Read More Homemade Maple Syrup Guide – How to Tap, Make Syrup & Baking TipsLearn how to make maple syrup in our homemade maple syrup guide. From learning how to tap your trees, boil[…]Read More How to Plan Your Best Garden & Harvest for a Years Worth of FoodLearn how to plan your crops for the garden customized to your homesteading needs, just in time for 2018. I'm[…]Read More How to Make Perogies- Traditional Ukrainian Perogi RecipeLearn how to make perogies (or pierogies) from Anna, with her traditional Ukrainian Perogi recipe. I can hardly remember a[…]Read More