Homeschooling, though once a very unconventional method of schooling, has seen a comeback in the past few years. Join me in today's podcast episode with Kody Hanner, from The Homestead Education.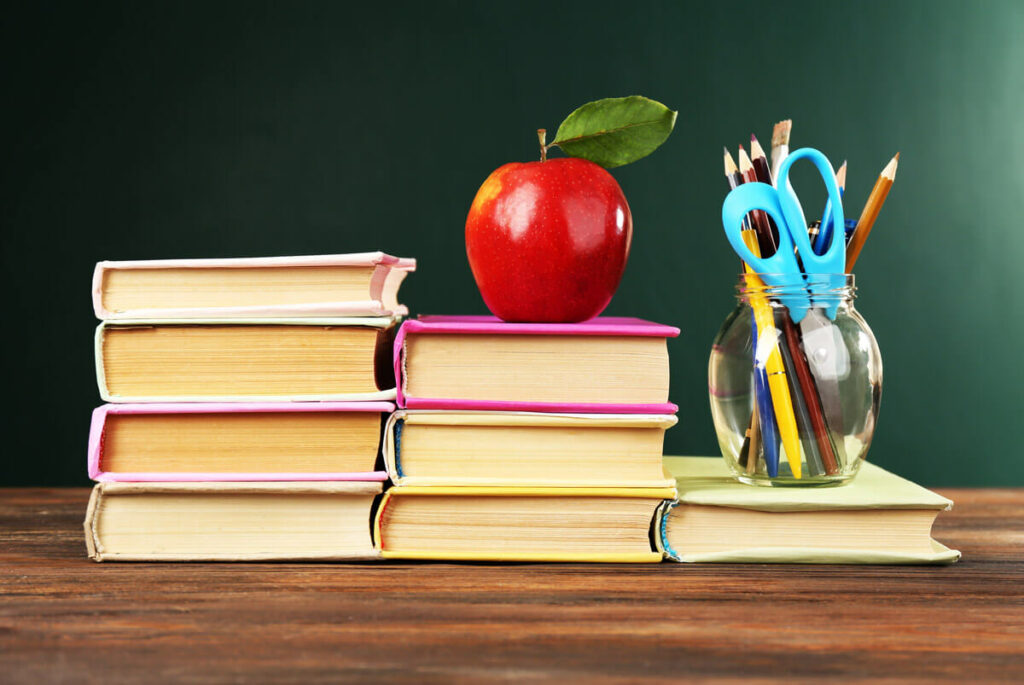 Welcome to the Pioneering Today Podcast (episode #387) as we're discussing the various methods of schooling our children, including how no two children should be schooled the same. We'll discuss the differences between public school and homeschooling, including the various options available to families.
We're also discussing Kody's curriculum that she's written for homeschooling and non-homeschooling families alike.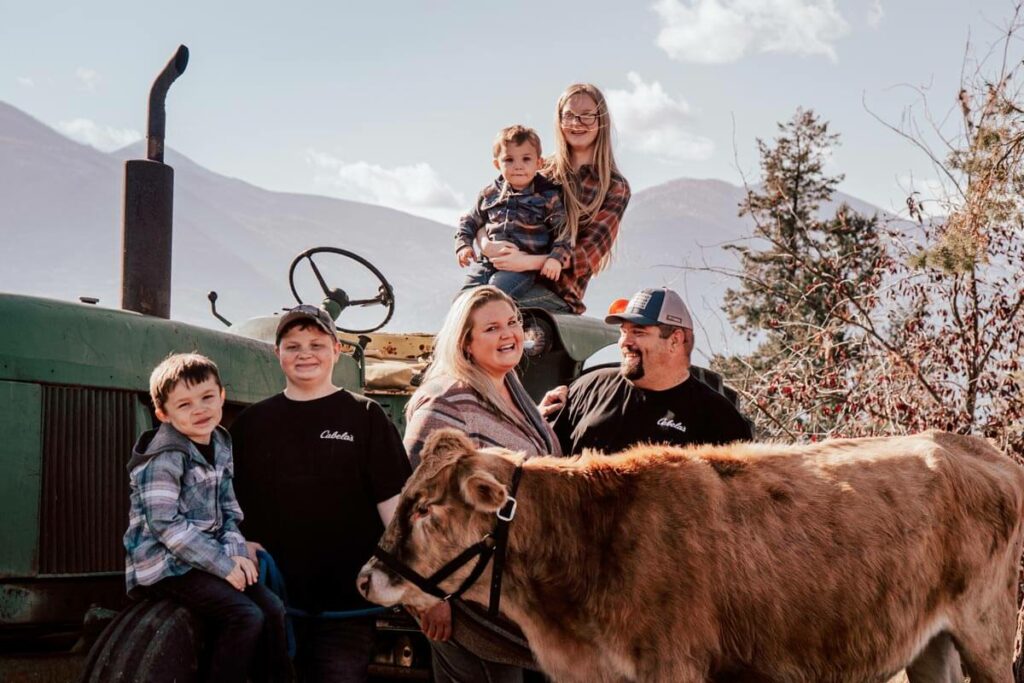 About Kody Hanner
Kody is a wife of a veteran, mother of 6, homesteader, and homeschooler that has devoted her life to agriculture and embracing rural living.
She created and authored the Homestead Education series of homeschool curricula that includes homestead science. She's the host of The Homestead Education Podcast, which is rapidly growing in popularity, where she chats candidly about homesteading, homeschooling, and personal growth. She enjoys teaching many topics as well as bringing in some of the greatest thinkers in her field to teach her audience as well.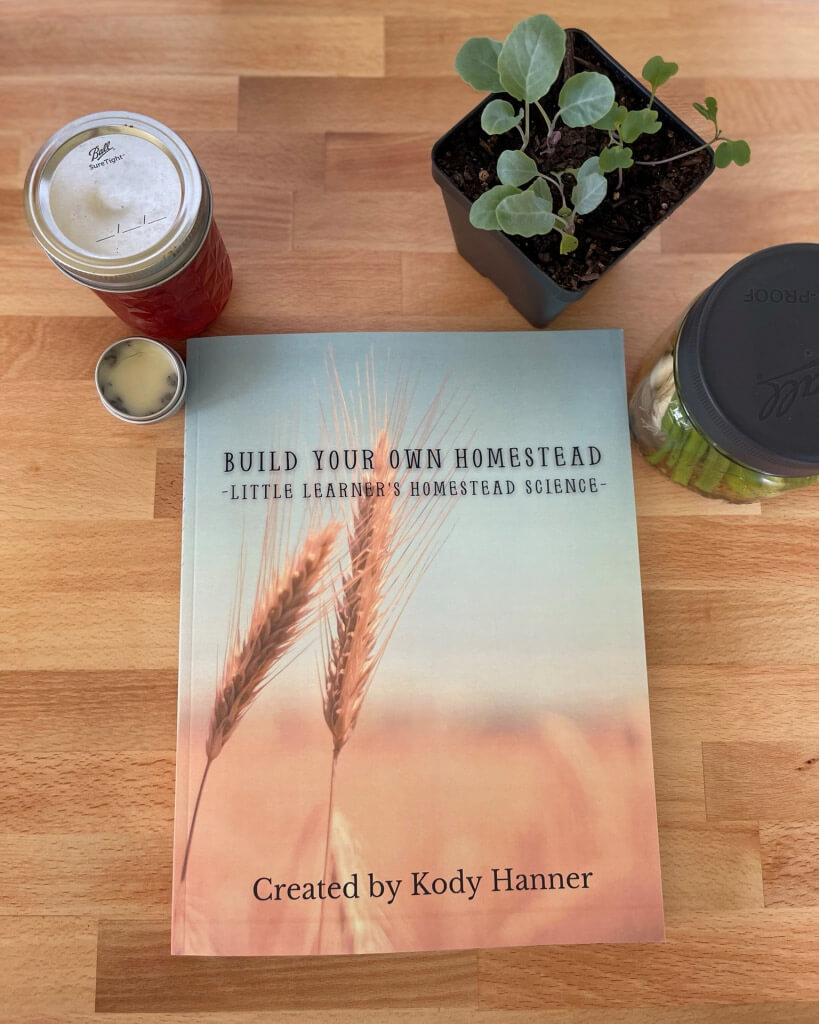 In This Episode:
In this episode, we bounce around from topic to topic, including:
The individual choices we're privileged to have when choosing public, private, or homeschool.
The need for more deep discussions (even when agreeing to disagree) and fewer arguments.
What Kody's "eclectic, traditional, unschooling" looks like (and how she schools her children in three hours per day!).
How homeschooling doesn't replicate a traditional school day (and how no two homeschooling families will look the same).
You don't have to be an educator, or even an expert on a topic to teach your children!
There are multiple online curriculum choices that will hold your hand and walk you through teaching your children.
How Kody chooses curriculum
Kahn Academy (free online homeschooling or public school supplementation option).
Private school and homeschool government funding options.
Kody's Homestead Education curriculum and her non-biased approach to learning.
Verse of the Week: Romans 5 verses 2, 5 and 8.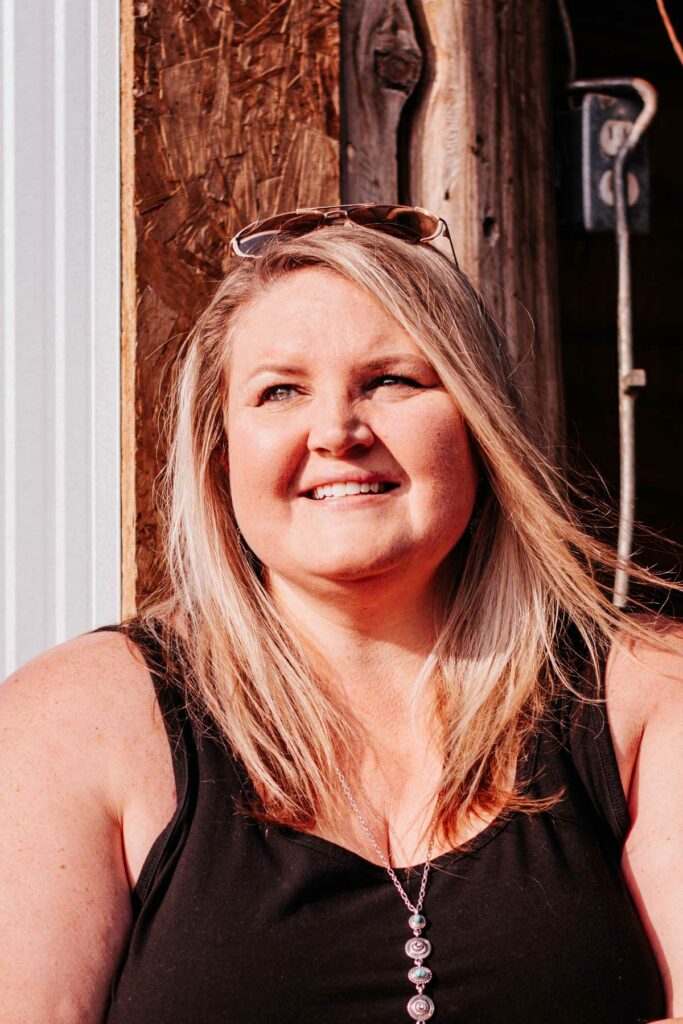 Where to Find Kody
We're pleased to announce that Kody will be teaching at the 2023 Modern Homesteading Conference and will have a booth where you can meet her and peruse her curriculum.
Until then, check out these other places where you can find Kody: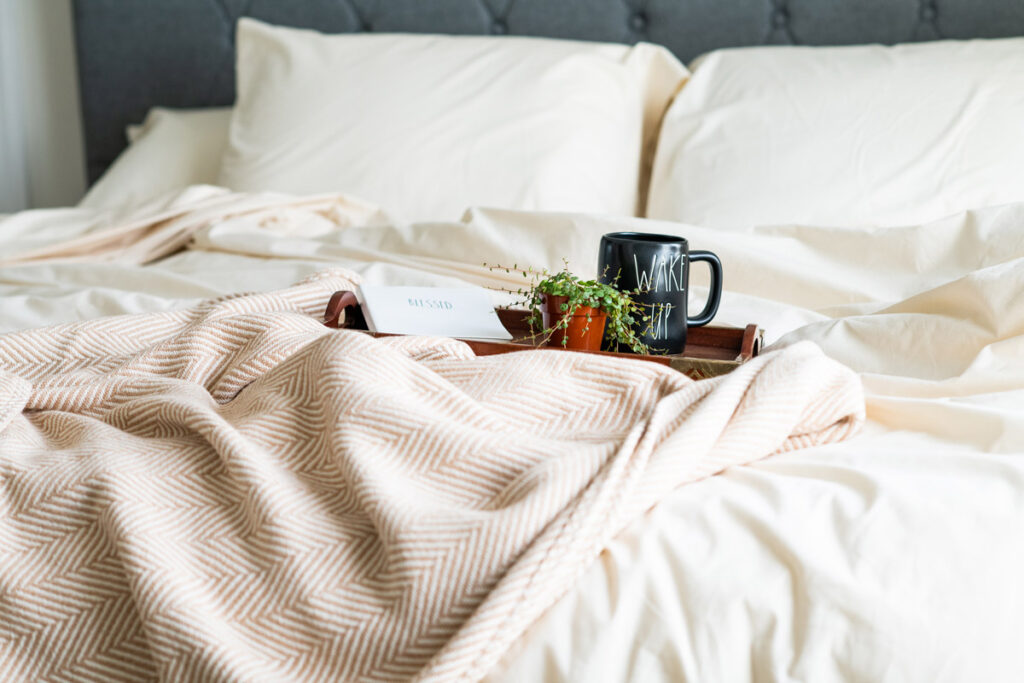 American Blossom Linens
American Blossom Linens is an American-made company that sells organically grown cotton towels, sheets, blankets, pillows and more. Their products are heirloom quality and made from cotton grown in the USA.
I don't know about you, but it seems it's getting harder to find products that are made in the United States, as well as cotton that's 100% pure that holds up well to extended use.
One thing I love about my American Blossom sheets is that they seem to get softer with each and every wash. They keep me warm in the winter and cool in the summer (I don't know how they do it!), but I just fall more in love with them with every night's sleep.
American Blossom Linens is a sponsor of today's podcast and blog post. They're offering a 20% discount on your entire order when you use coupon code "PioneeringToday20".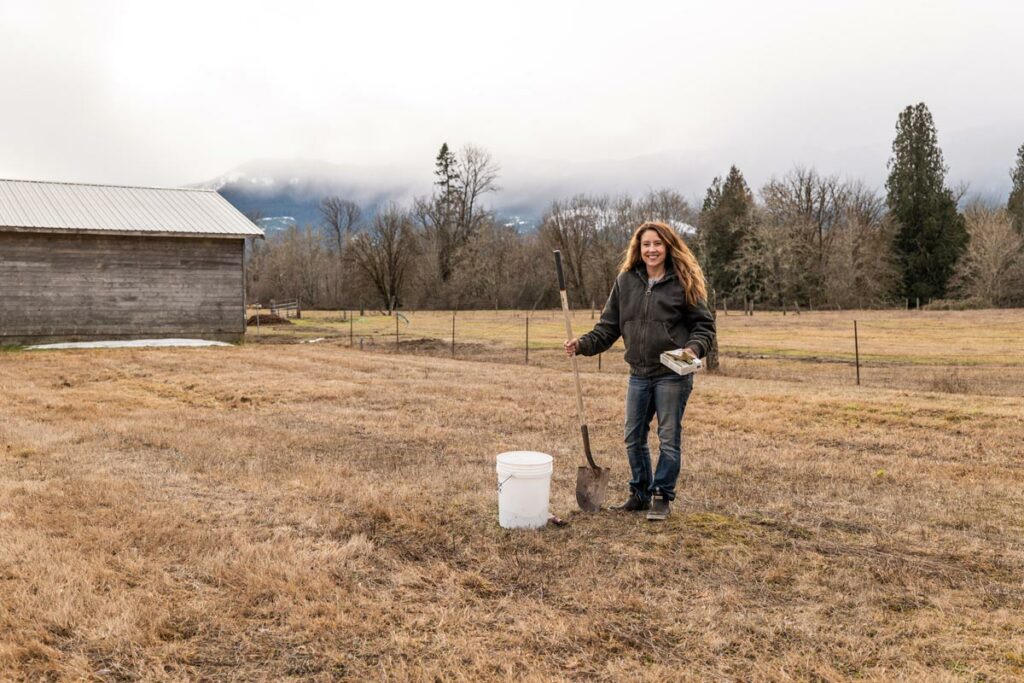 More Posts You May Enjoy
Melissa: Hey pioneers. Welcome to episode number 387. Today's topic we are going to be talking about the freedom to learn, finding common ground between homeschooling and public schooling for homestead families. And as you'll see once we dive into this episode and interview with my guest, we end up talking about this. And it really wasn't part of our beforehand notes or in the outline things that we were going to cover in this episode in regarding homeschooling and homesteading. But I think it's a really important part of the conversation. And so I'm really glad that we decided to talk about it and just kind of open it up like no holds barred and went after it. And that is the subject on if you are homesteading and have children in public school or in homeschool and the condemnation or judgment both ways because it really truly does go both ways that you can get with that.
And just really, I really enjoyed this conversation. We do talk about homeschooling quite a bit and what that looks like in different people's paths and different homestead homeschooling curriculum, et cetera. But it really is talking about finding that common ground within homeschooling, but also within homesteading and how that looks different and how it should look different and how we approach that based upon the season that we are in both literally within the seasons, but also within your family and for each child and where you happen to be right now. So, I think you're really going to enjoy this conversation. I know I did, and I think it's one that we really need to have probably a lot more. And I think you're going to love those lot of little different nuggets that we have in today's episode. For those of you who are watching this on YouTube, we are now publishing the podcast as a YouTube video, especially when it's these episodes where I have a guest on.
So, you'll see the recording of our interview, get to see those guest's face, facial expressions. And if you can't tell by watching this, my hand mannerisms, because we jokingly say that if my hands were tied, I probably couldn't talk. I tend to be very expressive and speak and emote a lot with my hands when I am talking, so you'll get to see that as well if you are watching this on the YouTube channel or if you're listening to the podcast, we have a ton of back episodes as you know. This is episode 387, which you can go to the blog posts that accompanies every single episode where we have links to different things. And if you are not watching this on YouTube where you are just listening to it, you can just go to melissaknorris.com/387. That's just numerical number 387 because this is episode 387.
Well, I am very excited to introduce you to today's guest who is Kody Hanner. Kody has a very interesting background and story on how she and her family came to homesteading with homeschooling and how those two have intersected as well as the resources that she saw was greatly needed and is providing for people who do want to homeschool. So, really looking forward to this interview. As I said, we kind of got into some topics that we weren't sure we were going to, but we just decided to go there. Today's episode is sponsored and brought to you by American Blossom Linens. American Blossom Linens makes organic cotton sheets and towels as well as some blankets, and it is 100% made in the USA from the cotton that is grown to the manufactured. Everything is done in the United States and they are excellent quality. I first got my sheets from them last summer and have, you know how you normally will take your sheets off the bed, wash them, you put the fresh set on that's in the closet?
Well, I've loved them so much and I only have one set that I tend to wash and dry them and then put them directly back on the bed, which means my bed is unmade for a couple of hours while they are being washed and dried, but they are just so luxuriously comfortable and soft that I don't want to put my other sheets back on the bed. I'll just wait for these to wash and dry and then put them back on. Highly recommend that you go and check them out. As I said, they do have their sheets, duvets and blankets, and also towels. So, check out American Blossom Linens and you can use pioneeringtoday20 coupon code to get 20% off your order that is pioneeringtoday20. Okay. Now into my interview with Kody. Well, Kody, welcome to the Pioneering Today Podcast.
Kody: Oh, thank you for having me.
Melissa: Yeah, so I'm excited to talk about this topic because I'm just going to be honest and put it out there. I feel like within the homesteading community that there can be a little bit of judgment on if you homeschool or don't homeschool your kids. And I know we didn't have this as our questions, what we were talking about we were going to talk about today, but it's been something that's kind of been a little bit heavy on my heart. And I was actually is that before we started jumping on here to record, I was kind of going through with what things we were going to talk about. And I don't homeschool, and it's been really interesting because I've talked to a couple of other moms in the homestead community and there's a lot that do homeschool, but for those of us who don't homeschool our kids, we have felt some just flat like judgment from the homesteading community, which I find very sad.
And I have to say, I was a little bit surprised because I view the homesteading community as non judgy in a lot of aspects. And of course, not everybody, like you can't just paint anything with a broad brush. There's always nuances and exceptions. But I just thought, well, let's like, let's open the discussion with that because I am a mom who doesn't homeschool at the moment. My kids are teenagers now. My son is a senior in high school and my daughter is going to be a freshman next year. She's in eighth grade and they're in our public school.
Kody: Oh, that's how old my kids are.
Melissa: Oh, great. So, you're right along there with me. Yeah. And I've had in-depth conversations with them on if they did want to homeschool, and that was always an open door for them. And of course during COVID they were homeschooled because in Washington State, every child was homeschooled basically during COVID.
Kody: Forced family time.
Melissa: Yeah. But what was really interesting during that time is, and I know that there's always things that we can try and do and all of that, but I noticed personally, and I'm trying to figure out a way to word this because I try to protect my kids with how much I share about them publicly on my platform, but I really did notice with both of them, one more so than the other though, that there was some depression issues going on. And I think part of that was the pandemic as a whole, but especially them, they were experiencing an entirely new thing from what their norm was. And so I guess where I'm going with that is as we talk about homeschooling ways, really for that social interaction, and I am not, it's on the flip side, you can be judged if your kids aren't homeschooled. And then you hear the other flip like, oh, well, if you homeschool your kids, then they're not socially, they don't have social whatnot.
And both of those are not true. But I know for my kids, we live very, really, we don't have a lot of children in our neighborhood or close locale in their age. They're just, there aren't other kids for them to interact with just within our neighborhood, unlike what I was growing up, there was a whole bunch of kids in our neighborhood who were my age. So, just talking about that and then we'll get into a little bit more nuanced is to your homeschool curriculum and how that coincides and interacts with homesteading, because I think that that's really awesome and I'm excited to talk about that. But okay, so I've laid the groundwork. Let's talk.
Kody: Well, I mean, I definitely have to say my curriculum, there's a passion behind that that isn't just about my products, but I do understand where you're coming from with that homeschool versus public school conversation because my husband and I, I mean, our kids went to public school originally. Now, we didn't switch at COVID like a lot of people, we've been homeschooling for about seven or eight years now. But we were like, why would we want our children home with us all day long? We have jobs and we have lives, and even after, so my husband's a disabled vet, and when we moved, we were living in Northern California at the time that I worked in commercial ag, so that was a hotbed for where I needed to be. And when we decided to move out of northern California, he was like, you don't have to work anymore.
You can be home. We can afford for you to be home with my being disabled. And so I came home and I mean, him and I loved it. We had so much fun. We were hunting every day and kids out the door and we headed to the mountains. So, I totally and my kids, they at first did well in school and we didn't think that there were any other options. Homeschooling just wasn't as mainstream even just seven or eight years ago as it is now. When we decided to pull our kids, it had nothing to do with, oh, kind of where we're at in this modern homestead movement, which is just that whole pull away from all systems versus just our food systems. And we did it because we have neurodivergent kids, and it was exhausting having them in school. We were there every day. I couldn't go to the next store and go grocery shopping without getting a call that one of my kids needed me and I needed to be there immediately.
There was no going ahead and finishing checking out. I'd leave my cart and walk out the door. And so that was the right move for us. And there was times when we first started homeschooling that I kind of envied the moms that were still dropping their kids off. And I mean, it was hard. It was challenging, and I had no clue what I was doing. And being a public school where I had gone to public school all the way up, I graduated from college at a state university and put my kids right into public school. I didn't know anything about homeschooling and I was trying to do, you hear a lot about that school at home where everybody says, don't do school at home. Well, I was trying to do school at home like this. I know we're not just going to play all day.
And then life changed for us, and we realized that that's where we wanted our kids to be and that we couldn't imagine sending them back between, at the time it was a lot of school shootings happening. Then we moved into the COVID movement where everybody was home anyways and kids were missing out on so much of the anxieties that they were having. Like you said, your kids were having depression. Actually, one of the reasons I wrote my curriculum was because of the anxiety I saw kids having a feeling like they were out of control of what was going on around them, and I felt like this would give them some autonomy in their lives. But we have an open conversation all the time with our kids about are you still comfortable being home? And when we remind them that they'd still have to milk the cow before they caught the bus at six in the morning, because we live so far away from town, they are perfectly fine being homeschooled.
Melissa: I love that. Yes, the farm chores are still there, regardless. Actually, I have a couple questions for you, because for somebody who has not homeschooled, aside from that COVID period, which was still the way we were doing it, they were still doing online school and I was helping some, but it wasn't like full on school homeschooling where I was controlling the entire curriculum, that type of thing. So, for somebody who is not very familiar with homeschooling or maybe some of the different vocabulary and that type of thing, when you say avoiding doing school at home, you're meaning avoid trying to replicate a school day like you would see in the public school, but just doing that at home. So, could you dive just a little bit further into that, what you mean by not following that model and how a lot of folks when they do try to do that, where you're just replicating what we know kind of is more I get [inaudible 00:13:03].
Kody: Traditional, yeah.
Melissa: "Public School", but just in a home environment, how what you're saying differs from that and how that transition, how you moved away from that?
Kody: Yeah. Well, you definitely have to reprogram your brain a little bit because when you do try to replicate school at home for one, you believe that the kids need an hour of math plus what an hour of homework. So, you're trying to give them two hours of math a day, two hours of English a day, two hours of history a day, still try to get in some science and some extracurricular activities. And then because you're homeschooling them, you think that you have to have them in all the activities so that they aren't socially awkward. And so you're running them to youth group and four H and baseball and every other program that could possibly be offered to them. And next thing you know, you're just as exhausted as you were running them at public school. And that's most of the time the reason people pull their kids out of school and start homeschooling.
There's two reasons. One is for their academics, whether that's to expand their academics or to meet the needs of your child. And then the other one is to keep them away from the issues that happen in public schools, especially today. And some of that is just the stress of the extreme timelines and the social pressures and those types of things. And if you're doing that at home, what's the point of even having them there? So, I kind of joke that we are eclectic, traditional unschoolers, which is pretty much as big of an oxymoron as there can be, but it's what worked for our family. And that's so great about homeschooling is that you can do what works best for your family and you start seeing your kids thrive. So, when I say we're eclectic, that means I don't buy a box set of every piece of my curriculum from the same company and following all together.
It means I choose a different curriculum for every subject for each of my kids that makes sense for them and where they're at in their learning. So, sometimes that's everybody doing the same thing, and sometimes that's everybody doing very different things, but it's what works for them. When I say we do traditional school, that's three days a week, my kids and I sit down and we focus on our math skills, our English skills, make sure that they're getting their history and government type stuff in, and their advanced sciences, especially for my teens. And then the rest of our week, and we also don't school, so we only have to do school about three hours a day.
And that sounds really scary to families that are pulling out a public school, but when you really look at how much learning is actually happening in the classroom and the rest of it is getting kids to behave and that type of stuff, they only need about 15 minutes per subject, 15 minutes to a half hour per subject. And they usually move through it really fast. And so we feed at seven, we start school at nine, and by lunch the kids are done. And we get the rest of our day, the rest of our week, and we only school a couple of seasons of the year because with planting and harvesting and hunting season, that's really busy for us. So, we actually do most of our schooling in the dead of winter, in the heat of summer and spring and fall we're working on the farm.
Melissa: Yeah, I love that it is tailored to one, your seasons, because I know we've got listeners and watchers from all over the US and there's lots of different climates that are there, but really, and even all over the world. And so I think one of the things that I love about homesteading, and as that applies to different things like this, homeschooling is not necessarily homesteading, but it's still intertwined, is getting rid of the black and white. This is the way that you home sit and you have to do this way, X, Y, Z, when it's really looking at what works for each individual family and then each individual person within that family.
And so like you're saying sometimes this works for all of the kids, and then sometimes kids need this. And then I look at, of course, my own family, because that's my experience with my kids and they are in public school, but there's also a lot that they are still being taught at home that I know not every child who is in public school has that. And so I kind of look at it as my kids are in public school, but they are getting a ton of learning at home at the same time.
Kody: Oh, no doubt that your kids are.
Melissa: Yeah, and I guess, so where I'm going with this is for whoever's listening to this and or watching it to know that you take everything and then you look at your house and what you guys are going through and with your kids and you figure out what's best for them and what's best for each child instead of putting, well, if you're doing X, Y, Z, then you're a bad parent. Or if your kids are doing X, Y, Z, then that's going to make them ... getting rid of that because there's, everybody learns different. I mean, even within the same household, I look at both my kids and if I try to teach my daughter the way I try to teach my son, one of them is going to get along with that beautifully, and the other one is going to really struggle with that. So, I like the way that you're really pointing that out, that it has to be tailored to each family, to each child, and to the seasons of life. And of course the seasons in our climate.
Kody: Well, and I think the beauty of having these choices is that you do have a choice and that what's best for your kids and your family, and you know that what you're reinforcing in your own home. Homeschool is not an option for everybody, whether that's financially or for mental health or for the education of the kids. And that's important to respect as well.
Melissa: Yeah. So, let's talk about that a little bit. One, financial with homeschooling and what that looks like. And also because I have to be honest, even now, my kids will come to me with certain math problems. Math is not my strong suit, I will raise my hand. I am really good in a lot of other subjects. Math is one, algebra makes sense to me. Geometry, no. I really struggle with geometry. When you get to proofs in geometry, I could get the first reason. And then when it came to the rest of the list, I'm like, I have no idea how to do this. I never could grasp it. So, my kids will-
Kody: I'm kind of a math nerd.
Melissa: You are. Okay, so this is great. My husband is extremely great at math, but I have to say, honestly, when I look at some of the problems, if the kids come to me now with some of math help, I'm like, oh, if I was their only teacher on this, this would be really scary because I honestly don't know how to do this. I don't know how to do some of what they're doing now. Some of it's just been so long. Yes, I could Google it or search it and I could get myself brushed up on it, and I have done that in order to help them. But I also have that like, oh my, there's certain things that I'm like, I don't know how to, I can't teach them that because I don't even know how to do it. So, how do you get past that within when deciding to homeschool if you just decide that's something for you?
Kody: Well, the beauty of it is there are so many amazing curriculums out there that completely walk you through teaching your kids these subjects. Every subject. I mean, I mentioned before the call that I just came back from a conference, it was the great homeschool convention in Ohio. I can't even begin to explain the size of that vendor hall with every homeschool curriculum possible. And that was just a sampling of what's available. So, I mean, you can teach your kids pretty much anything you want to teach them, whether that be out of a book or an online course or a video series on any subject you could possibly want. There are a ton of resources out there.
But of course then that, you had brought up the financial aspect at the beginning, you can spend a lot of money on curriculum. I have spent a lot of money on curriculum, and then I've had my years where we didn't have the funds for buying every fancy curriculum that I wanted. There are a ton of free and really low cost options out there. One of them that I know specifically when we discussed math is Khan Academy. I think it's K-H-A-N. It started out as a YouTube channel, and now they have a full homeschool curriculum. It aligns very much with public school, like that secular concept. Secular is for the non homeschooling families, there's, there's three different types of homeschool that follow what their religious, and there's religious homeschool curriculum, which it's Christian based or Catholic based or whatever religion. I mean, I've even heard of Muslim based ones. There's neutral, which just means it just doesn't bring it up either way. And then there's secular that is very clear that it covers the science ones have evolution in those types of things in them.
Melissa: Gotcha. Okay.
Kody: So, Khan Academy kind of falls into that category. And I only bring this up as a free option because there's also Easy Peasy Homeschool, which is a complete online free curriculum for kindergarten all the way through high school. That can either be free or there's some downloads that you can pay for off of Amazon and stuff like that, that are very low cost, like $6. And you can teach almost all the main core subjects, even language and Bible and stuff for, like I said, K through 12, and it's all put together already.
Melissa: Okay, that's nice. So, obviously when your children are in public school, each school gets so much per child that's enrolled, but when you pull your kids out of public school and homeschool them, you don't get any of those funds directed to you that the public school would get.
Kody: Not necessarily. There are some states that have new laws now called Freedom of Schooling. I know Arizona is one of them. I think California is, Idaho has a program similar, like I said, I don't know all of them, but basically you can say that I want to send my kid to public, private, or homeschool. And if you're sending them to private or homeschool, there's a certain allotment of money that either goes towards your private school or towards curriculum.
Melissa: But it's just state specific. It's not all states yet. So, you have to look for in each individual.
Kody: There's also charter schools that are charter home schools. So, your kids actually enrolled in a public school and then you're home homeschooling them and just checking in with an accredited teacher, and that school will provide you with funds to buy your curriculum.
Melissa: So, there's actually a lot of hybrid, basically.
Kody: Oh, yeah.
Melissa: There's a lot of different options within there. It's not necessarily just public, private or homeschool. There's some different [inaudible 00:24:13]-
Kody: I do have to say, depending on who you're talking to, and especially how you were saying you were feeling some of that pushback from the homestead world, a lot of us homesteaders are trying to separate ourselves from the government a little bit. And when you take those monies, that is the same control that they have over your kids in a public setting as well. So, that's just something to consider. I'm not condoning one way or another. I'm just putting that out there for the universe.
Melissa: Yeah. Well, no, honestly, this is not really the conversation necessarily for this, but it kind of is, and I find it really sad that as a society that we've lost the ability to just talk about things without letting emotions come in and getting all fired up. We should be able to talk about all options and all things, even if you don't agree with it.
Kody: Very true, yeah.
Melissa: Especially if you do agree or disagree, you still should be able to have conversations with folks who think differently or just looking at all of the options and looking at them objectively and being like, well, this is where I stand and what I believe in. But you should still be able to have conversations with people without the condemnation, I think is more where I'm at.
Kody: I absolutely agree. I actually had a gentleman on my podcast recently and I said, how deep can we go? He goes, I don't know. Do you want your podcast canceled?
Melissa: Yeah, yeah.
Kody: I was like, well, maybe not that far, but let's go on the fringes because I really want to hear what you have to say.
Melissa: Yeah, I know, it's very interesting because I find that, and we're talking about homeschooling, which is not necessarily politics, though there are some politics that come into just like with anything, even with homesteading and whatnot, certain laws that are passed or ordinances or whatnot that do affect us as homeschoolers and or homesteaders, even if you're not getting into politics on I'm this side, that side, one or the other. But it's so rare to actually be able to find someone that fully believes the opposite of you. But you can sit and have this conversation and go back and forth.
And I find some of those to be the most fascinating conversations that really let me see the other person for a person and not just, oh, they're different. They're the opposite of me. They don't agree with me. Yeah. I find those to be some of the most enriching conversations and relationships actually, that I feel really sharpen me. And I know biblically, iron sharpens iron, but when I can actually sit and talk objectively with people who have different views or think differently, I don't know. I think that there's something kind of beautiful in that, and I think it's a bit sad that we've lost that ability.
Kody: I agree 100% on that. And I think in our field, we spend a lot of time with like-minded people and it's nice to be able to talk openly and freely with those like-minded people. And then you get put into situations where even I'm sitting here on your podcast, I know that you have tons of listener. I mean, tons is not even the right word. You have so many listeners. It's ridiculous. I wouldn't want to sit here and say every feeling that I have and risk that for yourself and myself. And that's a hard one because I actually, I mean, just on a personal note, I definitely have my own values, and I'm not shy about that on my social media, even my business social media, because I do feel like I'm speaking to a certain demographic.
But kind of cart before the horse. But when I'm working on my curriculum, my curriculum, it was to reach our generation of kids that so far removed from the family farm that they don't have those skills and values anymore. And I didn't want to try to reach them in a biased way because that would shut off that learning. And I wanted to explode learning. And I actually had somebody comment on my page recently that her words exactly were is she is a leftist, indigenous woman, and knew that by looking at my social media that we did not align. But she loved the idea of my curriculum and kept talking herself out of it. And she said that she finally bought it and wanted to thank me for writing such a non-biased educational material. I mean, I was just like, that's wonderful, because that was so my goal, but at the same time, in my personal life, I'm not shy about how I feel.
Melissa: Yeah. And I think you can definitely take a stand. It doesn't mean, and obviously I'm a Christian, you'll hear me use a lot of biblical things. You don't have to be lukewarm, you can be hot and cold. But you can do that in a way that is with love and that is with in inclusivity, you don't have to exclude a ton of people in order to still stand firm in whatever it is that you believe in, if it's faith or other things like that. I don't believe that fast food is the way of health, but at the same time, if my kids occasionally have fast food, or even when I'm traveling, if I eat fast food or if I see somebody eating fast food, I'm not going to go over there and snatch away from him over the top of the head with a bag of McDonald's. I mean, you're never going to reach anybody that way. So, I think that exactly like you're saying.
Kody: I was really excited to get my Chick-fil-A when I was on my road trip.
Melissa: Okay, I forgot, to be honest about this. We did not have Chick-fil-A up here where I live until I think two years ago, one went an hour away from me. So, when I was traveling five years ago, I was traveling with some friends and I'd heard people say like, oh, you got to try Chick-fil-A. And so I don't know if it's because we've just raised our own food for so long, and I know what really good food is, but it wasn't bad. I mean, it was definitely better than McDonald's or something like that, but I was like, I don't know what all the fuss is about.
Kody: I feel the same way. I felt the same way about In-N-Out Burger too. I mean, I grew up in California and everybody was In-N-Out Burger's the thing, and I didn't try it for the first time till my late teens. And I was like, I don't know, it's just a burger.
Melissa: Yeah. Isn't that funny? I think, and I've tried to explain this to my kids, I'm like, you are going to either have to marry somebody that has a lot of money, or you're going to have to continue homesteading, because you are super spoiled on the quality of your food. If you want the steak that we have from our cattle, and you go out and try to buy that in a restaurant, or even from the grocery store, good luck, my friend. You're going to be [inaudible 00:30:46]-
Kody: That's what I tell my daughter all the time, because she would eat tri-tip every night if she had it her way. And I was like, you know there's only two per cow. So, you know.
Melissa: Better get to raise it a lot. Now I feel like I took us down this whole squirrel tangent, but kind of-
Kody: It's okay. It's talking about kids in our lives and it works.
Melissa: Yeah. And I think that's kind of really the beauty about homesteading and homeschooling is too often we try to separate it out into boxes. We try to put this in here, but our life isn't like that. Everything is intertwined and runs together.
Kody: It's seasons of life. I was trying to finish my last book, and there was a fire in our county last summer, and my husband and teenage sons were all gone on the fire. And I was home with my, at the time, 13 year old twins and my two babies while trying to finish a book with my husband gone for 18 hours a day, seasons of life. We ate a lot of frozen burritos, and I was okay with that.
Melissa: Seasons of life is definitely a very big thing. Actually, it's really interesting. This past year we bought a 40 acre farm down the road from us and are bringing it back as a true farm. There's a lot of regenerative and a lot of infrastructure that has to be redone that we're still working on. That'll be years for a lot of that. And then we renovated the farmhouse to create a farm stay to pay for the mortgage, because it was really the only way that we could afford to buy this other place is if we figured out a way to make it pay for itself to pay the mortgage. And so we were in a season of just extreme busyness, and so we really got in the habit. We don't really have a lot of fast food where we live. We have family operated restaurants. We could go and get takeout, closest McDonald's is at least 45 minutes from us.
Kody: I think you've been to the town I live in. There's nothing to eat here except for-
Melissa: So, we have a couple of local family owned restaurants, which they're fabulous. A lot of them, there's a couple of them, they make their own pizza dough, they make their own pizza sauces, their own homemade soups. It's really great. But still, we had really kind of fallen into that trap of grabbing stuff, even if it was local from different restaurants or that type of thing. We really had gotten out of our habit and just were doing it a lot more often. And so in January after Christmas, our husband and I are like, okay, we just need to get back to going out to the freezer, shopping from the freezer, knowing what we're going to have this week, so, stuff's thawed in and ready to go so that we're not falling into this trap.
And like you said, it was a season, but what was interesting is I hadn't realized, because we were in that season and it kind of just happened, felt like slowly, what a difference it made once we went back to just eating all of our own food and cooking it and all of that. Feeling wise, I was like, oh, my gut health I noticed improved.
Kody: It gets to where I don't even want food.
Melissa: Isn't that weird?
Kody: It's like, it's lunchtime and everyone's like, what do you want to eat? And I'm like, nothing. Just none of it sounds good. Even at that point, I don't even want the good foods, because I'm just, ugh.
Melissa: Yeah. Yeah. Which turned into good teaching moments for the kids bringing this back to homeschooling because they were even noticing that they had, my daughter was like, my stomach just doesn't feel well. And I'm like, okay, well what have you ate in the past 12 hours? Or what have you had it kind of going through that cause the cause and sensation, if you have this, think what? Learn to tie these things together. So, it was actually a great lesson for the whole family. And now when they don't feel well, they've kind of started naturally. I'll just kind of look at them and be like, well, and they're like, yeah, I didn't eat anything but junk, mom. I'm like, great, at least you're aware of that.
Kody: My kids are like, whenever they're like, I don't feel good. And before they even finish their sentence, they're like, I'll drink water.
Melissa: They know that-
Kody: That's going to be my first one.
Melissa: Yes. It's so funny. My son is like, "Mom, I drink water all day." I'm like, "Well then you need to add some electrolyte powder."
Kody: Yeah.
Melissa: Go get your Re-Lyte. The Redmond's real salt Re-Lyte and add it to your water. You need more than just water then. Yeah.
Kody: Yeah. I tried that. My kids don't like the flavor of it, but my husband does.
Melissa: Yeah, the reformulate. I like the flavor, but I tend to like more sweet, sour, and salty is my go-to. I have been known to just take a swig of pickle juice out of the-
Kody: Right. I do that.
Melissa: But I know that my tastes are not probably indicative of most. And so the kids are like, I know if they're really not feeling well, because then they'll drink it. But I told them, I'm like, well, you can add some honey, you can add some stuff too if you really [inaudible 00:35:25]-
Kody: We got some tablets or something that they take, but they definitely feel it too. Like baseball season, I have to remember to remind my son and the 13 year olds, they're both really good cooks, so that's always nice too.
Melissa: Yeah. So, I'd love to talk a bit more about your curriculum, because it's tying the homesteading and like you said, you did it so that you have children who aren't growing up on homesteads or farms so that they can learn about, at least through this curriculum, so that they can learn about, and it kind of ties that together. So, one, just go into some details with maybe some examples on that. But then two, I'm also really curious, as you see people who are buying the curriculum, are you seeing that it is people who are into homesteading already? Or are you seeing it be more people who aren't doing homesteading at all, but they want the curriculum because they want their kids to learn some of this, even if it's not necessarily hands-on, but it's through a curriculum, like through schoolwork?
Kody: Okay. Well, so I created the curriculum because I just, at first I wanted to be able to just teach my kids what I knew. I actually, I grew up on a ranch. My dad was a hunting guide. I majored in agriculture and worked in commercial ag for 10 years. When my husband got sick with liver disease, we had to, oh goodness, the doctors basically said, get your affairs in order and eat healthier. So, I mean, we didn't even know what to do with that. So, I went down the big rabbit trail that I think a lot of us homesteaders have our catalyst story of what sent us down our natural paths. And I was spending so much time trying to reprogram my brain from that commercial ag world, which I mean, we'd always hunted and had gardens and things like that, but to really reprogram from commercial ag and mainstream food to the natural food and to raising our animals in a different way.
I was spending so much time researching that, that I felt like I was not meeting the needs of my kids academically. And so of course as homeschool moms, we have to turn everything into a science project. So, I started accumulating all this stuff and I was listening to a podcast by another homesteader and she had somebody on that had created a product that had nothing to do with what she was doing, and it blew up for her. And I just listening to that, right in that moment, I went, I know what I have to do. I turned to the car around in the middle of the highway and drove back home. I mean, well, I live in north Idaho, so the middle of the highway is-
Melissa: Yeah, there's no traffic. You can just whip a u-y. I gotcha.
Kody: Avoid the deer. And I went home and I'm like, "Honey, I have the best idea in the whole world and you're probably going to hate it like all my other ideas, but you have to hear it." And I told him, and he's like, "Babe, this is a great idea. You have to do this." And he's been wonderfully supportive most of the time in regards to this. I think our husbands are always a little bit shocked by the wonderful ideas that us homestead women come up with.
Melissa: Amen.
Kody: But he's been really great. And so I put the curriculum together, and originally it was for younger kids, it was just kind of a gave moms kind of a roadmap to be able to start teaching their kids these real hands on topics and science projects that weren't always just art projects. They were actually learning something.
And the first thing I got was, here's the high school version. We want to teach our kids this. We want to teach our older kids this. And when I was teaching my kids, I had looked for curriculums and all I could find was high school FFA style curriculums, which really focused on commercial ag, which has its place and whole other controversial subject, but just glazed right on over that one.
Melissa: We're full of controversy. Homesteading could be so controversial.
Kody: Yeah, one of these days, we'll have to talk without the recording, but there just wasn't something that would resonate with the average child, whether they're homesteaders or homeschoolers or whatever, because kids are so removed from the family farm, my kids, they kind of understand where their food comes from. But so many other kids didn't, and I said this, looking at some of these other curriculums that were options, there are no other homeschool curriculums like mine, but looking at public school curriculums or even junior college level curriculums, there just wasn't anything that I could align to what we were doing and what I knew a lot of other families were trying to do in the last several years.
So, I ended up putting together this high school version. It's a 300 page textbook with a 200 page workbook. It's got 18 units on self-sufficiency and small scale farming. I call it homestead science, but it's really, it's pretty much an ag curriculum. I mean, it covers that. It has the how-to on everything similar to any of these other homestead books that you would go pick up. But it has the science behind it along with quality of character so that, because self-sufficiency is community sufficiency. You have to be able to respect yourself and the land and the people that you work with.
It's got marketing and history and accounting, pretty much anything you could want to really understand how to be a homesteader. I mean even has rural traditions and stuff like that in there. And what I've actually found with it, originally I wrote it just to be a science curriculum. And I've found that it speaks so much deeper to so many people, which was really surprising to me, but has helped me grow with how I reach people and grow with future curriculums that I'm working on. I mean, I'll be releasing homestead history in the fall, which is a full year US history on food and ag sociology.
Melissa: Oh, I kind of want to take it.
Kody: Right. Well, I'm actually writing that one to be a reader book with an optional workbook to go with it because I do feel like there's so many people, and there's a lot of wonderful books out there by wonderful authors that, I mean you and I work with on a regular basis that do cover those topics. I'm just kind of wanting to come to it more from the angle of US history with that feeding into it all the way through. And like I said, it's given me that deeper connection with so many of my customers and followers and stuff that they're seeing that want of the why behind everything. And recently I was talking to someone and I said, you know what the difference between a chore and a responsibility is, and it's that a chore is an obligation and a responsibility is a privilege. And that's what I'm teaching in these books is what a privilege we have to be able to have self-sufficiency.
Melissa: Yeah. Oh, I feel like we need to put that on a mug or a shirt.
Kody: And I did send it off to my marketing team last week because I said it to someone this, oh, I said it in a speech last weekend, and I just saw the whole crowd just stop and lean in. I mean, I knew that that's what they needed to hear and that's what I was feeling in my heart at that moment. And I just was like, this is something that needs to be heard.
Melissa: Yeah, no, it's true. Actually, it's fascinating because yesterday we have a four month old orphan calf. I lost my dairy cow and it's her calf.
Kody: I know, I saw that story and I'm so sorry. I felt that pain.
Melissa: Thank you. I can talk about it now, I'm okay, so I just got him weaned last Thursday, five days ago from when we're recording this. So, just got him weaned. And I went out yesterday and was checking on him and he had a ton of goop coming out of his eye. And so I don't know if it's pink pinkeye because we do have pink eye and some surrounding herds or have had in the past. So, I know that that bacteria's floating around or-
Kody: Well, I mean he could just poke himself with a piece of grass and get pinkeye.
Melissa: Right. And we had just turned him out. It was his first time with the herd out in the brushier area pasture. So, we just transferred him to a new pasture so he could have just poked his eye on a stick because he's not used to being to brush yet. But anyways, I'm like, okay. And so came in and brewed up a bunch of camomile tea to do an eye wash rinse for him. And so did it twice yesterday, because I didn't catch it till the afternoon. And so I'm doing it three times a day for the next four days until I start to see it clear up. Anyways, but I was laying in bed last night and I was going through everything that I had to do today, and I was like, oh, I have to fit in three times of brewing this to all the things. And I was going through it and I was thinking of it as I honestly was just what I need. I need to add three more things to my already very full day.
Kody: I feel you. I have a four H meeting tonight and another call after this that I feel you, you get so wrapped up in that.
Melissa: But to your point of chore versus responsibility, privilege versus obligation. And so I was viewing it as an obligation. I have to do this. It's an [inaudible 00:44:59], but then I thought about it and I'm like, how amazing that one, you can grow this chamomile. You don't have to pay a vet call. You don't actually have to wait maybe two days for the vet to get out here because it's a non emergence. You don't have to then pay for a prescription, which who knows how much it ends up costing depending on what it is. And even though we're not certified organic, because our herd is so small, that would just be absolutely silly, we're using chamomile, which means that this beef is still considered organic standards, which we try to have higher than organic anyways. But you give animal [inaudible 00:45:35]-
Kody: I worked in food safety for years and organic certification is just a piece of paper, but it's what your actual practices are.
Melissa: And so it flipped that script in my head to looking at what a privilege this is. Like you're able to treat this animal with things that you grew yourself, that you know are safe, that you and know are effective. You're taking care of him. And you have that all within your backyard, basically for free. Check yourself, IS what I was telling myself. Yeah, but it's exactly what you said. It's a privilege, but you have to remind yourself to view it through those lens when you're caught up in the busyness of life, because it does happen.
Kody: And I mean, this thought process just came from working with teenagers and a disgruntled vet.
Melissa: Which thank him for his service and yours as being his wife. Yeah.
Kody: I will.
Melissa: Appreciate our vets. Yeah.
Kody: They definitely have a mindset though. So, there's days where listening to my kids or my husband complain about everything that was on their list. And oh, I'm just so unhappy with life at the moment. And I'm like, look at what you're complaining about. What do we have that you're getting to complain about? And it's really been a mission for me just to teach that why, why we do the things that we do. And so it's been a really awesome journey with that one.
Melissa: Yeah. Well, I'm super excited to have you at the Modern Homesteading Conference this year. And I know you're going to have a booth so people can come and ask you more questions. And you're also going to be doing a presentation. So, really excited to get to meet you in person. I mean, online is great, but there's nothing [inaudible 00:47:21]-
Kody: We actually met at HOA two years ago and you were trying to get me to find you a house in Bonners Ferry, because I was a realtor at the time.
Melissa: Why didn't I put that together? I didn't think of you as a realtor. Yes, we did. I totally remember that because we were [inaudible 00:47:37]. Oh my goodness, this is so funny. Yes, we were-
Kody: It's okay. It's totally okay. But I was like, I can't wait to tell her that story.
Melissa: I didn't realize that was you. I don't know why I didn't put that together. Oh my goodness. That is so funny. Yeah. Well, God put the farm that we bought in our lap, because we were looking at Bonners Ferry and Tennessee, and I actually had a call in to Tennessee to go look at property the week that we ended up seeing that this farm went up for sale and then bought it within the next 24 hours.
Kody: Oh, that's awesome. I didn't reach out, but I was looking for that right, perfect place for you. And I just never saw it.
Melissa: Yeah. God, really-
Kody: If that makes any sense.
Melissa: It does, because we kept praying that God would, that perfect place would, it would just be obvious. This is the place. And those were the two locations where we had ties to and really felt aligned with the community and the state. Just all those things. And so my husband and I both kept praying. We want out, we want out, we want out. And God just kept saying, hmm-mm, hmm-mm and so we know now this is why and we're supposed to stay here.
Kody: To make a difference in your community. And that's the important part too.
Melissa: Yeah. Well, thank you for looking even though that place never came.
Kody: Yeah. I mean just even without having that conversation, I knew what you wanted. I could just feel it. And of course the prices here just went through the roof [inaudible 00:49:12].
Melissa: Yeah, I feel like they did everywhere. They're starting to kind of trickle back down, at least in this area. I think maybe across the board you're starting to see them come back down. Yeah. Yeah.
Kody: So, I actually was able to quit my job in January, so yay.
Melissa: That is exciting. Yeah.
Kody: I was very excited.
Melissa: I bet.
Kody: Even in case my old broker's listening, which I doubt he is. Loved him. Happy to not be doing that anymore.
Melissa: Yeah. Well, this is really funny how our conversation was just going to be about homeschooling, but I feel like we kind of went all these different tangents. But it's really amazing actually because my husband and I were just having this conversation last week and I said, it can feel really scary when you're transitioning, when I quit my day job as a pharmacy tech to do all of this full time. And like you with that. I really should have probably quit a year before I did. But it can be really hard to let go of something like that, especially when it's your finances, it's your income that that's supporting your family. And it's easy to say take a leap of faith. Sometimes it's a little harder to do, especially where money is involved.
Kody: It really is, yeah.
Melissa: But what I was telling my husband is, it's amazing though because once you take that step, as long as you know that is what God is telling you to do, not just what you want to do, but it is what he's prompting and leading you to do, doors open once you've taken that step that I don't think would have opened if you hadn't have. And so when you said that you stopped and then now you've got the history one coming curriculum and all of that, I'm like, yeah. So, anyways, this is going to be exciting to see.
Kody: Yeah. Well, and you know when it's right. I had one of those moments recently where I actually, it was at the Women's Homesteading conference in Tennessee and something just came over me. I just started to tear up immediately and my daughter was with me and she's like, what's wrong? I was like, I know what I have to do. And she's like, what? Which I'll announce all that later. But I knew what was right. I mean, I left and I called my marketing team and I said, pull this, this, and this off the table because we are doing this. And they were like, they 100% behind me. And I know that it's right. And it's got my husband excited, which he can feel definitely detached from my writing and my podcasting and stuff like that. That just doesn't include him. And this is very much going to be his and it's going to be really amazing.
Melissa: This is so funny, and I swear we did not talk about this. This is not a pitch to come to the Modern Homesteading Conference, but it is in a way. And the reason I'm saying that is because I have had personally and my husband, us together, incredible breakthroughs when we have been at homesteading conferences. You're there to learn homesteading, and you definitely get that at those conferences. But at least the ones that I have been at, God works through them and shows us things and new directions and areas that we're supposed to go in that they have been catalysts for so much in our life. I am so grateful to those in-person events and hearing you say that. I'm like, yeah, it's not just me. I don't know. There's something about when he brings us together that he just opens your eyes in those things. And for me, it's been at those events, at those conferences, at those conferences, I mean gatherings.
Kody: I mean [inaudible 00:52:39] a few years ago reignited my husband's faith. I mean it's been such a beautiful fellowship. It's been amazing.
Melissa: Yeah. So, I'm super excited that there's an opportunity for more folks on the west side of the US for us to get to have that and been praying that God creates those moments for people.
Kody: Oh, I've been so excited to have one locally and to be able to, I've connected so much with people on the East coast because that's where all of these conferences are, and I'm so excited to get to have that here for us. So, thank you so much for that.
Melissa: Yeah, you're welcome. Yeah, I'm just excited that the people on the East coast first started them, because it's that those sparks that just light that then can take off and blaze and go in other directions. So, yeah, me too. And I'm so glad you're going to be a part of ours. So, with that, Kody, you said you had a podcast and I know you're going to be at conference, so people can definitely connect with you there and learn more. But in the meantime, where is the best place for folks to connect with you?
Kody: So, I'm the Homestead Education with the. That's the name of my website and my podcast and where I'm at on social media, except for Instagram, you have to just say homestead. There's no the there. And yeah, you can definitely find me there. The podcast is a lot of fun. I have a lot of really great homesteaders and homeschoolers on every week. And like you said, you sometimes learn something that has nothing to do with what we were talking about.
Melissa: Yeah, I kind of find that the exciting part or really the fun part. I love that. Yeah. Awesome. Well, thank you so much for coming on.
Kody: Thank you.
Melissa: And I see you again in a couple months.
Kody: I'm looking forward to it.
Melissa: Me too. Well, I hope that you enjoyed that episode as much as I did, and now we are moving on to our verse of the week. I'm going to be sharing my verse. This is the amplified translation of the Bible, and we are in Romans chapter five in throughout chapter five, I'm going to share a couple of different verses, but chapter five, verse two, five and eight. Two, "Through him also we have our access entrance and introduction by faith into this great state of God's favor in which we", oops, I need to redo that part. This is very funny from the editing part, like, oops, hold up. I'm going to redo that part.
I hope that you enjoyed that interview as much as I did. And now on to our verse of the week. So, I'm going to be sharing with you Romans chapter five. This is the amplified translation of the Bible, and I'm going to be picking a few different verses in order, but we're going to be skipping around just a little bit. So, Romans chapter five, verse two, five and eight. Verse two, "Through him also we have our access entrance introduction by faith into this grace state of God's favor in which we firmly and safely stand and let us rejoice and exalt in our hope of experiencing and enjoying the glory of God." Five, "Such hope never disappoints or deludes or shames us for God's love has been poured out in our hearts through the Holy Spirit who has been given to us." Eight, "But God shows and clearly proves his own love for us by the fact that while we were still sinners, Christ the Messiah, the Anointed one died for us."
And I did a little bit of jumping around there because those ones really stood out to me. I've been going through Romans, it's kind of in my Bible study. We're going through the book of John. And so in my own personal devotional time, I have been going through the book of Romans and I felt that these verses in particular from the chapter were very fitting for a lot of what we talked about today. And the first of that is that we have our access, our introduction as the verse said into grace and all of the beautiful things that we have once we accept Jesus Christ as our savior because of his sacrifice on the cross that covers our sin and allows us access to the throne of God. But verse five, and I don't know if you can see it if the camera's going to pick it up, but I have this underlined in my Bible from verse five where it says such hope never disappoints or deludes or shames us.
And that's because I have struggled and still do struggle at times with condemnation. I go over things that I have done wrong, things that I have said wrong, and sometimes I'm talking decades past, very, very long time ago in my youth. I mean we're talking that if we talk about youth like teen years now we're talking 20 plus years ago, 25 plus years ago almost. And I will still bring those things up, will come up into my mind and very condemning. And I used to think sometimes those thoughts would come and I would feel like it was God judging me, that it was his judgment. But I realized after going through and reading a lot of scripture and prayer, if you are feeling an immense amount of shame or condemnation that is not from God.
Yes, God will and the Holy Spirit will quicken our hearts when we have done something wrong and you know it's wrong, you will feel that God will bring that up and it will prompt you to ask for forgiveness and to sincerely in your heart ask for forgiveness, either oftentimes both asking the Lord for forgiveness, but if it was directed to or involved another person asking them for forgiveness, but then you don't dwell and stay in that. You have been forgiven. That is the beautiful gift of Jesus dying on the cross for us as we could have true forgiveness. He was the ultimate sacrifice. We're not having to take a lamb or a dove or a sheep and give sacrifice like they did in the Old Testament because that's what the Lamb of God was.
That's what Jesus did for us. So, once you have recognized that you did sin, that you did something wrong and you ask for forgiveness, God has forgiven you. He has thrown that sin away, and it is separate from you and from him as the east is from the West. So, if you are feeling shame and condemnation over something over and over and over again, and you've asked for forgiveness and you are sincerely sorry for that, that is not from God, that is from the enemy. He is the one that deludes us and brings condemnation and brings shame. That is not from God and being able to recognize that, I can't tell you how freeing and how amazing that has been, but it is something that I will sometimes still get caught in that loop and I have to sit and really pray and be cognizant of is this shame and condemnation?
If so, this is not from God, this is from the enemy, and I need to be living into hope and actually having the true faith that when Jesus says my sins are forgiven, amen, they are forgiven and letting them go. That ended up being a lot longer than I thought was going to happen with that verse, but I just felt that needed to be said, especially in light of some of the conversation that we had in today's podcast episode and interview. And the other part, I mean really obviously the whole Bible is great. Read all of Romans five, the whole chapter. But the other part of that I wanted to bring forth was verse eight, where it says, "God shows and clearly proves his own love for us by the fact why we were still sinners, Christ, the Messiah, the Anointed one died for us."
And I grew up in the church, so a lot of Bible verses and different things like I grew up knowing them or hearing them. But when I read this verse, this means that while we were still sinners, or even when some people fully say there is no God or I don't believe in Jesus, he died for them knowing full well that some people would never accept him, but he died for them anyways. And when you think about, truly think about that, think about people that you don't like. Now I know we're supposed to like everyone as Christians, we're supposed to love everybody as God does, but quite honestly, I'm sure that there's people you can think of that you don't like. I think we all have people that we don't like. And so I ask you those people that you don't like and they probably don't like you back, if you actually know them personally and if you dislike them that much, would you willingly go and die for them right now?
Would you go and die on the cross for them knowing that they don't even like you and you don't even like them? If you're really being honest, most of us would say no, but that's the beautifulness of God's love for us and Jesus's love for us is he knew people would despise him and some people would never get to a point in their life that they would ever accept him. He died for them anyways. He went through the cross and that horrible, horrific death for them anyways. And so I think that's really important for us to remember and to also realize the depth of his love for humans. And that means if we are truly followers of his, we also need to have the depth of his love.
Even for people who despise us, who think differently than us, who believe differently than us and who do things different than us, we are still supposed to love them with a Christ-like love. So, I felt that that was very fitting for today's episode and wanted to share that with you. I look forward to being back here with you next week. I hope that I get to see many of you in person at the Modern Homesteading Conference. We'll have a link below that you can go and check out and grab your tickets for that. And don't forget to check out our sponsor, American Blossom Linens and use the coupon code pioneeringtoday20 for 20% off your order. Okay, blessings and Mason jars for now my friends.
Sign up to receive email updates
Enter your name and email address below and I'll send you periodic updates about the podcast.