Here's 7 DIY ways to compost at home. Learning how to compost at home is high on the list of home gardeners.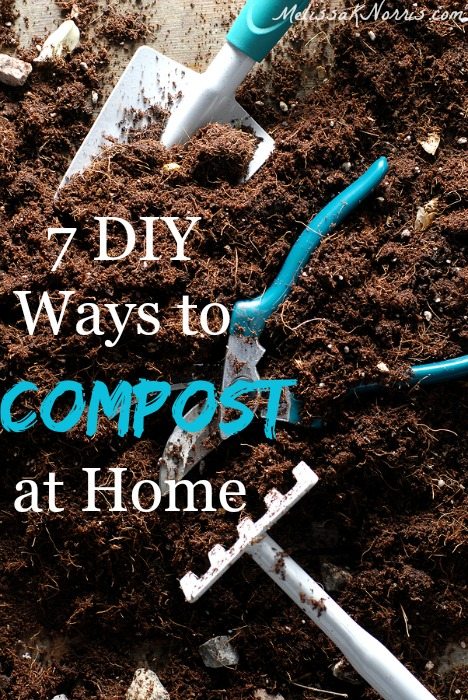 Ever heard the term black gold? It's usually in reference to compost and to a gardener, it's as valuable as gold.
There are some basic rules to compost, but like most things, everyone has their own twist and advice. The beauty of all things pioneering today and homesteading is suiting it to meet your unique situation, wants, and needs.
Composting is the breaking down of natural materials into a rich soil to feed your plants, fruits, and vegetables.
In regards to composting you'll hear the terms brown and green. Brown equals carbon material and green equals nitrogen material. Browns are wood, paper, and dead leaves to name a few. Greens are grass clippings, food scraps, and manure.
Recommended Resources for Composting:
I don't know about you, but as much of an DIY kind of pioneer as I am, sometimes I'd rather purchase the tools to give me a quick result without all the labor and time intensive as making it all myself. If you want to get started quickly, then these are options to help cut out some of the trial and error. Because often times, time is our most precious commodity.
Fastest way to get compost for your garden–> Compost Tumbler
Easy Worm Bin with instructional manual and DVD! –> 3 Tray Worm Composter
Counter top compost pail (keep the scraps contained and cut down trips to the compost area)–> Stainless Steel Compost Pail
Items recommended to compost:
Algae, ashes from wood fireplace, cardboard, coffee grounds, dyer lint, eggshells, hair, and manure from horses, cows, pigs, sheep, goats, and chickens, leaves, sawdust and wood chips
Items not recommended to compost:
Ash from charcoal or coal, bird poo, dog feces, fish scraps, meat, milk, and cheese, or other greasy items. For more in depth check out this article on 10 things you shouldn't compost.
In order to create compost you'll need the right balance of brown to green, or carbon to nitrogen items. This post has some great info on the carbon ratio to begin your compost pile with and then how to progress with the ratio as your pile ages.
7 DIY Ways to Compost at Home
1. Ever heard of vermicomposting? Maybe you've heard reference to a worm bin. Either way, it's using worms to make compost and even if the thought of worms makes you go ew, the thought of wonderful nutrients for your garden will help you get over it. Here's how to make a worm bin and get started with vermicomposting.
2. The fastest way to get started with making your own compost is with a tumbler. Here are 3 reasons to use a compost tumbler… A compost tumbler heats up the quickest and is the easiest for you to turn on a regular basis and requires will give results the fastest.
This compost tumbler will get you black gold super fast–> Compost Tumbler for under $100.
3. I love this tutorial for building a dirt road girl compost tumbler. Basically, it's a compost tumbler that can be moved to the area of the garden you want to put compost on. Todd has step by step instructions with pictures and shows how he built this traveling compost tumbler for his wife after she got cancer.
4. You can use a compost tumbler, compost bin, compost pile, and vermicomposting.
5. You all know I love my chickens, right? Besides their eggs and keeping the bugs at bay. Did I mention we didn't have any black carpenter ants since our chickens came to the homestead? And that is worth the occasional bombs of chicken poo in the yard. However, I'm loving how Jess uses her chickens and the chicken run for her compost pile. Check out chickens and compost for this pretty genius idea to put her chickens to work.
Want a quick, easy, and $13 option to make your own compost bin? I know, the $13 had me sitting up straighter, too. Check out this tutorial for cheap & easy DIY compost bin.
6. Compost bin on your counter top. This special little compost pail allows you to toss your food scraps right into it on your counter. It has a special charcoal filter to eliminate odors and once full, you take it to your regular compost bin outside. Cuts down on multiple trips and saves ya time.
7. Need one last option that requires nothing more than a hole in the ground? Check out this trench composting method from Survival at Home.
Bonus! 8. Wanna know the difference between hot and cold composting and which one is for you? Check out this article from Game & Garden for the low down.
Are ya ready?
Eartheasy Compost Tumbler Giveaway
Giveaway Now Over, congrats to the winner, Kate!
The Prepared Bloggers brought you a fantastic chance to win a fabulous prize! Wanna make sure you don't miss anymore of our fun giveaways? Sign up for our newsletter for once a week notices on all the homesteading goodies.
Eartheasy has graciously provided this composter as a prize so that YOU can get a jump start on your gardening this season! The Jora JK125 composter features a rodent-proof, rust-free, galvanized steel exterior, an insulated interior which makes it great for all climate types, and the ease of rotating your compost style with a twist of the drum to aerate your compost mixture quickly and easily. This particular composter holds 4.5 cubic feet (or 33 gallons) of compost material, and has dual chambers so you can use some and add more to a new pile as you go!
Meet the Bloggers Involved
The reason we want all this lovely compost is for our garden. I just downloaded and started using this FREE garden seed calculator calender. Simply plug in your last frost date and it tells you when to start your seedlings, when to put them outside, when to direct sow, and when you'll begin harvesting for almost 50 different vegetables.
Probably the best gardening tool I've come across in a very long time. My friend Jason runs a family heirloom seed business and offers this for free. If at some point in the future you decide to purchase heirloom seeds from him, I receive an tiny commission. But, the calendar is absolutely positively FREE! And way cool.