Learn how to properly rehydrate a dehydrated sourdough starter. Saving a bit of dehydrated starter on hand can save you in a pinch, especially if you think you may have killed or neglected your sourdough starter beyond repair. Follow these easy step-by-step instructions for reconstituting a sourdough starter.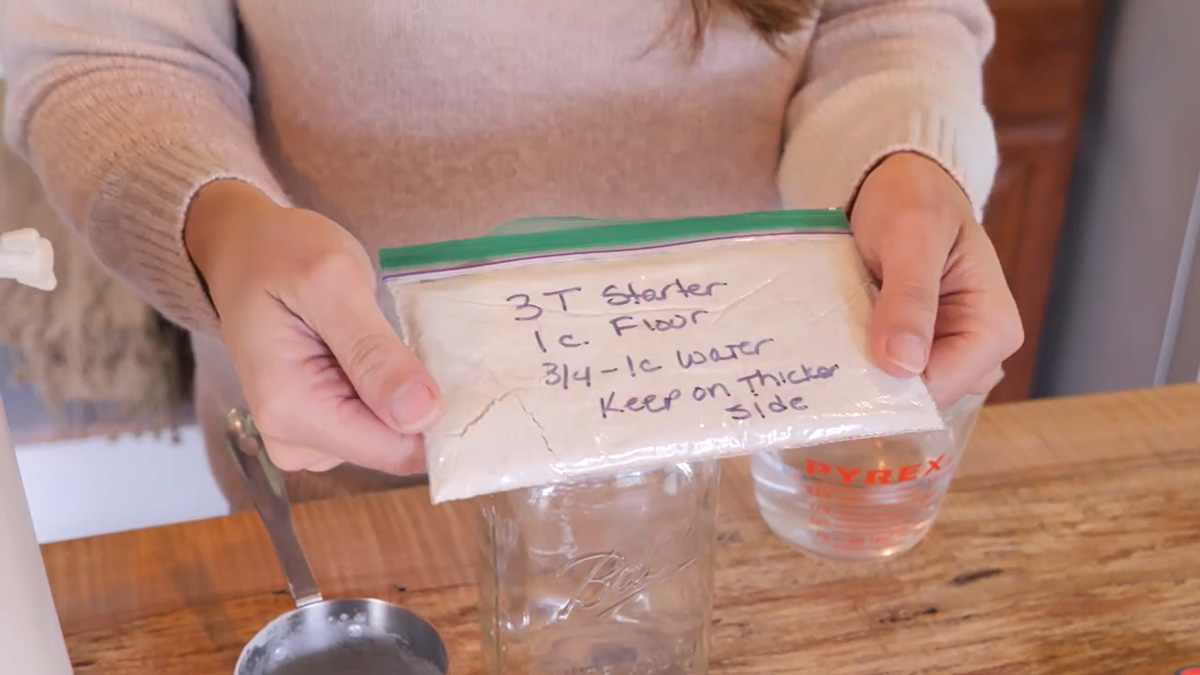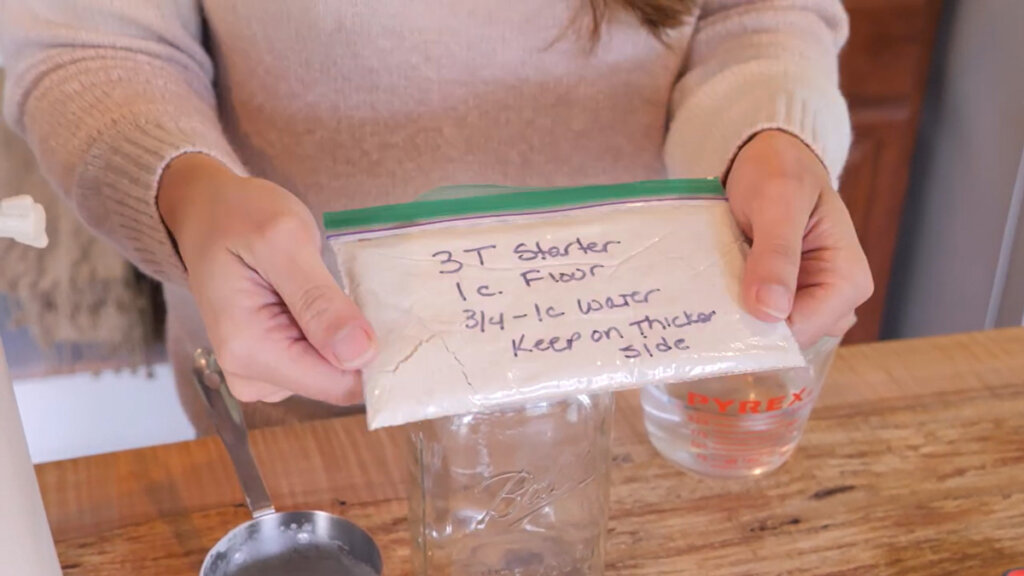 I received a very special dehydrated sourdough starter from Monica (a Pioneering Today Academy member). As I've shared before, I love recipes that have history, and what makes this sourdough starter special is that it originally came from a bakery in Lohne Germany where her father is from.
Its origination can be traced back as far as 1929, but it could possibly be even older than that. To get my hands on a sourdough starter that's at the very least 91-years-old made me so excited, and today, I wanted to share that experience with you as I went through the process of reconstituting this dehydrated sourdough starter.
Do not be dismayed if you do not have a 91-year-old sourdough starter to use. These tips that I share today work for any dehydrated starter.
Supplies Needed
1 Quart Mason Jar – Any vessel that can be covered will work just fine, but when it comes to Mason jars, they are always my first pick!
Reusable Plastic Lid or Saran Wrap – This will keep anything from falling in to contaminate your starter. The lid should not be airtight, though. You will want to allow some airflow to allow the natural yeast in the wheat to proliferate.
Spoon/Whisk – If you find you are having difficulty getting the starter to completely dissolve, you can use a whisk to break up any remaining clumps.
Mockmill (Optional) – If you are unable to freshly grind your own wheat, store-bought organic unbleached flour works just fine. Check out this post for more tips on grinding flour and baking with fresh flour as well as the best places to find grains in bulk.
For further information to help you choose the best flour for your starter, read How to Make a Sourdough Starter + Tips for Success.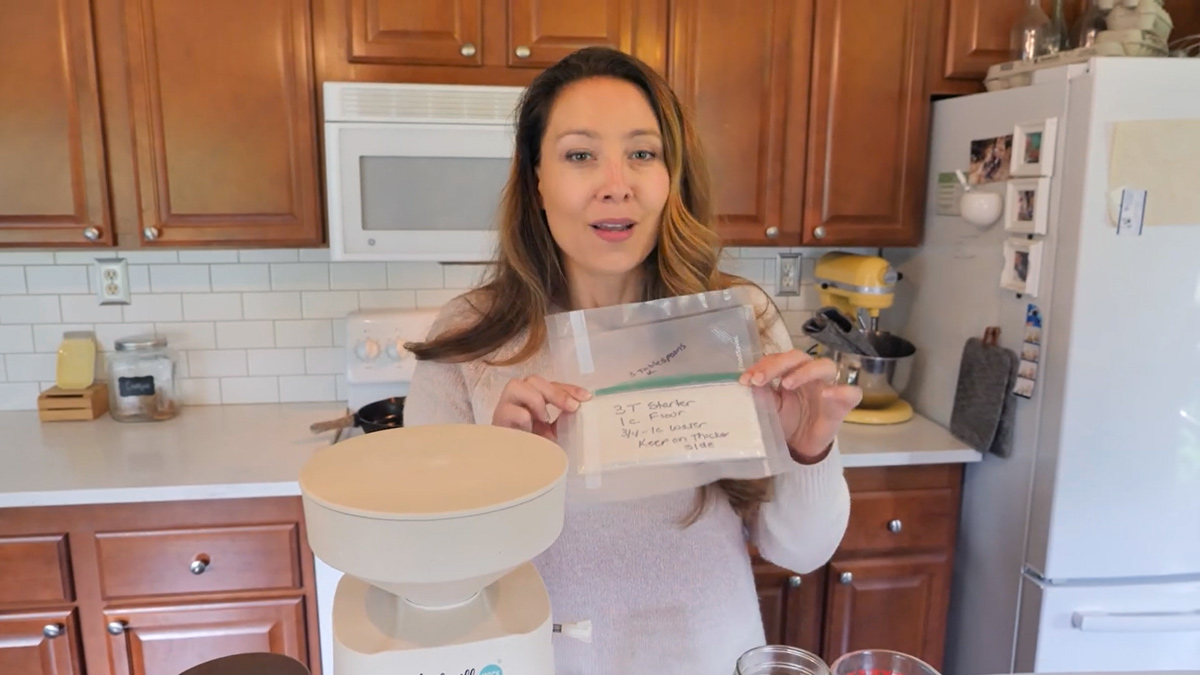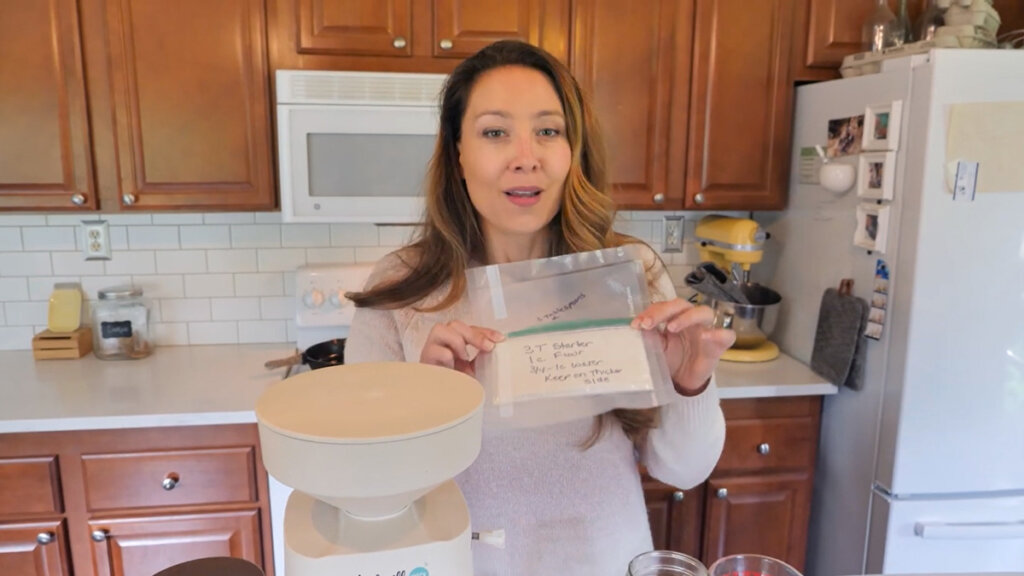 Ingredients
1 C. Flour – Rye flour works well to get a starter activated, but does have a strong flavor. If you do not prefer the flavor of rye, feel free to use any type of flour you prefer. I like the flavor of rye, but my family does not, so I chose to give this sourdough starter special care with fresh ground hard white wheat flour. Check out this post on where to buy grain and which grain to use when baking.
3T. Dehydrated Starter – For best results, store your dehydrated starter in the fridge or freezer until you are ready to rehydrate it. Do not leave out at room temperature if possible.
3/4 -1 C. Water – Warm water will help it activate faster.
Instructions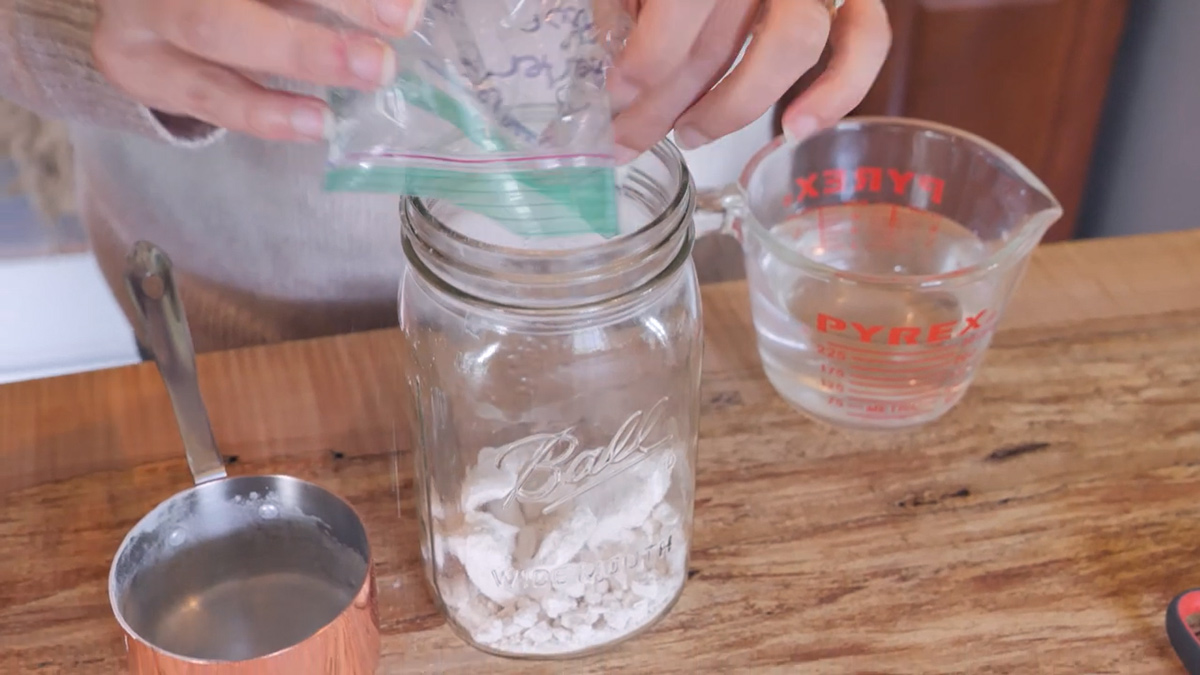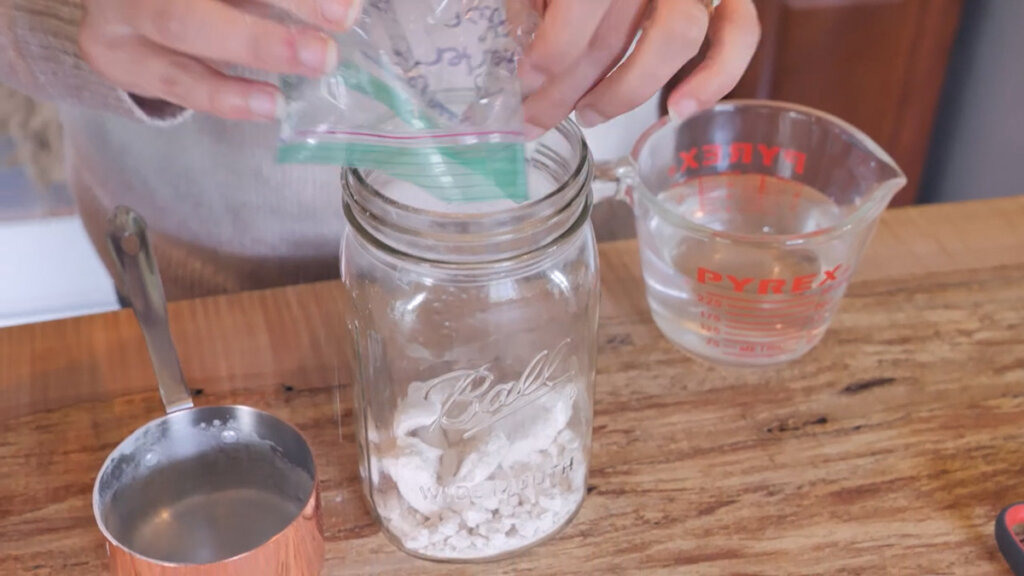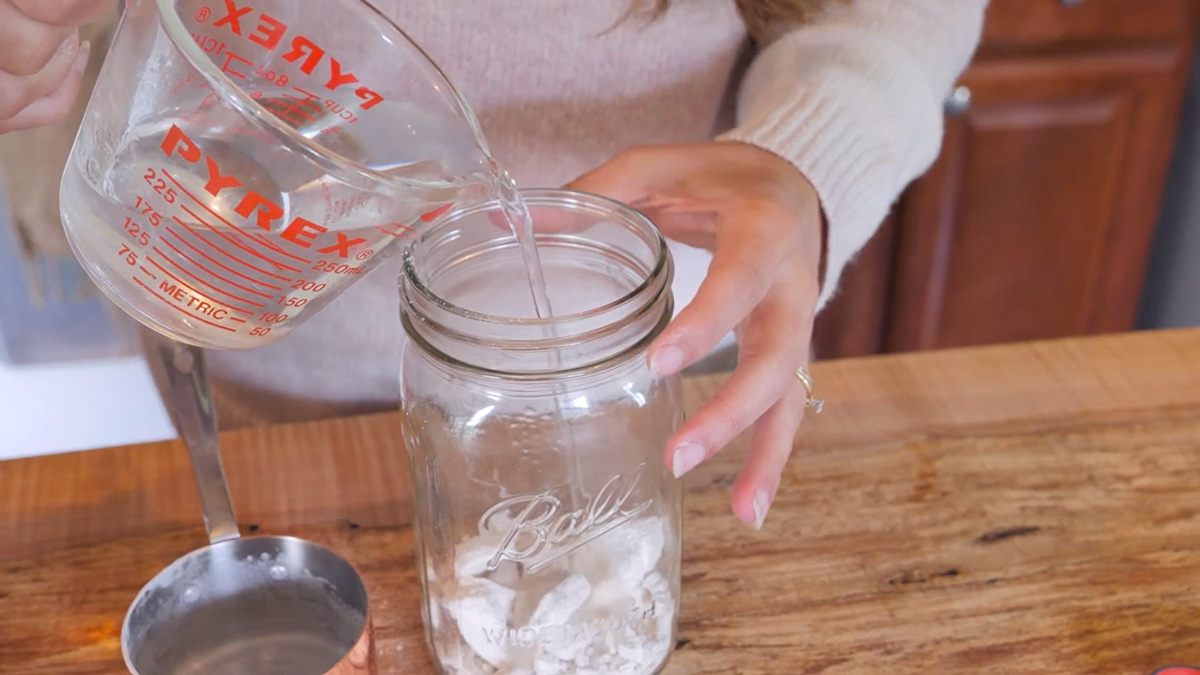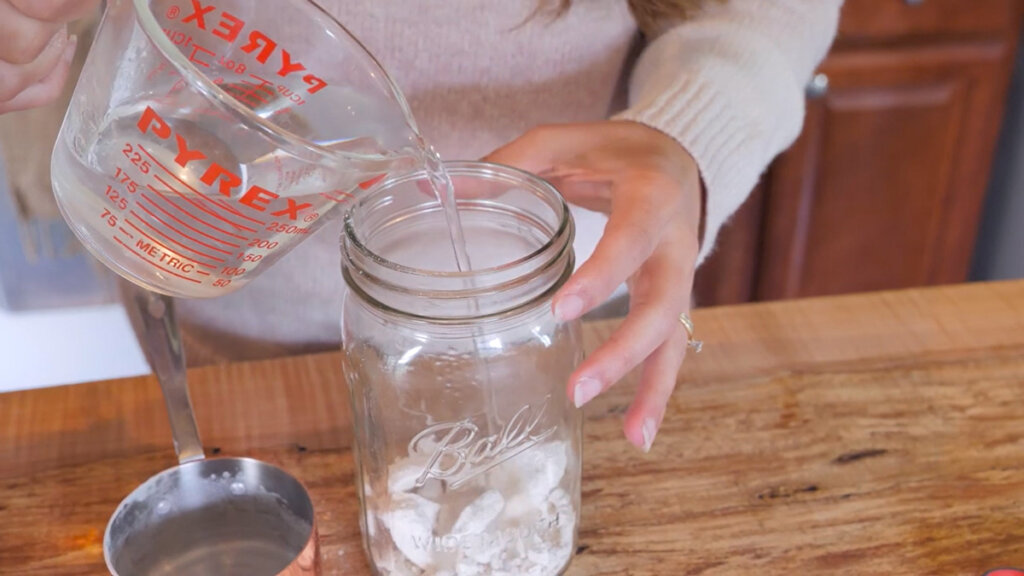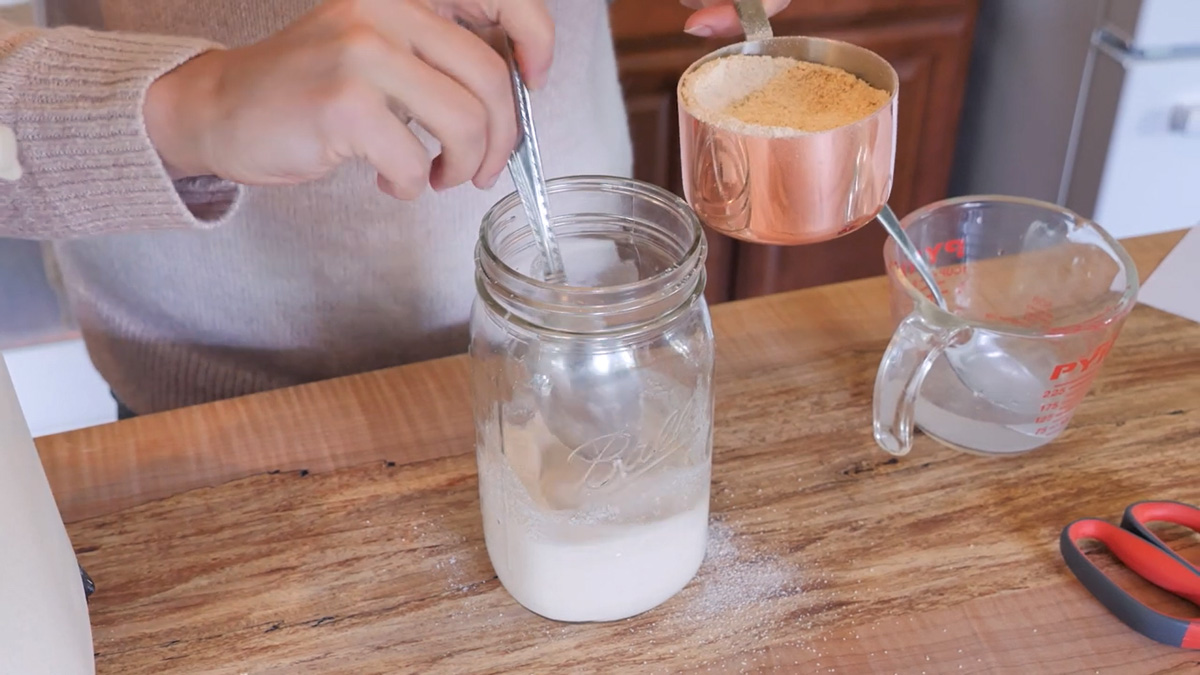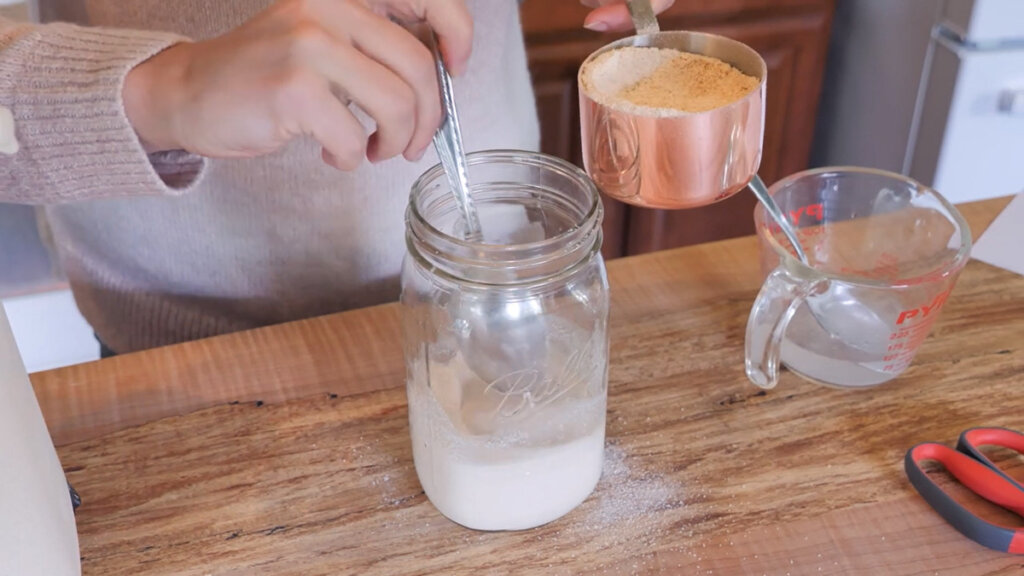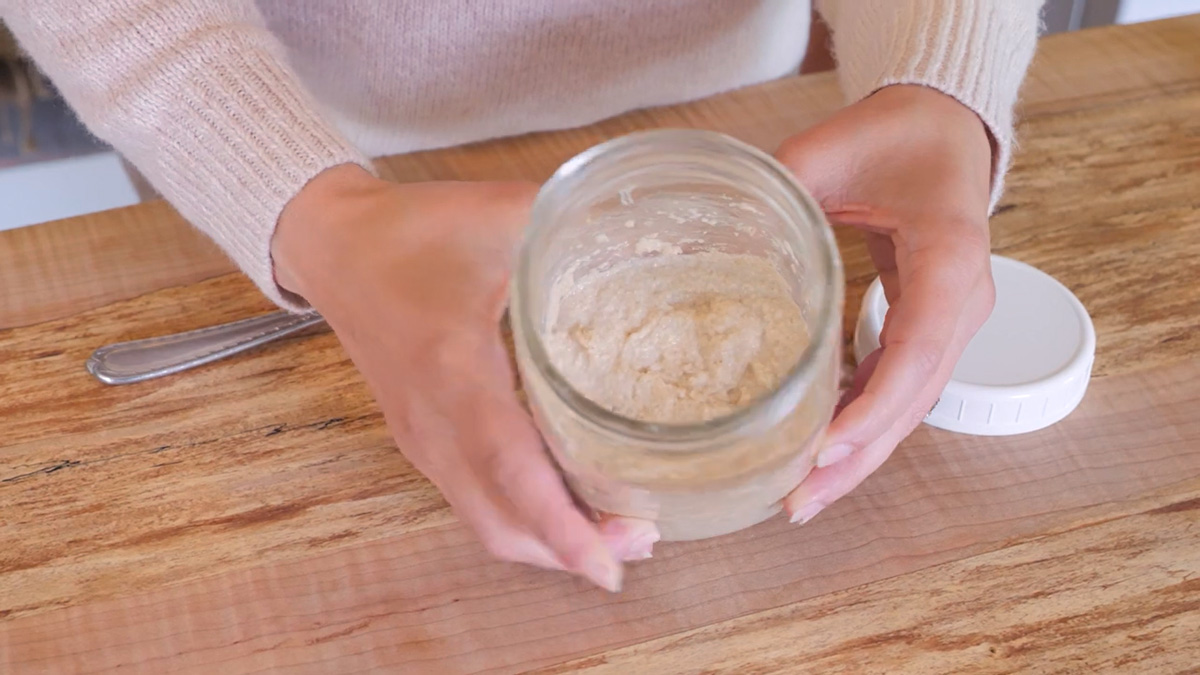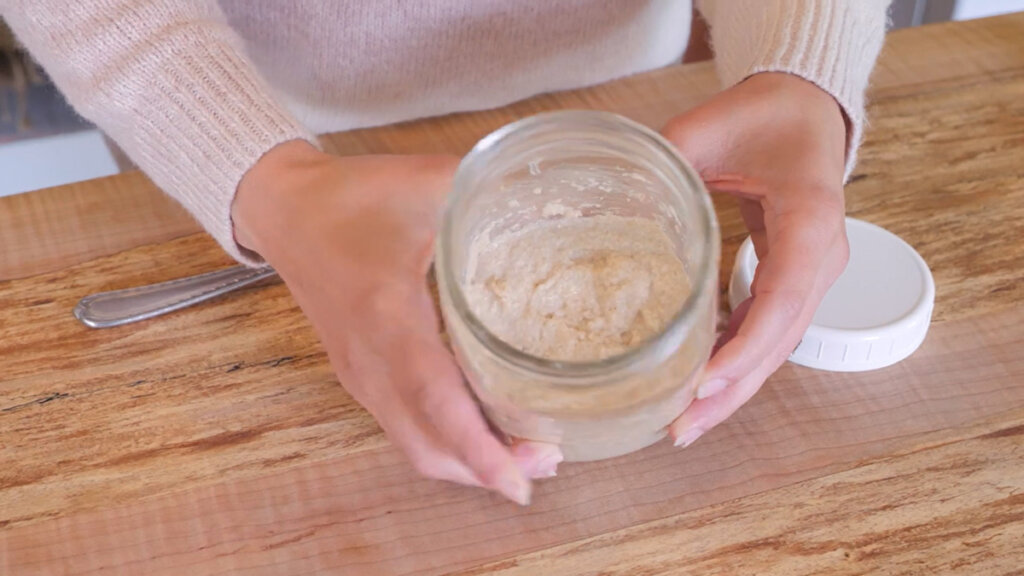 Pour dehydrated starter into a jar, breaking up any clumps with your fingers.
Add water, and stir. Wait a few minutes to allow all of the sourdough starter to dissolve, and stir again to make sure everything is dissolved before adding flour. A whisk comes in handy if you find you still have clumps that haven't been dissolved.
Add flour a few spoonfuls at a time until you get desired consistency. The consistency you are looking for is a stiff batter or thick porridge. Make sure all of the flour is incorporated into the starter by scraping the sides and checking the bottom to make sure there are no dry clumps of flour left. When using fresh ground flour, it will continue to absorb the water after it sits for a few minutes. So if the starter seems to have too much water after adding the flour, do wait about 15 minutes before adding any more flour.
After the starter is at the desired consistency, loosely cover the jar with saran wrap or a reusable plastic lid.
Store the starter in a warm draft-free area of your home. Heat rises, so on top of the fridge works well, or you can even place it inside the oven with the light on and the oven door cracked (just don't forget it's in there when you need to preheat your oven!)
Within 8 hours my starter was showing activity. It peaked overnight, at 24 hours I fed it a small amount and mixed up my dough for bread two hours after the second feeding.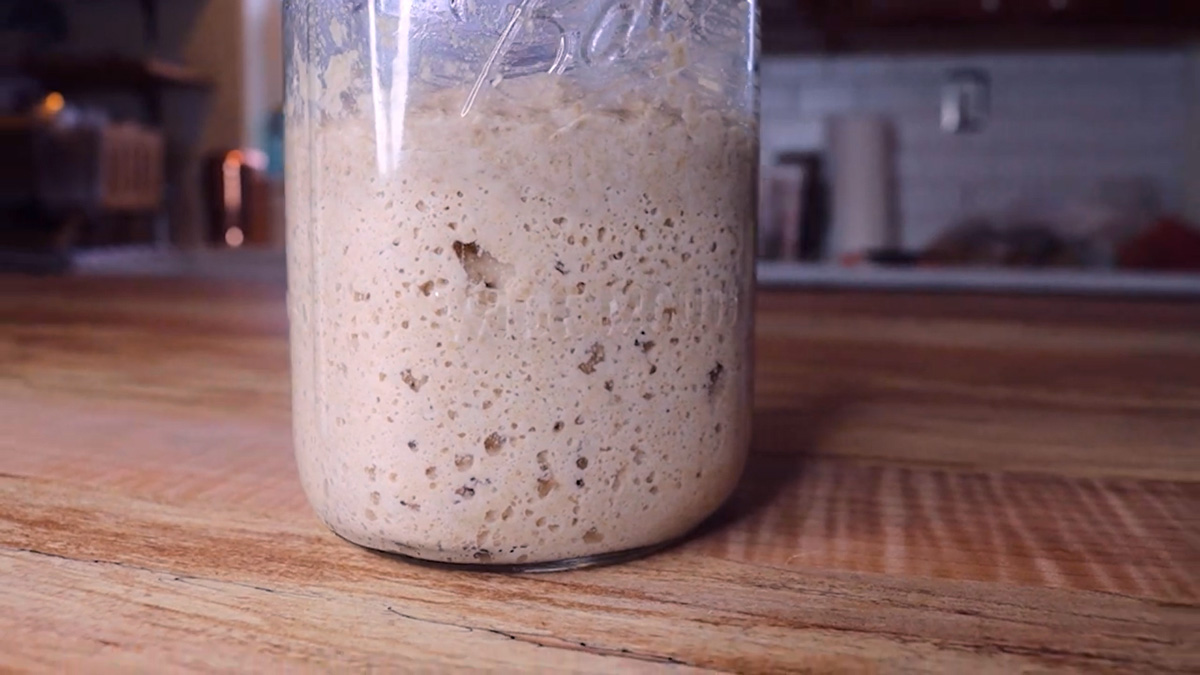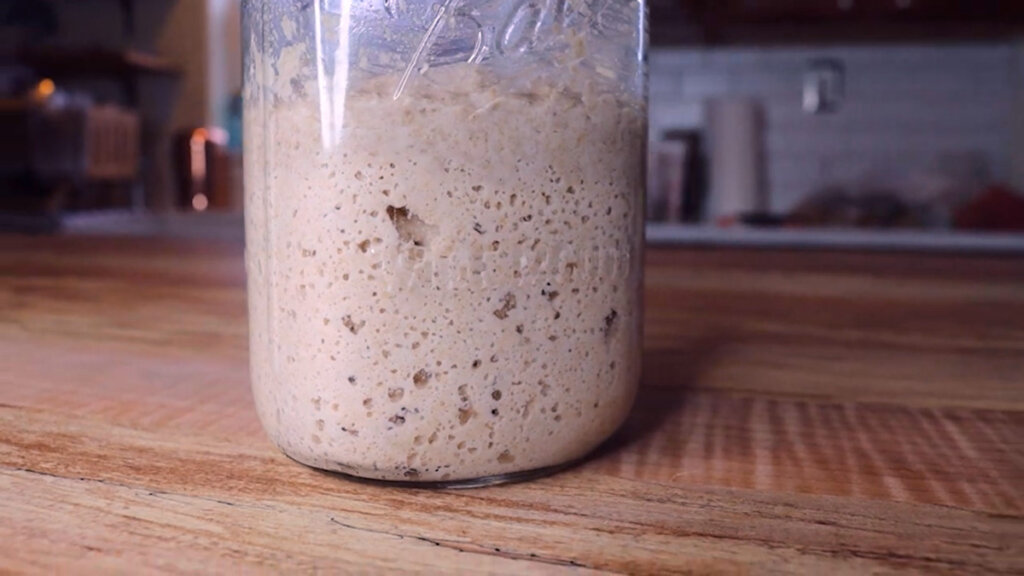 I have worked with many sourdough starters over the years, and this was the most active starter I have ever used. I chose the artisan sourdough bread recipe from my Sourdough Mastery eCourse, and the rise on the cut lines of my bread was amazing! As promised, this starter did indeed have a unique flavor profile. Even though the bread I baked with it proofed for 24 hours, it did not have an overly sour taste. It was pungent, with notes of aged parmesan cheese.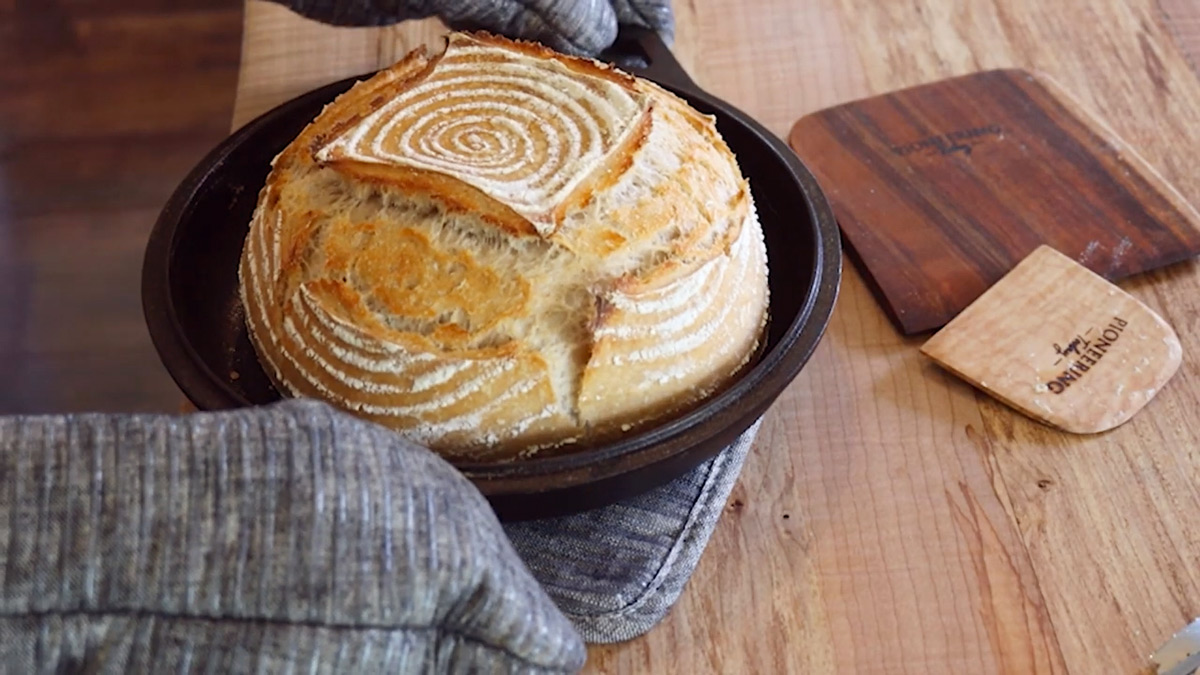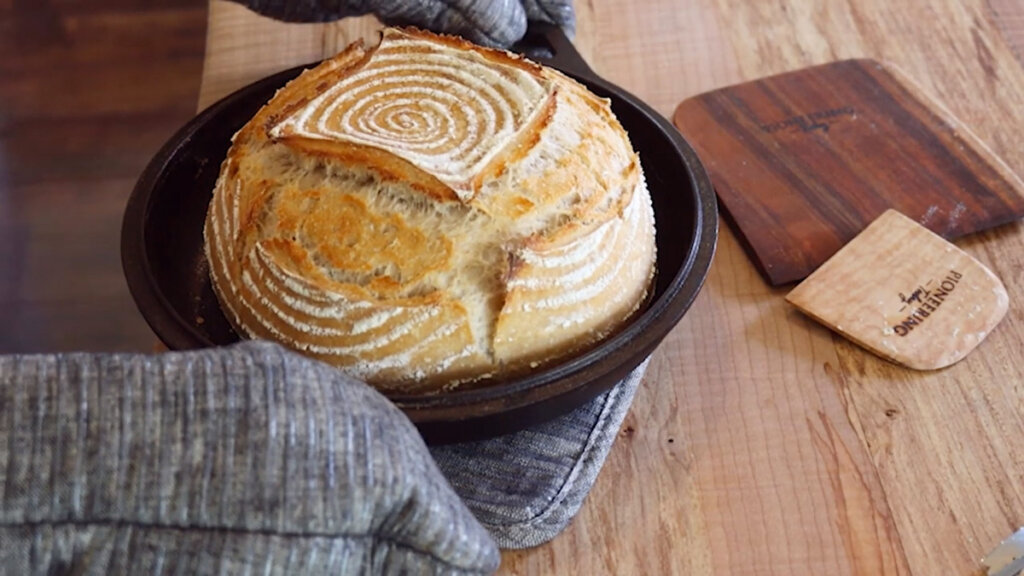 More Sourdough Posts:
Now that you've rehydrated your dehydrated sourdough starter, be sure to check out some of my other favorite things to do with sourdough!
More fermentation articles: