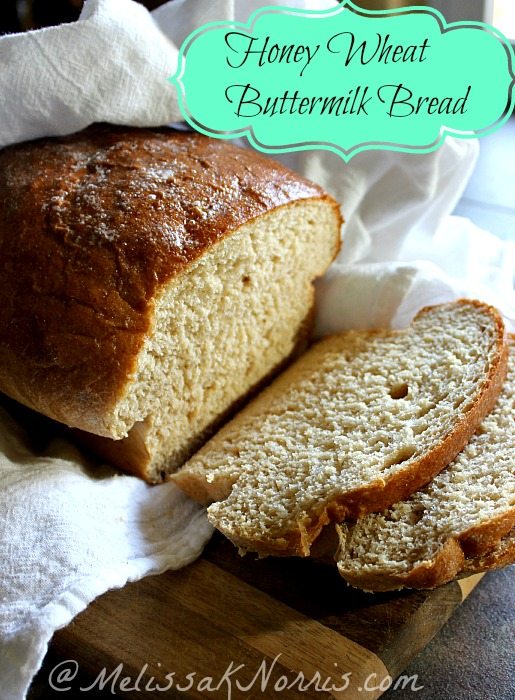 This honey whole wheat sandwich bread recipe is melt-in-your-mouth good and uses no refined sugar or flour. It's fool proof and easy, two requirements for me.

The story behind how this recipe came to be. One of the ladies from our church who works in my son's lunch room pulled me aside one Sunday.
"Your son has been throwing his sandwich away every day. I thought you should know."
I kindly thanked her. When we got home from church I asked my son if he'd been eating his sandwiches at school.
"Um, well, not really."
"Why not?" I asked him.
He shuffled back and forth on his fee. "I don't really like the bread, mom."
I told him to tell me when he doesn't like something. Bless his heart for not wanting to hurt my feelings, but I felt bad he'd been going without a full lunch all those weeks.
So I was determined to come up with the perfect healthy bread that he would truthfully enjoy.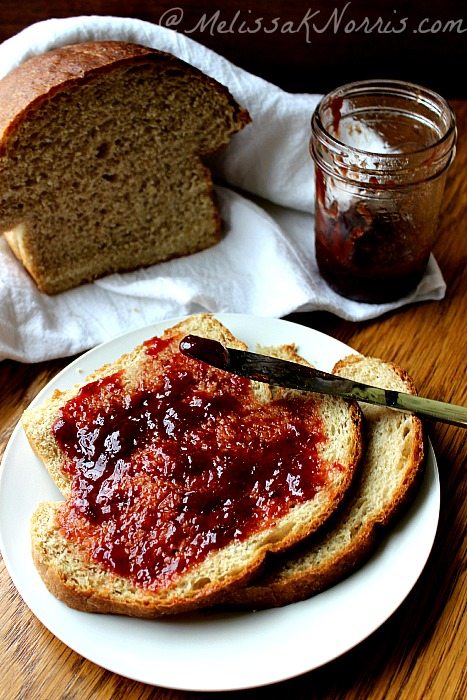 And here it is. This honey whole wheat bread is melt in your mouth good and chocked full of wholesome goodness.
I ate a piece with my homemade strawberry jam (with no pectin and low sugar, saying that makes me smile). And then I had another piece, because, you know, it's my duty to make sure it tastes just as yummy all by itself.
We had some with dinner, and then maybe a little bit more… When my husband went to bed that night, he gave me a kiss and said, "Thanks for making that bread." First time he's thanked me for bread, for cake and cookies, yes, but bread?
And my picky eater son, "That's the best bread ever, mom."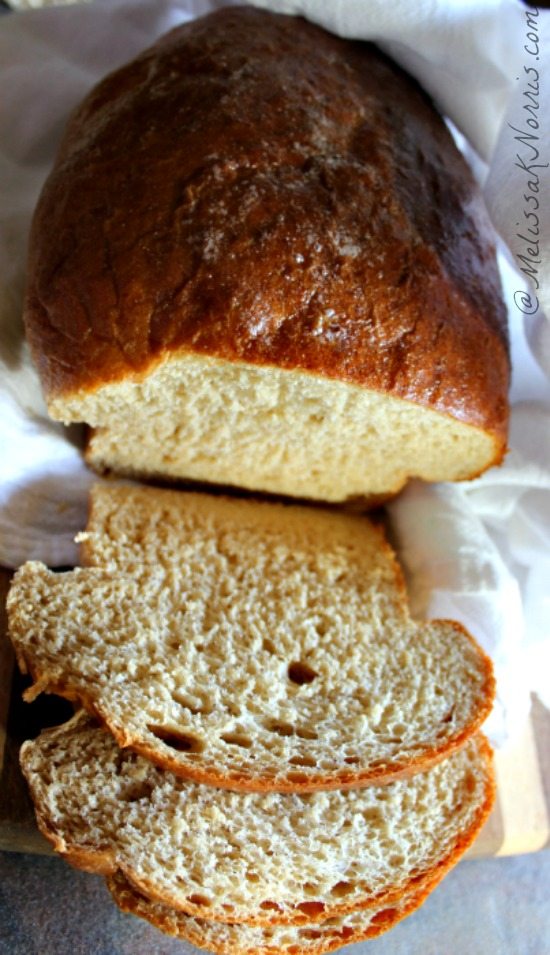 You know how you can eat an entire cake in one day by taking little slivers at a time? Yeah, I did that with this bread.
Do you see the open texture of those slices? And no crumbs. Honestly, I sliced the whole loaf and had one crumb, one! I think I'm a little bit in love with this bread… and makes me declare its the best buttermilk bread recipe out there.
Many of you know I started grinding my own flour last spring. Baking with freshly ground flour is quite a bit different than store bought. For one, you use less flour in your bread recipes. Two, it absorbs more moisture than store flour and can be over worked. When you first mix in the flour, it will seem too wet. This is why we let it sit. It will absorb the extra liquid.
Resources for Honey Whole Wheat Buttermilk Bread
If you don't have a Kitchen Aid Mixer (I just got this one from our affiliate partner Amazon Kitchen Aid Pro 6 Quart Mixer for Christmas and don't know how I operated my kitchen without it) you can knead the dough by hand. But, use a light layer of olive oil on the counter, not flour. You don't want to add in anymore flour. Knead and then allow dough to rest before the second knead.
Ever had rock hard dense whole wheat bread? That's because using fresh ground and whole wheat flour is a bit different than baking with all-purpose or bread flour. Learn these 6 Tips for Baking with Fresh Ground Flour for bakery perfect bread.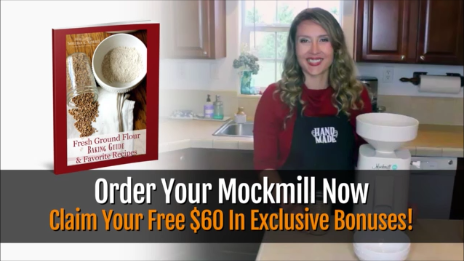 My favorite grain mill, the Mockmill. For the most nutrition and my favorite home grain mill (I received my Mockmill free in exchange for my review, but loved it so much I gave my old mill away).
What's all the bonuses when you get your home stone grain mill?
So glad you asked, you get:
FREE shipping
Farm Directory & Grain Milling Guide
Mockmill Recipe Guide
Plus,when you purchase the Mockmill through my link, I'm giving you access to my mini e-course Baking with Fresh Ground Flour and my e-book Fresh Ground Flour Baking Guide & Favorite Recipes, valued at over $60!
You can have home milled flour in your kitchen and the bonuses with these 3 easy steps.
How to Order and Claim Your Bonuses
Order your Mockmill here to get free shipping, the Farm Directly and Milling Guide and the Mockmill Recipe Guide.
Have your Mockmill Receipt number and fill out this form to get special access to my Fresh Ground Flour mini e-course and Fresh Ground Flour Baking Guide & Favorite Recipes.
Begin creating the freshest flour you've ever had to bake wonderful foods for your family.
Making your own homemade from scratch recipes is one the best ways to ensure your family is getting healthy food. Get all of our favorite from scratch recipes, from the kitchen to the bathroom and beauty products. Grab your free bonuses here –> Made From-Scratch Life: Simple Ways to Create a Natural HOme.
Honey Whole Wheat Sandwich Bread Recipe
Trust me, it took me months to learn these tricks and a few batches of dough so tough I could not punch it down. And this hay bale packing Mama knows how to punch dough.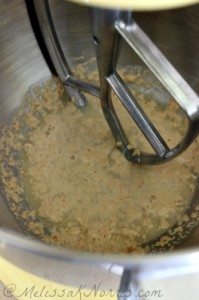 I always proof my yeast to make sure I get a good rise.
See the stickiness of the dough, but how it holds together? This is what you're after.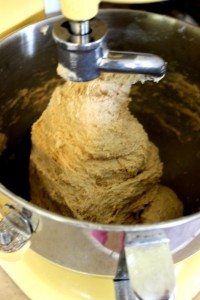 Need more tips on baking bread from scratch? Check out 8 Tips for Perfect Homemade Bread Every Time. If you want to use spelt (a primitive grain) you'll need to use more spelt flour. On average, you'll need 1 and 1/4 cups of spelt per 1 cup of regular flour in a recipe. But, spelt has more protein and less gluten than regular wheat and it has not been hybridized like modern wheat, making it an excellent choice in your baking recipes.
Now for the recipe! Here's a printable version of my
There you have it my best honey whole wheat buttermilk sandwich bread recipe!