"Melissa is very heartfelt and passionate about being spirit-led in all we do." Charlotte Martin, Women's Ministry, Concrete Assembly of God
Finding just the right speaker for your event ensures attendees leave lifted up, filled with inspiration, instead of leaving wishing they hadn't wasted their time. I hope this page helps you get the information you need to make the best decision possible for your event.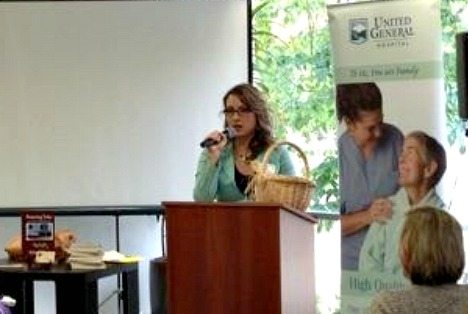 WHAT YOU CAN EXPECT
Here's what you can expect from me:
Prompt, professional replies to your phone calls and email messages.
A personal phone consultation with me prior to your event, so I can better understand how I can best serve you and your audience.
An announcement about your event on my blog and social media channels. (This assumes that your event is open to the public and you want additional visibility for it.)
A custom resource page, exclusively created for your attendees. It will include content for them to delve deeper into our topic on their own, links to books, articles, and other resources I believe will be helpful.
A quick follow-up communication after the event, to make sure I met your expectations. (I also want to know how you think I can improve.)
Contact me for availability at melissa(at)melissaknorris.com
I will respond promptly
A LITTLE BIT ABOUT ME
I am a Christian fiction novelist, newspaper columnist, blogger, and speaker. I have a weekly radio show, Pioneering Today,
featured on KSVU radio
and as a
podcast
.
I help people to feel God's presence in their lives and to know and walk the path He has set for them.
"For I know the plans I have for you," declares the Lord, "plans to prosper you and not to harm you, plans to give you hope and a future." Jeremiah 29:11
I am happily married to my husband, Clay, for thirteen years. We have a son and daughter, five cows, a dog, cat, and the occasional coyote, bobcat, and deer wanders through. In my free time I enjoy wake boarding, gardening, reading, and camping.
Melissa is available for:
Women's Retreats
Women's Conferences
Women's Events
Writer's Conferences
MOPS and Mom's Groups
Holiday Events
REQUESTED SPEAKING TOPICS:
Praise Him in the Storms
Life is full of hardships and God yearns to ease our pain into a time of praise. Hardships and suffering are inevitable this side of heaven. After enduring an ectopic (tubal) pregnancy, God taught Melissa He longed to heal her if she would let Him. When we are faced with hardships, we feel overwhelmed and alone. God doesn't cause our hardships, but He uses them to reach us. If we allow Him, God can turn the worst of circumstances into a time of praise and healing.
Are You There God? It's Me!
How do you know if the path you're walking is the one God wants you on? Once we learn to hear and listen to the prompting of the Holy Spirit, we can begin to unfold the wonderful plan God has for our life. This session will help you to:
Learn how God speaks to us
Listen for His voice
Biblically sharpen your ears and heart to seek His path with a list of activities
"Melissa explains the role of the Holy Spirit in her life, so personally that hearts are touched. She also shares her fears, she is real." Bonnie T.
Pioneering Today; Getting Back to Basic Living
In this fast paced world, we often feel overwhelmed and out of control. By taking a hands on approach with our homes and food, we force ourselves to slow down and spend time reflecting on the things that really matter; God and family. No matter if you live in a subdivision or the side of a mountain you'll learn easy and quick ways to:
Prepare meals from scratch
Plant, harvest, and preserve food
Master quick gardening basics
Create gifts and crafts your friends and family really want
Discover God's lessons while spending quality time with your family
Define Your Target Audience for Effective Social Media Growth
Attendees will go home with definite goals and plans for building or expanding their platforms via social media and will have discovered:
Their specific audiences.
How to reach their audiences through social media.
How to create and implement a tailor-made social media plan.
*Topics can be tailored to meet your groups needs.
CONTACT FOR AVAILABILITY
Email:[email protected]