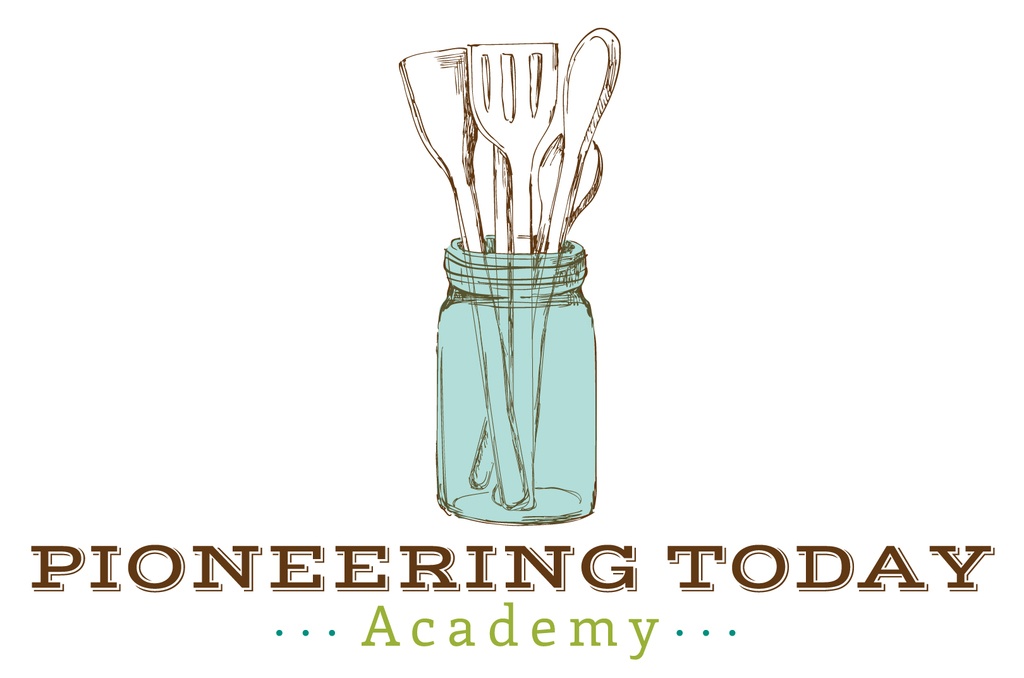 This will be a growing resource as we cover more and more lessons in the Pioneering Today Academy.
Note: some of the below links are affiliate links, however, they're products I personally use or believe will be of help to you and cost you absolutely no more. I make a small commission on some of the products if you purchase through the below link.
You can quickly jump to a section by clicking on the subjects listed below!
Gardening/Seed Starting
Composting
Fertilizing
Fruit Management & Pruning Tools
Organic Treatment Options for Insects/Disease
Mason Bees
Livestock and Fencing
Seed Saving
Canning Supplies and Resources
Dehydrating
Natural Medicine and Herbs
Grinding Flour
Fermenting
Dairy Fermenting
Cheese Making
Bread Baking
Homemade Pasta
Gluten Free
Soap Making
Sprouting supplies
Farm Fitness Equipment
You may notice I don't use peat pots. I've found they're similar to egg cartons, which dry out quicker, so if you're going to spend money on a container, I'd purchase the plastic pots you can re-use year after year. This is a personal preference and I encourage you to see what works best for you.

Seed Starting & Containers
Seed Organizer – this is a plastic photo organizer that perfectly holds seed packets and allows you to keep them extremely organized.
20 pack of 1 gallon pots I purchased these three years ago and they've worked well with repeated uses. I put my tomatoes and peppers in these when they reach about 2 to 3 weeks of age.
20 pack of 4 inch pots These are great for smaller starts that you'll be putting out sooner, such as cabbage, broccoli, or even herbs and flowers.
Soil blocker This is on my wish list and I wish I'd known they existed years ago.
Newspaper Pot Maker Just use newspaper and this roller to make all your little seed starting pots
Nursery Plant Markers pack of 100
Seedling Heat Mat If you're home is cold, you might consider using one of these for your warm-weather starts. I've not used it, but it comes highly rated and recommended.
Frost Protection Plant Fabric For extending your growing season and protecting plants from both frost and insects.
Large Grow Bags These fabric grow bags come in multiple sizes and are an excellent way to grow vegetables.
Container Potting Soil (Costco has the best deal I've found in the springtime) but I've also ordered this brand in the past
Greenstalk Vertical Stacking Container – here's the vertical stacking and rolling system I have for my strawberries. The stackable vertical container garden tower is from my affiliate GreenStalk use this coupon code for $10 off your order: ​​ PIONEERING
Row Covers
Easy accordian style poly row cover (frost protection)
Easy accordian style mesh row cover (pest protection)
Grow Light Options
Growlight System with Pulley Rack This is the grow light I've had for over three years. It folds up compactly and I store it under our bed. Still using the original light bulb as well.
Grow light on a clamp This is a smaller grow light for small batches of seeds.
LED Grow Light Strip (6 pack)
Timer/Surge Protector for Grow Lights
Fruit Management & Pruning Tools
Folding Saw – Heavy Duty Pruning Handsaw for larger branches
Steel Pruning Shears for smaller branches and bushes
Long-handled loppers for medium branches or spots that are harder to get into
Disposable Apple Maggot Trap Kit 25 Apples, 25 Wire Holders, Two cans of Adhesive. The kit is showing out of stock currently but this is the can of adhesive.
Composting
Compost Thermometer This thermometer stays in my compost pretty much year round so I can easily monitor the temperature and guage when it needs to be turned or fed.
Fertilizing
Fox Farm Tiger Bloom Fertilizer for Buds and Blooms 2-8-4
Alaska 100099247 32 Oz Fish Fertilizer Concentrate 5-1-1
Soil Amendment Options
Element Sulfur 10 pound bag to help lower the PH level
Blood Meal– 17 pound bag to help increase nitrogen level in the soil
Watering
Zinc Impact Sprinkler on Tripod

Organic Options for Insect/Disease Control
Neem oil – cold pressed 100% neem oil (for disease and insects)
Diatomaceous Earth Food grade
Mason Bee Supplies
Mason Bee House This is an option if you just want to start with the house.
Mason Bee Kit This comes with everything but the bees to get started.
There are many options for getting the live Mason bees (shipped in their larvae stage) most local plant nurseries or farm and garden stores will carry them. Or you can have them shipped to your house. Look for a company that's in your region or will let you pick what region you're in for the right bee.
I've always gotten ours from a local store, but this is an online option (note, this is the brand our local nursery stocks and what I currently have!)
Soil Testing Supplies
Using a lab will give you the most accurate results. Check with your local county agricultural extension office to see if they provide this service, most do (mine being one of the few states that don't). This is the lab I use as my local county office doesn't test soil, the basic test is only $12 and you can do it all by mail! http://simplysoiltesting.com/
For an at home test, this Luster Leaf Rapitest Soil Kit is rated as a best seller.
After looking at the reviews on probe soil test kits, I didn't find one that I could recommend to you as reliable.
Companion Planting Books
Secrets of Companion Planting for Successful Gardening by Louise Riotte
Tomato Success Resources
Garden Lime for adding calcium to the soil and bringing acidic soil PH level up
Heavy Duty Wire Cage supports for tomatoes, I have used both the smaller and larger ones for multiple years. My tomatoes grow so well, no matter which size I use, by the time they're full grown and producing tomatoes, I still use some twine and rope to finish off their support.
Soaker Hoses– keep water off the leaves and help cut back on blight or fungus.

Livestock and Fencing Products
The electric fencer we use for our pigs. Our old one shorted out while we were out of town and fortunately, our neighbors had one to loan us until we could get this one (and they put our pigs up for us, they're pretty awesome).
Water Stock Tank Heater this is the exact model we have for our cattle and have used it for years without a problem. This model works best in a metal tub, not a plastic one.
This model has a guard on it if you have a plastic water tank
This is a heated water bowl many people will use for smaller livestock like chickens.
All-in-One Home Butchering Kit
This kit has the knife, cone, and a plucking machine you can set up with a home drill. Click here–> all in one home butchering kit

Seed Saving Resources and Gardening Books
The New Vegetable Growers Handbook by Frank Tozer. Excellent resource on growing vegetables, when to plant, how much, including seed saving (though not as heavy on seed saving as Seed to Seed). This is my go to reference for growing vegetables and troubleshooting problems.
Seed to Seed: Seed Saving by Suzanne Ashworth- This is the Bible for Seed Savers, it breaks it down on when to plant by region in the United States and focuses solely on seed saving for each plant. This is the book I use when I'm seed saving something new or encounter a problem.
Row Cover Fabric and Insect Barrier Cloth This cloth can be used as a barrier for both insects (and cross-pollinating insects and cabbage moths, so it works for pest control as well). You can also cut this up and make your own bags for pollination cages or bags.
Seed Saving Bags and Packets Different sized bags for blossoms, corn shoot and tassels, sorghum, and seed packets for seed saving and cross-pollinating barriers.

Canning Resources
My favorite is Everything Worth Preserving, it has water bath, steam and pressure canning.
I don't have this version, but I hear from many many experienced canners that this is the gold standard and best canning book to start with. Make sure you're using a new edition though like this one –> Ball Blue Book of Canning
The Ball Complete Book of Canning  has lots of standard recipes, canning instructions and safety tips, pressure canning. It's heavier on the water bath recipes (lots of sauces, jams, jellies, salsas, and even a chocolate one) but it does include some pressure canning as well.
Canners
For a water bath canner that won't rust or chip, consider a stainless steel water bath canner like this one.
Or the granite water bath canner you've most likely seen: waterbath canner with a removable rack.
A 5 piece canning kit, with jar remover, magnetic lid lifter, funnel, kitchen tongs, and jar wrench.
Steam Canner you want this type of canner for steam canning that has the Temperature Indicator
Frugal pressure canners:
This Presto pressure canner will get you pressure canning all of your non-acid foods safely. It does use a rubber gasket and can also be used for water bath canning. This is very similar to the pressure canner I started with and used for a decade.
Investment pressure canners:
This is an All American Pressure canner. It has a metal-on-metal seal so you don't have to replace rubber gaskets. After operating both (best Christmas gift ever!) I do prefer and use exclusively the All American pressure canner. I feel it gets to pressure faster and holds it easier without adjusting temps through the processing times.
Need help choosing which canner is best for you and your family? Here are 5 Tips to Choose the Best Pressure Canner for You
Canner Replacement Parts
Presto replacement gasket and overpressure relief plug
All American Canner replacement/backup overpressure relief plug
Outdoor Canning Stove
Two burner standing outdoor Camp Chef Stove
Jam and Jelly Making Supplies
The only store-bought pectin I use is Pomona's Pectin as it's natural citrus pectin and doesn't have questionable ingredients added to it. You can get it in bulk from Azure Standard or in smaller boxes from Amazon.
This is one of my most regular used kitchen tools, including checking for the setting temp in my jam and jelly recipes–> Glass Candy Thermometer
ClearJel-the only approved thickener for canning and making the *best pie fillings! This is the kind for canning, make sure you don't use or get Instant, the cook type is needed for canning recipes.
Stainless Steel Juicer This is one of the easiest ways to make juice for both canning juice, syrup and jelly.
Canning Lids
Superb lids are made in the USA (Ohio) with a thicker seal compound and improved lid due to the increased pounds of pressure needed to seal (greatly reducing false seals). Better yet, they're in 60 or 300 packs, so you don't go through a box in one day's worth of canning. They're available at Lehmans as well as Azure Standard.
ForJars also has canning lids available in bulk boxes. Coupon Code: 10% off with "Modern10"
Reusable Tattler Lids I recommend purchasing one set and using them for a while to make sure you like them before investing in large quantities. They have a bit of a learning curve but once sealed, they stay sealed.
Sauce Making Supplies
Sieve for making tomato sauce and juice for jellies and syrups.
Food mill for making sauces and juices.
Dehydrating Resources
Nesco Square Dehydrator This is the dehydrator I have and a great entry point as far as cost goes. You can purchase additional trays for it here.
These are the silicone mats I use for fruit leather, sticky foods, and or small items.
Excalibur Dehydrators, considered the dehydrator by many.
Some of my favorite jars to store dehydrated food in are Fido jars.
Vacuum Sealer- use for dehydrated foods (I use our for freezing foods too). This is the exact model we use.
The Veggie Spiralizer– I've had this for over 3 years and adore it for making vegetable noodles or curly fries.
Resources & Books for Creating a Natural Medicine Cabinet and Growing Herbs
The Essential Guide to Herbal Safety by Simon Mills and Kerry Bone (Excellent book on herbal safety includes the top 125 most common herbs)
Herbal Antivirals by Stephen Harrod Buhner (the BEST herb book I've read so far with clinical data and doses for use with viruses specifically)
Herbal Antibiotics Stephen Harrod Buhner
Even though it says for beginners, it takes you in-depth not just on the uses of the herb, but with growing tips too. Rosemary Gladstar's Medicinal Herbs: A Beginners Guide: 33 Healing Herbs to Know, Grow, and Use
I really enjoy this book, it's where I first learned about the energetics of herbs and matching them to yourself. Alchemy of Herbs: Transform Everyday Ingredients into Foods and Remedies That Heal
The Homesteader's Herbal Companion: The Ultimate Guide to Growing, Preserving, and Using Herbs by Amy Fewell, is a great book and also dives into using herbs for your livestock, especially chickens.
Foraging and Wild Edibles Reference books by YOUR region! http://amzn.to/2ormEmB
Great website with both free information and some paid resources American Botanical Council
Herbal Medicinal Supplies
Essential Oils (kidsafe blends)
Large stainless steel tea strainer
1 ounce Tincture Bottles with dropper and funnels
Food scale I've had this exact scale for 7 years now
Everclear 190 proof This is where I ordered mine online
Organic 190 proof alcohol (I love this site because you can order it in a gallon which ends up being large savings)
Cheesecloth to strain herbs for tinctures
Hydrogen Peroxide Chart & Info
Nebulizer (I have a Leader Brand from our local pharmacy but this is one with a lot of reviews on Amazon)
Modudose Saline Solution for Inhalation – 100/box(5257-5mL Unit Dose)
Philips Respironics SideStream Reusable Nebulizer Cup with 7 Foot Tubing
Philips Respironics SideStream Reusable Adult Aerosol Mask for Nebulizers
Bulk Spices, Herbs and Tinctures
Farmhouse Teas Herbal Challenge Kits don't want the full kit but individual recipes/herbs then click here
Starwest Botanicals (they have a good selection of dried herbs)
Herbal Tinctures Elk Mountain Herbs
Pacific Botanicals (herbs sold by the pound)
Zack Woods Herb Farm (selection of high-quality herbs)
1st Chinese Herbs (bulk selection of Chinese herbs)
Tinctures/Herbs from Protocol Shared by Stephen Buhner
EBV Formula Tincture contains individually prepared tinctures of: Chinese Skullcap** (Scutellaria baicalensis) root, Isatis (Isatis indigota) root, Kudzu (Pueraria lobata) root, Licorice (Glycyrrhiza glabra/ Glycyrrhiza uralensis) root, Lomatium** (Lomatium dissectum) root, Reishi (Ganoderma lucidum) 1:1 mushroom extract, Rhodiola (Rhodiola rosea) root
Elk Mountain Herbs (below are the formulas I purchased)
MicroGuard V3 Formula
MicroGuard V2 Formula
Houttuynia Tincture
Nettle Seed CO Tincture
Nettle Leaf CO c/s, Dried
Essential Oils
Supplements
Dr. Mercola Lumbrokinase Enzymes
MangoForte™ ~ Mango Leaf extract
Resources for Grinding Flour
Best manual flour mill for ease of use and output plus upping your preparedness level–> Wondermill Deluxe Hand Grain Mill
Best backup manual flour mill when using an electric mill as a primary–> Victorio Hand Operated Mill
Update: my favorite electric grain mill (this is my main mill and I received mine for free from Mockmill)
I was so impressed when I got the Mockmill and here's why:
I love that everything is all together, that it's just one thing. (It only takes up 6 x 6 inches on the counter top!)
I don't have to hook a whole bunch of things together.
The ability to adjust the grind that baby has, I could not believe how fine I could get it. And there's so much play that I can just dial it in for the exact consistency that I want, from super pastry fine to course.
It's a lot quieter than the other mills that I have used.
For a limited time, you can order the Mockmill and get FREE shipping, plus some special bonus offers. You get two guides from Mockmill, the first is the Farm Directly and Milling Guide that contains easy links to the websites and Amazon.com listings of small family farmers who will gratefully ship their grains direct to your door.
Grains and Wheat Berries
Spelt berries: smaller starter package and larger bulk size 25 pound bag
Einkorn berries: Because you're a fabulous member of Pioneering Today Academy, our sponsor and affiliate Einkorn.com has provided a coupon code: ptamembers
Details: no expiration date. Starts now. free shipping on 15lb and 22.5lb packages. Click here to order
Hard White Wheat: smaller starter package and 5 pound bag
Soft White Wheat: smaller starter package and 25 pound bag
Places to Check for Bulk Food Purchases of Grains and Wheat Berries
Amazon
Azure Standard
Local Co-op
Local Farmers
Mormon Church Store House (no, you don't have to be a member, because I'm not and never have been, and I double checked, it's open to the public but you do have to call for hours, though some folks say you need to go in with a member, here's a map where you can find a location near you if you're interested)
My favorite loaf pan of all time: Lodge Cast Iron Loaf Pan

Gluten Free Resources
Better Batter Gluten Free Flour Mix
Bob's Red Mill Gluten Free Oats
Electric Coffee Grinder for seeds and grains
Manual Coffee Grinder for seeds and grains

Soap Making Resources
Digital Laser Infrared Thermometer– I use this for soap making, lotion, and even candy making. This is the exact one I have and use.
This is the food scale I have and use for everything in the kitchen from soap making, candle making, and of course, actual cooking. It's under $15 and measures in ounces, grams and pounds.
Brambleberry.com is where we order lye and oils from for soap making.
My Melt and Pour Soap Base without parabens or proplyene glycol, this is the goats milk, which is believed to have added skin benefits!
My favorite company for essential oils, with free shipping–> Plant Therapy no minimums or requirements and safety is their top priority!
Fun 100% Hand Made Silicone molds for soap, lotion bars, and baked goods!

Fermenting Supplies and Resources
Vegetable
Everything Worth Preserving includes my favorite fermenting recipes, brine charts, and more.
The Farm Girl's Guide to Preserving the Harvest: How to Can, Freeze, Dehydrate, and Ferment Your Garden's Goodness Ann's Book, which includes fermenting
Airlock Systems
4 pack of Kraut Kaps, includes four sets of the ring, plastic lid and airlock system
This is the Perfect Pickler kit I originally purchased when I started, including Celtic sea salt and recipe booklet.
Mason Jar Silicone Fermenting Lids I've used these and had great success.
Best Salts for Fermenting
Redmond Real Salt– this is what we use as a table, fermenting, and canning salt. I buy it in 10-pound bags. Get 15% off with coupon code "Pioneering" at checkout
Celtic Sea Salt– this is the light grey salt that came with my Perfect Pickler Kit
Fermenting Weights
Glass pickling weights set of 4
Cups that hold the brine for a weight
Airlock Systems
4 pack of Kraut Kaps, includes four sets of the ring, plastic lid and airlock system
This is the Perfect Pickler kit I originally purchased when I started, including Celtic sea salt and recipe booklet.
Mason Jar Silicone Fermenting Lids I've used these and had pretty good success, I tend to use them more on things like sauerkraut.
Best Salts for Fermenting
Redmond Real Salt– this is what we use as table salt and for fermenting
Celtic Sea Salt– this is the light grey salt that came with my Perfect Pickler Kit
Fermenting Weights
Glass pickling weights set of 4
Cups that hold the brine for a weight
Kraut Source Lid/Weight Combo Anne likes
Kimchi Ingredients
Red Chili Pepper Flakes Powder Gochugaru
Dairy Fermenting
I get all my cultures and supplies here from Cultures For Health Use Coupon Code: PIONEERING for 15%
Heirloom Buttermilk culture (mesophilic culture) 70-90 degrees F (tolerates up to 105 – 110- degrees)

Heirloom Yogurt like the Greek or Bulgarian (thermophilic culture) 90 – 112 degrees F (tolerates up to 140 – 150 degrees F) DO NOT get Villi, piima, matsoni or filmjolk for thermophilic yogurt, they're yogurt but of a mesophilic culture origin)

Dairy Kefir grains
Butter Muslin (fine weave cheesecloth)
Thermometer (needs to range between at least 80 degrees to 200 degrees F)
Cheese Making
Basic Cheese Making Supply Bundle Use Coupon Code: PIONEERING for 15% off these items, or anything in the Cultures from Health shop!
Azure Standard also carries butter muslin, organic vegetable rennet, and salt.
Mini-measuring stainless spoons for rennet – dash, pinch, smidgen and nip

Cheese Making Books
Mastering Basic Cheesemaking: The Fun and Fundamentals of Making Cheese at Home by Giancalis Caldwell
Milk Cow Kitchen: Cowgirl Romance, Backyard Cow Keeping, Farmstyle Meals and Cheese Recipes from Mary Jane Butters
Bread Baking Supplies
Organic cotton bag from Cultures from Health (this is the one I have)
However, I found this excellent deal for 6 bags (3 different sizes) on Amazon.
Cast Iron Loaf Pan because these are the best loaf pans evah!
Instant Read Digital Thermometer for internal bread temperature taking!
Banneton (proofing basket) for round artisan loaves
Bread Lame (scoring tool) with leather cover
Lodge Cast Iron Cooker for Sourdough Loaves (and any other cooking/baking)
Tartine Sourdough Bread Book by Chad Robertson
Homemade Pasta Supplies
Manual pasta cutter roller this is a stainless steel pasta roller, perfect for cutting out evenly spaced noodles
Wooden dough roller allows for even pressure when hand rolling out pasta, pastry or pizza dough
Stainless Steel Pasta Machine (this is the one I have and love after sending another one back) it's from Italy and has a cutter for traditional lasagne, fettuccine, tagliolini
Cast Iron Dutch Oven & Outdoor Cooking Supplies
Sprouting Supplies
Sprouting Lids pack of 2 BPA free
Farm Fitness Equipment
Floor Push Up Bars If your wrists have trouble bending in a standard pushup position, many people like these.
Yoga Mat 1/4 inch high density
Yoga Foam Blocks Set of 2 These can help if you're flexibility doesn't allow you to get all the way to the floor