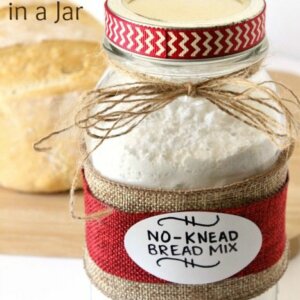 DIY No-Knead Bread Mix Recipe in a Jar
Gifts in a jar recipes don't get any better than the easiest no-knead bread recipe you have here. Delicious chewy outer crust with a soft center and no-kneading required.
For the Jar

3 ½

cups

bread flour

Melissa here-all purpose works fine, if using whole wheat, cut back to 3 cups

2

teaspoon

active quick rising dry yeast

2

teaspoon

salt

When it's time to bake

1

and 1/4 cups of warm water

1

tablespoon

of raw apple cider vinegar.
Stir until no dry patches remain. Cover with a kitchen towel and let rise 1 1/2 hours.

Preheat oven and baking stone to 450 degrees. Punch dough down and remove it from the bowl. Using your hands, pull the sides of the dough down and to the bottom until you have a round loaf. Place on a piece of parchment. You can also use a large cast iron skillet. I bake all of my dinner rolls and cinnamon rolls in my cast iron skillet. If you don't have a large cast iron skillet, you can also use a bread pan. If you prefer the shape of a bread pan, use that route, it looks more rustic when done on the stone or skillet, but all the methods will bake fine.

Let rest 40 minutes.

Just before baking, dust the top with flour and slash three times. Transfer the dough with the parchment onto the baking stone. Bake for 24-30 minutes. Let cool before slicing and eating.