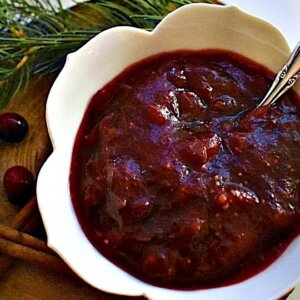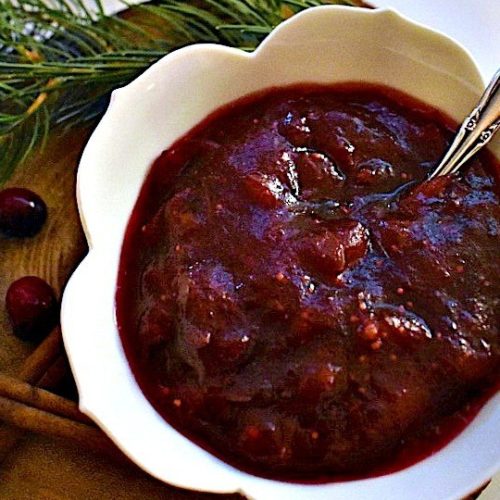 Homemade Spiced Cranberry Sauce
Easy homemade spiced cranberry sauce
12

oz

fresh or frozen cranberries

1

cup

water

1

cup

sugar

two cinnamon sticks or 3/4 tsp. ground cinnamon

one vanilla bean or 1/2 tsp. vanilla extract
Add all ingredients to a small sauce pan and turn heat on to medium high. Stir well to combine ingredients and simmer on medium/medium high until sugar is dissolved and cranberries begin to burst (about 10 minutes).

Turn down to medium low and simmer gently, stirring frequently until mixture begins to thicken up like jam (about another 20 minutes).

Remove cinnamon sticks and vanilla bean if using and discard in compost. Let cranberry sauce cool completely before serving.
To Can Cranberry Sauce
Make cranberry sauce per instructions.
Prepare water bath canner (or steam canner) while the sauce is simmering.
Pour hot prepared sauce into clean and warm half-pint or pint sized jars to a 1/2 inch headspace. Remove air bubbles.
Wipe rims clean, place the lid on, screw-down band to fingertip tight.
Place jars in 180 degrees F water bath.
Bring to a boil and process for 15 minutes.
Turn off heat and remove the lid. Wait for 5 minutes.
Remove jars to a folded towel and let cool for 12 to 24 hours. Check seals, if sealed, remove bands, wipe down jars, and store on the shelf.