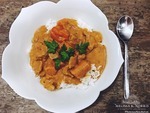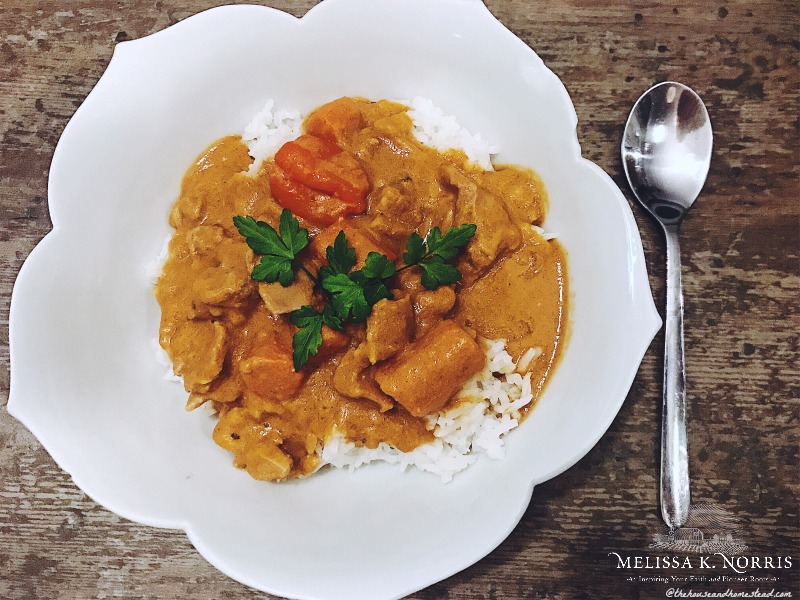 Mafé: Traditional West African Peanut Sauce & Rice
A bold, hearty, stick-to-your-ribs dish made with beef, lamb or mutton, root veggies and thick peanut sauce spooned generously over rice.
Print Recipe
8

cups

of water

or broth - chicken or veggie works best *1 Tablespoon Bouillon for flavour if using water. Not necessary if using stock.

A dash of salt

1

pound

stewing beef

lamb or mutton (cubed)

3

heaping Tablespoons of peanut butter

½

can tomato paste

or 2 heaping Tablespoons

Half an onion

finely diced

2

cloves

of garlic

Root veggies

such as carrots, potatoes, yams and cassava * Any or all of the above will do.

2

whole habanero peppers

Rice to serve

Broken rice is traditional, but you can substitute any type of rice. Jasmine or Basmati works nicely.

Fresh parsley to garnish
Pour 8 cups of water (or stock) into a large pot and bring to a boil. Add salt to flavour.

Add meat, peanut butter and tomato paste (and bouillon if using water instead of stock) and reduce to a slow boil (med-high heat).

Chop onion and place in a mortar with the garlic and crush with a pestle until the juices are released and both the onion and garlic are crushed and softened. Add to sauce. *If you don't have a mortar and pestle you can use a food processor or simply chop onion finely and crush garlic with a press or chop finely and add to sauce.

Peel and roughly chop veggies into large chunks and add to the sauce. Add the whole habanero peppers and stir. Allow veggies to cook until tender (about 15 minutes). Cook rice while waiting for sauce to cook.

Once veggies are cooked, remove from sauce with a slotted spoon and set aside. Reduce heat to a simmer and continue to cook until sauce is reduced to desired thickness (about another 5 minutes or so). Turn heat off, add veggies back to sauce and mix well to combine.

To serve, spoon sauce, meat and veggies over rice and garnish with fresh parsley.