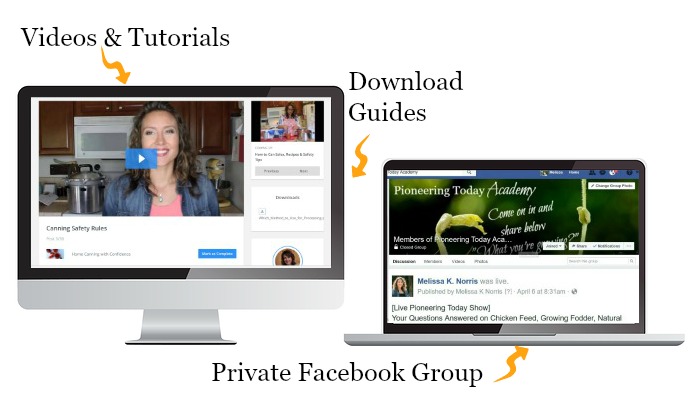 Save money by stocking your pantry with healthy jars of food
Never worry about what's inside the jar of food you're reaching for to feed your family.
Relax when storms roll in, you know you've got your grocery store right inside your pantry.

Imagine Having a Year's Worth of Food
Open up your cupboard and have shelves of food at your finger tips. It's stored in glass, so no fear of nasty chemicals leaching into the food.
You know exactly what ingredients went into each jar, and more importantly, what didn't. No GMO's, no fake food coloring, no pesticides (assuming you grew it yourself or picked/purchased organic if not), no chemicals, and no hydrogenated this or that.
No more food waste, it's good in the jar for months
Easy fast meals without pre-planning, thawing it out or running to the store
When my husband's hours were cut by 8 hours a week this October, I didn't bat an eye.
I knew we had plenty of home canned goods in the cupboard and I could go weeks without buying anything at the store except fresh milk. That my friend's is pretty amazing.
This class is truly one of the best investments I've ever made in my family's health and well-being!
"I love that you have safety at the top of your list! I've realized that many of the recipes and techniques I learned from my mother and grandmother are outdated and/or unsafe, and your classes helped me learn to preserve food the right way.
Learning to can bone broth and jam for the first time and trying recipes you post that go back a generation or two are lots of fun. But being part of such a wonderful group of encouragers is so good for the soul! Kathy P. Member
How Home Canning with Confidence was Born
Howdy! I'm Melissa, I'm a wife, mom of 2, full on homesteader, pharmacy tech by day and pioneer expert by night…. err, morning, and waking hours, too.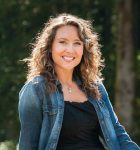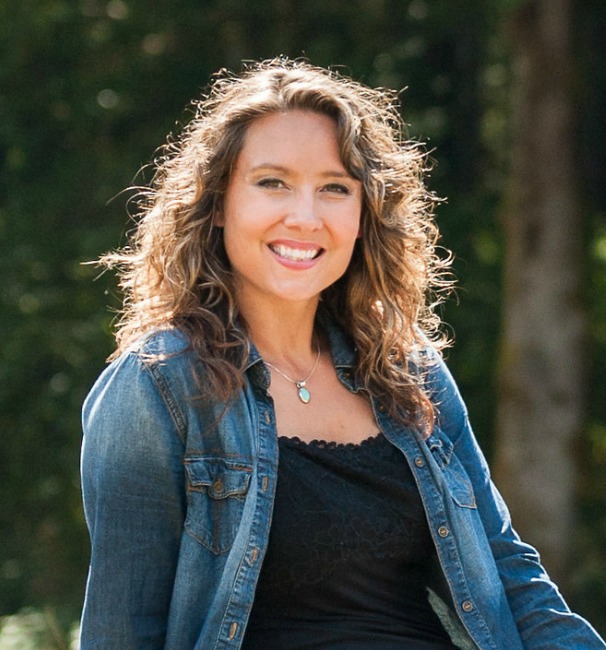 When my daughter was just an infant, I had to have my upper stomach and esophagus biopsied. Thankfully, it came back clear, but that was enough to make me get serious about what was in the foods we were eating and what I was putting into my body.
Stomach acid and ulcers
Cutting out processed foods and replacing them with more home grown and home canned items became high on my list. Some things I just couldn't find versions in the store that didn't have high fructose corn syrup, food dye, or questionable preservatives.
And if I did find them, they carried a higher price tag. But I wasn't willing to sacrifice my health or that of my families.
Stomach issues no more!
Like so many generations before us, I returned to the traditional ways of cooking and putting up food. By cutting out all of the ick in store bought canned and processed foods, I was able to regain my health.

Easy to follow instructions and guides
Is Home Canning with Confidence Right for You?
As a member, you get:
Unlimited 24/7 access to all 30 video lessons and download guides, printable tutorials, and most importantly, the recipes! There's nothing like having true and tested canning recipes, because quite frankly, you shouldn't be using anything else, and once you get going, you'll always be looking for a fun new safe recipe to add to the collection.
Our members only Facebook group to share photos, ask questions, and be a part of a community of folks who get the thrill of hearing that canning lid "ping" as it seals. Having a fellowship of people to support you is priceless.
Monthly Live Q&A's. Join our live once a month question and answer sessions where you can ask those tricky questions about canning recipes, techniques, or problems, and I'll answer them.
On-going access to new videos and bonuses when they're released.
Oh, oh, I almost forgot, we have really pretty vintage inspired canning labels waiting for you as a bonus as a download in the welcome video of the course. There's circle ones for the tops of jars, rectangle ones for the front, and blank ones you can fill in the info yourself. Way cool, right?
They print out on address labels for easy stick on or you can print them on card stock to cut out, punch a hole in, and tie on a jar with ribbon or jute twine for fun gift giving.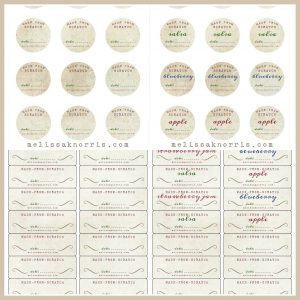 "I did it! Was scared to death. But I took my new pressure canner out of its box, read the directions (twice) and my results…..34 pints of green beans." Gretchen B. Member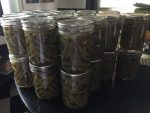 Home Canning with Confidence Could Save You $2,640
plus saves hours of time and gives you peace of mind
For our family of 4 to go out to eat, we typically spend around $40 for a full meal. Even if we only eat out 3 times a month, that's $120, times a full year= $1,440
When we go out to eat, trying to find a restaurant that serves totally from scratch cooking where they use no processed ingredients, chemicals or GMO's is pretty much unheard of. Which means we're not eating as healthy as I'd like, plus we're spending gas and time on the road. (That just tends to happen when you live a full hour away from the closest stop light and large grocery stores)
With home canned food, even on busy nights, I can open a few jars from the pantry, heat it, and have a delicious meal made completely from scratch (and many times by the items we've grown here on our homestead) and served to my family in just 10 minutes.
I don't know about you, but when I go grocery shopping, the prices seem to always be on the rise. I have a hard time finding any canned food in glass jars, and when I do find items that don't contain questionable ingredients, they always cost more.
For just about $.25 a jar (when I've grown the ingredients myself) I'm able to put up jars of organic tomato sauce, salsa, green beans, apple sauce, and jelly. I easily put up 150 jars of just these items alone. If I purchased these in the store I'd be paying close to $400 for just these items alone, which saves us $362.50 by canning it at home.
We put up close to 400 jars of food a year, which easily saves us at least $100 or more a month off our grocery bill.
I've seen other canning courses online, but they only offer 4 to 5 lessons, and many don't cover pressure canning at all. Which means you have to buy their other canning courses separately.
With 30 lessons, recipes, charts, tutorials, and guidelines, we cover everything from how to test your jams, jellies, and fruit butters to know they're set without store bought pectin, how to can your own meats, broths, vegetables, pickles, salsa, and sauces, plus more.
That's a complete savings of $2,640 for just $97 (regular $147) or just $8.08 a month divided out.
*These savings are based on our family and what we normally spend, your savings could be less or more, this is not a guarantee.
I personally jump into the Facebook group every day and answer recipe questions, alter recipes for safety, and support.

How to AVOID BOTULISM and Stay Safe with Home Canned Foods and Recipes
Not everything is safe to can at home. There are numerous recipes and down right dangerous procedures floating around.
You absolutely must know which foods can be canned at home and what method is safe to use. This is not the place to be a rebel (other areas of life, yes, but not in canning, 'kay?)
When I first started canning I had no idea that botulism was a form of food poison found in home canned food that could be fatal. That scared me and I wanted to make sure I fully understood how it worked and how to avoid it.
As a blogger, author of a book with canning recipes, The Made-from-Scratch Life, and a mom who didn't want to take any chances with her families health, I set out to learn everything about the science of canning and how to stay safe.
I spent literally hours and weeks of research reading updated safety information, new copies of canning books and procedures, the FDA's website for home food preservation, extension offices, and any other reliable source I could get my hands.
I learned where many people make mistakes and the things we absolutely must do in order to be safe, and where or how we can alter things. My number one priority is safety, followed by healthy food my family and I enjoy, and any procedure that could save this busy Mom some time without comprising safety.
What you must know in order to avoid botulism
You have to know the difference between acidic and non-acidic foods and understand how botulism thrives in different environments in regards to home canning.
Many people think just because they pressure can something, it makes it safe. While we do have to pressure can non-acidic foods, not everything can be canned at home, even in a pressure canner.
Knowing what method, how to do it properly, and what items you may can at home are vital in making sure you stay safe.
No one wants to make their family ill with improper canning procedures, but they don't have anyone to teach them the updated research, methods, and recipes.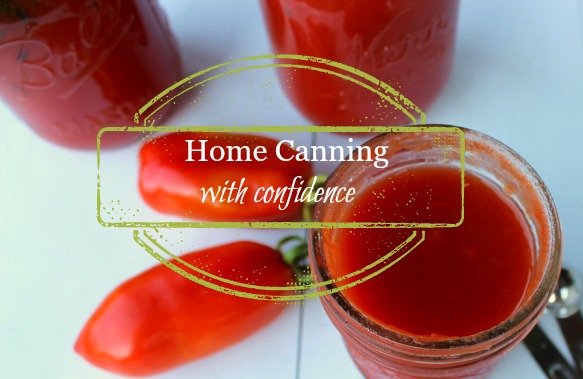 Success Stories
Well, it took a couple of days (and a couple of posts asking questions… thanks for your help), but it's finally done! 40# of chicken breast canned (12 qts and 19 pts), and 1qt plus 4 pints of chicken bone broth. ? ? Feels good to have it all done! I couldn't have done it without your tutorials on safety and canning! "
Kathy P. Member of Home Canning with Confidence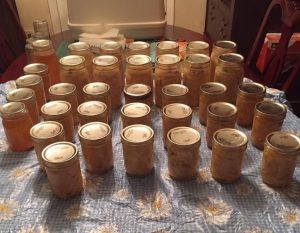 "I never dreamed I would be able to make my own pepper jelly. I've always thought of it as a gourmet item and paid quite a bit of money for a small jar, so to be able to make my own that tastes this good is a dream come true! Thank you Melissa, for the recipe and your canning classes! I'm not sure what could top this but I still have many other things I haven't tried making yet." Donna E. Member of Home Canning with Confidence.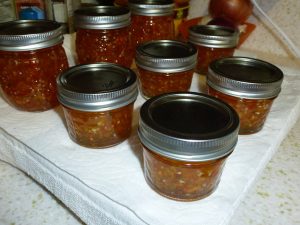 Module 2 Water Bath Canning

Module 3 Pressure Canning

Module 4 Troubleshooting Tips
Module 1: Canning Safety
01 Learn all of the safety and science behind canning, including the do not can at home list, and most importantly, why. Up to date canning procedures and why following recipes and procedures from older sources isn't safe, and more importantly, what is safe.
02 Terminology, there's some weird words in canning, but it's important you know what they are and what they mean to the final outcome of your home canned foods. We've got a cheat sheet you can print out, just in case you forget.
03 Which foods can be canned safely by which method. Botulism is a scary form of food poisoning, it can be fatal, but once you understand how it grows, you'll confidently be able to move forward knowing which method is safe for each type of food and recipes.
04 Reusable canning lids. There is only one kind of canning lid safe to reuse and we'll walk you through the different procedure and where to get them.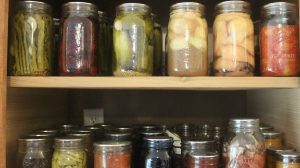 Module 2: Water Bath Canning
01 Fruit, Jams and jellies without store bought pectin and low sugar (and the only store bought pectin we use), pie fillings, fruit butters, and sauces, stewed and canned fruit and applesauce (my no peeling or chopping apples method) Recipes for all and tips for proper processing.
02 Pickling- learn how to safely pickle foods at home, including knowing if an older recipe is safe, vinegar and brine recipes and tips, how to keep pickles crisp, and our favorite relishes.
03 Tomatoes- safety methods for both water bath and pressure canning, how to make tomato sauce, stewed tomatoes, peeling tips and tricks, and of course, our favorite recipes using tomatoes!
Bonus!

This one trick saves hours of time when making tomato sauce without every blanching a tomato or using a food mill and gives you 30% more sauce without any extra work!
One of the greatest components in my arsenal to learning homesteading skills.
I'm more of a visual learner and love that there is a video for each skill from canning, gardening, to grinding flour, making soap, and so much more. And I can learn at my own pace at any time of the day. Last year I canned so much more than the previous two years filling up my pantry and then some. It gives me security to know that I'll be able to feed my family no matter what. Becoming a member is well worth the money spent. Michelle H. Member
Module 3: Pressure Canning
01 Safety tips and operation, from beginning to end. We share both models of pressure canners, the All American and a Miro, and how they operate to get your going with confidence.
02 Raw and hot pack tips (when to use which method) with vegetables (including fresh picked shell beans and dry beans)
03 Meat- including smoked fish, poultry, beef, and venison, and seafood times and pounds of pressure
04 Broth and combination recipes. Learn how to make delicious and nutritious broth at home along with homemade soups, including safe home canned tips for canning your favorite soups.
Module 4: Troubleshooting and Storage
o1 Troubleshooting, what if my lid doesn't seal, why did I loose so much liquid, is it normal for the water to be cloudy, how do I know if its safe to eat. We'll answer all of these questions and more.
02 Proper storage of your jars. Now that you've got these beautiful jars full of food, you want to make sure you're storing them properly for maximum shelf life.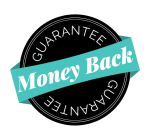 I'm so excited to have you join the class and get on your way to canning with confidence, I will give you your money back, no questions asked, no hassle for 30 days.
Do you want the peace of mind, and savings, of knowing that all of those home canned jars of food were done following approved and safe canning methods? You can confidently serve them to your family and not worry about if you were doing it right.
At the end of the growing season, you have hundreds of jars of food canned and ready to feed your family no matter what happens. Just like the homesteaders and pioneers of old, your food is stored up for the winter and it feels good! So good you may stand and stare at your Mason jars filled with food in satisfaction.
I want that to be you this year, in just a few short months.
That's why I created the Home Canning with Confidence Course, part of the Pioneering Today Academy.
It's a complete road map on putting up your food for the year, from learning how to make homemade jam and jelly without store bought pectin, understanding exactly why ingredients are in recipes, how canning works to make things shelf stable and what steps you need to make to ensure your jars of food are safe, how to operate your pressure canner without fear and more.
Join the Home Canning with Confidence Course and let this be the year you actually do it, instead of thinking about it or wishing. No more letting that canner sit in the back of the closet mocking you or gathering dust.
I want you to circle the date you'll have your shelves filled with jars of home canned food.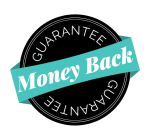 Frequently Asked Questions
Do I have an expiration date on how long I can view the lessons and recipes?
No, you can go in at anytime and view the lessons and print out the guides, recipes, and tutorial material.
Do I have to follow along weekly?
No, you can go in and use the lessons and recipes whenever you want. The weekly emails are just to let you know the new lesson is up and to give you the helpful tip of the week as you go through the canning season.
Can't I just find all this out on my own?
You can spend the time researching, but frankly, I've been down the internet rabbit hole before and I prefer to save time when possible. You can hope to find someone who is knowledgeable and up to date in your area and try to mesh up your schedules for a lesson, or you can have all of the lessons in one spot, at your convenience, with all the material available to print out.
Is this for beginners only?
It's for all levels, we have beginners and we have experienced canners who want to make sure they're up to date on their recipes and procedures, and we have members who haven't canned for awhile and want to get back into it safely.
I've seen other canning courses out there, why should I join this one?
This is the only canning course that I've seen that goes this in depth. Many others for the same price or more only include water bath canning and an overview of using your pressure canner. This is in depth, walking you through canning up a years worth of different foods, and I've never seen a canning course show you how to make jams and jellies without store bought pectin. This is basically three courses in one with the water bath, pressure canning, and safety with money saving tips like not having to use the store bought pectin.
But truthfully, one of the best parts of this course is the private Facebook group and the bonus monthly live Q&A videos.