Pickled asparagus is one of the easiest and best canning recipes you can make. Pickled asparagus makes crisp pickles and makes good use of those slightly larger asparagus pieces. I prefer medium sized asparagus to make sure they still have good crunch after the water bath.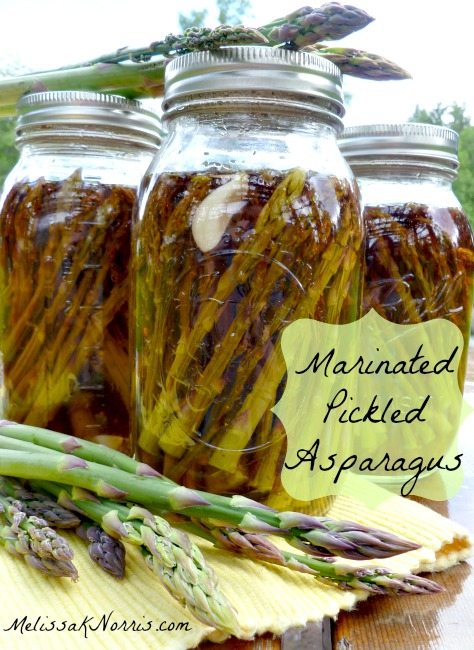 Spring marks the beginning of canning season at our homestead. The ping of sealed jars is a percussion we dance to through October. The first thing to meet jars at my house this year is asparagus.
We don't grow asparagus (yet, I should say), but we love to munch on pickled asparagus spears. We were lucky enough to have a co-worker with a farm on the east side of the state bring us box, and by a box, I mean almost 20 pounds of fresh asparagus.
So despite putting in a full 8 hour day at the pharmacy yesterday, I set to work on the first batch of 6 quarts of the best pickled asparagus, seriously, I have people ask for this recipe (because a girl can only give so many jars away) all the time. My sweet husband jumped in and helped, making this a quick family project.

Best Ever Pickled Asparagus Recipe
180 spears of asparagus (depending on size, about 30 per quart)
4 1/2 cups water
8 1/2 cups vinegar (preferably organic and always use 5% acidity when canning/pickling. You can use white or apple cider vinegar. White just helps keep the green color of the asparagus)
6 Tablespoons pickling salt (regular makes your brine cloudy)
1 to 2 cups (I use raw organic cane sugar)
1 1/2 teaspoons celery seed
12 Teaspoons mustard seed
12 teaspoons Dill weed (or 2 heads fresh dill tucked in with asparagus)
Optional (Add red pepper flakes to each jar with garlic if you want some heat, approximately a 1/4 to 1/2 teaspoon per quart)
Makes 6 quarts
Wash jars in hot water or sanitize in dish washer. Put 3 cloves of garlic, and 2 teaspoons mustard seed and dill in the bottom of each jar.
Rinse asparagus in cold water. Measure and chop off ends so that heads fill jars with 1/2 inch head space. Pack tightly. Wide mouth jars work best. Set lids in a pan of water on medium low heat until ready to seal jars.
Put all of ingredients in a large stock pot and bring to a boil, stirring occasionally. Once liquid has boiled, fill each jar to the top of the spears, leaving 1/2 inch head space. Wipe rims, put on lids, and screw on bands. Place jars in canning rack or basket in a hot water bath of boiling water and process for 10 minutes.
Carefully pull out hot jars and place on a folded kitchen towel in a draft free area. Let sit for at least 12 hours. Check to make sure the jars of pickled asparagus have sealed by pressing down on the center of the lid. If it pops or gives, your seal is bad. Put in fridge and eat.
Store jars in a dark cool place. Let asparagus marinate for two weeks before eating. Flavor will deepen the longer they set.
Tip: As with any pickling, fresh vegetables make the best pickles and have the most crunch. To make sure asparagus is fresh, try to snap it in half. It should break clean with out any strings. Stringy or limp asparagus is a sign that it's not fresh.
Disclaimer: While every recipe has been tested in our kitchen and to the best of our knowledge is safe, all recipes are used at the risk of the consumer. All advice given in the form of recipes, tutorials, gardening articles, and how to articles is used at the risk of the consumer.
We cannot be responsible for any hazards, loss or damage that may occur as a result of any recipes, tutorials, or articles used from this site. Read full disclaimer here.
Our rhubarb is still on and the strawberries aren't far behind. Try my low sugar strawberry rhubarb jam for a sweet treat. New to canning? Here's my post on water bath vs. pressure canning to get you started.
One of the reasons this is my favorite pickled asparagus recipe is because there's very little prep work involved, unlike cucumber pickles, and the flavor, you just have to try it!