Some of the links below are affiliate links, which means I will earn a commission at no additional cost to you, if you click through and make a purchase. Regardless, I only link to products we use on our homestead or believe in.
Learn how to boost your immune system naturally with this old-fashioned food.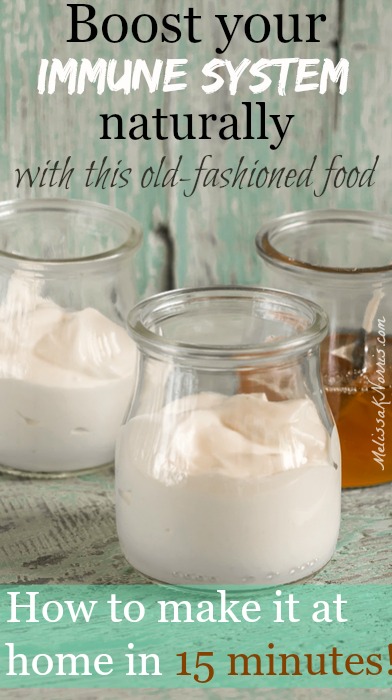 An old-fashioned food that can support the immune system and improve your brain function is yogurt. Who would have thought, right? Well, us pioneer homesteaders knew it was good stuff.
Listen to this post (just push play below) and all our episodes of the
Pioneering Today Podcast while you're on the go, scrubbing the house, cooking up dinner (can I get an invite?), or mucking out stalls! I post new episodes Friday mornings. You can subscribe via RSS and receive every episode for free.


Or subscribe via Itunes
Boost your immune system naturally with this old-fashioned food
Yogurt goes back hundreds and thousands of years as a way for people to preserve their milk before their was refrigeration. Making yogurt at home is about half of the cost as store bought. It also has more of the good bacteria and probiotics in it than store bought, because it's fresher. Score!
You can get the benefit from store bought if it says live cultures, but homemade is more frugal and better for ya.
Join our FREE 5 Day Pantry Makeover to find out how to make it in less than 15 minutes without any store bought appliances, recipes, and more! Don't let cutting out processed food and getting healthy cost you a ton of time and money.
3 Ingredients for Homemade Yogurt
Milk – I prefer organic and non-homogenized
Yogurt starter- this is a one time purchase as you'll save a bit of yogurt each time for the next batch
A thermometer-this glass one is cheap and I use it for everything in the kitchen.
Join our free 5 Day Pantry Makeover to find out how to make yogurt at home in less than 15 minutes!
There is different kinds of yogurt, most of us are familiar with Greek yogurt. It's thicker and has a strong tangy flavor. My kids don't like Greek yogurt and one of the benefits of making yogurt at home is making all the different kinds.
I make heirloom Bulgarian yogurt, which is sweeter and creamier than Greek yogurt. There are numerous types of yogurt to make at home.
Day 1 of the 5 Day Pantry Makeover is how to make homemade condensed cream of anything soup replacement in 4 minutes (seriously, the video and making it is 4 minutes) for less than $.30! No nasty chemicals or preservatives. Seriously, go sign up–> right now!
When you allow your homemade yogurt to culture for a full 24 hours, it is virtually sugar free! The live bacteria eat all of the milk sugars, leaving a very small amount left behind. No added preservatives and no sugar, just full of good for you bacteria. Free probiotics, you guys!
3 Ways to Get Thicker Homemade Yogurt
Let it sit. The longer you let yogurt culture, the longer it will come.
Drain your yogurt. Here's an easy tutorial on how to "make" whey in 3 easy steps, which is draining your yogurt!
You can make it thick by whisking in 1 Tablespoon of gelatin. I use a kosher natural brand–> Great Lakes Gelatin
Most of the time I just use mine as it, it's fairly thick without doing anything to it at all. Busy people unite!
Quick and easy breakfast
1 cup of homemade yogurt
1 Tablespoon cocoa powder (I use this raw brand and buy it in bulk)
1 to 2 Tablespoons of Chia Seed
5 to 8 drops of Sweet Leaf Stevia Extract
Mix all of this together and let sit for about 5 to 10 minutes. It creates a beautiful thick chocolate goodness, with fiber, protein, and no sugar! It's kind of like a chocolate cheese cake.
I can make a quart of organic yogurt at home for $1.99, half the price of the store and that's using grass fed organic milk. So much cheaper!
You can use any yogurt from the store that says it has live cultures for your starter.
I purchased my starter from Cultures From Health, they also have some non-dairy tutorials and starters.
Need a soaked recipe that's not sour? You'll get our soaked overnight oatmeal pancake recipe in the 5 Day Pantry Makeover. Because we're all busy, but we can make small changes that have a big impact and cost less!
Reader Question:
Is it really cheaper to make it at home once you start adding things in?
We need to know what things cost us and break it down. I don't buy all things organic, but pretty much almost all of the things in this recipe are organic.
The Stevia Leaf Extract is about $8 which has a 288 servings in it, and I don't even use a full serving every time I use it. So this one bottle lasts me a full year. I estimate a generous $.01 per serving for the cost. It's hard to put a cost benefit on keeping it sugar free.
Organic chia seeds add fiber, protein, and omega 3's. This 32 ounce bag has lasted me close to a year and was about $10. Per serving the chia adds $.10 for 2 Tablespoons, you could also just use 1 Tablespoon to cut costs further.
All together this is $.50 for a healthy breakfast that will give me fuel for the day, boost my immune system, and no sugar (but tastes like chocolate cheesecake, woo, hoo!)
The places I shop for our health food items, Amazon Prime, Costco, Fred Meyers (their health food section is pretty good), and our local co-op!
Making your food at home, everything I've ever made at home and taken the time to cost break down the ingredients it's always been cheaper to make it at home. That's not even counting the health savings benefits.
I used to be on prescriptions, and that's what totally transformed our kitchen in to going the natural route, kicking out processed foods, chemicals and GMO ingredients out. If you're on prescriptions, that can quickly add up. I had to pay off hospital bills and doctor bills from testing…
We have to remain in our budget and we need to be frugal and wise, don't spend money you don't have on health food items. But, once you start making things at home, with the money you save, you can then afford to purchase some of those better and healthier ingredients.
We pay for convenience. You pay more if someone else is mkaing it for you. It's so hard to put a price tag on health. I know it sounds cliche, but it's true.
Swap out some of the foods you're eating daily or weekly with a homemade version. Then start on another item or food. Soon, your whole kitchen will be revamped!
You need to sign up for our 5 Day Pantry Makeover, in less than 15 minutes a day, you can improve your health and save money!