Some of the links below are affiliate links, which means I will earn a commission at no additional cost to you, if you click through and make a purchase. Regardless, I only link to products we use on our homestead or believe in.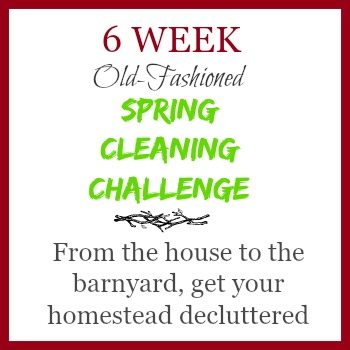 Does anyone else feel the need to purge their home of some of the clutter? It's not just me, thank goodness. Did you know clutter can also lead to not only stress but depression? Here's an article with links to studies showing the true affects of clutter.
I don't know about you, but that gives me even more incentive to get the clutter out of the house. Late spring and summer are filled with raising our meat chickens, a couple of new piglets, the garden, preserving said garden harvest, and fitting in summer fun and camping. That means almost no time for cleaning house, and especially, no time to devote to getting clutter cleared out.
I post new episodes on Friday mornings. You can subscribe via RSS and receive every episode for free.
Or subscribe via Itunes

Now I've come across a lot of sites that do clutter free challenges. Every day you tackle one area of your home. This is great, except here's the real truth, I literally don't have time every day to attack clutter and that leaves me lagging behind, which makes me feel like I can't keep up, so I'm defeated before I even begin. While I can't spend time every day, I can spend time every week.
Those of us pioneering today folks, homesteaders, gardeners, farmers, self-sufficiency folks, we have a bit different needs to add in when we do our spring cleaning and decluttering. When you do food storage something we have a years worth of food on hand so making sure our stock is rotated and organized, canning supplies, etc will make this challenge a little bit different than regular decluttering challenges.
There's something comforting knowing other people are in the same spot as me and they're working along with me to fix the problem. It's that, "I'm not alone" phenomenon that we all have. I'm more accountable if I say I'm doing this with you, then once I given my word to something I try to keep it. I'm much more likely to do something knowing I"m accountable.
The 6 Week Old-Fashioned Spring Cleaning Challenge Includes
Declutter room by room, week by week
Email with checklist and tips on Friday (because most of us have more time on the weekend)
Not only our regular home and house, we'll tackle the barnyard, garden supplies, food storage, and canning supplies
Switching out store bought chemical cleaners to homemade cleaners
Share our tips and best storage and organization secrets
Receive verses and uplifting snippets of faith for a cleaning that's more than surface deep
Why do we have so much clutter? For those of you who don't suffer from this, I salute you, I truly do, and you're now hereby ordered to come over to my house and lend a helping hand, 'kay. We'd love to have your tips and feedback in the comments!
Copy and paste this into your Facebook status
I'm joining the 6 Week Old-Fashioned Spring Cleaning Challenge! #MKNSpringCleaning Sign up here and get your homestead clutter free!
As I've been working on my book (due to the publisher's April 1st) and on deadline my house has suffered. This is going to force me to really tackle our clutter and get everything cleaned and organized. I've been putting it off and am excited to go through this with you.
I was thinking about this
Why do we have so much clutter?
We're trying to fill a need or loss. We might not even realize it, but those new clothes, new dishes, new pillows, whatever it is you tend to bring into your home is usually done by some need to fit in, to feel like you're one of the crow, or something. You felt deprived at one time in your life maybe.
The media shows us the greatest and latest make your life complete, have to have it commercials. I think those are things that contribute to our clutter.
We've been conditioned to look at things as needs when they're really wants. (we talked about this more in depth in Ways to Spending Less) My boss and I were talking about cell phones, television, cable, smart phones. When we look down your monthly bills we don't see them as expendables, but as necessities. Not all people, but for general society, I say this is fairly true.
When I have clutter and a mess, I don't see the things I have and a nice home I see the mess. I focus on the mess and think I'll just shut the door instead of cleaning this up. Most of us spend a lot of time in our homes and it's a shame to see it as a mess. As w
I think there's a spiritual aspect to having a lot of stuff and a lot of clutter. I've noticed in my life when I have a huge to-do-list and everything is scheduled out and I'm too busy if it's not written in. We start missing out on the surprise things God as planned for us and view them as interruptions instead of blessings. I think the physical and spiritual aspect of this can go hand and hand to a degree.
The more things we have the more time we have to spend on it. I'm looking forward to this and each post I"ll include some nugget of faith and bible verse so it will be a spiritual and physical spring cleaning. I love looking back on the old-fashioned things. Spring is hope and rebirth, fresh air blowing out the stale air of winter.
I remember reading the Little House on the Prairie book and they'd beat the rugs with a stick to beat the dirt out from winter. I'm glad we have a vacuum cleaner so I can clean our carpets that way. But it's interesting to look back on those traditions.
Last year in the middle of summer when preserving the harvest and canning was going on, my garden suffered. I got behind on my weeding. Once the plants were established weeding took a back burner. The plants didn't suffer as far as harvest wise because they were bigger than the weeds. It was one of those things I didn't think I could keep up with and let slid.
There's a danger in letting things slide and not keeping up. There's lots of systems for weed control, but one of the reasons I want to get organized ahead of time is for more gardening time. In the fall I looked at the weeds and quite a few of them had developed berries. They were night shade berries. Night shade berries are poisonous, they range from a bright red berry to a dark purple color. They were all over the garden. Everywhere.
It freaked me out. I had poisonous food growing in with my families food. Five berries are lethal when ingested for an adult. You can imagine how toxic these are.
I had to immediately remind the kids not to pick berries that you don't know are safe. I showed them the berries and the kids kept hollering every few steps, "Here's more, Mom." I go barefoot in the garden and the soles of your feet can absorb crushed berries. With shoes on, my husband and I took the big black plastic garbage and took hours bagging, with gloves, all of these plants. We filled four bags full.
It was very eye opening that we can't let our problems go without taking care of them. So this fall we mulched heavily with leaves to cover the ground and smother the seeds. We're going to mulch this year when we plant and keeping closer attention to weeding, before they can blossom and turn into something harmful
It was really scary and embarrassing because it was my own fault for neglecting that area. It made me look at different areas of our home and things we need to take care of instead of putting it off, and where part of this challenge came in.
Not that my house is a pig sty, but I'll be sharing pictures as we go through this challenge. I want our necessities, things we love, and things we use, not a bunch of extras.
I hope you"ll join me and share your tips and all of us will come out with a clutter free home.
(copy and paste to your Facebook page) I'm taking the 6 week old-fashioned spring cleaning and decluttering challenge! From the kitchen, to food storage, the barnyard and garden, in 6 weeks we'll have purged, organized, cleaned, and set our homestead in order to be ready for summer fun without the stress. Get checklists, tips, encouragement, and fun. Share your pics and success with hashtag #MKNSpringCleaning
Verse of the Week
Psalm 24:4-5
He who has clean hands and a pure heart, Who has not lifted up his soul to falsehood And has not sworn deceitfully. He shall receive a blessing from the LORD And righteousness from the God of his salvation.…
There are so many things in our life that if it becomes more important than God, our time with Him, and it's caused me to sit back and pray for Him to show me any areas in my life that may be leaning towards an idol. I want Him to be a priority by not just words, but how I spend my day and my time.
Normally I share the book of the week, but I've finished all them.
I'm really excited to tell you guys I got sponsored by Taste of Home Magazine and I'll be flying to Salt Lake City Utah to the Build Your Blog Conference. I need books to load up my kindle for the trip. Share your favorite books in the comments or email me.
While I"m there I"ll be sharing photos on Instagram as I get to meet my fellow bloggers Tammy Trayer from TrayerWilderness and Katy from MamaKautz. Imagine 3 homesteading gals int he city, watch out! I'll be sharing more when I get home.
Don't forget to join our 6 Week Spring Cleaning Challenge!