Some of the links below are affiliate links, which means I will earn a commission at no additional cost to you, if you click through and make a purchase. Regardless, I only link to products we use on our homestead or believe in.
To celebrate the arrival of spring, I'm going to share my favorite vegetable with you. My grandparents moved from North Carolina to Washington state in 1937. They traveled with two other families on the back of flat-bed truck they converted to a camper with bunks.
Can you imagine the cramped quarters? Packing space was limited to say the least. But my grandparents brought with them a packet of their pole green beans and a cast iron skillet. We've always referred to them as tarheel green beans.
When my husband and I were dating, he came to meet my parents for the first time. He told me he didn't care for green beans, so when my mom passed the pot of green beans, I was surprised he took a serving. After eating his beans, he helped himself to more. I leaned over and whispered, "You don't have to eat more." I thought he just wanted to impress my parents.
He replied, "These are the best beans I've ever eaten. I don't like other green beans, but I love these."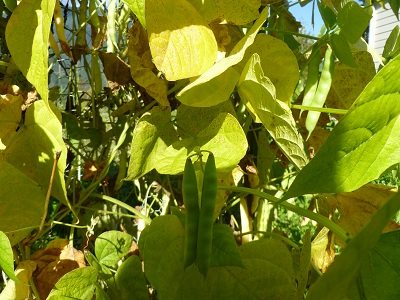 We've grown them every year since we've been married. Going on thirteen years now.
Tarheel pole beans grace many a garden in our valley. These beans can't be bought in a store, either the seeds or the harvest. Originating from the Appalachian Mountain range, they have a small white bean inside the pod and are lumpy. The taste is phenomenal, sweet and buttery. Add a little fat back, chunk of bacon, and you'll be hard pressed to find a better dish.
They are a heritage bean, meaning they haven't been altered by science. Each family or hollow would have their own unique bean and would trade with other families for different varieties. These beans must be staked or you can plant them on a fence, but they need something to climb. In fact, prized beans were considered part of a girl's dowry!
Tarheel beans produce a lot per plant. They do require stringing, but the flavor is worth the extra work. I like to let some of the beans mature. I mix the shelled small white bean in with the fresh snapped green pods. They are excellent fresh, canned, or in true Tarheel fashioned, leather britches style. Beans are strung on a string and left to dry. You then soak them when ready to eat and cook as usual.
I leave one bush unpicked. Let the beans hang on the vine until they have turned almost white and have started to shrivel. Then shell the beans, allow them to dry, and store in a cool dry place for next years seed. We tried putting some in the freezer this year and they came up fine, but my dad leaves them in a five gallon bucket in their laundry room with no problems.
***Contest Closed***
So, here's where it get's good. One lucky winner will receive a packet of my seeds. Here are the rules for entering. Winner will be announced here on Tuesday April 17, 2012. Good luck! Remember, you need to sign up via email in addition to leaving a comment. Thanks!
1. Leave a comment with your email address below.
2. Sign up via email to receive new blog posts. Just click on the sign me up button on the right hand side of the page.
3. Tweet or share this link of Facebook.
To get your name in the drawing a second time follow me on Twitter and come hang out with me on my author Facebook page. If you're a Pinterest fan I'd love to swap boards with you.
You know mine, what's your favorite family heirloom? It can be an item, memory, or tradition.
To read more about legacy's we leave, here's my post on leaving a spiritual legacy for your children.
This post is featured on
The Prairie Homesteaders Blog Hop