Learning how to grow your own food at home is an amazing thing. There's nothing like stepping outside your back door and picking your groceries straight from the garden.

There are so many reasons to get excited about growing your own food. It's frugal. That alone is reason enough because I don't know anyone who wouldn't like to shave a little bit more off their grocery bill, right?
I encourage everyone to grow at least one thing themselves. No matter where you live, you can grow at least one thing, apartment homesteader, I'm talking to you.
Learning to Grow an Heirloom Garden
10 Easy Steps to Grow Your Own Food
4 Tips to Successfully Growing Your Own Food from a 4th Generation Homesteader
How to save your garden seed- Seed Saving 101
How to start seeds indoors
10 Tips to for Organic Gardening and Pest Control
How to Plant and Grow Potatoes
How to Prune Tomatoes for a Larger Harvest
Small Space Gardening
How to Grow Basil Indoors Without Dirt
How to Grow Fruit
When and How to Plant Fruit Trees
How to Tie and Trellis Raspberries
How to Prune Blueberries for a Larger Harvest
How to Raise Livestock
5 Tips to Success Raising Backyard Laying Hens
10 Tips on Raising Meat Chickens
How to Butcher Chickens at Home
12 Tips to Raising Pigs for Meat
Raising Your Own Grass Fed Beef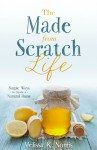 For more on growing and raising your own food, check out The Made-From-Scratch Life