Ma and Laura Ingalls didn't run to town to browse the shoe department or find just the right top for that weekend's barn raising. They didn't need to dedicate a day to their overflowing closet so they could declutter, donate and reorganize their clothing.
(Lest you think I'm being judgey, this is a confession sentence, but I did have a Ma Ingalls moment, keep reading, so it's a good thing) There was no need for shoe organizers.
Listen to this post (just push play below) and all our episodes of the Pioneering Today Podcast while you're on the go, scrubbing the house, cooking up dinner (can I get an invite?), or mucking out stalls! I post new episodes Friday mornings. You can subscribe via RSS and receive every episode for free.


Or subscribe via Itunes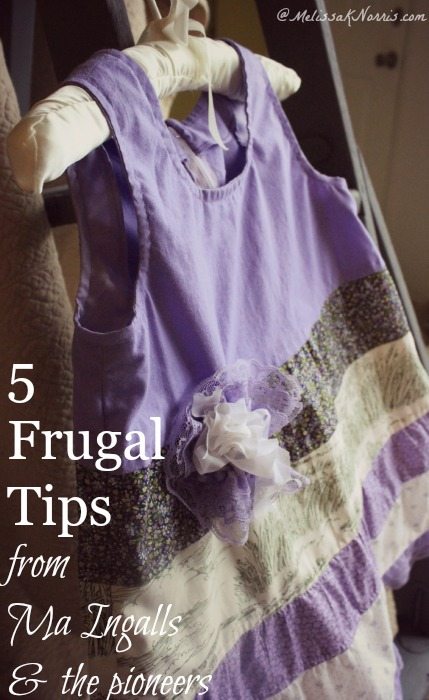 This post is sponsored by Little House on the Prairie® Andover Fabric Collections
The pioneers usually had two pairs of shoes at most. One every day pair, but during summer months, shoes were optional. Actually, most little feet never touched a shoe during the summer, except for Sunday service.
When I was young I could run bare foot over the rocks and not wince… is it a sign of old age when one can no longer do this? Or a sign of not going bare foot enough? I like the second one better.
We tend to be a society who has too much and throws away too much. Which doesn't make a whole lot of sense, but we're constantly on a treadmill of wanting more, but never really being satisfied with the more, which is why we have to make room for the more by throwing out what we have.
I realize this isn't everyone, but I've fallen into this. When I was little, we didn't have a very much money and my mother made most of my clothes. Of course, I wanted to fit in with the rest of the kids and that meant store bought clothes.
From the time I was fourteen-years-old I started working and bought most of my own clothes. Because I used the money I had earned, I became an expert clearance rack and thrift store fashionista.
However, this still resulted in too many clothes. So back to the thrift store many of them would go, and I'd go in to find more.
The pioneers, Ma and Laura Ingalls, only had a few items of clothing. You had your Sunday best, which was only worn for Sunday or a very special occasion, maybe two day dresses, and usually one chore dress.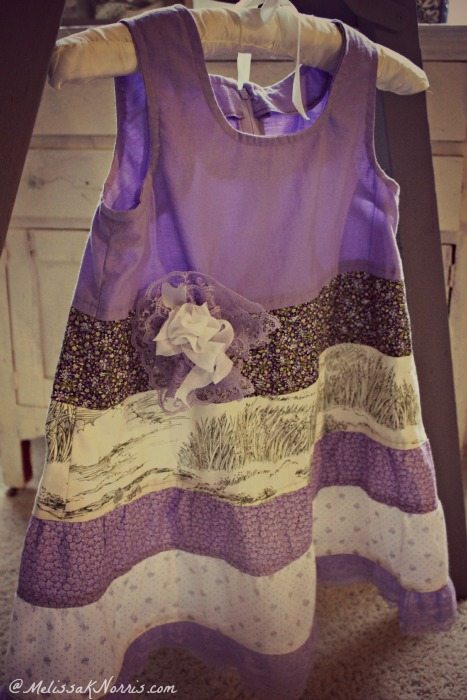 While most of us aren't going to only have a total of four outfits, we can learn a lot from them and put it into practice.
5 Frugal Tips from Ma Ingalls and the Pioneers
Only keep what you wear. Sounds too simple, right? Really go through your closet and keep only what you wear on a consistent basis. I have one dress that I've worn twice in three years. Twice. We have a free clothing giveaway at our church twice a year and I put it into the bag.
Now, if you're like me and you have seasons, I do pack away my summer clothes and bring them back out when summer hits (usually July 5th here in the Pacific Northwest).
Re-purpose the clothing. This is where a pioneer minded person's list will differ. For those of us who are frugal minded, we know there's a lot we can do with an item other than its intended use. Fabric is expensive. Ma Ingalls knew she could take her dress and cut it down into a dress for one of her girls or cut up the parts of the dress that weren't too worn and put them in her scrap bag. (You do have a scrap bag of material, right?) I know it's old-fashioned, but I've had one since I was eight years old…. yes, I just confirmed I'm an old soul.Could you take that dress and turn it into a skirt? How about making those pants into a purse? What about cutting that shirt down into a dress for your daughter?Recently, I took two old sweaters and turned them into a hat, fingerless gloves, an infinity cowl scarf, and two sets of boot socks for myself and my daughter. (Ya know I've got the how-to for you 6 DIY Old Sweater Projects You Have to Make)
Learn some basic mending/sewing skills. I am not a seamstress by any stretch of the imagination. But, I can sew a seam, gather fabric, and mend a hole. If you can sew a straight seam (confession: sometimes mine aren't all that straight, much to my mother's chagrin), you can do quite a bit.A straight basic stitch will allow you take hem a pair of pants or skirt. Are you not wearing the item because it doesn't fit right? If you can gather fabric, you can bring in a waist line. Many times my kids will rip their pants on the seam and instead of tossing them out, I can sew it back up in a few minutes.
Take quilting to a new level. Quilting is something the pioneers did because it allowed them to take smaller bits of fabric and turn into something both beautiful and useful. It was the original creativity outlet and artistry for the pioneer woman.She might not have been able to take art classes or decorate her home like we do now, but she could create practical beauty with her blankets.You might not have a lot of one pattern of fabric, but by piecing together different patterns, you can create a large piece.

My mother helped me sew this dress for my daughter out of fat quarters I received for free from the new Little House on the Prairie® Andover Fabrics Collection.We pieced together the skirt by cutting strips from each quarter. We didn't have quite enough, so I went to my scrap bag (actually, it's a wicker basket) and found the bottom strip of fabric from my very first quilt project when I was…. eight years old.You can use this same process to make a skirt, a pillow, or of course, a quilt.
Don't let fear or perfectionism stand in your way. I've had a a sweater and two shirts set aside to either re-purpose or alter for way longer than I care to admit (and see how I didn't actually admit to how many months right there?) I was scared I'd totally mess it up.We only learn by doing.The seam ripper will be your friend! Apparently I thought my waist was way smaller than it is, because the first shirt I brought in wouldn't even button after I was done. So I got to rip out both seams and start over.That's okay! The second time, I measured wrong and my waist started an inch lower on one side. Third time was a charm.Usually, you can always take it out and start over. I leave plenty of extra fabric whenever I cut and don't trim it away until I know it's going to fit/look okay. I'm sure with time I'll get better at this, but we don't get better unless we're actually doing.
Resources for 5 Frugal Tips from Ma Ingalls
Want your own Little House on the Prairie® Andover Fabrics? Here's a store locator so you can find it near you –>http://www.andoverfabrics.com/LHOTP_Locator.php
While a sewing machine will allow you to sew faster and do more, just having a basic or beginners sewing kit will allow you to do quite a bit. Premium Beginners First Sewing Kit
Now, a sewing machine will let you do way more! It's why the pioneer women were so thrilled when the treadle machines first came out. This is an excellent brand. I have a forty-year-old used version of this. Brother's Sewing Machine, including quilting table and auto-sized buttonholes.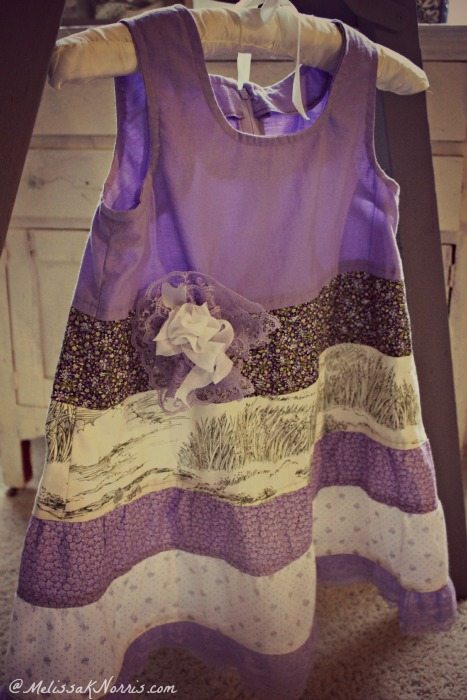 More Recipes and Tips to Live Like the Pioneers