This is one of my favorite days of the year. Heirloom seeds are one of my passions. They can be saved year to year, cutting seed costs to zero, making you self-reliant, no worries of GMO's, more flavor, more unique options, and the stories behind some of them are incredible.  Heirloom seeds are a living story or our ancestors and the God who made them. @MelissaKNorris http://ctt.ec/7fd86+ #giveaway #gardening Click to Tweet
My grandparents moved from North Carolina to Washington state in 1941. They traveled with two other families on the back of flat-bed truck they converted to a camper with bunks.
Can you imagine the cramped quarters? Packing space was limited to say the least. But my grandparents brought with them a packet of their pole green beans, October beans, and a cast iron skillet. We've always referred to them as tarheel green beans.
When my husband and I were dating, he came to meet my parents for the first time. He told me he didn't care for green beans, so when my mom passed the pot of green beans, I was surprised he took a serving. After eating his beans, he helped himself to more. I leaned over and whispered, "You don't have to eat more." I thought he just wanted to impress my parents.
He replied, "These are the best beans I've ever eaten. I don't like other green beans, but I love these." Heirloom plants are like that, more flavor than their hybrid counterparts.
Tarheel pole beans grace many a garden in our valley. These beans can't be bought in a store, either the seeds or the harvest. I've scoured the heirloom seed catalogs and websites and have never seen these beans available.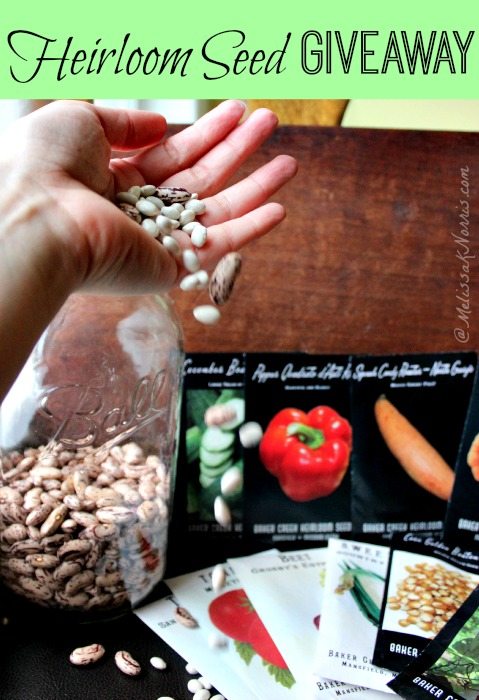 Originating from the Appalachian Mountain range,  they have a small white bean inside the pod and are lumpy. The taste is phenomenal, sweet and buttery. Add a little fat back, chunk of bacon, and you'll be hard pressed to find a better dish.
They are a heritage or heirloom bean, meaning they haven't been altered by science. (If you're interested in heirloom gardening, I have a 40-page FREE e-book, Heirloom Gardening Guide-Plant to Save Money available as a bonus gift. Sign up is at the top right side bar of my website or at www.melissaknorris.com/freebies)
Each family or hollow would have their own unique bean and would trade with other families for different varieties. These beans must be staked or you can plant them on a fence, but they need something to climb. In fact, prized beans were considered part of a girl's dowry!
Tarheel beans produce a lot per plant. They do require stringing, but the flavor is worth the extra work. I like to let some of the beans mature. I mix the shelled small white bean in with the fresh snapped green pods. They are excellent fresh, canned, or in true Tarheel fashioned, leather britches style. Beans are strung on a string and left to dry. You then soak them when ready to eat and cook as usual. (Learn how to save and store heirloom seed)
To celebrate heirloom seeds, the beginning of the planting season, and soon to be blessed spring, we're having our third annual heirloom spring giveaway here on the blog. And the cool part, Baker Creek Heirloom seeds is sponsoring the giveaway with me! (If you've followed me at all, you know how much I love Baker Creek Heirloom Seed Company) They donated 10 packets of heirloom seeds for one lucky winner.
The prizes…..
1. Grandprize winner will receive a packet of  my Tarheel green bean seeds and October beans, Tongues of fire beans, Golden Bantam corn, Country Gentleman sweet corn, Crosby's Egyptian beets, Moneymaker tomato, San Marzano Lungo No. 2 tomato, Gelber Englischer Custard squash, Candy Roaster North Georgia squash, Quadrato d'Asti Rosso pepper, and Boston Pickling cucumbers.
2. 5 winners will receive a packet of my Tarheel green beans and October beans
3. 5 winners will receive a packet of my Tarheel green beans.
Winners will be announced here-chosen by random number generator, must be 18 years of age, and residents in USA or Canada. For full rules, click on the Terms & Conditions at the bottom of the Rafflecopter entry form or visit my Contest and Giveaway Rules.
In case you didn't enter, it's giveaway week on the blog and there's still time to enter to win composting worms and some other great prizes.