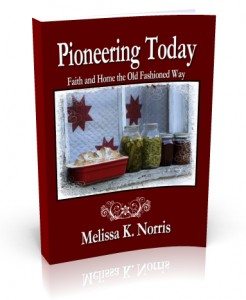 Read the First Chapter for FREE!
Simply click on the button below to trade a Tweet or Facebook mention for a free peek!

Do you long for the simpler times of yesteryear?
Do you wish you had the time to offer your family home grown meals?
Does your heart silently cry for a quiet place in this fast paced life?
In Pioneering Today-Faith and Home the Old Fashioned Way, author Melissa K. Norris explains practical and easy methods to cook from scratch, garden, preserve your own food, and see God's fingerprint in your everyday busy life. You'll learn how to:
*Decrease your grocery and energy bill
*Improve your family's health by cooking from scratch and over 40 delicious recipes
*Grow and preserve your own food
*Reduce your time in the kitchen without sacrificing taste and nutrition
*Expand your view of God in your daily activities
Whether you live in the middle of the asphalt jungle or on the side of a mountain, you can experience the pioneer lifestyle and start your own homesteading journey. When you surround yourself with things made from the hand of God, you can't help but see Him.
There is never a perfect time to start living the life you've dreamed of, there's only wasted time if you're not following your heart. Read Pioneering Today and begin your simpler life now!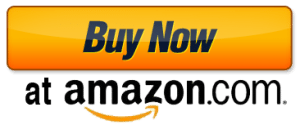 Reviews:
This book is not a "how to" necessarily. It is a look into a modern woman who pursues a more wholesome, simple, spiritual and relevant life. This book does more than tell you how to do something, it tells you how it feels to pursue this life. To write a book about Pioneering without including faith would be inaccurate. Faith played a huge part in the lives of those who explored and settled this country. Melissa also gives inside into how she has dealt with adversities in her own life. This is a perfect book for someone beginning to question the empty, hurried pace and fast food lifestyle many have developed.The book also contains as a bonus some wonderful recipes as well. Definitely a must read. Larry Littrell from Double L's Garden

This has been one of the very best stories I have ever read. Please don't let the ink dry, it's time for another book. Dee
PioneeringToday-Faith and Home the Old Fashioned Way: Inspirational. Humorous. Personal and  practical. A potpourri of down-to-earth advice from author Melissa K. Norris, who has practiced what she preaches for years. Rather than merely relating the wisdom and joys of returning to a simpler, more healthful lifestyle, the author offers concrete examples, step-by-step directions, and time-tested, money-saving recipes for gardening, cooking, and living that are far easier to follow than one might suspect! Pioneering Today is not only unique, but the perfect gift for yourself and others. Colleen L. Reece, author of 150 "Books You Can Trust," six million copies sold
Melissa's book inspired me in so many ways! She has a tender heart for spiritual things and sees Jesus in the ordinary moments of her life.The recipes she shared encouraged me to start cooking from scratch more. I'm teaching my ten year old daughter many of the life skills she covers in her book, so it will become a part of our homeschool curriculum. We'll try the pie crust first, just in time for holiday baking. Mindy from Prairie Momma  Journey Through the Prairie Primer
Freebies