Lately, I've been feeling overwhelmed and worn out. It seems there are so many things I want to get done in a day and never enough time to do it.
I know all the answers to this problem. Learn to delegate, cut back where I can, the art of saying no, etc.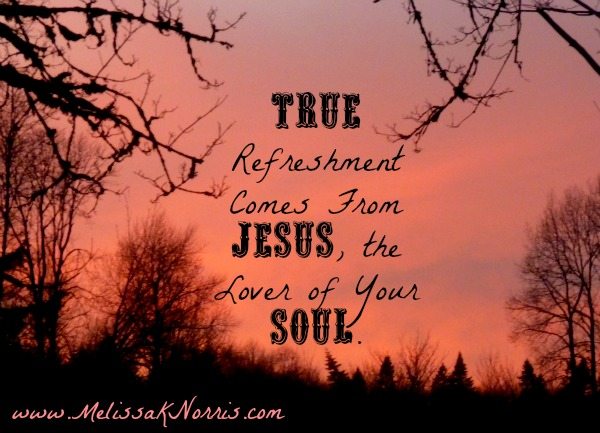 This weekend I was looking forward to going to a dance with my husband. After a day at work, appointment with our accountant and submitting our tax return, I really wanted to spend some time with nothing to do other than enjoy our friends, some good music, food, and dancing.
My husband came down with a really bad head cold and the last thing he wanted to do was stay up late and have the pulse of a live band match the pounding in his head. Disappointment settled in my gut. 
But on the way home from town (we live in the mountains so it's an hour drive one way) the top 20 Christian music countdown came on the radio. Song after song flooded our car and my heart.
The message of God's love, His sovereignty, and grace lifted my spirit. I sang and worshiped Him all the way home. A full hour of praise between me and my Father.
That's when it hit me, my tired wasn't physical, it was spiritual. I needed to be refreshed in a way that only Jesus can give.
When you feel spent, spend an hour with Jesus and you'll feel more refreshed than eight hours of sleep.
For our struggle is not against flesh and blood, but against the rulers, against the authorities, against the powers of this dark world and against the spiritual forces of evil in the heavenly realms. NIV Ephesians 6:12
I've been struggling with what I thought was tiredness of the flesh, and while we do need sleep, I firmly believe we need refreshment of our spirit more.
My plans involved an evening out, but God knows what we need far better than we do. He knew I needed time with Him.
If you're feeling tired, consider some one on one time with Jesus, the lover of your soul. [Tweet this]
Have you been feeling tired lately? How has God changed your plans for the better?
Related posts: