Books are a wondrous and powerful thing. Books have changed my life and I've seen them change others. I talk about the power of Christian fiction and non-fiction in my ebook, Coming Closer to God In Your Daily Choices, that's free for my blog subscribers. (Little sign up box on the right side bar of the page)
Our relationship with Jesus is an ongoing deepening thing-at least it should be. So I'm always on the lookout for a book that can help take me deeper. When I read the back cover copy for An Invitation to the Supernatural Life by Michele Perry, I instantly knew I wanted to read it.
I've always been fascinated with the supernatural in Christ. (Note the in Christ part, anything that's not rooted in Jesus is rooted in Satan whether people recognize it or not)
God has given me messages in dreams, but I've yet to have a vision. Michele talks about her own visions and how she believes you can experience your own.
As Christians why are we so standoffish if someone says they've had a vision? I'm always skeptical when I hear people say this. Note-I realize we're to test everything and make sure it is from Jesus.
But is the skepticism keeping us from experiencing God in this way?
One of the devil's greatest tricks is making us not believe in something. Because if we don't believe in, then we can't experience it.
"'In the last days, God says, I will pour out my Spirit on all people. Your sons and daughters will prophesy, your young men will see visions, your old men will dream dreams." (NIV)  Acts 2:17
The Bible is very clear, your young men (and women) will see visions. Not if, but will.
I believe everything in the Bible. I want to be one of the woman to see visions. How about you?
One thing this book helped remind me is that the supernatural is already all around us, we just have to open our eyes and step it into it. All of God's promises in the Bible are ours, but we have to step into them.
If you're looking to go deeper in your understanding and relationship with Jesus, then I think this book will help you. I received this book free in exchange for my honest review and I'd like to pass it on to one of you. (If you're reading this via email, you'll have to click through to my website to use the Rafflecopter entry) Winner will be chosen via random.org and contacted on November 6th, 2012.
a Rafflecopter giveaway

Has God ever spoken to you through a dream? Have you ever had a vision from God?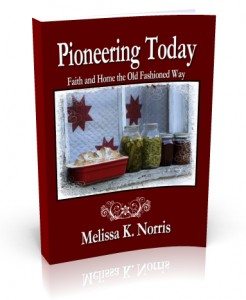 Only 3 days left! FREE exclusive secret recipe and BONUS chapter on Dutch Oven cooking when you forward your Amazon proof of purchase email and mailing address to melissaknorris@juno.com. EXPIRES October 31, 2012
This post is featured on the Better Mom.
Related posts: