Many of you know I enjoyed reading Rita Gerlach's first novel Before The Scarlet Dawn. I was thrilled when she accepted my invitation to blog about the second book and share her recipe for Apple Tansey.
Here's some words from Rita.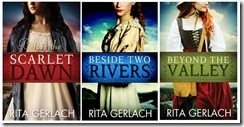 This month, the second book in the Daughters of the Potomac Series, Beside Two Rivers, was released. At the end of the novel, I include Psalm 142:13. This is my rest forever: here will I dwell, for I have desired it.
Is that not a beautiful scripture? Finding a place where you will have rest forever is a comforting thought. We all long for rest, for peace, for a release from the troubles of life. The heroine's in this series have this longing while facing difficult times. They search for home, family, truth, and love. Don't our lives come down to that—finding rest within a dwelling place, among family no matter how large or small? Don't we quest for truth and desire to be loved? This scripture was on my mind while writing these books, and what I learned in the process was God is our sure dwelling place. He is our heavenly Father. As we seek Him we will know the Truth that sets us free. We discover He loves us with an everlasting love. This does not come from sitting in a pew or following a set of rules. It is a heart thing, deeply personal between you and God.
If you are struggling today, speak Psalm 142:13 into your life. Meditate upon those beautiful words written by the Psalmist thousands of years ago that has come down the centuries to you.
In Closing…
Melissa asked me to include a recipe that was popular in the Colonial era called Apple Tansey.
To make an Apple Tansey,
Take three pippins (apples), slice them round in thin slices, and fry them with butter; then beat four eggs, with six spoonfuls of cream, a little water, 1/2 teaspoon nutmeg, 1/3 cup sugar; stir them together, and pour it over the apples; let it fry a little, and turn it with a pye-plate (pie plate). Garnish with lemon and sugar (perhaps some cinnamon) strew'd (strewn) over it. (I added the exact measurements for sugar and nutmeg to make it easier if you want to try this-Melissa)
From The Compleat Housewife, or, Accomplished Gentlewoman's Companion by E. Smith, published in London, 1754.
You can print this recipe out on a 3×5 card from here: http://www.history.org/Almanack/life/food/appletansy.cfm
My own book, Pioneering Today, released this month and I have a special offer for you. FREE exclusive secret recipe and BONUS chapter on Dutch Oven cooking when you forward your Amazon proof of purchase email and mailing address to melissaknorris@juno.com. EXPIRES October 31, 2012
What's your favorite verse for finding peace and love in Jesus, instead of this world? Do you have a favorite "antique" recipe?
Related posts: