We are blessed. No matter what we're going through, we have Jesus by our side.
I'm guest posting today over at author Mary DeMuth's blog about the healing God brought to me after losing my first child to an ectopic pregnancy.
"You need to come in immediately. The test results show there's something wrong with your pregnancy." My legs buckled and I dropped to my knees in the bathroom at work.
They were wrong. We'd clear it up at my appointment.
False Hope
I clung to this hope until the next morning. "I'm sorry. You have a tubal pregnancy," the doctor said. "The baby has stopped developing, and we have to operate first thing tomorrow."
Bitterness
I'd lived my whole life obeying God's words. I'd read the entire Bible through, saved myself for marriage, and this was how God repaid me?
It's not fair, echoed through my heart.
After awaking from surgery, I learned they were unable to repair my fallopian tube. I only had one working fallopian tube, which meant half the chance of conceiving again.
"Why, God?" tore through my soul.
To continue reading the rest of this post at Mary's blog click here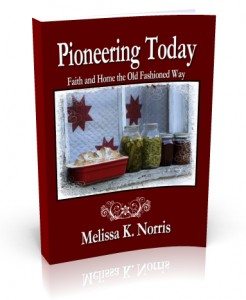 My new book Pioneering Today-Faith and Home the Old Fashioned Way, launches today. In honor of that I have a special offer for anyone who purchases my book (paperback and Kindle version) by October 31, 2012.
FREE exclusive secret recipe and BONUS chapter on Dutch Oven cooking when you forward your Amazon proof of purchase email and mailing address to melissaknorris@juno.com. EXPIRES October 31, 2012
You can read the first chapter here on my book page. I'm very new at this, but here's my first ever short (3 minute) video about Pioneering Today. 
Related posts: