Last week I shared about waiting to hear from God. I know He told me to seek publication for my fiction, but part of me wondered about His timing.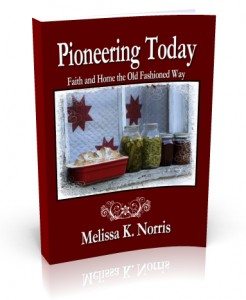 On Friday, I received an email that two of the editors who were considering my fiction series decided to pass. There are still some editors who are interested, but two in one hour.
With slumped shoulders, I clicked open on the next email in my inbox.
It was from a lady who had read an advanced copy of my new book Pioneering Today. Below is a section of the book she referenced from Chapter 1, which you can read for free here.
I believe that when we are still, away from the hustle and bustle of
technology, we can feel God's presence. It is stronger when there is no static
or interference from man-made noise. There is much we can learn from our
pioneer forefathers and mothers. I believe the first and most important
lesson is growing some sort of crop.
I don't feel it's coincidence we feel closer to God while gardening. The
creator of all life, the I Am, who could have chosen any place or thing in the
world to house Adam and Eve, placed them in a garden.
He came down from heaven every night, in the cool of the evening, to
walk and visit with two people whom He loved. Just as He loves you and
me, He still comes down from heaven to walk with me in my garden. Excerpt from Pioneering Today
Part of the email:
"Two years ago when I lost my job, I knew that God had something else for me; but I believe the above paragraphs are what he had for me to learn so that He could prepare me for a bout with cancer and recovery, regaining my strength, and so much more. These words really spoke to me, because they had been my experience too."
This dear lady shared more with me in her email. When I finished reading her sweet words, tears warmed my eyes. 
In that moment, God told me, "If I had given you the fiction book contracts you wanted, you would have never written this book. You would have never received this email."
I think my heart grew two sizes that moment.
If you are in the waiting period, take heart. He truly does have something wonderful planned for you. His scope is so much bigger than we can fathom. Trust Him, my friend.
He is so patient to remind us of His faithfulness.
I'm waiting to see where He will lead us next. When we can't see the rest of the path, rest in the knowledge that He does. Take His hand.
Instead of us waiting on God, God's waiting on us.
Have you ever been astounded when you see God's plan? How has He shown you what He's been doing on your behalf?
This post is featured on The Better Mom.
Related posts: