Nothing says fall like a good crisp apple. I love the way an apple fits perfectly in the palm of my hand. The way they perfume the air, promising delectable delights.
And I love being able to preserve them for cooking later. My father-in-law adores apple pie and it's my responsibility privilege to provide the apple pies for Thanksgiving and Christmas dinner.
My favorite apple in pies and applesauce is the Gravenstein. I planted my own this year, but will have to wait a few years for a large crop. Thankfully, my parents have an ancient one in their field.
When making apple pie filling, I can't stress the beauty of using a pressure cooker canner. You don't have to precook your apples.
Simply peel, core, and slice. I recommend investing in one of these darlings. It does all the work for me. I picked mine up at the Goodwill.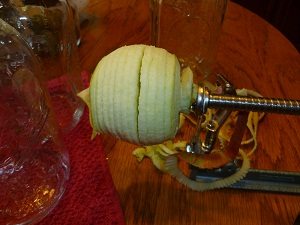 Be sure to push down apple slices and pack tightly to within 1 inch headspace. Don't worry about the apples turning brown, they will turn brown once cooked in the syrup anyways.
Apple Pie Filling Recipe
20 to 24 apples or 5 ½ to 6 pounds apples (I had medium apples and about 3 to 4 apples filled one quart jar)
3 to 4 ½ cups sugar (depending on the type of apple you're using, tarter apples may require the higher sugar measurement)
1 cup cornstarch
3 teaspoons ground cinnamon
1 teaspoon ground nutmeg
1 teaspoon salt
Stir together the sugar, cornstarch, spices, and salt in a large saucepan. Stir in 8 cups water. Cook and stir until thick and bubbly. Pour over raw apples, leaving ½ inch headspace. You may have to ladle the syrup several times as it takes a few seconds to drain to the bottom of the jar.
Wipe rims clean with a damp cloth, seal, and process in pressure cooker for 8 minutes at 5 pounds of pressure, or process in a boiling water bath for 20 minutes. Makes 6 quarts. Each quart is enough filling for one pie.
I have to confess, I licked the side of the syrup pot before washing. We have to taste test right? It was soooo good.
When ready to bake your pie, pour one quart apple pie filling into pastry lined pie plate(my grandmother's flaky pastry recipe that takes less than 15 minutes to make)  Place your top crust, cut slits for steam escape, crimp edges, and bake at 400 degrees for 50 minutes.
What's your favorite apple or dessert?
Want more of these tips and recipes? My book, Pioneering Today-Faith and Home the Old Fashioned Way, will be out October 15th. Here's more info and how to get a copy for FREE.
Featured on The Prairie Homestead Barn Hop.
Related posts: