The hiss and jiggle of the pressure cooker heralds summer to me. The pop of canning lids sealing is the percussion of a harvest well done.
A pressure cooker cuts the time of canning compared with a traditional water bath, plus you can cook fresh foods in it. I can cook fresh green beans in my pressure cooker in three minutes! I have an eleven-year-old Mirro pressure cooker/canner.
Do not be intimidated about using a pressure cooker to can. They have safety valves built in so they will not explode as some of you have heard when using the specified guidelines.
Don't worry, I'll walk you through it. If you're purchasing a pressure cooker, be sure to get one that will hold both pints and quart jars. Mine will hold seven regular pints, five wide mouthed pints, or four quarts. You can get bigger pressure cookers, but I wouldn't recommend going any smaller than this.
We usually can about forty to fifty pints of Tarheel green beans. Due to last spring's popularity, I'll be doing an annual give away of this seed.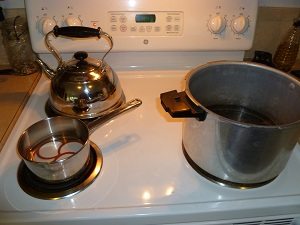 Once your beans are picked, wash your jars in hot soapy water and rinse. Fill your kettle with water and bring to a boil. Put your lids in a saucepan and cover with water, leaving at a low simmer. Make sure your rack is in the bottom of your pressure cooker and fill with water. (I have an eight quart canner and need to add 1 and 1/2 quarts of water)
Rinse the dirt off your beans, we're strictly organic so no worries about nasty chemicals. Funny story, before organic became known my family never used any chemicals, we had no idea the health benefits we were keeping. I like to joke we were organic before it was cool, thanks Mom and Dad.
I only can using the hot pack method. This means you put raw veggies into your jars and then pour boiling water over top before putting it into the canner. Much easier than ladling boiling food into jars.
Fill your jars with snapped beans leaving a 1/2 inch head space. Add your salt now. Most foods can be canned successfully without salt, but the flavor is a bit bland. I prefer to put it in before hand. Pour your boiling water just to the top of the beans. Be sure to use a towel when handling the jars now.
With a damp clean cloth, wipe the rims of your jars. Take your warm lids and place onto jars, tighten down bands with your hands. Place them in your pressure cooker. Lock your lid into place. Do not put the pressure control on. Turn your burner onto medium high heat.
When steam starts to come up your vent, set your timer for ten minutes. For beans, select the ten pound mark and put your pressure control on. Once your pressure control starts to jiggle and hiss, start your canning time, twenty minutes for beans. Turn your heat down slightly so the jiggler hisses about four times a minutes.
After twenty minutes is up simply turn off your burner. Let the pressure cooker cool off while on the burner, don't move it. I usually wait about forty-five minutes and take off the pressure control. If no steam escapes I try to open the lid (there's a safety lock that prevents you from opening it if the pressure is still too high).
Place canned jars on a folded towel on your counter top to cool.  You'll hear the lids pop with in minutes, signaling a successful seal. Leave the jars in place for at least twelve hours before moving to the pantry shelf.
My kids helped snap the beans this year. I strung them and then they snapped them into the jar. My three-year-old declared, "We're awesome, mommy." I agreed!
What's your favorite part of summer? Do you can? How many of you use pressure cookers? How many jars of food do you can?
Related posts: