I'm a lifelong recipe collector. I started with this recipe when I was seven years old. A neighbor served this dish and the next day, I walked up the street to her log cabin and asked for the recipe. She graciously shared! (I take it as a compliment when someone asks for the recipe and always supply it upon request)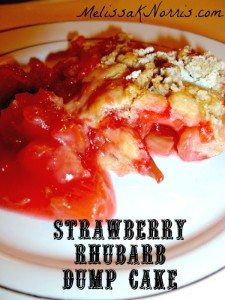 I love the combination of rhubarb and strawberries, here's my recipe for strawberry rhubarb jam. The tartness of the rhubarb makes the strawberries all the sweeter, like biting into summer no matter what time of year you eat it.
This recipe is so easy, but the most important part is don't stir it!

Strawberry Rhubarb Dump Cake

4 cups diced rhubarb
1/4 sugar (I use raw organic cane sugar)
1 small 3oz package strawberry jello
1 cup cold water
Homemade Cake Mix
1 and 1/2 cups flour
3/4 cup brown sugar
1 teaspoon baking powder
1/2 teaspoon salt
Grease a 9×13 baking dish and place rhubarb in pan, sprinkle sugar over it, then jello. Thoroughly mix your dry cake ingredients together and sprinkle evenly over rhubarb. Pour water over all of this and dot with 3 tablespoons chopped butter. Don't stir!
Bake at 350 for 1 hour. Serve this warm by itself, or add a dollop of whipped cream or vanilla ice cream. My husband says the rhubarb counts as a vegetable and eats it for breakfast, too.
A great way to keep rhubarb for baking all year long is to chop it up and freeze it in a plastic freezer bag or freezable container. You may want to cut the water to 2/3 cup if you use frozen rhubarb.
What is your favorite handed down recipe?
Want more from scratch recipes? Over 40+ recipes in Pioneering Today-Faith and Home the Old Fashioned Way. Read the first chapter here and my recipe for blueberry buckle.
Hearing the terms heirloom and GMO (genetically modified) lately? My FREE e-book, Heirloom Gardening Guide-Plant to Save Money, explains what these terms mean, how to protect your family, the benefits of heirloom plants, and how to get started. Click here to get your free copy.
Related posts: