The 4th of July has always been one of my favorite holidays. How do you not like food, parades, and celebrating freedom?
It was one holiday the pioneers celebrated as well. They had rodeos, parades, town picnics, and usually a dance. We'll be having a BBQ at our home and I look forward to visiting with family and neighbors.
I wanted to decorate, but like a true pioneer, I didn't want to buy anything. So I went shopping in my own home. Often, if we just regroup things together, there's no need to go to a store. Below is my island centerpiece.
While viewing the traditional red, white and blue, I can't help but remember who our true freedom comes from. Jesus, who died on the cross to give all of us everlasting freedom.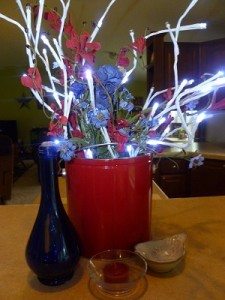 The red reminds me of His blood, spilled so you and I don't ever have to be separated from God. Blue for his bruised body, broken so we don't have to be. White for a sinless life, that he would bear our sin, so we don't have to. 
I urge you to spend a few moments remembering who and what our true freedom is, not only today, the 4th of July, but every day.
Here's a fun recipe I came across and I wanted to share.
Don't these brownie and fruit kebabs look delicious? (Click on the picture for Mel's recipe) Chocolate and strawberries, oh yum. Ya know, I might try tossing a sliced strawberry in my smores tonight.
Have a wonderful, happy, and truly FREE 4th of July.
What's your favorite 4th of July tradition?
Related posts: