There is something about a row of strawberry jam that makes me smile and makes me think of Christmas. You don't think the same thing?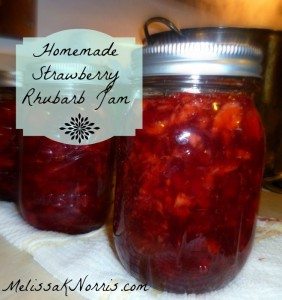 When my husband and I were first married, every year, his grandmother would give us a large box of homemade goodies for Christmas. It included popcorn balls, fudge, pickled cauliflower and peppers, and strawberry jam. It was one of our favorite gifts.
A few years ago, his grandmother had to give up making our large boxes of homemade goodies. Her body simply couldn't put up with the strain and time it took to complete. 
My husband was quite distraught over the loss of the homemade strawberry jam. So I went down to her house and was initiated into the art of jam making. I now gift her and my in-laws with a box of home canned specials.
I love rhubarb and decided to make a batch of strawberry rhubarb jam along with my regular strawberry this year. Here's the recipe:
Strawberry Rhubarb Jam
4 1/2 cups diced rhubarb

4 1/2 cups sliced fresh strawberries
2 tablespoons lemon juice (always used concentrate when canning)
6 tablespoons low-sugar or no-sugar powdered fruit pectin (or 2 1.75ounce boxes)
1/2 teaspoon butter (I always use butter to keep the foam down, grandma's orders)
6 1/2 cups sugar (I cut this from the original recipes 10 cups)
4 and 1/2 pint canning jars w/ lids and rings
Place your fresh fruit in a large pot over medium heat.
Stir into fruit mixture lemon juice, fruit pectin, and butter. Once it begins to juice, add sugar, 1 cup at a time. Stir constantly until juice starts to simmer. Bring to a full rolling boil (means it doesn't quit boiling when you stir) and cook and stir for 1 minute.
Have your washed jars ready and using a jelly funnel (looks exactly like an oil funnel when you change the oil in your car, but fits the opening of your jars) and pack with the hot jam to within a 1/4 inch form top. Wipe the rims with a damp towel and then place the hot lids on and screw rings down.
Have a large stockpot of water heated, bring to a boil, and lower the jars inside with space surrounding each jar. Add more hot water if needed until water level is at least 1 inch above jars. Bring water to a full boil, cover, and process for 10 minutes.
Remove jars from stockpot and place on a folded towel until cool. I recommend leaving them in place over night before storing in the pantry. Make sure to check your seals, though you'll likely hear them pop after a few minutes. One year I didn't hot process my jars, and two of my seals came undone halfway through the year, completely spoiling all that hard work. Make sure you hot process them.
I purchased a half flat of strawberries from the local farmers market at $12.00. Rhubarb was courtesy of my neighbor and my small patch. I've had my canning jars for 13 years, and adding in the cost of sugar, pectin, and lids, I estimate it cost me $1.95 for each pint sized jar. I made four jars of strawberry rhubarb and three jars of straight strawberry, with one pint of fresh berries left over. Perfect on a slice of my homemade quick no rise bread.
What's your favorite thing from grandma's kitchen? Do you put up jam?
I can't tell you what the store bought kind costs, because I haven't purchased any in years.

I can tell you that I did taste some recently and I can hardly eat it. Homemade is so much better! And, I always make the low sugar variety.
This is featured on the Prairie Homestead Blog Hop and Common Sense Preparedness Link-up. 
Related posts: