Disclosure: Some of the links below may be affiliate links. Thank you for your support of this website.
Every pioneer home had a cast iron skillet. No matter how poor or rich, they all cooked their food with a cast iron pot or pan. Every meal, no matter if over an open flame, a burner, or in an oven, could be prepared in a cast iron skillet or Dutch oven.
And I firmly believe every home should still have cast iron cookware.

Cast iron is superior to other metals because it distributes heat evenly and can go directly from stove top to the oven. Today's Teflon coated pans, when scratched or exposed to extreme heat, release a chemical proven to cause cancer, immune system problems, and birth defects. DuPont, the manufacturer, states their product is fine when used according to directions, but I'm not willing to take the chance, especially when cast iron is a much more efficient pan.
When seasoned properly, cast iron is non-stick. I cook pancakes and eggs with nary a problem. To ensure your cast iron pan remains non-stick and seasoned, here's some tips.
1.      Seasoning– After purchasing a new pan or one at a garage sale that needs to be re-seasoned, slather it with a thin layer of shortening and stick it in a preheated 400 to 500 degree oven for a couple of hours. As the oil cooks, it fills the pores of the pan, allowing a nice black charred looking finish. Don't be alarmed if it smokes, just turn on your fan.
2.      Cooking– When cooking eggs or pancakes, make sure to melt butter or oil first.
3.      Cleaning– Never, I repeat never, use soap to clean your cast iron. Don't pour cold water into a hot pan…it can crack. Use hot water and wipe out your pan with a non-abrasive cloth. You don't want to scratch that seasoning off. If you have baked on food, use table salt and scrub off the sticky parts. The heat in the pan will kill any bacteria; soap will destroy your seasoning and cause your pan to rust. Wipe dry and recoat with a thin layer of coconut or olive oil.
4.      Storage– Your cast iron will store best in the open. If you must stack them, always place a towel in between the pans to absorb moisture and prevent scratching the seasoning.
Cast iron will last a lifetime if cared for. Some of my best pans have been ones I've picked up at thrift stores or garage sales. A little bit of salt scrubbing and re-seasoning and they're better than the new ones.
But if you can't find any this skillet from our affiliate partner Amazon Lodge 8 inch Cast Iron Skillet is a great place to start. Lodge brand is made in the United States, not china, and is a quality product. I have several Lodge brand cast iron skillets and love it.
Hooked on cast iron? Check out this posts.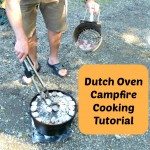 Here's all of my survival and prepper articles. 
Want more info on implementing the pioneer lifestyle into your modern one? Read the first chapter of Pioneering Today for FREE here.
Do you cook with cast iron? Are any of your pans passed down from family members?
The other cookware you'll find in my kitchen is stoneware for baking my fresh bread in less than 5 minutes a day.
For more great pioneering and simple living posts, check out the Homestead Barn Hop.
Copywrite @2012 by Melissa K. Norris
Originally published in The Concrete Herald February 2012 issue
Related Posts :